CD Arcàngelo ‎– ARC-7002 /2002/
Vysoce sofistikovanej, klávesově orientovanej art rock. Brilantní a technickej náklep, zahranej s matematickou přesností a akademickým chladem…
Time Of Change (Čas změny) je čtvrté a zároveň poslední studiové album The Trip. Vtipnej a povedenej obal znázorňuje členy kapely v podobě opeřenců, směřujících k novým břehům a tou hlavní změnou byl přesun od jednoho vydavatele k druhému. Tedy od dlouholetého chlebodárce RCA Italiana k mrňavé a tehdy sotva narozené společnosti Trident. Podle katalogového čísla TRI 1002 bylo album Time Of Change  jejich druhým vydavatelským počinem hned po jazzrockových Dedalus, ale tím veškerá pozitiva končí. Label fungoval jenom necelé dva roky a i když jeho zásluhou vznikla natolik zásadní alba italského rocku, jakými jsou debuty Biglietto per l'Inferno, nebo Semiramis, brzy krachnul a jeho ovečky se ocitly na dlažbě.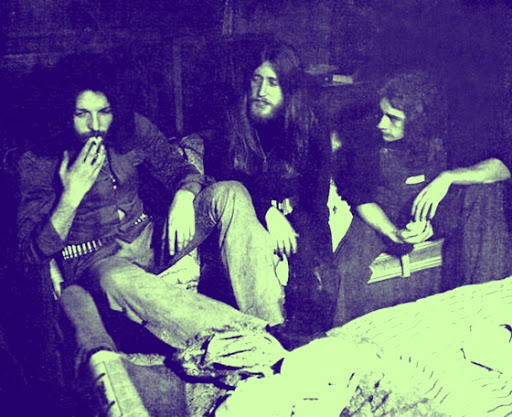 Na desce se podílelo stejné trio, jako na předcházejím albu Atlantide. Tedy klávesista Joe Vescovi, excelentní bubeník Furio Chirico a zpívající basák Arvid "Wegg" Andersen. Pořád ještě je to klávesově orientovanej rock, ale s obroušenými hranami a "modernějším" zvukem. Je to virtuózní, je to technické, ale zároveň i kapánek sterilní a chladné. Je potřeba si přiznat, že časům živelného a energického classical rocku s Hammond organem v hlavní roli odzvonilo a jsou pryč…
Vrcholem alba je suita Rhapsodia, která zabrala celou první stranu původní vinylové desky. Dvacet minut, to už je pořádná nálož a pro The Trip nová výzva a zkušenost. Na žádném ze svých předcházejících zářezů neměli tak dlouhou skladbu, ale klobouk dolů, popasovali se s ní na výbornou. První dvě minutky jsou jen jakousi introdukcí, ale potom se ozve klávesovej motiv, připomínající Gershwinovu Rhapsody in Blue a vzápětí propuknou hotové hudební orgie. Vescovi i Chirico předvádějí, že jsou skutečnými mistry svých nástrojů a brilantní instrumentální vsuvky s příchutí jazzu si v ničem nezadají s těmi nejlepšími momenty na Brain Salad Surgery. Andersenův zpěv je tady sice tak trochu do počtu, ale tvoří určité předěly a přispívá k větší pestrosti předloženého materiálu.
Druhou stranu původního alba tvořily čtyři kratší kousky a jako první je tady instrumentální dupárna Formula nova. Vescovi dává přednost klavíru, pod kterým vířej jazzové bicí a je to pořádnej odvaz. Good, ovšem repetitivní basová linka, to je čisté funky a tedy něco, s čímž jsem se u The Trip dosud nesetkal. V následující podivnosti De senzibus se na různé perkuse vyřádí především bubeník Chirico, ale celé je to nějaké divné. Připomíná mi to spíš scénickou hudbu k modernímu baletu a podle mě jde o nejzbytečnější položku na desce. V tak trochu pompézní a melodické Corale dostane po dlouhé době trochu víc prostoru vokalista Andersen a celé album (a kariéra The Trip) končí klavírní etudou Ad libitum.
První strana desky je vynikající a patří k tomu nejlepšímu z portfolia The Trip, ale ta druhá, to je taková všehochuť, kterou jsem dodnes moc nepobral. S hodnocením jsem byl na vážkách, ale nakonec jsem se rozhodl pro silné tři. Placky Caronte  a  Atlantide na mě působěj líp…
Původní album z roku 1973 je k sehnání, ale v osmdesátých letech vzniklo i množství zdařilých padělků a tak je těžké se v tom orientovat. Jeho reedic je naštěstí docela dost a to jak na vinylu, tak CD. Mě se podařilo koupit sběrateli vyhledávanou edici od Arcàngelo Japan a jsem rád, že ji mám. Rozkládací mini vinyl replika obsahuje v pouzdérku zabalenej kotouč, originální čtyřstránkovej booklet a povídání v japonštině.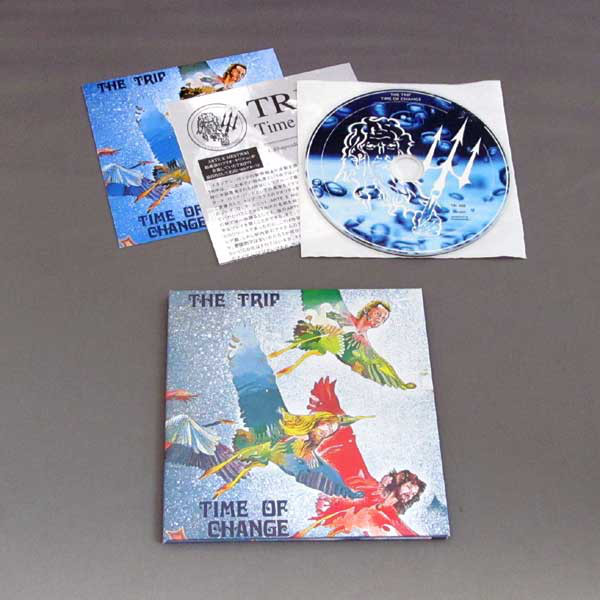 SKLADBY:
1. Rhapsodia /Vescovi, Andersen/ 20:02
2. Formula nova /Vescovi/ 4:53
3. De sensibus /Vescovi/ 4:12
4. Corale /Chirico, Vescovi/ 5:27
5. Ad libitum /Vescovi/ 4:29
SESTAVA:
Arvid Andersen – voce, basso
Furio Chirico – voce, batteria, percussioni
Joe Vescovi – voce, tastiera, arrangiamento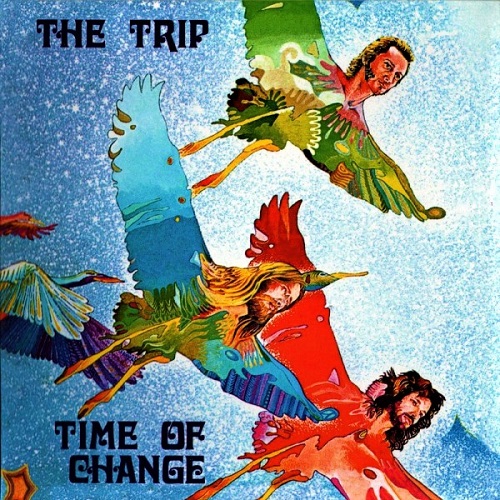 Time Of Change
The Trip
Prog Rock
Trident
1973
LP
5
CD Arcàngelo ‎– ARC-7002 /2002/