Materiál albumu, o ktorom sa neformálne vravelo už na prelome rokov 2015-2016, kapela definitívne nahrala a technicky upravila bez nejakej mediálnej publicity v priebehu leta a jesene roku 2018 a na svetlo sveta sa oficiálny nosič dostal symbolicky počas prvého týždňa roku 2019. Teda práve 12 rokov po štúdiovej trojke The Sparrow a rovných 20 rokov po kultovom debute Starfooted.
The Pearl je opäť album koncepčný, tentokrát jeho libreto nie je sci-fi téma, ale skôr príbeh z kategórie fantasy a celkom v réžii speváka Johna Mabryho. Hlavnou dejovou líniou je príbeh mladého muža, ktorý sa vydáva na cestu do sveta v mene svojho ľudu, aby získal vzácnu perlu z pazúrov hrozného draka. Ale ako postupne zistí, drak je najmenší z jeho problémov…
Podotknem, že textová stránka je v celej histórii vlastnej tvorby u METAPHOR veľmi významná. John Mabry presvedčivo dokazuje skĺbiť vo svojich textoch epickosť Petera Gabriela z éry Genesis a filozofickú a intelektuálnu hĺbavosť Neila Pearta z Rush.
METAPHOR sú hudobne formálne považovaný za neo-progovú kapelu, ale tento termín je v ich prípade hodne ošemetný. Štruktúra ich kompozícií, množstvo motívov, muzikantských nápadov, zmien tempa a nosných línií sú bežne také bohaté a časté, že i pri viacnásobnom posluchu ich albumov si toho príliš veľa nemusíte zapamätať a stále máte možnosť niečo nové, predtým ukryté – objavovať. Oproti majorite neo-progových spolkov je toto beh na dlhú trať a ich produkciu možno skôr zaradiť medzi hudobné telesá z kategórie "Eclectic Prog".
Inštrumentálne v skupine dominujú gitarista Malcolm Smith, v hre ktorého sa spája predovšetkým invenčnosť a nápaditosť Steve Hacketta, nervnosť a razancia riffov Roberta Frippa, ale aj nevyspytateľnosť a istá prekvapivosť, akú bolo možné počuť u Gary Greena (Gentle Giant), a nesmierne variabilný, ale aj univerzálny klávesista Marc Spooner (mimo METAPHOR pôsobí paralelne aj v ďalších rôznorodých rockových zoskupeniach v Californii). Skvelý textár John Mabry má skutočne príjemnú farbu hlasu, skvele intonuje i frázuje, v niektorých recenziách (skôr fanúšikov, ako oficiálnych profesionálnych recenzentov) som však postrehol výhrady voči akejsi jedno-rozmernosti (t.j. malej dramatičnosti) jeho vokálneho prejavu, vzhľadom na bohatstvo a popisnosť textovej zložky k hudbe METAPHOR (inak spolu s bubeníkom Gregom Millerom sú členmi aj ďalšej progrockovej skupiny z Californie – MIND FURNITURE).
Album The Pearl na ploche takmer 62 minút prináša deväť kompozícií, pričom osem z nich sa pohybuje v časovom intervale od 6 po necelých 10 minút, teda žiadny klasický progrockový opus sa tu nenachádza – koncept tematického albumu je riešený v stredne dlhých uzavretých songoch. Tentokrát nebudem popisovať jednotlivé parciálne skladby, vnímam to ako pomerne zavádzajúce pre bohatstvo motívov, melodických riffov, častých zmien tempa a aranžérskych zvratov. Tých je tu aj po mnohých počutiach skutočne viac, ako dosť.
Budem sa opakovať, ale je to principiálne stále základná filozofia hudby legendy Genesis (veď boli v ranej ére ich cover bandom) z obdobia pôsobenia Steve Hacketta v nej, s markantnými prímesami skladateľských štruktúr Gentle Giant a občasnou razanciou a zriedkavejšie i zmysluplne riadenými disharmonickými plochami King Crimson. Samozrejme, najpodstatnejšou zložkou hudby METAPHOR je ich vlastný, skutočne originálny a nenapodobiteľný špecifický prínos, čo je najvýznamnejšou pridanou hodnotou celkového výsledného efektu tak tohto albumu, ako aj ich troch predošlých.
Aj keď album The Pearl vyšiel, ako jeden z úplne prvých v roku 2019 (čo je istým spôsobom jeho handicap), pre mňa je v jeho konečnom účtovaní celkom nepochybne v okruhu favoritov na to najlepšie, čo v tomto období do sveta progresívneho rocku pribudlo.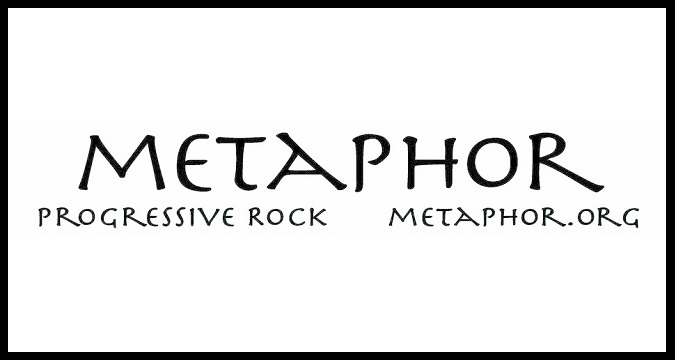 Resumé:
Progresívne rocková scéna v USA je v súčasnej dobe nesmierne bohatá a detailne ju mapovať je pomerne obtiažne, lebo v dobe po miléniu vznikajú nové kapely a projekty, ako huby po daždi. Tak, ako v 70. rokoch tu bol (takmer) úplný deficit art rockových skupín (v porovnaní s globálnou situáciou v celej Európe), súčasná produktívna generácia rockových muzikantov si to kompenzuje naozaj masívne.
Za posledných 20 rokov, čo túto scénu sledujem, môžem povedať, že päť skupín z tejto krajiny ma hudobne ovplyvnilo i formovalo celkom zásadne (jasné, môžete namietať, že aj Spock's Beard, ale títo majú v krajine i vo svete tak špecifický štatút, asi ako Marillion v Euroregióne popri zvyšnej progrockovej scéne). Sú to Echolyn, Discipline, Iluvatar, Advent a METAPHOR. Všetky tieto kapely sú na scéne plus-mínus 30 rokov (METAPHOR najmenej – 26). Mimo štandardne produktívnych Echolyn všetky ostatné kapely vydali za dobu svojej existencie oficiálnych plnohodnotných štúdiových albumov, ako šafránu (Discipline, Iluvatar a METAPHOR po štyri, Advent iba tri).
…a každý z týchto albumov je v mojom ponímaní progresívnej rockovej hudby vlastne jedna… perla (The Pearl)…
SKLADBY:
1. The Open Road 08:43
2. Bruises And Blisters 05:51
3. Lying Down With Dogs 06:14
4. The Mist Of Forgetting 07:03
5. The Love Letter 09:31
6. Remembering 07:20
7. Romancing The Wurm 06:34
8. The Eagle, The Voice, The Light 03:03
9. Robed In Glory 07:29
Total Time 61:48
ZOSTAVA:
John Mabry – vocals
Malcolm Smith – guitar
Marc Spooner – keyboards
Jim Anderson – bass
Greg Miller – drums
The Pearl
Metaphor
Prog Rock, Symphonic Rock
Trope Audio
2019
CD
9