T. Rex a jejich památné album Electric Warrior. Na přelomu šedesátých a sedmdesátých let se vlastně jejich posluchače rozdělili do dvou táborů. Ty první obdivovali akustické varianty jeho rané hudby pod názvem Tyrranosaurus Rex a ti druzí zase adorovali proměnu kapely v názvu na T. Rex a zároveň v hutnou rockandrollovou partu.
Neobešla se bez nich žádná diskotéka (rockotéka) první poloviny sedmdesátých let. Marc Bolan byla charismatická persona, která se pohybovala ve světě glamorous rocku. Údajně toho na kytaru původně moc hrát neuměl a pochopil, že pokud bude stát na pódiu, bude se od něho očekávat, aby těch šest strun nějakým způsobem ovládnul. Kytarové lekce mu dával Eric Clapton, aby ho trochu seznámil se stupnicemi a prohodil něco o kytarových technikách. Bolan byl sice učenlivý, ale zdaleka nešel cestou nějaké komplexní výuky a revolučního uchopení kytarové hry.
Od T. Rex se mi právě tohle album líbilo nejvíc. Jinak si myslím, že více bodovali na singlech, aniž bych chtěl dopředu zpochybňovat úroveň jejich alb. Electric Warrior přitahovalo zvláštním tmavým obalem, na kterém byla postava kytaristy v obrysovém nasvícení s vybavením – výtvarný koncept Hipgnosis.

MAMBO SUN – Tajemně znějící šeplavý hlas, který doprovázejí základní kytarové akordy, dusavá baskytara a zemité bicí nástroje. Také slyšíme percussion a z pozadí podivné tenorové vokály. Skladba stojí na základním motivu, ale také na zpívaných textech, které uměl Bolan napsat jako básník. Uprostřed zazní nekomplikované kytarové sólo s mírným dozvukem a opakující se schematická melodie s prapodivnými zvuky odvádí píseň ke konci.
COSMIC DANCER – Další melancholický nátěr. Bolan si evidentně nelibuje v nějakých rafinovaných harmoniích a melodickou linku drží v přehledných mezích. Spíše se zde pracuje s náladami a aranžmá, takže do tématu vstupují smyčce. Mickey Finn pomáhá ve vokálech a hlavně obsluhuje svoje conga. Bolanův hlas zní naříkavě, stejně jako jeho kytarová mezihra. Připomeňme, že oba vokalisté – Howard Kaylan a Mark Volman – prosluli spoluprací s Frankem Zappou v jeho Mothers Of Invention. Také oni jsou nedílnou součástí obecného soundu nejen v této skladbě, ale i na celém albu.
JEEPSTER – Přichází údernější rock ve zrychleném tempu s opakujícím se kytarovým riffem. Šlapavý rytmus bicích a percussion vybízí k tanci, ale i k poslechu. Producent Tony Visconti prosazoval aranžmá smyčců a jak vidno, neměl vůbec špatný vkus, relativně jednoduché skladby získaly zvláštní odér. Stevie Currie na baskytaru a Will Legend na bicí nástroje si nelibují v nějakých ďábelských eskapádách a tak můžeme poslouchat základní basové a rytmické obrazce. Sekunduje jim emocionální Bolan pseudoerotickými výkřiky, což se vždycky hodně líbilo něžnému pohlaví. Ženské publikum Bolana milovalo!
MONOLITH – Houkavé vokály Kaylana a Volmana vytvářejí retroatmosféru do základní melodické linky, v níž se proměňují běžné akordické obraty. Zato v mezihře Bolan sešlápne wah wah pedál a tajemně ohýbá zvuk. Po zpívané části se Marc k tomuto hračičkování zase vrátí.
LEAN WOMAN BLUES – Na počátku zaznívají nějaké muzikantské dohovory a pak nám Bolan dokáže, že je na jeho albu místo i pro blues. Líná a táhla atmosféra, k tomu kvílivé kytarové party a Bolanův manýristicky ohýbaný hlas. Kytarové sólo zní docela zajímavě a těžký zadek se táhne za skladbou jako závaží. Playbackované kytarové party ale dodávají správné grády po všech stránkách.
GET IT ON – Tuhle skladbu jsem měl vždycky na albu nejraději. Měla v sobě jisté podmanivé kouzlo a mystérium. Rytmus šlape přesně jako hodinky, stejně jako úsečné kytarové akordy. Bolanovi se podařil husarský kousek napsat jednoduchou a přitom tak údernou skladbu. Na klavír zde hraje v té době ještě méně známý – později veleúspěšný klávesový virtuos Rick Wakeman, ale je tu i odpadlík od King Crimson – na saxofon hrající Ian McDonald a Burt Collins na lesní roh. Připočteme-li oba zmíněné vokalisty a čarodějný timbr v Bolanově projevu, máme recept na výtečný song.
PLANET QUEEN – Škrabavé zvuky na akustickou kytaru, percussion a důrazná jednoduchá rytmika se spojuje s oběma vokalisty. Bolanovy proměny hlasu za asistence Finna nabírají na expresi, přesto jeho hlavní devíza tkví ve zlaté střední poloze. Kaylan a Volman opakují vokální téma až k závěru s podivným nátiskem.
GIRL – V této milostné baladě se Bolan uchyluje k akustické kytaře, které sekunduje lesní roh Burta Collinse. Opět tu máme základní akordické proměny a Bolan téměř provokuje svou jednoduchostí, ale neodpustí si extatické výkřiky.
THE MOTIVATOR – Oživení přináší rockovější pojetí skladby. Finnovy conga udávají tempo, ale jsou prokreslovány baskytarou a bicími nástroji. Zatímco Bolan odsekává akordy a docela slušně ve zpěvu frázuje. Kytarové sólo v mezihře sice mění nálady, ale nepouští se do nějakých krkolomností. Saxofon spíš dodává barvu soundu, než by nějak exhiboval. Sází se zde na základní frází a opakování schématu, protože Bolanův důraz na text písni dává základní energii.
LIFE'S A GAS – Jednoduchost další skladby už vlastně ani nepřekvapí. Spíš zaujme mezihra na saxofon a nezvyklý kytarový filtr.
RIP OFF – Jsme v závěru, který přináší zajímavý výbojný sound. Elektrická kytara a baskytara se ve zvláštních skluzech spojují s rytmikou percussion a bicích nástrojů. Bolan tentokrát prokresluje aranžmá neobvyklými melodickými proměnami. Spojují se zde smyčce i dechy a Marc se opírá o svůj dramatický vokál. Po předešlém kolébavém příspěvku máme do činění s energickým podílem všech zúčastněných hudebníků, až do rozviklaného konce přeznívajících zvuků tajemného psychedelična a bloudivého saxofonu.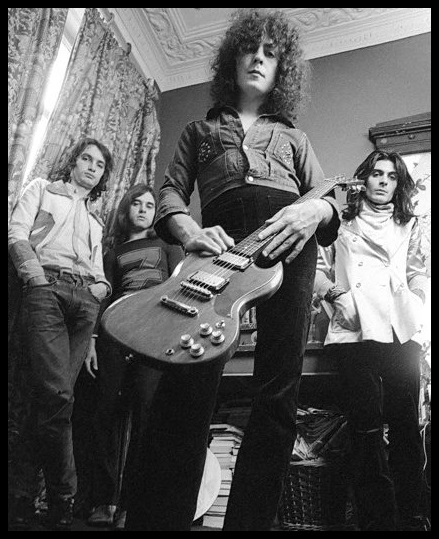 V šestnácti jsem album poslouchal docela dost, ale postupem let jsem zabředával do jiných hudebních směrů a návrat k T. Rex jsem nějak neplánoval. Když se ale objevily CD nosiče, nějak jsem podlehl nostalgii a album si pořídil. Přiznám se, že si ho docela rád občas pustím. Má atmosféru a kouzlo nechtěného. Přesto se mi zdá, že na čtyři hvězdičky album není dostatečně zralé. Dal bych tři a půl, ale tahle možnost mi není dána, a tak zůstávám u tří.
SKLADBY:
01. Mambo Sun  3:40
02. Cosmic Dancer  4:30
03. Jeepster  4:12
04. Monolith  3:49
05. Lean Woman Blues  3:02
06. Bang A Gong (Get It On)  4:27
07. Planet Queen  3:13
08. Girl  2:32
09. The Motivator  4:00
10. Life's A Gas  2:24
11. Rip Off  3:40
Composed By and Written-By: Marc Bolan
SESTAVA:
Marc Bolan – vocals, guitar
Micky Finn – percussion, vocals
Steve Currie – bass
Will Legend – drums
+
Howard Kaylan – backing vocals
Mark Volman – backing vocals
Rick Wakeman – keyboards on Get It On
Ian McDonald – saxophone
Burt Collins – flugelhorn
NOTES:
Recorded At Wally Heider L.A., Media Sound N.Y., Trident And Advision Studios London.
Electric Warrior
T. Rex
Glam Rock
Fly Records
1971
LP
11