V metalové krajině fantazie
Jestli jste ještě neslyšeli o brněnské metalové kapele Rosa nocturna, tak to honem napravte. Tohle uskupení má vskutku zajímavý příběh, ale hlavně velmi zajímavé příběhy vypráví svou hudbou. A dělá to na skutečně profesionální úrovni.
Na sklonku loňského roku přišla tahle banda s novým, v pořadí již čtvrtým CD s názvem Andělé a bestie. Opět v něm, jak už je jejím zvykem, přináší temné balady i pořádné nářezy a to vše pěkně v češtině, protože dobře ví, že lokální jazyk dává jejím písním autentičnost a sílu. Kontrast s uniformní angličtinou je jasně patrný na konci alba, kde jsou dvě skladby Skinchangers a Intruders nazpívané pro zahraniční publikum.
Ale popořádku. Album otvírá Světlonoš, skladba, která je melodickou, opulentní hostinou pro uši, následuje hravý Lékárník s výrazným refrénem, kontrastem je další skladba Padám, v níž se ve valčíkovém rytmu vyznává zpěvačka Aneta Zatočilová sametovým, bohatým altem z něžných citů a obav. Jakoby pokračováním, ale mnohem drsnějším je následující skladba Touhy v mlze, která graduje k fantastickému finále a album náhle zmlkne, aby do ticha tajemně zaškrábaly drápky Strachu. Dalším, tentokrát snad až folklórně naladěným příběhem je Až jednou a po něm je tu jeden ze singlů alba, Lykantropie. V této písni se střídá několik mužských vokálů v různých polohách a jako vždy skvělá Viktorie Surmová. Drsný Vetřelec je příjemná metalová klasika v níž se uplatní fantastické kytary a poslední z českých písní alba jsou Dopisy na frontu, v níž z posluchače ždímou emoce dětské hlasy a jejich kontrast s nádherně sytým mužským vokálem Sparse (Delorain).
Skoro se chce říct, že tahle nálož bohatě stačí, ale album přináší ještě dvě instrumentálky Outro a Periculum a jak už jsem zmínila, i dvě anglické verze.
Rosa nocturna si opět vyhrála s pestrou paletou efektů a díky mnoha hostům jsou Andělé a bestie výrazově bohatým albem, kde se představivosti meze nekladou. Kapelník Tonda Buček si dává záležet, aby každá píseň dostala přesně to, co potřebuje a je vidět, že to umí z interpretů dostat, takže posluchač si může v klidu vychutnat emotivní, silnou a po technické stránce vytuněnou hudbu.
Abych učinila zadost náležitostem, sluší se zmínit, že vynikající zvukovou úroveň má na svědomí brněnské nahrávací studio Sonidos a nepřehlédnutelnou grafiku přebalu zase finští profíci Darkgrove.
Co říci závěrem? Máte-li rádi nápaditý melodický metal, prostě si to pusťte. Neuděláte chybu.
SKLADBY:
01. Světlonoš
02. Lékárník
03. Padám
04. Touhy v mlze
05. Strach
06. Až jednou
07. Lykantropie
08. Vetřelec
09. Dopisy na frontu
10. Periculum
11. Skinchangers
12. Intruders
13. Outro
SESTAVA:
Tonda "Gabriel" Buček – kytary, zpěv, orchestrace, programování
Petr Vosynek – kytary
David Koudela – baskytara
Dan Havránek – bicí
+
Viktorie Surmová, Aneta Zatočilová, René David, Lenka Šiková, Mathias Novak, Silva Chrudinová, Martin Klekner, Pavel Vrabec, Aleš Krupica, Johny Vavruška, Radana Pospíšilová, Anička Loučková, Jana Vosynková, Lucka Kuchtíčková, Romana Rychtáriková, Tobiáš a Liliana Bučkovi – zpěv
+
Klára Šindelková – housle (3, 4, 6, 9)
Hanka Osifová – příčná flétna (3)
Adam Langr – djembe, basa (7)
Kamil Keiser – nyckelharpa (7)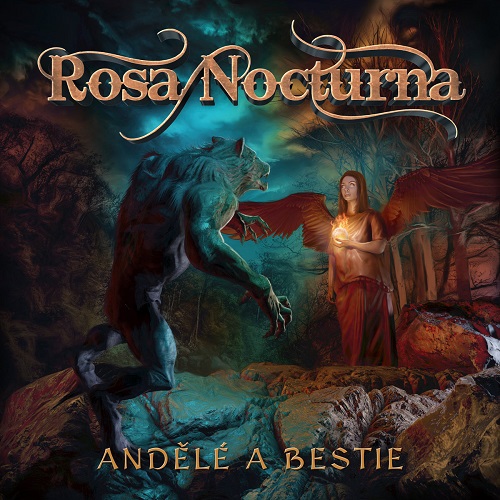 Andělé a bestie
Rosa nocturna
Symphonic Metal
Rosa Nocturna Self-released
2020
CD
13