Procol Harum je hudební legenda, která vznikla v polovině šedesátých let a prošla personálními proměnami, které tu více, tu méně poznamenávaly tvář a hudební styl kapely, v němž bylo možné spatřit psychedelické ozvěny, classical rockové postupy, ale i nosný baladický přínos. Dominoval zde vždycky zvuk klavíru a hammondky Matthewa Fishera, které po jeho odchodu převzal baskytarista Chris Copping.
Muzikantsky velmi silné sdružení, které se snažilo zachovat si uměleckou výlučnost, podobně jako v odlišných pojetích třeba Moody Blues. V jejich hudbě byla jistá majestátnost, silný emocionální prožitek. Jejich sound byl na britské scéně hodně čitelný a respektovaný i mezi muzikantskou konkurencí. Pro Procol Harum byla příznačná i kvalita zpívaných textů, které psal zajímavý textař, moderní britský básník Keith Reid, který byl "neviditelným" členem kapely, podobně jako u raných King Crimson Peter Sinfield, nebo pro americké psychedeliky Grateful Dead básník Robert Hunter. Respekt si získali i u lidí z jiného břehu, jako byl například kytarista Jimmy Page, který obdivoval Brookerův vokální projev i jeho autorský přínos.
SIMPLE SISTER – Výrazný rockový nástup zkreslené elektrické kytary provází úderný klavír, za kterým sedí osobitý zpěvák Gary Brooker, jeden z představitelů britského modelu blue-eyed-soulu. Unisono kytary a baskytary má drsný základ, do kterého se vkliňuje úderné a kreativní bicí nástroje. Kytarovým šamanem je Robin Trower, který zde výrazným způsobem vystupuje z "anonymity". Jsem nadšen z jejich výtečné souhry a skvěle vyprecizovaného soundu. Klávesové tremolo zní majestátně a celá skladba vás uvádí na pořádně zemitou a přesto říznou rockovou platformu. Hudební téma mocně graduje v proaranžované orchestraci, kde nechybějí ani řízné dechy a smyčce, které jsou utopeny v mocném soundu hammondek.
BROKEN BARRICADES stojí na klávesovém soundu. Vedle hammondek se prosazuje v té době ještě ne úplně zavedený Moog synthesizer, který obsluhuje Chris Thomas, producent alba.
MEMORIAL DRIVE má zase naopak výrazný rockový idiom. Robin Trower zde aplikoval výrazný rockový riff, který prorezonovává celou skladbu. Je to ale i Gary Brooker, frontman kapely, který se blýskne krátkým, ale účinným klavírním vstupem. Melodický základ je nezpochybnitelný, ale jeho aranžmá vykazuje známky cíleného hard rocku, se schematicky se opakujícím riffem. Pochvalu zaslouží i výtečná Coppingova baskytara a Wilsonovy bicí nástroje.
LUSKUS DELPH – Brooker prezentuje skladbu, která má specifický klavírní baladický sound, třebaže výrazné basové postupy zdůrazňují základní kostru v rockovém hávu. Jsou tu majestátní smyčce a Moog synthesizer, kteří určují melodickou, poněkud rozevlátou, linku. Celkový sound je rozředěn a nejsem si jist, jestli v tématu vůbec slyším kytarovou přítomnost Trowera. Je to vznešená krása, ale poněkud chladná a interpretačně méně průrazná, jak by se čekalo…
POWER FAILURE – Jsme opět na rockové půdě. Výrazný rytmus a důsledné basy to potvrzují, stejně jako úderné klavírní běhy. Zajímavá mezihra přináší perkusivní zvuky úderných bicích nástrojů s baskytarovými modulacemi a celkové uchopení má dokonce názvuk nějaké nespecifikovatelné world music, kde se rytmizovanému tématu popřává poměrně výrazný prostor. Do skladby nečekaně vstupuje povykování publika, pískuní, tleskot a zemitá údernost kapely dále opakuje úvodní téma. Vokální linka je podporována tremolem hammondek, na které hraje Chris Copping.
SONG FOR A DREAMER – Velice zvláštní skladba, která nijak nekoresponduje s předešlým hudebním materiálem. Psychedelický odér je zde velmi čitelný a Robin Trower nejenže kouzlí se zvukovými modulacemi jeho elektrické kytary, ale dokonce si ve skladbě i zazpívá. Jeho kytara má drásavý elektrický tón, s přezníváním a vibrátem a jako ve vlnách se do písně dostávají zvláštní zvuky, které přivolávají tajemné ozvěny orientální hudby. Trower výtečně pracuje se zvukem a dokáže navodit mimořádnou atmosféru, která se přibližuje experimentům fenomenálního Jimiho Hendrixe. Rytmické základy jsou dány stručnými obrazci a celkový sound se propadá do nekonečných hlubin vesmírného prostoru. Místy jsem nabyl dojmu, že se zde částečně pracuje s principem indických rág, ale téma je poté brzy ukončeno. Velmi osobitá skladba!
PLAYMATE OF THE MOUTH – Preparované klavírní intro následuje krátké kvílivé téma na elektrickou kytaru. Brookerův hlas moc nepoznávám, má výraznější ostří, ale také jiné zabarvení. Trowerovy kytarové spojnice mají bluesový základ, ale sekundují mu dlouhé zkreslené tóny dechové sekce s mírným nádechem amerického Chicaga. Žádná rafinovaná melodická linka, skladba stojí na výrazových prostředcích a prokreslování jednotlivých opakujících se motivů. Výrazně odlišné hudební téma, které nebylo možné v daných proporcích vnímat na předešlých albech Procol Harum. Trower dostává výrazný prostor pro seberealizaci a hudba kapely má dravý sound, jak žádaly dobové trendy. Přesto je závěr ponechán v režii zkreslených dechů a klavírních tónů.
POOR MOHAMMED – Závěrečná skladba nepřináší žádný závan arabského orientu, jak by se dalo soudit podle názvu, ale pořádně syrový rock s řeřavým tónem elektrické kytary, nahrané v playbacích s výtečnými odstíny. Trower sice nemá hlas jako Brooker, ale v daném typu skladby, která spojuje elektrické blues – možná spíš blues rock, se zde odehrávají řízné tónové výměny, které dostatečně prezentují Trowerovu kytarovou osobnost a kupodivu zde celkový styl kapely výrazně odbočuje od propojování klavíru a hammondek do jiných sfér, což pravověrné milovníky Procol Harum z šedesátých let jistě poněkud zaskočilo.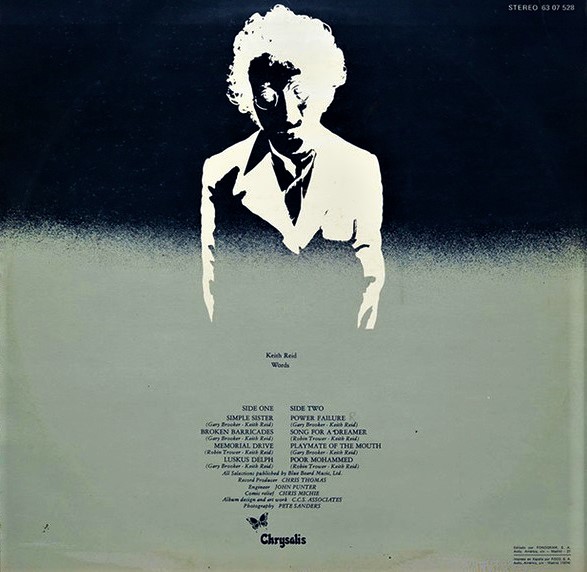 Album Broken Barricades bylo pro Procol Harum zlomovým okamžikem. Jsou na něm poměrně potlačeny klávesové plochy, alespoň v těch proporcích, jak jsme byli dříve zvyklí a hammondkovský sound se uvolnil jiným hudebním aspektům. Třebaže na něm dostal nečekaně nebývalý prostor Robin Trower, po tomto albu z kapely odchází na sólovou dráhu a jak prokázala budoucnost, jeho osobné ambice se potkaly s poměrně velkým úspěchem a uznáním. Vedle autorské práce se prosadil i jako výtečný blues rockový kytarista s hard rockovým timbrem. Myslím, že album patří mezi to nejlepší, co Procol Harum natočili. Osobně se přikláním ke čtyřem hvězdičkám, i když i k pěti na něm není daleko, snad jenom krůček.
SKLADBY:
1. Simple Sister
2. Broken Barricades
3. Memorial Drive
4. Luskus Delph
5. Power Failure
6. Song For A Dreamer
7. Playmate Of The Mouth
8. Poor Mohammed
SESTAVA:
Gary Brooker – lead vocals, piano
Chris Copping – bass, organ, synthesizers
Keith Reid – words
Robin Trower – guitars
Barrie James Wilson – drums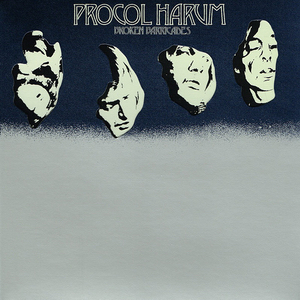 Broken Barricades
Procol Harum
Progressive Rock, Blues Rock, Psychedelic Rock
Chrysalis
1971
LP
8