…Toho, pro nějž si zubatá přišla až příliš brzo.

Edge Of Thorns, naprostá srdcovka už více jak 26 let. Když v třiadevádesátém vyšla, okamžitě si mě získala na svou stranu a nikdy nedovolila zapochybovat. Její poslech si vždy maximálně vychutnávám. Parádní obal, zvukový kabát, progresivní přistup a hlavně angažování Zaka Stevense na post (nového) pěvce, se ukázaly být správné kroky na cestě k oslovení většího počtu fans, zaslouženého uznání kritiky a hlavně, co albu pomohlo stát se nesmrtelným a cenným vývozním artiklem, byla síla skladeb samotných. To, že bratrská dvojice Jon a Criss dokáže napsat silné a originální písně, bylo patrno již na jejich albových předchůdcích, ovšem zde jejich talent vykrystalizoval nad všechna očekávání.
Piano v hlavní roli titulní skladby nás doslova přivádí k jejímu poslechu, udává tempo a lahodný zvuk jeho tónů servíruje tajemnou atmosféru. Nástup tvrdé kytary, za kterou se ozve mocný Zakův hlas, přechází do památného refrénu, sólování s pomocí klavírního doprovodu je učebnicové. Temné tóny akustik uvozují další perlu na play listě, He Carves His Stone – její příchuť a riffování v chorusu je obdivuhodné, ovšem to nejlepší přichází s kytarovým sólem podloženým akustikou z kategorie božských, maximálně si ho vždy užívám. Trojka Lights Out je spíš klasičtější power jízda, dřív jsem ji moc nemusel, čas ji ovšem "uzdavil" a noha poklepává do rytmu. Skraggy's Tomb – opět pochmurný akustický úvod, riffy mistra Olivy povyšují skladbu o stupeň výše, šestistrunka čaruje další skvostné tóny a když se navrátí její akustický úvod s hlasem hnaným přes efekt, lapáme po dechu. Po klavirní miniaturce je tu Follow Me – drahokam skladatelského umění kapely, prosím, jen poslouchejte – božééé, ty kytary, jsou všude a tak geniální!! Forever Criss!! Další instrumentální mezihra a pak, pak přijdou dvě tvrdší skladby, jež pro mne představují vrchol alba samotného.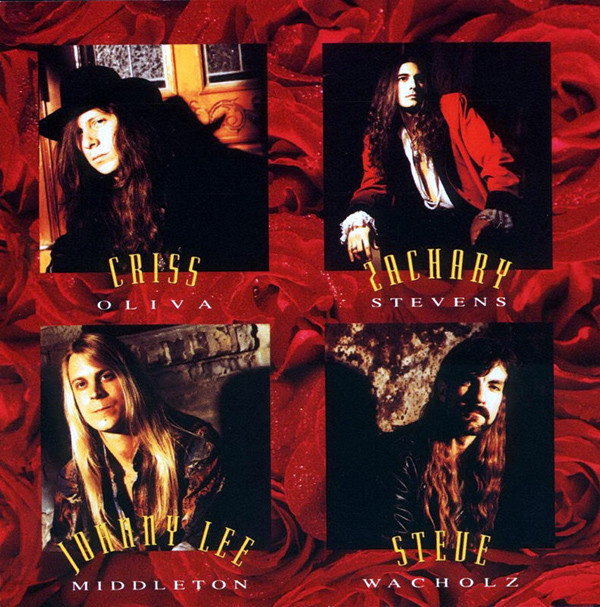 Degrees Of Sanity – originální vybrnkávání přechází v neskutečně tvrdý, přitom melodický riff s akustickým zakončením, Zak pěje jak o život a s refrénem se dostavuje ten pravý povznášející pocit, zlom přichází v podobě kytarového poryvu, jež rozmetá se stupňujícím se tempem vše v naší blízkosti. Conversation Piece – progresivně strhující kytarová práce nemající v rock / metalovém ranku obdoby, z písně je cítit obrovská chuť kapely jedoucí na 120%, tlak na posluchačovu mysl je přenášen se zarputilou vytrvalostí. Naštěstí se vše zklidní v All That I Bleed, plnící zde funkci klasické balady. V Damien jde v popředí piano s kytarou v pochodovém tempu a Zack cedí slova skrz zuby, bicí do nás buší jak kladiva do kovadliny, není vůle odpočívat. Miles Away – zvláštní, až rockově prostá píseň, postavena na akustickém začátku v doprovodu romantického vokálu a pohodové kytarové práce. A ještě jedna velká chvíle na nás čeká v poslední Sleep – Criss a Zak spolu, no není to ta pravá dvojice pro vystavění té správně posmutnělé nálady této skladby?
Jasně nejvyzrálejší album kapely a labutí Crissova píseň. Věčná škoda, co mohl takto nadaný kytarista ještě dokázat, kdyby tu zůstal s námi…
Čest jeho památce!
SKLADBY:
01. Edge Of Thorns (5:55)
02. He Carves His Stone (4:10)
03. Lights Out (3:10)
04. Skraggy's Tomb (4:23)
05. Labyrinths (Instrumental) (1:30)
06. Follow Me (5:11)
07. Exit Music (Instrumental) (3:09)
08. Degrees Of Sanity (4:36)
09. Conversation Piece (4:10)
10. All That I Bleed (4:40)
11. Damien (3:54)
12. Miles Away (5:06)
13. Sleep (3:52)
Written-By – Criss Oliva, Jon Oliva, Paul O'Neill.
SESTAVA:
Zachary Stevens – vocals
Criss Oliva – guitars, backing vocals, co-producer
Johnny Lee Middleton – bass, backing vocals
Steve Wacholz – drums
+
Jon Oliva – piano, keyboards, co-producer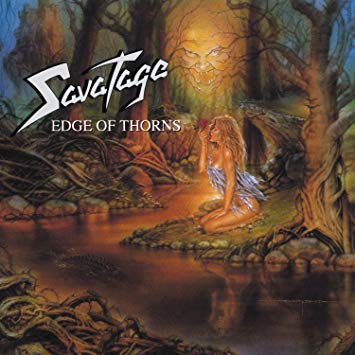 Edge Of Thorns
Savatage
Heavy Metal, Prog Metal
Atlantic
1993
CD
13