Psal se rok 1990, když se na pultech prodejen objevil pátý počin severské černoty Bathory, páně Quorthona. Tou dobou šlo již o zavedenou značku a proslulý pojem na scéně extrémnější muziky, proto byl následovník půldruha roku starého alba "Blood Fire Death" netrpělivě očekáván.
Materiál, který přinesl, způsobil však tak trochu šok… Změna ve směřování a stylu na nové nahrávce "Hammerheart" by se dala přirovnat k tomu, co předvedla o rok později na svém (též pátém) eponymním "černém albu" Metallica.
Je fakt, že náznaky takového posunu byly patrné už na předchůdci, takže to pro všechny, kdož je postřehli, nemuselo být tak velké překvapení, ovšem pro ostatní byl zřejmě ten obrat hodně výrazný.
Také je pravda, že se zde, v daleko větší míře než předtím, uplatňují sbory, akustické kytary, dominuje čistý zpěv a převládá klidnější tempo, tudíž tu ryze blackmetalové zběsilosti, doprovázené hrdelním "krákotem", budete hledat marně.
A stejně jako v hudbě, rovněž v textech je slyšet odklon od dřívějších témat a příklon k folklóru, starým vikinským námětům, mytologii a severské přírodě.
Výše uvedené skutečnosti byly důvodem, proč někteří dřívější fandové toto album nepřijali; na druhou stranu zase právě ony přitáhly ke skupině pozornost řady nových příznivců.
Z hlediska významu a vlivu na hudební vývoj je "Hammerheart" možná nejvýznamnějším dílem kapely. Ačkoli všechny předešlé nahrávky lze označit za "stylotvorné" (zejména debut a "trojku"), tahle byla inspirací asi pro největší počet následovníků a stála u zrodu kovové odnože zvané viking metal, potažmo pagan metal.
I když Quorthon není žádný extra zpěvák ani instrumentalista, je skvělý autor a interpret hudby, která "má atmosféru"… A především na Hammerheart je cítit, že jeho skladby jdou od srdce a mají duši, proto dokážou uchvátit.
P. S.
Na obalu je použit obraz "Vikingův pohřeb" (The Funeral Of A Viking), jehož autorem je anglický viktoriánský malíř, sir Frank Dicksee (celým jménem Francis Bernard Dicksee), a který se v současnosti nachází v Manchester Art Gallery.
01. Shores In Flames (11:10)
02. Valhalla (9:32)
03. Baptised In Fire And Ice (7:58)
04. Father To Son (6:31)
05. Song To Hall Up High (2:30)
06. Home Of Once Brave (6:44)
07. One Rode To Asa Bay (10:25)
Quorthon – vocals & guitars
Kothaar – bass
Vvornth – drums & percussion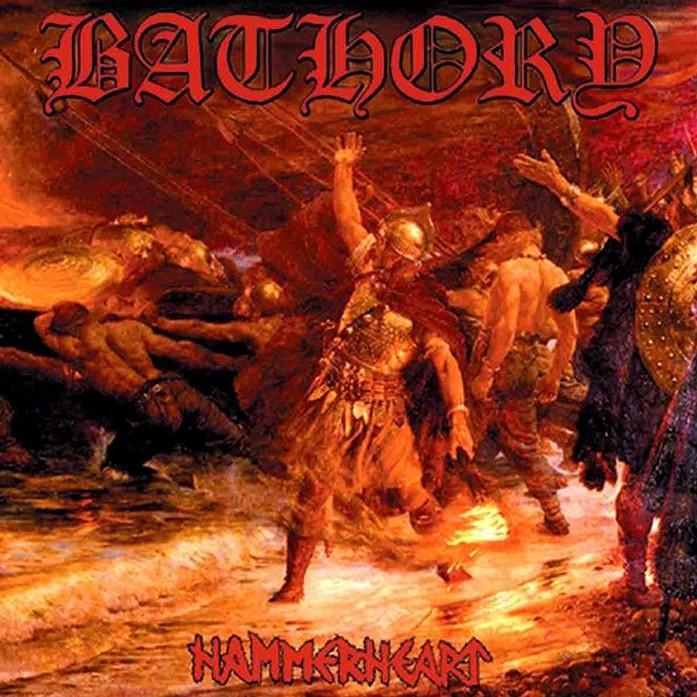 Hammerheart
Bathory
Black Metal, Viking Metal
Black Mark
1990
LP
7