Čtvrté album Led Zeppelin, také nazývané "runové album", je jedním z nejslavnějších výtvorů rockové historie. Skupina zde vytvořila hudební monolit, jenž se dá jen těžko někam zařadit. Je to blues rock, hard rock nebo folk rock? Ne, ani jedno, jsou to Led Zeppelin.
Léta 1969–1971 byla pro skupinu velmi hektická. Vydávala vynikající alba a neustále koncertovala v Evropě i za Atlantikem. Za sebou nechávala davy nadšených fanoušků, kteří rozdychtěně očekávali každý jejich další počin. V době vydání čtvrtého alba již byla pozice skupiny tak neotřesitelná, že si mohla dovolit vydat album bez jména Led Zeppelin na obalu, pouze s obrázkem starce nesoucího otep dříví.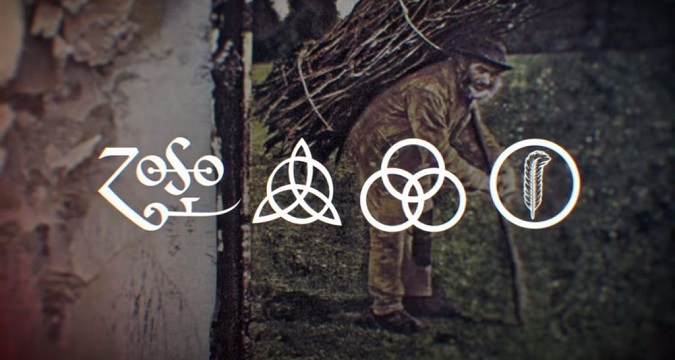 Samotné album obsahuje osm skladeb, z nichž zejména Stairway To Heaven se stala nesmrtelnou klasikou a pro mě jednou ze zásadních rockových balad sedmdesátých let společně s Child in Time a July Morning. To ale neznamená, že by ostatní materiál na albu byl slabší. To v žádném případě.
Celý skvost otvírá typický zeppelinovský hard rock Black Dog, který začíná Plantovým výkřikem, přidá se Page s jedním ze svých vynikajících riffů a píseň se začne valit kupředu jako splašený buldozer. Ve zvoleném tempu skupina pokračuje skladbou Rock and Roll. V okamžiku, kdy by se mohlo zdát, že v podobném duchu budou všechny skladby na albu, přichází zvolnění. Akustická kytara a mandolína splétají jemné předivo tónů, nad kterými se vznáší Plantův hlas podporovaný zpěvačkou Sandy Denny. Folková nádhera se jmenuje The Battle of Evermore.
A pak to přijde. Rocková hymna Stairway To Heaven, která se stala vzorem pro mnoho následovníků a dodnes se ji nepodařilo překonat. Je celkem jedno, zda se kytarista Page vědomě inspiroval skladbou Taurus od americké skupiny Spirit, nebo ne, protože vzniklo geniální, nadčasové dílo. Skladba od úvodní folkové atmosféry postupně graduje až do burácivého hard rocku s ostrým kytarovým riffem a Bonhamovými těžkotonážními bicími. Robert Plant zde podává jeden ze svých nejlepších pěveckých výkonů, zpočátku je jeho hlas něžný, postupně přidává na intenzitě a v závěru nezaostává za svými spoluhráči a je ostrý jako motorová pila.
Druhou stranu desky zahajuje příjemná skladbička Misty Mountain Hop, pro kterou jsou typické Jonesovy klávesy. Bonhamova hra na bicí mi připomíná supící parní lokomotivu. Tento dojem přetrvává i u skladby Four Sticks, která je chvílemi zjemňována akustickou kytarou.
Poté se pánové John Paul Jones a Jimmy Page chopí mandolín a akustických kytar a spustí křehkou píseň Going to California. Vždy, když tuto píseň slyším, přeji si, aby neskončila a abych ji mohl poslouchat do skonání věků. Naštěstí mé přání zůstalo nevyslyšeno, protože jinak bychom přišli o skvělé závěrečné blues When The Levee Breaks. Plant se opět dostává do pro něj typických řvaných poloh a velký prostor zde také má jeho foukací harmonika. Zvuk kytary zde má až mystický nádech a Bonhamovy přesné údery na bicí se posluchači zarývají do uší a nutí ho být neustále ve střehu.
Jakmile album skončí, tak si začnu uvědomovat, že jsem se asi dostal do jiné hudební dimenze, bez které už nemůžu být. Vzducholoď vzlétla k nadpozemským výšinám, k nimž se mnozí umělci ani nepřiblíží. Teprve budoucnost ukáže, zda jde ještě vzlétnout výš.
SKLADBY:
1. Black Dog  4:55 (Page/Plant/Jones)
2. Rock and Roll  3:40 (Page/Plant/Jones/Bonham)
3. The Battle of Evermore  5:38 (Page/Plant)
4. Stairway To Heaven  7:55 (Page/Plant)
5. Misty Mountain Hop  4:39 (Page/Plant/Jones)
6. Four Sticks  4:49 (Page/Plant)
7. Going To California  3:36 (Page/Plant)
8. When The Levee Breaks  7:08 (Page/Plant/Jones/Bonham/Memphis Minnie)
SESTAVA:
Jimmy Page – elektrická a akustická kytara, mandolína
Robert Plant – zpěv, harmonika
John Paul Jones – baskytara, klávesy, syntezátor
John Bonham – bici
Sandy Denny – ženský vokál ve skladbě "The Battle of Evermore"
Untitled
Led Zeppelin
Blues rock, hard rock, folk rock
Atlantic
1971
LP, CD
8