V roce 1997 jsem v rámci cestování po jižní Anglii navštívil také město Bath (krásné lázeňské město plné památek, včetně například dochovaných římských lázní) a nemohl jsem nenavštívit nahrávací studio hudebníka Petera Hammilla, Terra Incognita. Řeknu vám, chtělo to odvahu tam vlézt. Peter Hammill byl sice zrovna na koncertní šňůře po Argentině, ale i tak jsem se tam chvilku, asi patnáct minut, bavil zřejmě s jeho manažerem a dostal jsem dokonce tehdy ještě nevyšlé (nebo právě vyšlé) čerstvě vylisované CD Sonix. Dodnes si pamatuju, jak jsem potom vyšel ven na sluníčko, celý zarudlý a překvapený vlastní akčností a schopností anglicky konverzovat, jako bych nic velkého neprožíval. Třesoucí se rukou jsem si zapálil Marlborku a zážitek se mi vypálil do paměti tak, že ho už jen tak něco nevymaže.
O to větší má pro mě dané CD osobní hodnotu.
Hudba na tomto albu je v podstatě instrumentální, vlastně ne moc hammillovská: chvílemi strašidelně moderní (používání elektroniky) a chvílemi zase strašidelně psychedelická (kytarové vazbení). Nejdelší kompozice na albu, téměř půlhodinová klavírní Labyrinthine Dreams (jediná skladba, ve které se na chvilku dočkáme Hammillova zpěvu), byť zní poměrně repetitivně a minimalisticky, mně nicméně svou náladou a hudebním motivem zcela mimo rock připomíná spíš Chopinova nokturna než cokoli, co kdy Peter Hammill předtím natočil. Kompozici poprvé představil posluchačům na festivalu Catania (Sicílie) v červenci 1996.
Jak říká o tomto albu sám Peter Hammill, "žádný z těchto kousků není pohodlný (nebo jak jinak přeložit slovo 'comfortable', pozn. autora): z větší části je to hudba pod povrchem a za světlem. Alternativní svět Sonix." Celé CD se skládá ze skladeb označených jako "Hybridní experimenty 1994-1996". Několik kousků pochází z temné filmové hudby vytvořené pro film režiséra Michela Spinose s názvem "Emmene-moi", nicméně byly nakonec vyňaty z finální verze francouzského dramatu. Hodně zde slyšíme nezvykle filmově znějícího Stuarta Gordona (housle/viola) a výjimečně zazní i bicí Mannyho Eliase, se kterým Peter Hammill v té době spolupracoval.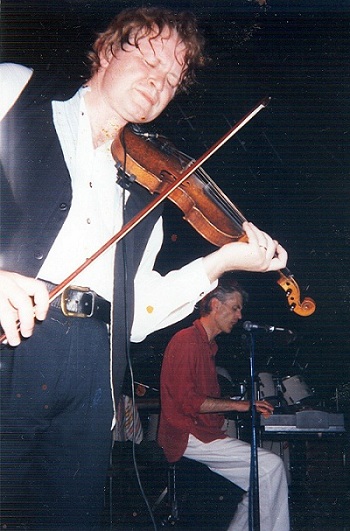 Tohle album (včetně jeho předchozích i následných experimentálních nahrávek) dokazuje, jak všestranným a originálním umělcem Peter Hammill byl a je. Album se mi podařilo během několika prvních měsíců naposlouchat a je radost si pak dané CD doslova vychutnávat, byť jsem si vědom, že ne každým uším bude tato hudba znít podobně lahodně. Pro jednoho je to prostě intelektuální masturbace (viz například jedna nemilosrdná recenze na progarchives.com), pro jiného fascinující hudební výlet. Já patřím do té druhé skupiny a jsem rád, že mě dokáže oslovit něco takového. Stejně ale tak, jako mě dodnes baví třeba Rubber Soul od Beatles.
SKLADBY:
1.  Emmene-moi Bare Theme (2:29)
2.  A Walk In The Dark (1:55)
3.  In The Polish House (4:49)
4.  Dark Matter (6:58)
5.  Hospital Silence (2:34)
6.  Four To The Floor (9:36)
7.  Exercise For Louis (2:49)
8.  Labyrinthine Dreams (26:25)
9.  Emmene-moi Full Theme (2:29)
SESTAVA:
Peter Hammill – instruments & treatments
+
Stuart Gordon – violin & viola (1, 2, 5, 9)
Manny Elias – percussion (6)
Sonix - Hybrid Experiments 1994-1996
Peter Hammill
Abstract, Experimental
Fie! Records
1996
CD
9