Prvotina Hladíkovy životní skupiny ve mně vzbuzuje rozporuplné pocity. Možná to bylo dáno tím, že jsem od ní očekával příliš mnoho, za což může můj otec, který mi neustále vsugerovával, že se jedná o nejlepší československou rockovou desku. Ale dokázat to nemohl. Sice jsme ji měli doma, ale byla nám celkem k ničemu, protože jsme neměli gramofon. O to víc jsem si zálibně prohlížel její obal a v duchu si představoval, co že se to za hudební skvosty asi skrývá v jejích drážkách. Když jsem si konečně pořídil patřičné vybavení, chtěl jsem si Meditaci hned poslechnout. Jenže ouvej. Modrý poklad zmizel, jelikož otec jej někomu daroval. Pamatuju si, že jsme se tenkrát docela pohádali.
Dnes mám album Meditace ve vydání z roku 1996 a také v souborném box setu. Také je mi jasné, že se o nejlepší rockovou nahrávku v žádném případě nejedná. Spíše mi to připomíná nerozhodné tápání a přešlapování. Mám tím na mysli především koncept dvou odlišných stran, jedné zpívané česky, a druhé v jazyce anglickém. Něco podobného na své Šípkové Růžence vyzkoušela také skupina Rebels a tam z toho vznikl podivný kočkopes, ze kterého se skutečná tvář skupina celkem vytrácela. Podobný dojem mám bohužel i z Meditace.
Neberu tvrzení, že s původními texty Jaroslava Hutky by byla strana A lepší. Pravda, Zdeněk Rytíř nedodal žádné literární skvosty, ale tady bohužel trochu hapruje i hudební stránka věci. Hned úvodní Paměť lásky je natolik plná patosu a sladkobolného kýče, až si říkám, že asi brzy poslech přeruším. Ještěže v Mišíkově skladbě Blue Effect Street konečně zazní ostrá rocková kytara. I použitý sitár výsledný tvar příjemně ozvláštňuje.
Prvním vrcholem na albu je Hladíkova skladba Fénix. Nádherná melodie korunovaná klenutým refrénem je opět obalena smyčcovými nástroji, ale oproti úvodní písni patos zůstal stranou a ve mně převládá pocit z něčeho nadpozemsky krásného. Bohužel ten pocit zmizí s následujícím řízně rockovým Strojem na nic. Hladík zde předvádí vymazlená sólíčka, ale jinak tu hru na pražské Chicago neberu. Ale chápu, že si Hladík tady pomalu prošlapával cestičku k Novým syntézám. První stranu alba zakončí Mišíkova něžná instrumentální drobnůstka Sluneční hrob, což je takový předěl mezi oběma částmi.
Strana B vrací skupinu ke kořenům, z nichž vyšla. A těmi je rhythm and blues vycházející z anglo-amerických vzorů šedesátých let. Přiznám se, že tato podoba je mi bližší, ale i zde mám drobné výhrady. Little Girl je celkem sympatická skladbička, navíc Mišíkova flétna zde neurazí, ale postrádám u ní nějaké větší ambice. To následující Deserted Alley je jasný hit na první poslech. Stačí poslechnout a její rozjásaný refrén se vám nesmazatelně vryje do hlavy.
Nejdelší písní na desce je dlouze táhlé Blues About Stone. Zde všichni hudebníci předvádějí to, co v nich je nejlepší. Mišík zde ukazuje, že pěvecky je mu pořád angličtina bližší, ale to podstatné zde není zpěv, ale dokonalá souhra rytmiky s hadovitě kličkující Radimovou kytarou.
A pokračuje se dál svižnou skladbou Rainy Day. Zde v refrénu Mišík ukazuje svůj tehdejší hlasový potenciál, zatímco kytara jej příjemně podbarvuje, aby v poslední třetině skladby popustila uzdu a závěr opentlila filigránskými vyhrávkami. Na závěr se hudebníci ptají Where Is My Star. Píseň je poměrně členitá, střídají se zde zadumané pasáže s ostřejšími, až mám dojem, jakoby nejen tato skladba, ale i jiné části alba nebyly ničím jiným než zkouškou na rozsáhlejší kompozice, které brzy přijdou.
Meditace opravdu není tou nejlepší českou rockovou nahrávkou, ale kdyby nebylo mého tatínka a jeho neochvějně hájeného názoru, tak bych tuhle desku nikdy neslyšel a asi bych později nepoznal Svět Hledačů a jiné skvosty.
Skladby:
01. Paměť lásky [Hladík/Rytíř] (4:05)
02. Blue Effect Street [Mišík/Rytíř] (4:07)
03. Fénix [Hladík/Rytíř] (4:28)
04. Stroj na nic [Hladík/Rytíř] (2:29)
05. Sluneční hrob [Mišík] (1:52)
06. Little Girl [Mišík] (3:57)
07. Deserted Alley [Mišík/K. Kozel] (3:12)
08. Blues About Stone [Mišík/Hladík/J. Kozel/Čech] (8:01)
09. Rainy Day [Hladík/K. Kozel/J. Kozel] (4:01)
10. Where Is My Star [Hladík/Smetana] (3:28)
Obsazení:
Vladimír Mišík – lead vocals, flute (6), percussion
Radim Hladík – guitar, organ (3, 10), sitar (2)
Jiří Kozel – bass, lead vocals (9)
Vlado Čech – drums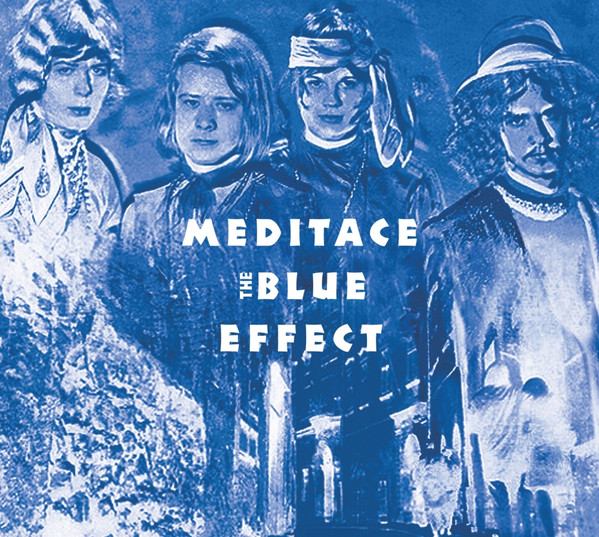 Meditace
Blue Effect
Blues Rock, Psychedelic Rock
Supraphon
1970
LP
10