Album None Of The Above je kolekce plná překrásných balad, jaké snad umí napsat jen Peter Hammill. CD bylo nahrané v období leden 1999 až únor 2000. 
Album se tak celé nese v (na Hammilla neobvyklém) poklidném duchu včetně Hammillova hlasu a způsobu zpěvu. Divoký rock ani žádnou kakofonickou avantgardu nečekejte. Uslyšíme Hammillův hlas včetně místy jeho typicky chórového zpracování, Peterovy kytary, melancholicky znějící klávesy; ve třech skladbách uslyšíme také přizvaného Stuarta Gordona, jehož hra na violu a housle je více než citlivým vkladem a jednoznačným obohacením daných skladeb. Bicí Hammillova tehdejšího spolupracovníka Mannyho Eliase uslyšíme v jediné skladbě Like Veronica, písni asi nejvíc rockově znějící. V opravdu nádherné nahrávce Naming The Rose a závěrečné Astart dostaly také prostor předvést svůj sopránový hlas Hammillovy dcery Holly a Beatrice.
Po instrumentálním experimentálním albu natočeném s Rogerem Enem (bratrem slavnějšího Briana) The Appointed Hour a znovunatočené opeře (dá-li se slovo opera použít) The Fall Of The House Of Usher nám Hammill nabízí album chuťově zase z úplně, ale úplně jiného soudku. I tohle je jeden z důvodů, proč Petera Hammilla stále rád poslouchám. Absence "divokého Hammilla" vůbec neznamená, že by se album nějak táhlo nebo bylo dokonce nudné. Těžko nějakou skladbu vyzdvihnout nad ostatní, všechny mají svou sílu, kterou si já tím, že album mám již naposlouchané, každým dalším poslechem s radostí vychutnávám.
Jestliže jsou alba skupiny Renaissance často hodnocena použitím přívlastku "krásný" – tak to samé lze vztáhnout i na toto album, None Of The Above.
SKLADBY:
1. Touch And Go (4:09)
2. Naming The Rose (5:20)
3. How Far I Fell (5:57)
4. Somebody Bad Enough (4:05)
5. Tango For One (6:45)
6. Like Veronica (5:56)
7. In A Bottle (8:02)
8. Astart (4:16)
SESTAVA:
Peter Hammill – instruments and vocals, arranger & producer
+
Stuart Gordon – violin & viola (2,5,8)
Manny Elias – drums & percussion (6)
Holly Hammill – soprano backing vocals (2,8)
Beatrice Hammill – soprano backing vocals (2,8)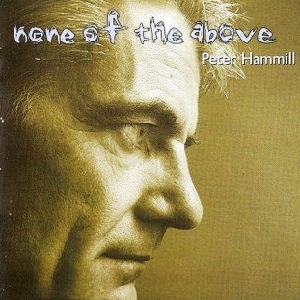 None Of The Above
Peter Hammill
Art Rock, Prog Rock
Fie! Records
2000
CD
8