…ANEB ŽIVOT VE VLASTNÍ EGOISTICKÉ KLECI
Tři roky uběhly jako voda a před námi je další, už čtrnáctá studiová deska progresivních inženýrů z New Yorku, kapely Dream Theater. Chtít a vlastně i čekat od této kdysi prog-metalové veličiny a v devadesátých letech i jasné jedničky v tomto oboru něco překotného, či nového, je myšlenka značně bláznivá, dá se říci až bizarně nesmyslná. 
Každá velká kapela ať hraje jakýkoliv hudební styl, prožívá svou nejkreativnější fázi většinou okolo druhé, až řekněme páté desky. Je pár výjimek, které pravidla porušují (v prog sektoru mne napadnou například Echolyn, Tangent, či Spock's Beard – všechno spolky držíce svůj kompoziční kredit neustále velmi vysoko), Dream Theater mezi vyvolené však dávno nepatří. Mediálně můžou být (a vlastně pořád jsou) dosazování mezi králi na trůn nejvyšší, avšak jen trochu inteligentní fanoušek podobné muziky, který za svá léta v branži už lecos naposlouchal, dobře ví, že tlaky zvenčí žádnou kvalitu přinést nemohou a jeho názor změnit nedokáží. Dream Theater si žijí svůj vlastní sen ve svém bezpečí obloženém dolarovými bankovkami a možná mu celou tu dobu i skutečně věří. Věří, že jsou stále titéž machři co dokáží udávat tón a každý dychtivý fanda instrumentálně namakané muziky k nim musí logicky vzhlížet. Doba ovšem dávno pokročila a v nepřeberném množství takové muziky se dnes dají celkem snadno vystopovat daleko invenčnější soubory.


Po minulé vskutku katastrofální nahrávce, kterou už dnes nemá cenu rozebírat, je mi novinka sympatická pokud něčím, tak na poměry kapely až skromně vyhlížející celkovou časovou stopáží, která muže znamenat určitou "snažší náročnost" ve chvíli, kdy se bude posluchač deskou prokousávat. Plus body bych udělil za i celkem originální (přesněji řečeno snadno identifikovatelný) přebal. Ovšem ty lebky na konci bookletu, ehm… K výslednému zvuku a feelingu nahrávky se asi nemá cenu ani vyjadřovat. V této oblasti je kapela dávno ve stádiu vlastní (sebezničující) zaslepenosti a hibernace, kdy se snaží svým – uši drásajícím zvukově pompézním obalem zakrýt to, co má posluchače zaujmout především, a to jsou v první řadě kvalitní songy.
Novinka je prezentována jako společné dílo celé kapely (stejně jako deska eponymní) a já se ptám, je to skutečně poznat? Jde u některých z posledních nahrávek velkých Dream Theater vystopovat společná dělba práce? Společný pohled, stejný vklad každého z hráčů i co se týká role skladatelské? Tyto rysy by měli dát desce na rozmanitosti, vzdušnosti, hravosti, pestrosti i větší záživnosti. Dle mého je tento soubor natolik kompaktní v tom nedobrém slova smyslu, že ten který jedinec může přijít byť se sebelepším nápadem, zbytek kapely jej strhá pro jeho odlišení se mimo dávno nastavené a žel bohu neměnné mantinely. A to je velká škoda.

Velká škoda je, že kapela nechce za žádnou cenu riskovat (byť při ztrátě několika stovek/tisíců neprodaných nosičů) a bojí se tak svůj sound oživit o "nové" prvky a postupy. Ale kdo ví, možná už na to Petruciovci prostě nemají a poslední desky jsou odrazem skutečného maxima, které ze sebe dokážou Dream Theater vypotit. Můžeme o tom donekonečna polemizovat, je to strach, lennost, bojácnost, sobectví a zahleděnost, neschopnost reálného úsudku a nedostatek sebekritičnosti, laxnost či opojný pocit že dělám všechno správně? Jedna a možná i více z těchto vlastností u Dream Theater zkrátka dlouhou dobu převládají. Důkazem tohoto stavu je i jejich nový nahrávací testament Distance Over Time.
A teď tedy k desce samotné:
Já osobně jsem zklamán, dokonce velmi zklamán. Je samozřejmé, že za nějaký měsíc bude můj/posluchačův pohled zase malinko odlišný, ale po prvním týdnu a zhruba se šesti poslechy v zádech je to zklamání obrovské. Čekal jsem od desky ne, že víc, ale mnohem, mnohem a ještě jednou mnohem víc. Tohle je další prachsprostá rutina made in Dream Theater, a z Mangini-ovských posledních čtyř desek, nepočítaje nudný průšvih The Astonishing, ta rozhodně nejslabší. Oproti A Dramatic Turn Of Events výrazně ubylo nápadů a vedle "návratové" desky z roku 2013 se zbytky invence krčí kdesi vzádu za křeslem. Nevím, koho tímto chtějí Dream Theater (jak říkají naši východní sousedé) ohúriť, svoje dlouholeté fanoušky asi stěží. Možná tak dvacetileté cápky, co je registrují posledních pět let svého teenagerovského života (nerad bych se někoho dotknul) a za jejich první desku berou nahrávku Octavarium. Ty možná. Takoví si nad novinkou znovu spokojeně chrochtnou a můžou jí dát plný bodový kotel. Z letitých fandů by tohle udělal snad jen naprostý blázen, nebo jedinec senilního věku postihutý totální hluchotou.
Začátek desky, první dvě čísla – to je zkrátka nuda k uzývání. Tytéž, za posledních 10-15 let zažité postupy (klasický úvod na vybrnkanou:-), průhledná schematičnost, nulový moment překvapení, žádná kreativita, známá hustá opona z obyčejných, nic neříkajících riffů základního charakteru, metalová hřmotnost a s tím spojená známá temná těžkopádnost a tak dále. Od třetí Fall Into The Light kredit desky nepatrně stoupne, navenek se dostávají i zajímavější melodie a solidní dávka energického potenciálu. Druhou část opanuje nečekaná vyhrávka na španělky, pěkná sóla, až má člověk pocit, že není vše ztraceno. V Barstool Warrior se na chvíli ozve Myungova basa, sóla a vyhrávky se kupí pěkně na sebe, Majkí všem šlape po krku a celková instrumentace skladby je opravdu povedená. Při dalším postupu deskou lze snadno vytušit, že se budou střídat lepší kusy s těmi průměrnými. Začátek Room 137 mi připomíná (snad jsem to konečně rozkódoval) jednu z oblíbených šlupek z desky Saints of Los Angeles od Mötley Crüe, ale víc se mi líbí šestá S2N. To je jedna z těch zdařilejších progresivních chvil tady. Nutno také podotknout, že pro tentokrát kluci vsadili všechny karty (až na jednu vyjímku) na rychlé a "dravé" songy. Do baladických vod se sahá pouze!! jednou, a to až s položkou předposlední Out Of Reach – což je taková ta klasická baladice – nenadchne, ale ani neublíží. Za celkem slibnou bych označil i poslední skladbu Pale Blue Dot (nemají snad Sound of Contact skladbu stejného názvu, kvality však neporovnatelně vyšší).
Netvrdím, že jde v případě nových Dream Theater o úplně vyhozené peníze (to byl předchozí super kauf The Astonishing:-), tohle je však skutečně žalostně málo "dobré" muziky za "tolik" zlaťáků.
Na konečný verdikt a nějaké smysluplné ohodnocení tohoto díla je ještě hodně brzo. Pro mne je to celkem jasně a o desítky procent( dost pochybuji, že se na tom v průběhu nadcházejících měsíců i let něco změní) druhá nejslabší nahrávka z prostfólia Dream Theater. V jejich diskografii bude tato nahrávka sotva podprůměrnou, při srovnání s nějakou řekněme metalově progresivní scénou zhruba průměrná a z hlediska vývoje prog muziky totálně marginální.

Časy těch magických a stylotvorných LP této kapely jsou znovu v nenávratnu. Dle mého to byla především tato studiová pětice Images And Words–Awake–Falling Into Infinity–Metropolis Pt. 2: Scenes From A Memory–Six Degrees Of Inner Turbulence, která v sobě zaznamenala prudký vývoj žánru, který nesvazovala žádná předem daná kritéria, žádné šablony, žádná ohraná schémata. Každá z těchto nahrávek zněla naprosto odlišně. Ať soundem jednotlivých písní, originálním, vždy jasně definovaným zvukem, nebo, a to hlavně, vlastní vynalézavostí a touhou zkoušet nové věci.

Žádnou z těchto vlastností Distance Over Time nevykazuje. Vedle takovýchto skvostů je jen dalším, snadno zaměnitelným kýčovým trpaslíkem. A když do jejího sousedství postavíte takové Octavarium, či Systematic Chaos rychle zjistíte, že to jsou vlastně veledíla tesaná s pomoci Mikea Portnoye, kdy kapelu můza důvtipu, vynalézavosti a duchaplnosti šimrala na obou chodidlech současně. Dva a půl bodu bych viděl jako adekvátní.


SKLADBY:
01. Untethered Angel (6:14)
02. Paralyzed (4:17)
03. Fall Into The Light (7:04)
04. Barstool Warrior (6:43)
05. Room 137 (4:23)
06. S2N (6:21)
07. At Wit's End (9:20)
08. Out Of Reach (4:04)
09. Pale Blue Dot (8:25)
10. Viper King (4:00) (Bonus Track)
SESTAVA:
James LaBrie – Vocals
John Petrucci – Guitars
John Myung – Bass
Jordan Rudess – Keyboards
Mike Mangini – Drums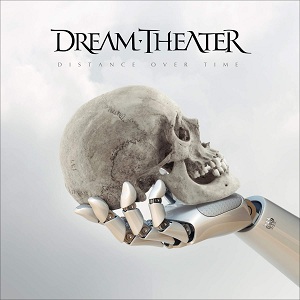 Distance Over Time
Dream Theater
Progressive Metal
Inside Out Music
2019
LP, CD
10