Čtrnáct instrumentálních kratších skladeb. Nahraných jejich autorem Peterem Hammillem mezi lety 1999-2000. Zcela se ocitáme mimo rock (nebo minimálně mimo rock, tak jak je obecně brán), jsme spíš na poli elektronické experimentální hudby trochu připomínající třeba… No, nikdo mě nenapadá. Tohle je opravdu těžko zařaditelná a těžko přirovnatelná záležitost. 
Řada instrumentálek jsou naštěstí instrumentálkami nesoucími v sobě jakous takous melodii/hudební motiv (úvodní klávesová zasněná náladovka Gated, klávesovo/kytarová Gateless), vyloženého zvukově experimentálního výhřezu je zde poskrovnu (na bicích postavená Exeunt).
Když jsem album slyšel poprvé, nemohl jsem se upřímně řečeno zbavit nepříjemného pocitu, že Hammill použil "odpadky" nápadů, věci, které mu zbyly, nikam se nevešly, slabší nápady – a tak z takových zbytků udělal album. Tak to samozřejmě vůbec není, ale – možná se budu opakovat – chce to jednoduše několik poslechů, aby se krása hudby mohla vylíhnout z neopeřeného podvyživeného mláděte v nádherného sebevědomého ptáka.
Většina skladeb skutečně počala svůj původ jako potencionální součást písní (jak píše Peter Hammill v CD brožurce), ale staly se z nich nakonec fragmentární instrumentálky, které se sešly na tomto albu. Jak sám Hammill podotýká, nejsou určené pro nic, ani nejsou o něčem (ve smyslu příběhového pohonu).
Malou zajímavostí je skladba Eyebrows, jejímž autorem výjimečně není Peter Hammill, ale jeho dcera Holly. Je to kytarová kompozice, za jejíž prostřední část by se nemusel stydět ani Robert Fripp. Na všechny skladby se hodí komentář samotného Petera Hammilla: "… evokují naprosto jinou kulturu…" a já jen doplním, že jsou hodně zajímavé, mají své kouzlo a jsou horko těžko broukatelné.
Pro fandy hudby vybočující ze standardů, např. fandy progresivní elektroniky, jednoznačně doporučuji. Fanouškům takových Yes by naopak hudba z alba Unsung mohla způsobit duševní újmu.
SKLADBY:
01. Gated (3:03)
02. West Pole (3:33)
03. Delinquent (2:26)
04. Handsfree (2:29)
05. Eyebrows (3:36)
06. Delighted (2:58)
07. 861 and Counting (4:04)
08. Exp (3:47)
09. The Printer Port (3:25)
10. East Pole (2:44)
11. Exeunt (2:40)
12. 1 Meg Loop (3:52)
13. Gateless (3:01)
14. Deliberate (3:06)
SESTAVA:
Peter Hammill – instruments, arranger & producer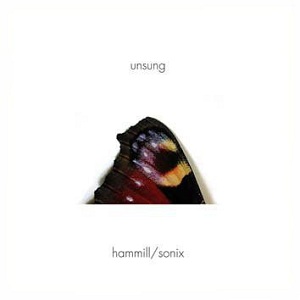 Unsung
Hammill/Sonix
Electronic, Rock, Experimental
Fie! Records
2001
CD
14