Odvrácená strana Měsíce, nehostinné místo pro život, které je ze Země nemožné sledovat, a zároveň probouzející v nás různé fantaskní představy, se stává na osmém albu skupiny Pink Floyd metaforou lidského života v moderní konzumní společnosti. Členové skupiny zde vytvořili neskutečnou koláž zvuků, které spolu s nesmírně barevnou hudbou vytváří kompaktní celek, z nějž nejde odebrat ani notu, jinak by se celá důmyslná struktura mohla rozsypat jako pověstný domeček z karet.
Celá ta nádhera je na začátku a na konci rámována tlukotem lidského srdce, což mi symbolizuje lidský život od zrození až do ukončujícího okamžiku smrti. A mezitím je posluchači předkládána přehlídka lidského hledání a tápání, různých, mnohdy nesplněných tužeb a možných závislostí, které mohou i přerůst v regulérní šílenství. Je pouze na každém z nás, aby nepodlehl těmto hrozbám a co nejlépe se popasoval s lákadly moderní doby, která na nás mohou čekat maskována například chorobným vztahem k majetku a jeho hromadění, viz píseň Money, nebo neúprosným diktátem ubíhajícího času, o čemž mohou vypovídat skladby On the Run a Time.
Ale to, co činí tuto desku tak výjimečnou, je především hudba. Jakoby skupina chtěla světu sdělit, že už skončilo období hledačství a roztěkaného experimentování, které mnohdy mohlo zabředávat do samoúčelných exhibic, a nastal čas dospělosti, což s sebou přináší i mnohem dokonalejší hudební výpověď, jež se ve své komplexnosti má šanci stát jedinečným dílem. Některé pasáže připomínají ve své mohutnosti symfonie z oblasti vážné hudby. A tak jako se my dnes vracíme s obdivem k monumentálním dílům Beethovenovým, možná se naši následovníci za nějakých sto let budou v němém úžasu vracet ke skladbě The Great Gig In The Sky a říkat si, že taková nádhera snad není ani skutečná. A určitě budou mnozí jiní zažívat posluchačskou extázi podobnou té, jež mě vždy uchvátí v závěru tohoto hudebního monolitu při poslechu částí Brain Damage a Eclipse.
Doufám, že deska, jejíž obal je zdoben tajemným barevným spektrem procházejícím trojúhelníkem, nezapadne v zapomnění. Byla by to škoda, kdyby lidstvo bylo ochuzeno o nádheru sahající až někam k odvrácené straně Měsíce.
Skladby:
01. Speak to Me [Mason/Waters] (1:16)
02. Breathe (In the Air) [Wright/Gilmour/Waters] (2:44)
03. On the Run [Waters/Gilmour] (3:32)
04. Time [Waters/Gilmour/Wright/Mason] (7:06)
05. The Great Gig in the Sky [Wright/Torry] (4:44)
06. Money (6:32) [Waters]
07. Us and Them [Wright/Waters] (7:40)
08. Any Colour you Like [Gilmour/Mason/Wright/Waters] (3:25)
09. Brain Damage (3:50) [Waters]
10. Eclipse (2:04) [Waters]
Obsazení:
David Gilmour – guitar, synthesizer, vocals (2, 4, 6-7)
Richard Wright – keyboards, synthesizer, vocals (4)
Roger Waters – bass, synthesizer, tape effects, vocals (9-10)
Nick Mason – drums, percussion, tape effects
Clare Torry – vocals (5)
Leslie Duncan, Lisa Strike, Doris Troy, Barry St. John – backing vocals
Dick Parry – saxophone (6-7)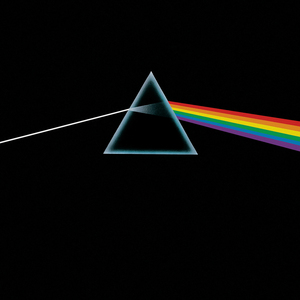 The Dark Side of the Moon
Pink Floyd
Prog Rock
Harvest, EMI
1973
LP
10
CD EMI – 50999 028955 2 9