Už sa mi viackrát potvrdilo, že skvelá rocková hudba 60. a 70. rokov, ktorá je mi veľmi blízka a dodnes ma neprestáva fascinovať, sa nerodila iba vo Veľkej Británii a USA. Aj tam, kde by to možno nikto nečakal, uzreli svetlo sveta výborné nahrávky. Tvrdím to roky a budem aj naďalej – oplatí sa "kopať", hľadať, skúmať, brať rady od povolanejších…
V roku 1966 vznikla v juhoafrickom Durbane skupina Freedom's Children, ktorá sa odlišovala od svojich rovesníkov, zahľadených do ľúbivých popevkov The Beatles, The Monkees a trebárs The Beach Boys. Naši hrdinovia drvili rhythm and blues a nabrali smer psychedelic rock. Počas svojho fungovania vydali 3 albumy – Battle Hymn Of The Broken Hearted Horde (1968), Astra (1970) a Galactic Vibes (1971). Štvrtý, pod názvom Mummies, zaznamenaný po reunione v roku 1996, doteraz nevyšiel. Nechám históriu bokom a budem sa venovať štúdiovke z roku 1970.
Základy diela Astra, ktoré považujem v diskografii skupiny za najvydarenejšie, vznikli v roku 1969 v Londýne, kde sa chalani vybrali na skusy a zároveň podporiť svoju debutovú LP. Žiaľ, Juhoafrická republika, známa politikou apartheidu, nebola práve kladnou vizitkou pre získanie pracovného povolenia a ponížení hudobníci sa rozhodli pre návrat. V pozmenenej zostave, v ktorej teraz boli Brian Davidson (spev), Julian Laxton (gitara), Ramsay MacKay (basa) a Colin Pratley (bicie), sa v roku 1970 vybrali do štúdia EMI v Johannesburgu a počas jedného víkendu, teda od piatkovej noci do pondelkového rána, bol druhý album kompletne dokončený. Zdá sa to neuveriteľné, ale na vtedajšie technické možnosti a po tom, čo som čítal o "veľkolepom" vybavení nahrávacieho štúdia, musím hudobníkom a ľuďom okolo zložiť obrovskú poklonu. A to aj napriek tomu, že časom vyplávali na povrch ďalšie skutočnosti a na diele sa pracovalo dlhšie, to podstatné sa však udialo počas jedného magického víkendu v júni 1970.
Všetok materiál, muzika a texty, pochádzajú od basáka MacKaya, škótskeho rodáka. Astra je zmes psychedelic, acid i prog rocku a dovolím si dodať aj riadne heavy. Poviete si, nič nové pod slnkom, v tom čase vznikali vo svete mnohé iné albumy, o ktorých sa dnes píše s uznaním? To áno, ale táto nahrávka má v sebe niečo magické. Napríklad to, že gitarista Julian Laxton v tom čase vymyslel prístroj, ktorý vyrábal všelijaké zvukové efekty a tým album obohatil. Pre zaujímavosť, niečo podobné, nazvané gizmo, si v roku 1975 dali patentovať páni Godley a Creme, členovia britskej kapely 10cc. K ďalším zvláštnostiam platne treba prirátať aj vokál Briana Davidsona, ktorý akoby prechádzal cez nejaký skresľujúci modul a dodával materiálu zvláštnu auru. Ak by som mal jeho prednes prirovnať k niekomu známejšiemu, tak je to Mike Harrison zo Spooky Tooth. Potrebné je spomenúť aj zvukového inžiniera Nica Martensa, niekdajšieho člena Freedom's Children, ktorý z kapely odišiel po jej návrate z Anglicka. Jeho bývali parťáci ho požiadali o spoluprácu a Nic neodmietol. Za týždeň sa naučil kompletný materiál a zhostil sa aj svojej pôvodnej profesie, obsluhoval hammondky. A ja iba dodám, že zahral fantasticky! Rovnako je veľmi podstatné doplniť, že dostal absolútnu slobodu pri mixovaní výsledného produktu. Ďalším dôležitým kolieskom v bezchybne fungujúcom stroji Freedom's Children v štúdiu bol klasicky vzdelaný klavirista Gerard Nel, ktorý bol kapele k dispozícii počas celého nahrávania. Samozrejme, nesmieme zabudnúť na rytmiku, ktorá odviedla kvalitnú robotu a dodala Astre poriadnu dávku hutnosti…

Album sa javí ako koncepčný, ale Ramsay MacKay sa po rokoch vyjadril, že tomu tak nie je a každá skladba má iný príbeh. Úvod je inšpirovaný pristátím Američanov na Mesiaci, The Home Coming o návrate na Zem, ale aj o bežných veciach na našej planéte. The Kid He Came From Hazareth sa zaoberá náboženskou tematikou, skrytou myšlienkou je však apartheid. Medals For Bravery poukazuje na nezmyselnosť vietnamskej vojny, Tribal Fence a Gentle Beasts sú o živote v Južnej Afrike pod vtedajším režimom. Slowly Towards The North je pripomienkou vesmírnej cesty a Afterward je takou hudobnou "kronikou" albumu, kde sa predstavujú jednotlivé momenty diela v trochu pozmenenej forme…
Astra mala, dá sa povedať, smolu, pretože vďaka vtedajšej situácii v Južnej Afrike, o nej nikde inde ani netušili. A navyše, skupina mala aj v domácich podmienkach zviazané ruky a na mnohých miestach nemohla vôbec vystupovať. Dokonca musela zmeniť aj texty, napr. skladba The Kid He Came From Hazareth (pôvodne Nazareth) bola označená ako provokačná. Veru, veď v začiatkoch svojej existencie, aby sa jej single mohli vôbec hrať v rádiu, musela pristúpiť ku kompromisu a vydávať ich pod názvom Fleadom's Children. Zvláštnym spôsobom sa zachovala aj firma EMI, ktorá Astru prakticky po vydaní vyradila zo svojho katalógu. A aby toho nebolo málo, skupinu vzápätí opustil Ramsay MacKay. Dôvodom bola láska k jednému dievčaťu a následné presťahovanie. Neskôr priznal, že to bola chyba.

Môj pokus o recenziu sa nakoniec "zvrhol" do akýchsi historických súvislostí, tak ešte doplním, že pôvodné pásky Astra sú nenávratne zničené – zhoreli pri požiari štúdia. O akú takú nápravu a sprístupnenie nahrávky sa v roku 1990, s pomocou Juliana Laxtona, postaral producent Patric van Blerk, prostredníctvom nového vydania LP (PVB Music). Julian tvrdí, že pôvodnej aure nahrávky sa najviac priblížilo vydanie firmy Fresh Music z roku 2005.
Juhoafrický rodák Clive Calder, spolu s kapelou vtedajší producent LP Astra a krátku dobu aj jej manažér, neskôr veľmi vplyvná osoba v hudobnom priemysle s celosvetovým dosahom, sa v jednom rozhovore vyjadril asi v tom zmysle, že stále sa hráme na nejaké keby to alebo ono. Je však presvedčený, že skupina Freedom's Children, nebyť vtedajšej politickej situácii vo svojej krajine, mala potenciál na svetový úspech.

P: S.: 15. august 1945 je dátumom narodenia Ramsaya MacKaya, preto si dovolím venovať tento text jeho pamiatke k nedožitým 74 narodeninám. Ramsay zomrel 4. decembra 2018 v rodnom Škótsku.
P. P. S: Titulná fotografia predstavuje skupinu Freedom's Children v zložení; zľava doprava – Nic Martens, Julian Laxton, Ramsay MacKay, Brian Davidson (sediaci) a Colin Pratley.
SKLADBY:
1. Aileen — 2:02
2. The Homecoming — 6:15
3. The Kid He Came From Hazareth — 5:23
4. Medals Of Bravery — 4:09
5. Tribal Fence — 4:09
6. Gentle Beasts (Parts 1 & 2) — 5:31
7. Slowly Towards The North (Parts 1 & 2) — 6:59
8. Afterward — 4:48
ZOSTAVA:
Brian Davidson — vocals
Julian Laxton — guitars, electronics
Ramsay MacKay — bass
Colin Pratley — drums, percussion
+
Gerard Nel — piano, harpsichord, bells
Nicholas Martens — organ, engineer
Neville & Justin — bearers of eastern gifts
Clive Cardel — producer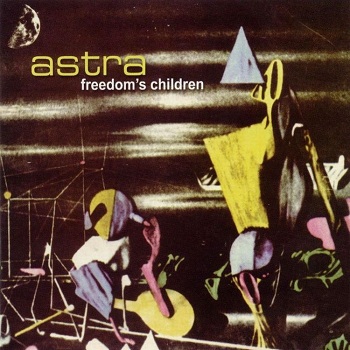 Astra
Freedom's Children
Psychedelic Rock, Prog Rock, Heavy Prog
Parlophone/EMI
1970
LP
8
CD Lucky Pigs Records /2007/