K této nahrávce jsem se dostal jako slepý k houslím. Nedávno jsem si objednával debut Pavlov's Dog a nedíval se přitom na název alba, jelikož jsem věděl, že obálka je šedivá a je na ní malůvka psa. Sebral jsem první, co mi padla do oka, a byl v klidu. Deska pak přišla a až jsem ji graboval do mp3, nějak mi neštymoval počet skladeb. Po chvíli pátrání jsem přišel na to, že jsem si ve své bláhovosti neobjednal debut, ale nahrávku poslední, kterou kapela opatřila prozaicky hodně, ale opravdu hodně podobnou obálkou. Dokonce i název se skládá ze dvou slov začínajících na stejné počáteční písmeno.
A jelikož jsem Prodigal Dreamer nechtěl a byl zklamán, co to místo parádního debutu najednou mám doma, o to větší úsilí jsem vynaložil k jejímu pochopení. K mému velkému překvapení to šlo úplně samo, jelikož tato deska je zkrátka úchvatná. Doba, kdy mladý David Surkamp ječí do mikrofonu je dávno pryč. Dnes se prezentuje daleko klidnějším a vytříbenějším projevem. Debut a desku poslední dělí 43 let a David na ní pěje jako bůh. Vše začíná s rozkošnou něžnou písní Paris a pokračuje přes ostřejší Hard Times. Po folkové Winterblue se dostáváme k decentnímu funky Thrill Of It All. Atmosférický klenot Easter Day nás s pomocí Steilingových houslí přesune někam do starých časů na americkém venkově. Zvuk pochodujícího virblu a smutné houslové melodie je ještě působivější za přispění Surkampovi ženy Sary, která si vzala na paškál hlavní vokální linku v grandiózní písni Aria – to se zkrátka musí slyšet. Následuje svěží a pozitivnější Waterlow. Další porci smutku přiveze Suzanne a zase jsou tu ty plačtivě naříkající housle. Country brnkne Crying Forever a po dvou položkách desku završí katarzní klenot The Winds Wild Early.
Musím podotknout, že Prodigal Dreamer má brilantní zvuk a čitelnost každého z nástrojů je perfektní. Jen ten obal mohli pojmout kapku originálněji. Ale to je zřejmě obchodní strategie.
Je to nádherná deska a tuze se těším na srovnání s albem prvním. Teď už si dám pozor a objednám ho snad konečně správně. Tahle nahrávka se povedla, lahoda pro příznivce Strawbs, Barclay James Harvest a vůbec všechny melodiky obdivující konec šedesátých let. Je slyšet, že Davidu Surkampovi studnice nápadů nevyschla ani v důchodovém věku. Pro mne obrovské překvapení.

SKLADBY:
01. Paris (4:43)
02. Hard Times (4:26)
03. Winterblue (4:06)
04. Thrill Of It All (5:55)
05. Easter Day (2:45)
06. Hurting Kind (6:27)
07. Aria (4:46)
08. Waterlow (4:23)
09. Suzanne (3:54)
10. Crying Forever (4:04)
11. Being In Love (2:32)
12. Shaking Me Down (4:17)
13. The Winds Wild Early (6:41)
SESTAVA:
David Surkamp – vocals, acoustic & electric guitars
Sara Surkamp – vocals, acoustic guitar
David Malachowski – electric guitar
Mark Maher – grand piano, Hammond organ, synths
Abbie Steiling – violin
Rick Steiling – bass
Manfred Ploetz – drums
+
Paul Hennerich – trumpet
Saylor Surkamp – backing vocals
Hollie Woods – backing vocals
Robert Marstiller – percussion, backing vocals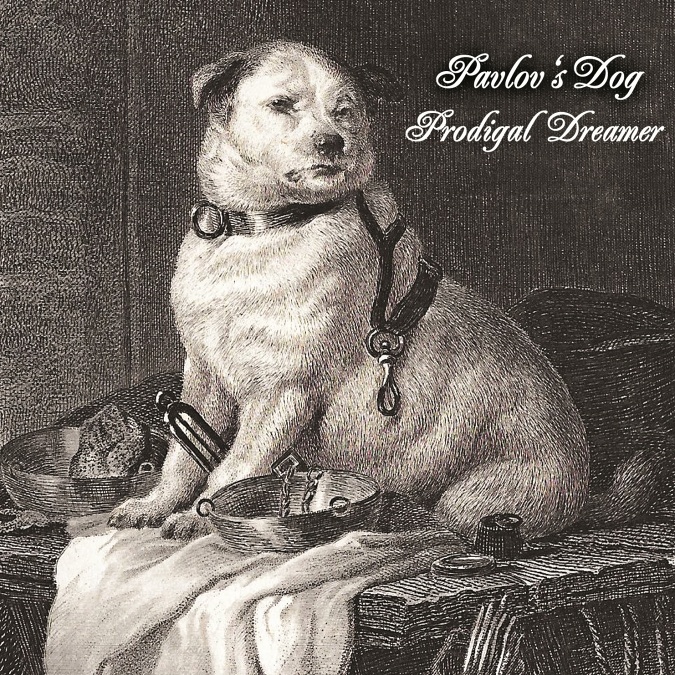 Prodigal Dreamer
Pavlov's Dog
Prog Rock
Rockville Music
2018
CD
13