Omega – Zlodej času
Maďarská skupina Omega vznikla v roku 1962, pred šesťdesiatimi rokmi a založili ju László Benkő (organ) a János Kóbor (spev a rytmická gitara). Členov Omegy na začiatku sprevádzali zmeny v zostave, ale nakoniec k Benkövi a Kóborovi prišiel Ferenc Debreczeni (bicie), Tamás Mihály (basa) a György Molnár (gitara). Táto zostava bola najdlhšie spolu, hrali spoločne tri desaťročia. Moja recenzia albumu nedokáže obsiahnuť všetky úspechy a popísať dokonale hudbu Omegy, ktorá určite sprevádzala život mnohých poslucháčov od ich mladých liet. Je to len malý prienik do maďarského rocku.
Spočiatku skupina Omega hrala anglické a americké cover verzie, a vlastné skladby. Hudobne sa ich tvorba podobala piesňam Beatles a iných anglických skupín. Časom začali laborovať na pomedzí prog a space rocku. Vtedy pôsobil v Omege aj Gábor Presser, ktorý neskôr založil úspešnú skupinu Locomotiv GT (1971).
Omega bola veľmi činnou skupinou a vydávala LP platne ako na bežiacom páse; 18 štúdiových albumov, 10 anglicky spievaných, jeden spievaný nemecky, 11 koncertných. V mladosti som Omegu poznal, ale veľmi som nejavil záujem o ich albumy, bol som orientovaný na angličtinu a maďarský jazyk mi doslova vadil. Nemal som rád skupiny z východného bloku a ich tvorbu som podceňoval. Mal som kamaráta, ktorý nevedel po maďarsky ani ceknúť, tak isto ako ja. Mal všetky LP platne Omegy, od 10000 Lépés a nedal na nich dopustiť. Nechápal som to, ja som mal predsa iné kalibre, anglických hard rockerov; Led Zeppelin, Deep Purple, Black Sabbath, Uriah Heep. Po 1978 sme sa kamarátsky spoločensky rozišli, oženil sa a odsťahoval. Videl som ho odvtedy dvakrát v živote. Lenže pesnička Gyöngyhajú Lány z lépešky (tak LP volal) sa mi často vracala v rôznych podobách a pri rôznych príležitostiach. Ak niekto nevie o čom píšem, je to najslávnejšia a zrejme aj najlepšia pieseň, ktorú maďarská rocková skupina zložila, nahrala a naspievala. Prvýkrát som ju počul u môjho kamaráta, mal mizernú aparatúru (skoro žiadnu), ale vtedy nám to nevadilo. Veľakrát som počúval Rádio Luxemburg z malého tranzistoráku a vtedy sa kvalita neriešila. Hlavne, že niečo hralo a bol prísun hudby, ktorá menila svet.
Maďarské vydavateľstvo Pepita zásobovalo Bratislavu a celé Slovensko maďarským rockovým bigbítom a mnohí boli radi za Omegu, Locomotiv GT, Illes a iné skupiny. Omega vždy žiarila medzi LP platňami, ale ja som nikdy nič od nich nechytil a nepriniesol k pokladni. Žiadnu vec som nemal doma.

V rámci svojej práce som sa niekedy v deväťdesiatom štvrtom aktívne stretol aj s Gáborom Presserom (vtedy mi bolo jedno či Omega, alebo Locomotiv GT) a hoci si takéto stretnutia pamätám veľmi dobre, v tomto prípade mám okno. Vždy však blízke stretnutie s človekom, ktorý písal hudobnú históriu, zanechá hlbokú stopu v mojom vnímaní hudobného sveta. Už to nie je iba počutá hudba, ale zrkadlí sa aj spomienka na hudobníka/skupinu a celkový názor je úplne iný a ľudsky blízky.
Gábor Presser, samozrejme, s Omegou už vtedy nemal veľa spoločného. Ja som ho poznal ako autora najlepších piesní na 10000 Lépés s Kóborom a Benköm a od toho stretnutia Omega bolo meno, ktoré viselo vo vzduchu a čakalo. Spoznávanie nastalo inou linkou, z anglickej strany. Maďarčina ma nedostala, ale angličtina áno. Taká maďarská angličtina, ale mne to vôbec nevadí. Hudba Omegy je nádherná, úprimná, progresívna a hlavne muzikantsky výborne zvládnutá. Z desiatich anglicky spievaných LP platní sa naozaj dá vyberať a tvrdím, že je aj z čoho. Skvost za skvostom. Zvuk je výborný, nahrávalo sa v iných štúdiách, žiadne maďarské nahrávky s anglickým spevom. Nehaním tie maďarské, iba pripomínam, že kapela nahrávala LP v Nemecku po vydaní maďarskej verzie, takže je cítiť vyhranosť kapely. Dnes si pripomeniem ich šiestu anglickú v poradí – Time Robber (1976). Maďarská verzia je Omega 7 – Időrabló.

Je to zároveň aj spomienka na Jánosa Kóbora (17. máj 1943 – 6. december 2021). Bez speváka Jánosa Kóbora by Omega nebola Omegou. Zomrel vo veku 78 rokov na Covid-19 a jeho hudobnícka púť bola skvelá. Jeho hlas a piesne, ktoré spieval, potešili nespočetne veľa fanúšikov, ale aj tých, ktorí ho nepoznali. Poviem iba jedno slovo: ďakujeme.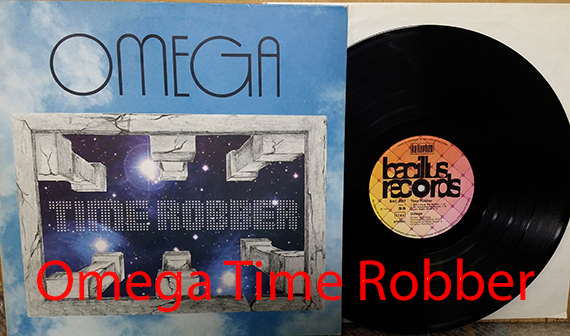 Omega – Time Robber (1976)
A1. Time Robber (12:42)
a) House of Cards Part I
b) Time Robber
c) House of Cards Part II
Bezpečne najlepšia skladba siedmeho opusu Omegy (maďarská edícia). Prvýkrát v histórii skupiny vyšla LP platňa súčasne s dvomi verziami, domácou maďarskou a anglickou nahranou v Nemecku. Maďarská má menej agresívny zvuk, je trošku viac náladová, nemecko/anglická verzia je v mnohom agresívnejšia. Nikdy sa nemôže stať, že by dve štúdiá dokázali urobiť identický zvuk: iný priestor, iné stroje, iný zvukár, iné mikrofóny a nespočet iných faktorov, ktoré sa podieľajú na výsledku. Nemá cenu porovnávať obe vydania, v podstate sú si podobné ako jednovaječné dvojčatá. Výhodu má maďarský press, lebo maďarsky rozumejúci poslucháč má lepší emotívny zážitok, predsa len János Kóbor je doma v rodnej reči, bezpochyby je v tomto smere verzia na Pepite stokrát lepšia.
Time Robber je úžasná trojdielna skladba s nádherným motívom, hraným na Lászlovom moogu, ktorý zrejme výborne ovládal. Aranžmán skladby začína space úvodom, ktorý bol vždy veľmi obľúbený, písal sa rok 1977, ďaleko od začiatkov týchto zvukových efektov, ale v prípade Omegy to vôbec nevadí. Intro je naozaj dobré a stále sa vyvíja. Hudobné akcenty sú skvelé, bicie sú tiché, ale v zopár úderoch na tom-tomy posunú dravosť skladby na štartovaciu líniu, ktorá bude nevídaná. Pár taktov na akustickej gitare a potom prichádza spevák János Kóbor s efektovým spevom. Reálny zvuk vľavo a z druhej reprobedne ozvenový, oneskorený druhý hlas. Tento zvukový nápad si zaslúži absolútnu pochvalu a koho táto vec napadla je v mojom ponímaní King. Molnárova gitara stále bez zvláštnych efektov, jednoducho fender v normálnom zvuku, taktiež basová gitara. Bicie sú dobré a vôbec sa nederú dopredu, ak si začnete všímať ich rytmus, ľahko pochopíte, že v jednoduchosti je krása. Samozrejme, dlhá skladba o ukradnutom čase nemôže byť iba o jednej hudobnej línii. Je tam zrazu veľa motívov, veľa zmien tempa, veľa nálad. Veľakrát píšem, že tieto veci sa nedajú opísať a treba ich počuť. Je to aj v tomto prípade, verím, že Time Robber každého poslucháča zaujme a bude sa mu páčiť.
Omega, podľa môjho názoru, bola svetová kapela a iba okolnosti (my vieme) zabránili, aby sa nestali svetovým hudobným telesom. Titulný Time Robber je krátka pasáž v House Of Cards jedna a dve. Dvanásť minút je málo a žiaden zlodej s ukradnutým časom sa nekonal. Práve naopak. Užil som si to.
A2. Invitation (5:42)
Druhá skladba prvej strany. Začína znovu ako space rock, aby sa vzápätí zmenila na melodickú rockovú pieseň. Bicie Ferenca Debreceniho a basa Tamása Mihályho dávajú rytmus, basa dokonca skúša riff a po melodicky spievanom úvode si zasóluje klávesista Lászlo Benkö, ako keby vítal blížiacu sa vesmírnu družicu. Pieseň sa mení z melodickej rockovačky na úderné špásovanie sólistov, trošku rozbité a nesúrodé, ale nespievaná refrénová časť je krásne a pekne vystavaná. Omega aj v tejto piesni dokazuje, že vedeli ako má vyzerať dobrá a pekná melódia.

B1. Don't Keep Me Waitin' (7:20)
Otváracia pieseň druhej strany. Diskotéková hopsanda pre nadšencov. Rytmus búra steny a krátky moogový akcent je výborný. Táto skladba nemohla nechať v sedemdesiatych rokoch nikoho sedieť na stoličke. Nemám žiadne pochybnosti, že vedeli hrať a nerobil im problém žiaden rytmus a presne vedeli, čo chcú skladbou povedať. Prvýkrát sa ku Kóborovi pridáva spevom aj skupina a pieseň skončí skôr ako chcete.
B2. An Accountant's Dream (3:40)
Pomalý úvod, znovu návrat do zahmlených diaľav s nejakým neidentifikovateľným predmetom. Prvý kapelový akord ako Pink Floyd. Stopro poznali a inšpirovali sa The Dark Side Of The Moon. Atmosféru navodili dokonale, znovu dvojhlas, neviem či spieva Kóbor sám, alebo mu niekto pomáha. Veľmi mi to pripomína Pink Floyd, ale nevadí mi to, všímam si bicie, gitaru a klávesy. Samozrejme, ak som počúval maďarskú verziu, nemal som ani minimálnu predstavu o význame slov. S potešením som konštatoval, že už mi maďarčina nevadila (asi som zmúdrel) a spev som vnímal ako dôvernejší a uveriteľnejší. Dobrá skladba, nie najlepšia, ale ujde.
B3. Late Night Show (6:30)
Cinkanie na rôzne sklenené predmety a zaujímavý rytmický úvod, ako z vážnej hudby. Spev je odhodlaný a nástrojový minimalizmus s presadzujúcou sa Mihályho basovou gitarou. Samozrejme, potom hlavnú melodickú linku prevezmú klávesy. Bubeník zahrieva hajtku, hoci pieseň nemá rýchly rytmus. Potom nastavá znovu absolútne spomalenie s trianglom (na tento nástroj vie hrať každý hlucháň, aj ja), sound, ktorý sa mi páči. Omega znovu prechádza do melodického kapelového sóla s kostolným vokálom, melódia je pekná a ľahko sa k nej pridáte. Spievate, spievate a pomaly stišujete, stišujete. A gramofónová ihla sa chce vnoriť do etikety. Vstávam a zdvíham ramienko z vinylovej platne.
Krásny a dobrý album, vďaka Omega.
Môj bonus k LP Time Robber. Dúfam, že mi moju trúfalosť odpustíte:
Gyöngyhajú Lány
Najkrajšia a najlepšia pieseň Omegy. Nemohol som ju obísť, pretože neviem, či sa pisateľsky k Omege ešte vrátim a je spojená s Gáborom Presserom, ktorý mi nevedomky ukázal maďarskú rockovú scénu z inej strany. Od tej chvíle, ako som ho spoznal, bol v mojej duši zapálený oheň a po toľkých rokoch tvrdím, že je čo objavovať a počúvať, či už je to Omega, Locomotiv GT, Illés, Piramis. Skladba bola vydaná na albume 10000 Lépés (1969). Hudbu zložil Gábor Presser rok predtým, text napísala Anna Adamis. V 1969 vyšiel aj singel Petróleum Lámpa / Gyöngyhajú Lány. Rokenrolová Petrolejová lampa je tiež veľmi dobrá hitová skladba, ale Gyöngyhajú Lány sa stala hitom v Maďarsku, Západnom Nemecku, Veľkej Británii, Francúzsku, Poľsku, Rumunsku, Československu, Bulharsku a Juhoslávii. Vychutnajte si jej koncertné prevedenie.
Time Robber je výborný, dobre dramaturgicky urobený album. Dnes má veľkú hodnotu, lebo dokazuje, že aj naša hudba z východného bloku bola dobrá a máme sa čím chváliť. Maďarskú Omegu, východonemecký Puhdys, alebo východonemecká skupina City s bulharským autorom ich obrovského hitu Am Fenster môžeme pridať k tým našim, ktoré boli najlepšie (nebudem menovať). Dnes sa už nestratia.
LP platňu, ktorú som recenzoval, krátko zhodnotím. Veľmi dobrý album, piesne sú melodické. Hudobníci vedeli, čo hrajú a o čom hrajú, hudba v sebe skrýva cit, radosť a pohodu, nič nie je nasilu a tóny idú akoby samé od seba. Len tak, jednoducho, ale pritom je to hudba, ktorá má vysokú hodnotu a inštrumentálna zručnosť muzikantov je učebnicová. Zvuk z nemeckého štúdia, ako som predtým uvádzal, sa mi zdá lepší, údernejší, priebojnejší a detailnejšie nahraný. Je tam viac plasticity a bicie v úvodnej skladbe sú "bombové" (nemám iný výraz). Tých pár úderov na kotly je, okrem moogu, dominantným prvkom. Až sa človek čuduje, čo sa to u nás, za oponou, dialo. A to by som mohol začať vypisovať detaily donekonečna. Stačí na to jedno slovo. Skvelé.
Takže suma sumárum – 4 hviezdičky z 5.

Omega:
János Kóbor / lead vocals, percussion
György Molnár / electric, 12-string & acoustic guitars
László Benkő / organ, Moog, backing vocals
Tamás Mihály / bass, vocals
Ferenc Debreceni / drums, percussion
P. S.: Maďarskú verziu som nepočúval z platne, ale z iného média. Je chaos v dátume vydania, moja LP má etiketu s rokom 1976, a maďarská je uvádzaná ako 1977. Pritom internetové zdroje tvrdia, že albumy vyšli zároveň. Takže neviem ako to je naozaj, ale po toľkých rokoch je mi to jedno.
Maďarská verzia: Omega -7 Időrabló
Zvuk : János Réti
Texty :Péter Sülyi
Grafika : Peter Nagy
Produkcia :Atilla Apró
Nahrávacie štúdio : MHV Studio
Label : Pepita, Maďarsko
Anglická verzi : Omega – Time Robber
Štúdio: Europasound-Studios Germany
Published: Beliver Records
Zvuk: Fred Schreier a Helmut Pfannmüller
Produkcia: Peter Hauke & Christian Kolonovits
Obal : Walter Seyffer
Label : Bellaphon, Bacilus Records
Format : LP BAC 2037
p 1976
Time Robber
Omega
Prog Rock
Bacillus Records
1976
LP
5
LP BAC 2037 /1976/