Americká bluesová speváčka Janis Joplin sa narodila 19.1.1943 v mestečku Port Arthur v Texase, ako najstaršia z troch súrodencov (Michael a Laura). Matka bola školská úradníčka a otec bol inžinierom, pracoval v známej naftárskej spoločnosti. Jednou z príčin, prečo sa rozhodla stať speváčkou, boli nahrávky bluesovej speváčky Bessie Smith a bluesového speváka Leadbellyho. Začala spievať v miestnom zbore a svoj obzor si rozširovala počúvaním tvorby ďalších bluesových speváčok, ako Odetta či Big Mama Thornton.
Na strednej škole bola iná ako spolužiaci: maľovala, veľa čítala a nemala nič proti černochom. Chcela zmeniť staré konvencie a preto sa stala členkou klubu Future Teachers of America, ktorý združoval aktívnych ľudí, túžiacich po zmene. Mladá Joplin sa nemohla pýšiť krásou, mala nadváhu a bojovala s kožnými ochoreniami. Spolužiaci si ju preto doberali. Po skončení strednej školy začala v roku 1960 postupne navštevovať vysoké školy v texaskom Beaumonte a v Austine, štúdium na nich však neukončila.
V decembri 1962 nahrala Joplin svoju prvú skladbu s názvom What Good Can Drinkin´ Do, ktorú napísala po prepitej noci. Potom odišla do San Francisca, kde sa príležitostne živila aj ako folková speváčka. Tam začala s drogami, fajčila a čoraz viac pila alkohol. V roku 1964 spolupracovala s gitaristom skupiny Jefferson Airplane Jormaom Kaukonenom. Nahrávala s ním bluesové štandardy, ktoré neskôr vyšli na bootlegu The Typewriter Tape. Čoraz väčšia drogová závislosť prinútili začínajúcu speváčku zmeniť životný štýl. Na jar roku 1965 sa tak Joplin vrátila do rodného štátu, zamestnala sa ako sociologička a odvykala si od drog. V Texase však dlho nevydržala a už v roku 1966 sa opäť vrátila do Kalifornie.
V San Franciscu si ju všimol Chet Helms, manažér skupiny Big Brother and the Holding Company. Navrhol jej, aby sa pripojila ku skupine. Tak sa stalo 4.6.1966 a prvé vystúpenie s nimi absolvovala v podniku Avalon Ballroom. V lete 1996 podpísali zmluvu s nezávislým vydavateľstvom Mainstream Records a o rok neskôr vydali debutový eponymný album, ktorý nasledoval po úspešnom vystúpení na slávnom Monterey Pop Festivale r. 1967. Najznámejšou skladbou z prvého albumu Big Brother and the Holding Company je pieseň Down on Me. Singel sa dostal na 42. priečku v americkom rebríčku. Medzitým skupina koncertovala po celých USA a Kanade, zatiaľ s čiastočnými úspechmi. V novembri 1967 vymenili manažéra, keď ich prevzal o čosi skúsenejší Albert Grossman.


Od februára do apríla 1968 absolvovali prvé koncertné turné s názvom East Coast Tour. V jeho závere zahrala Joplin so skupinou na podujatí Wake for Martin Luther King, Jr., na ktorom sa predstavili i J.Hendrix, B.Guy, J.Mitchell. Big Brother and the Holding Company sa začali čoraz viac dostávať do povedomia, aj zásluhou moderátora Dicka Cavetta a jeho The Dick Cavett Show v televízii ABC.
V auguste 1968 vydali Big Brother and the Holding Company druhý štúdiový album Cheap Thrills, ktorý znel akoby bol nahrávaný naživo, no až na jednu skladbu išlo o štúdiové skladby. Prvým singlom z albumu bola pieseň Piece of My Heart, ktorá dosiahla 12. miesto v americkom singlovom rebríčku. Cheap Thrills ovládol rebríček albumov. Len za prvý mesiac sa predalo viac ako jeden milión kópií. Joplin s kapelou počas roka 1968 naďalej koncertovala, no po koncerte 1.12.1968 z formácie odišla.
Ďalšiu etapu svojej kariéry odštartovala Joplin so skupinou Kozmic Blues Band, ktorú však už mala len ako sprievodnú. Výsledkom spolupráce s Kozmic Blues Band bol album I Got Dem Ol' Kozmic Blues Again Mama!, ktorý vyšiel v septembri 1969. Ale nebol to úspech podobný predošlému albumu. Podľa producenta albumu Gabriela Meklera bola Janis ťažko ovládateľná, čím mal na mysli najmä jej čoraz väčšiu závislosť od drog. Vraj Janis na heroín dokázala každý deň minúť aj 200 USD. Joplin s Kozmic Blues Band koncertovala v severnej Amerike i Európe. Predstavila sa aj na slávnom Woodstocku. Speváčka si čas, kým sa dostala na pódium, krátila užívaním heroínu a pitím alkoholu, čo sa podpísalo pod jej výkon. Skupina sa rozpadla v decembri 1969 po dvoch predvianočných koncertoch v newyorskej Madison Square Garden.
Vo februári 1970 Joplin vycestovala do Brazílie s kamarátkou Lindou Gravenites, ktorá jej niekoľko rokov navrhovala oblečenie. Zamilovala sa tam do cestovateľa a učiteľa Davida Niehausa a opäť na chvíľu prestala užívať drogy. Po návrate do USA však drogám znovu podľahla a kvôli ním sa jej rozpadol vzťah nielen s Niehausom, ale i s Gravenites. Na jar sformovala novú skupinu Full Tilt Boogie Band, zloženú z prevažne kanadských hudobníkov, ktorú označila za svoju prvú vlastnú skupinu. Medzitým vystupovala a nahrávala i s bývalou formáciou albumu Big Brother and the Holding Company. Jar a leto 1970 strávila koncertovaním.
Ešte v lete začala pracovať na novom albume s Full Tilt Boogie Band. Posledný koncert odohrali 12. augusta v Bostone. Neskôr sa ukázalo, že šlo o posledný koncert Janis Joplin vôbec. Na chystanom albume speváčka v septembri spolupracovala s producentom Paulom A. Rothchildom, ktorý stál za nahrávkami skupiny The Doors. Počas nahrávania sa speváčka zoznámila so študentom Sethom Morganom, s ktorým sa zasnúbila. Morgan bol básnik, no zároveň drogový díler.
Počas dňa 1.10.1970 hudobníčka dokončila skladbu Mercedes Benz a narodeninovú pieseň Happy Trails pre Johna Lennona. V sobotu 3. októbra navštívila Sunset Sound Studios v Los Angeles, aby si tam vypočula inštrumentálku Buried Alive in the Blues, ku ktorej mala na druhý deň naspievať vokály. V nedeľu popoludní sa však v štúdiu neukázala, a tak Rothchild začal byť znepokojený. Koncertný manažér speváčkinej skupiny Full Tilt Boogie John Cooke šiel do hotela Landmark Motor, kde Janis bývala. Na parkovisku videl jej pomaľované auto Porsche a tak šiel za ňou priamo do izby. Janis Joplin našiel ležať na podlahe bez známok života. Oficiálnou príčinou smrti bolo predávkovanie sa heroínom v kombinácii s alkoholom. Telo americkej speváčky spopolnili v Los Angeles a rozprášili nad Tichým oceánom. Na smútočnom obrade boli iba jej rodičia a teta.
Štyri mesiace po smrti Janis Joplin vyšiel  album Pearl (1971), ktorý nahrávala s Full Tilt Boogie Band. Album sa dostal na prvé miesto v americkom rebríčku Billboard a speváčke zaručil hudobnú nesmrteľnosť. Magazín Rolling Stone ho zaradil na 122. miesto v rebríčku najlepších albumov všetkých čias. V roku 1995 Joplin uviedli do Rock'n'rollovej siene slávy, v roku 2005 jej posmrtne udelili cenu Grammy za celoživotný prínos.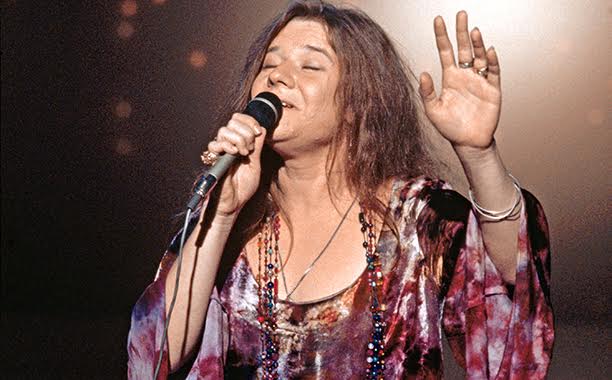 Janis Joplin pôsobila na scéne len osem rokov, nahrala iba štyri štúdiové albumy, no napriek tomu sa stala hudobne nesmrteľnou. Prestížny magazín Rolling Stone zaradil speváčku v roku 2008 v rebríčku 100 najvplyvnejších hudobníkov všetkých čias na 28. miesto. Joplin sa však preslávila nielen svojou hudbou, bola aj symbolom hnutia hippies a emancipácie žien.
Oficiálna stránka Janis Joplin.
DISKOGRAFIA:
Big Brother and the Holding Company:
1967 – Big Brother and the Holding Company
1968 – Cheap Thrills
1998 – Live at Winterland '68
2012 – Live at the Carousel Ballroom 1968
Kozmic Blues Band:
1969 – I Got Dem Ol' Kozmic Blues Again Mama!
2009 – The Woodstock Experience
Full Tilt Boogie Band:
1971 – Pearl
Big Brother & the Holding Company / Full Tilt Boogie:
1972 – In Concert
Výberovky:
1975 – Janis
1980 – Anthology
1999 – Box of Pearls
2004 – Collection