V posledním pokračování seriálu o rockově přelomovém roku 1967 ještě jednou zůstaneme doma. Podíváme se zevrubně na tuzemskou big-beatovou scénu, jakým problémům čelila, co se povedlo, co ne – a proč. Odhalila nás Houpačka? Vycházel bigbít na deskách? Čím rezonovala Lucerna před padesáti lety?
HOUPAČKOVÉ ROCKOVÉ MÝTY A MÝTINY
Každá doba si vytváří své mýty a pověsti. K obrazu svému. Staré rockové pověsti české například často zmiňují rozhlasovou Houpačku manželů Černých.
"V šedesátých letech hrál důležitou roli pro utváření vkusu rockových fanoušků pořad Dvanáct na houpačce. Připravoval jej hudební publicista Jiří Černý. Jím vybírané a prosazované zahraniční skupiny dostávaly ve vysílání větší prostor a jeho osobní hudební preference spoluutvářely poptávku po určitých hudebních proudech a skupinách," píše kupříkladu ve své bakalářské práci z roku 2009 Adam Havlík, a cituje Jana Rejžka z pořadu Bigbít: "Roli určitě hrála i ta působivost pořadu Jirky Černého, který, když měl někoho oblíbeného, tak to těm lidem samozřejmě nutil, aby to taky poslouchali. Myslím, že právě on má trošku zásluhu na tom kultu Jethro Tull tady, protože je to kapela, kterou, myslím, že má velice rád."
Jeden by z těchto slov usoudil, že co Čech, to tehdy rocker progresivista. Realita byla ale poněkud, tedy spíše hodně, jiná. Jiří Černý s býčí zarputilostí nasazoval do každé Houpačky několik skvostů. Nešlo o žádnou tvorbu pro horních deset, ale vesměs o v zahraničí komerčně úspěšné skladby. A jak dopadly v Kotlince? Neslavně. Stačí se začíst do jeho autentických komentářů k jednotlivým dílům Houpačky.
"Teď by to chtělo něco z experimentů anglických skupin, třeba WHO, THEM nebo CREAM, a pořádné rhythm and blues, tedy Otis Redding nebo Jimi Hendrix. Ale to je, obáváme se, na masový vkus příliš těžké. Přesto to zkusíme," napsal v Melodii 5/67 prorocky. O měsíc později mu nezbylo než konstatovat, že neuspěla ani Hey Joe!
Zkoušel to ale dál a dál a dál, byť se kvalita prosazovala ojediněle, například Dylan a další folkrockeři ano, PROCOL HARUM, Stevie Wonder, Aretha Franklin ne.
Jeho nekonečný optimismus byl nezdolný: "Že jsou u nás lidé s vkusem, víme právě tak dobře jako to, že dohánět u masy posluchačů mezery v poslechu světové pop music je věc trpělivosti, nikoliv hysterie," psal v reakci na poraženecké dopisy menšiny znalých posluchačů.
Jen výjimečně Jiří podlehnul davům. Když nasadil cajdákovou Ribannu, přišly desítky tisíc hlasujících a nadšených dopisů, současně se ale zařekl, že už nikdy více.
Dovětek. Beatlesovského Seržanta se Jiří Černý neodvážil doporučit v ČSSR k licenčnímu vydání ještě ani v roce 1969! Při znalosti svých pappenheimských nakonec doporučil výběrovku Oldies, But Goldies! s jé-jé písničkami let 1963-66.
Pokud tedy přímí pamětníci, dnes ve věku starobních důchodců, se slzou oku vzpomínají na Houpačku, je otázkou, ke kterému táboru patřili, zda-li si notovali s Ribannou anebo Joem.
TICHO A PUSTO V ÉTERU
Tuzemské rozhlasové vysílání bigbít zcela ignorovalo, s občasnou výjimkou Mikrofóra, a to díky Jaroslavovi Navrátilovi, jenž nové muzice fandil, ostatně psal doprovodné slovo k vícero big-beatovým gramodeskám, a Jaromíru Tůmovi, jenž od ledna 1967 uváděl Zvukovou přílohu časopisu Melodie. Jinak bylo na denní stupnici středních vln pusto, prázdno. Dálavy se lovily až večer, anebo na nevyzpytatelných krátkých vlnách.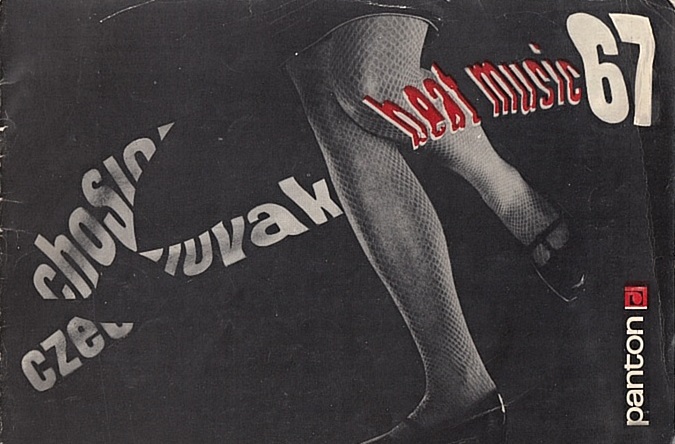 Jak ojedinělá byla pozice Houpačky, dokazuje postesk Jiřího Černého z Melodie 4/68: "Vztah ostatních rozhlasových písničkových pořadů a gramofonových nakladatelství k Houpačce je přímočarý: co se stane na Houpačce hitem, to zpravidla přebírají. Co na Houpačce zapadne, je pohřbeno i jinde. Škoda; mnohdy z Houpačky vypadávají hodnotnější písničky, než jaké v ní zůstávají."
Jak vidno, hudební kvalita to měla u nás v Česku vždycky těžké. I dnes, při nekonečně násobných možnostech poslouchat cokoliv, kdykoliv, kdekoliv, se musí kvalitní (v našem případě rockové) hudbě pomáhat – propagovat, psát, a hlavně: hrát ji, kde se jen dá.
ROZPAKY NA VINYLU
Co se týče domácích gramofonových desek, taky žádná sláva. Supraphonský asfalt rozhodně nesálal. První československé bigbítové elpé (OLYMPIC, Želva, 1968) se v roce šedesátsedm teprve rodilo, a těch pár singlů na pultech za prvé nic nevytrhlo a za druhé šlo vesměs o bigbít trčící v první polovině šedesátek, a ne o rockovou muziku hodnou letopočtu 1967.
Co bylo – vedle bolševika a jeho klacků pod nohama – příčinou se můžeme jen dohadovat. Osobně si myslím, že mimo jiné i chybějící LSD v šatnách a norách hudebníků, jakkoliv se to může na první pohled zdát přitažené za vlasy. Při bližším pohledu na zahraniční explozi rockové psychedelie je ale role papírků zcela zřetelná a těžko zpochybnitelná. Kvalitní trip prostě pivem ani rumem v strašnickém New Clubu nenahradíš.
KONČÍCÍ CRYSTAL
Kdyby mělo EP beatové skupiny CRYSTAL s převzatými World Without Love / The Game Of Love / Can't You See That She's Mine / She's The One rok vydání 1962-65, šlo by o velkou událost, v roce 1967 však působila supraphonská opozdilost tragikomicky, zvláště, když kapele CRYSTAL chyběla údernost a švih originálů. Sovětský trh, viz verze s etiketou v azbuce, byl ale tímto naším exportem bezpochyby nadšen.
MEFISTO Karla Svobody hrálo v polovině šedesátek nápadité instrumentálky (Návrat Gemini), doprovázelo Yvonne Přenosilovou, Waldemara Matušku, Václava Neckáře, nicméně coby bigbítům i jim v roce 1967 ujel vlak, stačí poslechnout krotké verze Keep On Running / Johny Begoode.
DVA KOHOUTI NA PRAŽSKÉM "SMETIŠTI"
Snad jsem to zavinil já i Želva prozrazují, jaký náskok měl OLYMPIC, respektive Petr Janda, ve schopnosti napsat chytlavou big-beatovou písničku. Současně ale i to, jak byli tuzemští muzikanti pozadu za světem. Opět, psát se léta 1964-65, mohly jeho skladby uspět i v zahraničí. Takhle zbyl jen domácí píseček. Zjednodušeně řečeno, OLYMPIC byli pražskými BEATLES, chlupatější a zaťatější MATADORS s vycházející hvězdou Radima Hladíka pak ROLLING STONES (& THEM, YARDBIRDS, PRETTY THINGS), samozřejmě v rámci doby a "žánru". Dnes by obě party patřily mezi slušňáky k pohledání.
PÍSNIČKOVÍ DRAVCI
"JUVENTUS bude zřejmě mít po ,Nářku převozníka' druhý hit v ,Zrcadle'," píše Jiří Černý v Melodii 11/67. Stylově se Karel Černoch pohyboval v sousedství Petra Nováka, jeho velkolepý hlas jej sice nad Petra vyvyšoval, na druhou stranu ale stíral písničkám pel naivity a nevinnosti. Obě nicméně patří mezi dobové perly, byť opět "opozdilé".
FLAMENGO s Petrem Novákem nahrálo v roce 1967 nové verze Já budu chodit po špičkách, Povídej, plus Náhrobní kámen, s Karlem Kahovcem pak Paní v černém, Poprava blond holky, Vyber si palác a Svou lásku jsem rozdal, plus s Pavlem Sedláčkem Džbán. Vesměs chytlavé průzvučné big-beatové písničky, dnes v podstatě zlidovělé.
V podobném duchu hrál i brněnský VULKÁN Aleše Sigmunda, se sourozenci Ulrychovými u mikrofonu, na SP Tvé město / Sen.
V prosinci 1967 pak jejich městští konkurenti, SYNKOPY 61, nahráli nadčasový protestsong Válka je vůl.
SOJUZ VOLÁ
Vydat v roce 1967 exportní bigbítovou desku s muzikou pro surfaře (I'm Comin' Home Baby verze MATADORS), s kostrbatou anglickou verzí Proč jsi tak smutná a dováděním orchestru Karla Duby, bylo možné opravdu jen v socdemo spolku, a za ruble.
1. ČESKOSLOVENSKÝ BEATOVÝ FESTIVAL
Žhavá tuzemská bigbítová současnost nebyla z důvodu již zmíněných extrémně dlouhých výrobních lhůt na deskách, kvůli komunistickým parchantům ani v rádiu, nýbrž na pódiích, tedy aspoň některých.
Legendární 1. československý beatový festival se v sedmašedesátém nerodil snadno. Rudá sběř byla stále ve střehu, celostátní fízlácká akce Vlasatci mnohde jela dál, a tak museli bigbíti spoléhat na osvícené osobnosti starší generace.
Hudební publicista, muzikolog, jazzman, primáš cimbálovky, rozhlasový dramaturg, organizátor a ledasco dalšího, Jiří Chlíbec, by si bezesporu zasloužil také rockový pomník. A veliký! Byl to totiž on, kdo v roce 1967 založil Pop federaci, čímž dokonale oblafnul systém, založený na gumě. Razítko bylo pro soudruhy svatým grálem, a bumážka se štemplem rozkazem shůry – o kterém se nediskutovalo. Pop federace rafinovaně sdružila v zájmu věci svazáky, vedoucí klubů a divadelníky.
Jaromír Tůma vzpomíná (kráceno): "Pražská scéna se dusila v malých klubech a potřebovala na sebe upozornit v prestižní Lucerně a poměřit se s konkurencí z Brna, Ostravy, Slovenska. Proto se 20. listopadu 1967 sešla na půdě dávno zaniklé Pop federace porota ve složení Miloslav Langer, Jiří Chlíbec, Jaroslav D Navrátil, Pavel Bobek, Jiří Černý a Jaromír Tůma a zástupce ze Slovenska. S pocitem, že stojíme u zrodu nového národního obrození, jsme vybrali 28 skupin z celé republiky…"
Zadařilo se.
"Vyvstala zákonitá nutnost nějakého podobného podniku, jakožto prostředku k uvedení naší beat music na širší platformu a její zařazení na právoplatné místo v kulturním životě; chceme ukázat, že není onou pouhou ́periferní záležitostí, jak se ještě mnoho lidí mylně domnívá," napsal v roce 1967 ve festivalových novinách Beat Festival Express tajemník festivalu Miloslav Langer.
Původní myšlenku, uspořádat přehlídku v Karlových Varech, brzy vystrnadila Lucerna, viz výše, coby reprezentativní místo v Praze. Přítomen byl rozhlas i televize, čili malý zázrak.
Třídenní maratón s bezmála třiceti skupinami z celé republiky se samostatnými odpoledními a večerními bloky vyvrcholil v nedělním finále 22. prosince 1967 a nočním beat-session.
Velkou cenu festivalu získali SOULMEN, ceny pro nejlepší pěvce Michal Prokop (FRAMUS FIVE) a Hana Ulrychová (BLUESMEN), nejlepším textem byla vyhlášena Balada o smutnom Jánovi skupiny PRÚDY, klubovou cenu v kategoriích nejlepší česká, moravská a slovenská skupina obdrželi REBELS, SYNKOPY 61 a SOULMEN. Ohně, čudy ani holubice THE PRIMITIVES GROUP oficiálně nebodovaly, přitom šlo o jediné vystoupení držící prst na tepu psychedelie. Z domácí špičky absentovali jen MATADORS, pobývající na angažmá ve Švýcarsku.
Mladý svět slovy Jaroslava Pacovského napsal: "Lucerna žila tři dny skutečně svérázným prostředím. Někteří muži měli květinové kalhoty, jiní květinové košile a byli i tací, kteří měli květiny ve vlasech. Také se vyskytlo mnoho mužů v nejrůznějších uniformách, z nichž mnohé se blížily pestrostí uniformě uvaděčů v cirkuse. Ti nejprogresivnější měli zastřižen vous do malého knírku. Módní brýle byly kulaté s tenkými obroučkami (dnes se jim říká lennonky – pozn. autora). Na klopách diváků se blýskaly knoflíky (placky) s anglickými nápisy.
Zatímco dříve bylo touhou každé jazzové kapely, aby byli všichni ve stejných oblecích, beatové skupiny se snaží o co největší pestrost. Opět zde převládaly květinové obleky, saka z hladké kůže a někteří hudebníci měli kožešinové krátké kabáty s kožešinou navrch."
Za mě jednoduchý: půlka muzikantů se převlékla za BEATLES, druhá za hippies.
Díky online hudebním knihovnám stačí zadat ve Spotify/Tidal "beat-line" a v nabídce alb se objeví hnedle tři tituly Supraphonu: repliky původních titulů, plus souhrnný výběr 1965-68.
Poslech všech rozhodně stojí za to, byť může chvílemi vyvolávat úsměv. Žádná velká hrnba se nekoná, přeci jenom se rock v ČSSR neuměl nahrávat, navíc firemní zvukaři rádi dávali mládežníkům najevo svou nadřazenost, a československé normy potlačovaly důležitou basovou složku, protože tuhé tuzemské krystalové přenosky při větší modulaci vylétávaly z drážek. I proto byl kolikrát problém přehrát bez poškození vzácnou a drahou zahraniční desku.
Loučíme se s rokem 1967, nejvýznamnějším v rockové historii. Ten příští, osmašedesátý, byl v československých dějinách zcela zásadním nejenom co se muziky týče.