Bratislavská skupina Collegium Musicum znamenala známku nejvyšší kvality nejen v metropoli nad Dunajem, ale i v celém bývalém Československu. Za normalizace byla slovenská kulturní politika v řadě ohledů odlišná od toho, co se dělo v Čechách a na Moravě, a tak skupina přežila všechny čistky, které decimovaly tehdejší hudební scénu. Collegium Musicum bylo společenství vynikajících hudebníků a odpovědné orgány, včetně Ministerstva kultury SR, si to uvědomovaly, protože potřebovaly nějaké výkladní zboží vývozního charakteru.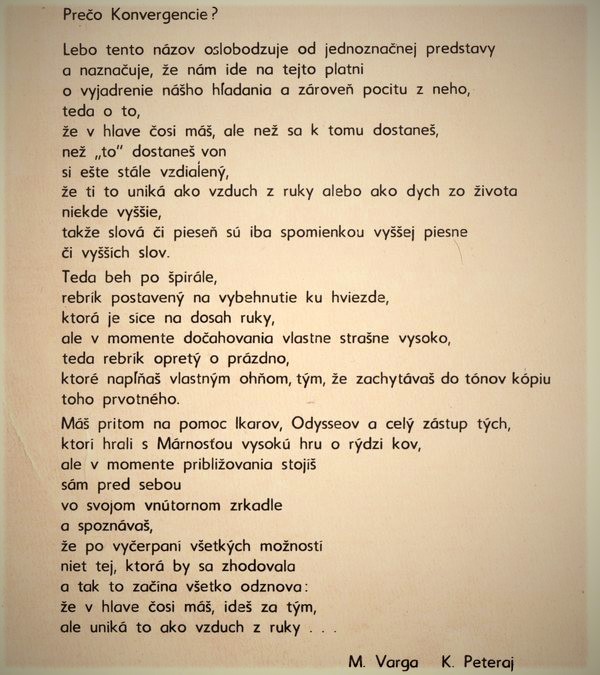 Jestliže první eponymní album vzbudilo zájem veřejnosti, nově vzniklé slovenské vydavatelství OPUS poměrně pohotově zareagovalo a druhý projekt kapely vydalo dokonce jako dvojalbum, o čemž si mohla českomoravská hudební scéna nechat jen zdát. V prosinci 1971 se objevilo pod názvem Konvergencie. Pravda, projekt provázely problémy. Cenzura odmítla výtvarný design, protože portrét Mariána Vargy s cigaretou mezi rty se jí zdál jako špatný příklad pro mládež. Tak se stalo, že na Slovensku najednou nebyl vytištěn včas nový obal a dvojdeskový komplet se vkládal jenom do igelitového sáčku s holým papírovým přebalem(!). Nicméně tiskárna dostala stranický úkol a nakonec bylo následné druhé vydání opatřeno "ideově nezávadným obalem" (portrét bez cigarety).
Na projektu se podílel nový kytarový hráč, který se připojil ke stávajícímu triu. Byl tedy natočen v sestavě – Marián Varga: varhany Hammond L100, klavír, subharchord, zvonkohra, Fedor Frešo: baskytara Fender Jazz Bass, mandolína, basová mandolína, zpěv, Dušan Hájek: bicí nástroje a František Griglák: elektrická kytara, akustická kytara, zpěv. Po Pavlu Váně (ex-Progress Organization), který hrál na jejich památném singlu, Rastislavu Vachovi (ex-Blues Five), hraje na prvním albu, přišel mezi vytříbené instrumentalisty mladý talentovaný hráč ze skupiny Prúdy, s nímž byly spojovány velké naděje.
Dvojalbum obsahovalo celkem čtyři kompozice rozsáhlejšího formátu. PF 1972 – autorská skladba Mariána Vargy a textaře Kamila Peteraje, Suita po tisíc a jednej noci – což bylo volné zpracování hudebního tématu Šeherezáda od Rimského-Korsakova podle vlastního aranžmá skupiny, Piesne z kolovrátku – autorská skladba členů kapely opět s textem Kamila Peteraje a konečně experimentální Vargova kompozice Eufónia.
Náročný hudební projekt představil zpracování hudebních kompozic, ve kterých byl kladen důraz na instrumentální a aranžérskou práci. Hudebníci se excelentním způsobem zhostili svých postů, přesto výrazným způsobem exceloval především frontman Marián Varga. Dušan Hájek na bicí nástroje vytvořil velmi kvalitní rytmický tandem s baskytarou Fedora Freša. Jeho basová ostináta a vyspělá technika hry se staly dalším poznávacím znakem kapely a stejně jako Varga byl i Frešo označen za jednoho z nejlepších instrumentalistů v celé tehdejší republice. František Griglák se zde projevil jako velmi zdatný kytarový instrumentalista. Přesto jsem po čtyřiceti letech přesvědčen, že nebylo úplně využito jeho schopností. Což také znamenalo, že po nějaké době ze skupiny odešel za vlastní seberealizací a v r. 1973 založil skupinu Fermáta.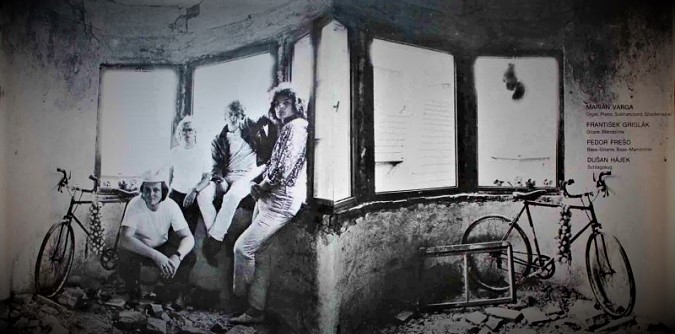 Pohostinsky se na albu objevuje bývalý spolupracovník a kolega ze skupiny Prúdy – Pavol Hammel (Piesne z kolovrátku) a Dětský pěvecký sbor Ivana Klocháně. Velký prostor je zde poskytnut legendárním varhanům Hammond, které se staly zásadním poznávacím znamením Collegium Musicum a nedostižným snem dalších skupin v celé tehdejší republice, jež kvůli vysokým pořizovacím nákladům byly (až na výjimky) nedostupné. Hudebníci uplatnili nejen svůj muzikantský potenciál, ale také zkušenosti ze studií na Bratislavské konzervatoři, což se projevovalo v kompozičních postupech a v jejich hudebním myšlení. 
Třebaže se nedá hovořit o nějakém konceptuálním albu, pro Collegium Musicum se u nás začal používat výraz classical rock – později art rock. Album si získalo přízeň kritiků a uznání náročnějších hudebních fanoušků, třebaže i Collegium Musicum mělo svoje odpůrce, kteří jim vytýkali nepůvodnost a výraznou inspiraci britskými skupinami The Nice a Emerson Lake And Palmer. V závistivém československém prostředí byly podobné postoje, bohužel, normální. Osobně se domnívám, že na albu Konvergencie je, vedle klasických hudebních témat, hodně aspirací z oblasti slovanské melodiky a zcela legitimní smysl pro experimentální pojetí, třebaže Eufónia je dodnes hodně náročné sousto pro nepřipraveného posluchače. Bez skupin jako Collegium Musicum, podobně jako v jiných konotacích Blue Effect, Dežo Ursíny, Jazz Q, Progres… by vývoj na domácí scéně ustrnul a hranice do bílých míst v československém prostředí by se dál neposouvaly.
O kvalitách alba do značné míry svědčí i fakt, že zesnulý Marián Varga se o něm vyjádřil, že Konvergencie by ani po dlouhých letech nepřepracovával. I dnes tenhle projekt poslouchám s respektem a úctou. Myslím, že patří mezi to nejlepší, co bylo v bývalém Československu natočeno. Plný počet hvězdiček!
SKLADBY:
1. P. F. 1972 (M. Varga/K. Peteraj) 22:00
2. Suita po tisíc a jednej noci (N. A. Rimskij-Korsakov, arr.: Collegium musicum) 22:33
3. Piesne z kolovrátku (M. Varga/F. Frešo/F. Griglák/D. Hájek/K. Peteraj) 17:53
4. Eufónia (M. Varga) 20:06
SESTAVA:
František Griglák – guitars, mandolin, vocals (3.)
Marián Varga – Hammond, piano, harpsichord, glockenspiel
Fedor Frešo – bass guitar, bass mandolin, vocals (3.)
Dušan Hájek – drums
+
Pavol Hammel – vocals (3.)
Children's chorus headed by I. Klocháň (1.)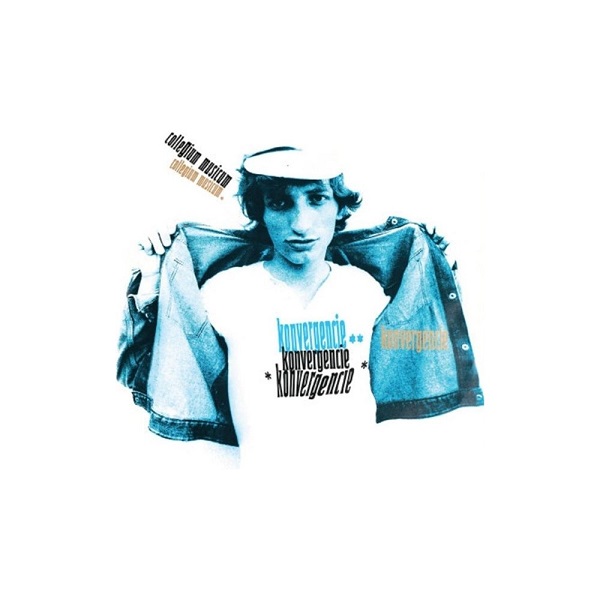 Konvergencie
Collegium Musicum
Prog Rock, Art Rock, Classical Rock
Opus
1971
LP
4