Minulý týždeň jedna smutná udalosť zatriasla hudobnou verejnosťou našich južných susedov, rozhodol som sa teda predstaviť čitateľom Rockovice maďarskú progrockovú skupinu Mini.
Vo veku nedožitých 75 rokov zosnul jeden prominentný predstaviteľ maďarského progresívneho rocku a jazzrocku, spevák a flautista Ádám Török, zakladateľ a dlhoročný líder skupiny Mini. Skupinu založili mladí bigbíťáci v roku 1968 a hneď sa zčerstva pripojili k narastajúcej rockovej a bluesrockovej vlne valiacou sa od západu krížom krajinou. Po tom, čo sa ako štatisti objavili v televíznej reklame pre olejové kachle Mini Calor, mali o meno skupiny postarané. S repertoárom zloženým z prebratých skladieb Jimiho Hendrixa alebo Cream vystupovali na pódiách hudobných a mládežníckych klubov v hlavnom meste a tiež na rôznych hudobných podujatiach po celej krajine. V roku 1969 sa zúčastnili turné vo Východnom Nemecku, tu si Ádám kupuje svoju prvú flautu a tá sa od tej chvíle stala neoddeliteľnou celoživotnou súčasťou jeho osobnosti. V roku 1970, po nezhodách o ďalšom hudobnom smerovaní skupiny, prichádza prvý markantný pretras v zostave a súčasne zmena hudobného smerovania. Jediný pôvodný člen skupiny Mini, Ádám Török s úmyslom posunúť tvorbu skupiny smerom k progresívnemu jazzrocku pozýva do skupiny nadaných mladých spoluhráčov. Gyula Papp, študent hudobného konzervatória, od boha talentovaný klávesák, skladateľ milujúci klasickú hudbu, sa do hudobného povedomia vrútil ako kométa a stal sa neodmysliteľnou súčasťou ranej tvorby skupiny Mini. Na base István Nagy a bicmen Tamás Németh "Nemecsek" vytvorili spoločne kvalitnú rytmickú zostavu sprevádzajúcu oboch sólistov.
Tvorba tejto legendárnej zostavy bola ohraničená rokmi 1970 až 1973 a považuje sa spolu so skupinou Syrius za jedno najlepšie, čo malá, komunistickými byrokratmi zaznávaná progrocková scéna v krajine ponúkla. Netrvalo dlho a mali skomponovaný a nahratý dostatočný hudobný materiál pre prvú LP, vedenie však nedalo zelenú k vydaniu vlastného albumu. V roku 1972 im umožnili vydať iba tri single nahraté v štúdiu maďarského rozhlasu. Ako by to nestačilo, ich progrockovú adaptáciu Bartókovho Alegro Barbaro synovia slávneho hudobného skladatela zakázali vydať a nahrávka musela byť zničená. Dediči práv mali asi po príjmoch od skupiny ELP priveľké nároky a pýtali toľko čo si mladá maďarská skupina bez finančnej podpory nemohla dovoliť. Toto sa prirodzene podpísalo pod súdržnosťou skupiny, Gyula Papp odchádza spoluzaložiť hardrockovú skupinu Skorpió a v Mini nastáva nekonečná migrácia hudobníkov. Až v druhej polovici siedmej dekády sa zostava ako tak ustálila, dokonca získali povolenia nahrávať a do roku 1983 vydali tri LP. V tomto období sa však už hudobný výraz skupiny posunul od progresívneho rocku k pop-jazz-rocku poplatnému obdobiu, s novátorským progrockom skupiny zo začiatku sedemdesiatych rokov toho veľa spoločného už nezdieľala. Po treťom albume sa skupina na celé desaťročie odmlčala, až v roku 1993 skupina usporiadala v Budapeštianskej športovej hale pamiatkový koncert a od toho momentu sa skupina pod vedením agilného Ádáma Töröka v rôznych podobách objavuje na koncertných podujatiach. Najznámejší a najzaujímavejší projekt v súčasnosti mal názov Mini Acoustic World, tu sa Török odznova stretáva s dávnym spoluhráčom, Gyulom Pappom a s pomocou sláčikového kvarteta zrealizujú svoj dávny zámer, nanovo vytvoria priehršť adaptácií Bartókovych diel do rockovej hudby. S týmto programom doplneným o skladby z raného obdobia skupiny vystupujú po celom území krajiny a v roku 2017 dokonca vychádza živák Bartók in Rock na CD, album ktorý vrele odporúčam si vypočuť každému, kto nepohrdne kvalitným progresívnym artrockom.
V máji mal byť usporiadaný ďalší pamiatkový koncert, bohužiaľ, osud si to zariadil po svojom a nečakaná smrť lídra skupiny pravdepodobne znamená aj definitívne ukončenie činnosti skupiny Mini.
V roku 2011 u vydavateľstva Moiras Records vychádza skupine Mini album Fruit Pebbles obsahujúci skladby nahrané v roku 1972 a podľa tvrdenia vydavateľstva tu veru ide o nezrealizovaný prvý album skupiny. Každý vieme svoje o promočných chvástoch hudobných vydavateľstiev, avšak nedávno som čítal rozhovor s Törökom, ktorý toto tvrdenie viac-menej potvrdil. Album obsahuje všetky tri single skupiny a tiež ďalšie dve nevydané skladby zaznamenané počas rovnakého nahrávania pre štátny rozhlas. Bohužiaľ, Bartókova skladba Alegro Barbaro tu chýba, pravdepodobne bola naozaj dôsledne zničená a stratili sme nadobro možnosť spoznať ranú verziu tejto adaptácie.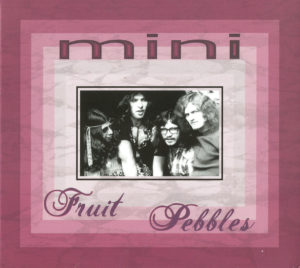 Album otvára jedna z najslávnejších skladieb z repertoáru skupiny, Gőzhajó (Parník), progresívny rock možno vďaka flaute trochu pripomínajúci Jethro Tull, tohoto prirovnania sa však žiadna skupina s flautou v ústrednej úlohe nemôže vyvarovať. Ďalšou v poradí je skladba Sirályok (Čajky) a tu sa už naplno prejaví progresívne zameranie skupiny a spievané časti sa striedajú s flautou a hammondom znejúcimi ako kostolné varhany. Nevydaná, skoro 10 minútová inštrumentálka Éjféli nap (Polnočné slnko) to rozbalí naplno. V úvodnej progrockovej časti sa predstaví mladý Papp a jeho hra na hammond mi natíska myšlienku, že ak by Bach komponoval v XX. storočí, znelo by to presne takto. Klávesy sú sprevádzané swingujúcou rytmickou zostavou. Po návrate k úvodnej téme sa sólovo prejaví Török na flaute a zavesluje až kamsi do vôd súčasnej komornej hudby, na záver skladba graduje do finále. Jeden z vrcholov zbierky. Návrat k pesničkovej forme prichádza skladbou Ne félj! (Neboj sa!), základom sú klasicky znejúce varhany a na rozdiel od predošlej skladby tu basa a bicie znejú podstatne rockovejšie. V ďalšiej vo svojej dobe nezverejnenej inštrumentálke, skoro osem minútovej skladbe Ködben (V hmle) sa tentokrát Papp predstaví v polohe jazzového pianistu a miestami Török svojou flautou krásne dopĺňa náladu skladby. Pieseň Kereszteslovag (Križiak) je už vyše päťdesiat rokov neoddeliteľnou súčasťou repertoáru skupiny, hymna zahraná na každom živom vystúpení. Délelőt (Predpoludnie) nám predstavuje skupinu v energickej, v inštrumentálnej časti jazzrockovej polohe a záverečná Haloványkék gondolat (Bledomodrá myšlienka), progresívny hardrock vystavaný na hammonde a flautových sólach sa stal ďalšou hymnou celých generácií fanúšikov skupiny.
CD je vsadené do gatefold digipacku, moc informácií ale neponúka. Napriek tomu si toto vydanie cením, ide o ozaj kvalitnú hudbu z krajiny a éry, ktorá sa moc s progresívnym rockom nemaznala.
01. Gőzhajó
02. Sirályok
03. Éjféli nap
04. Ne félj!
05. Ködben
06. Kereszteslovag
07. Délelőtt
8. Haloványkék gondolat
– Ádám Török – flauta, spev
– Gyula Papp – hammond
– Tamás "Nemecsek" Németh – bicie
– István Nagy – basgitara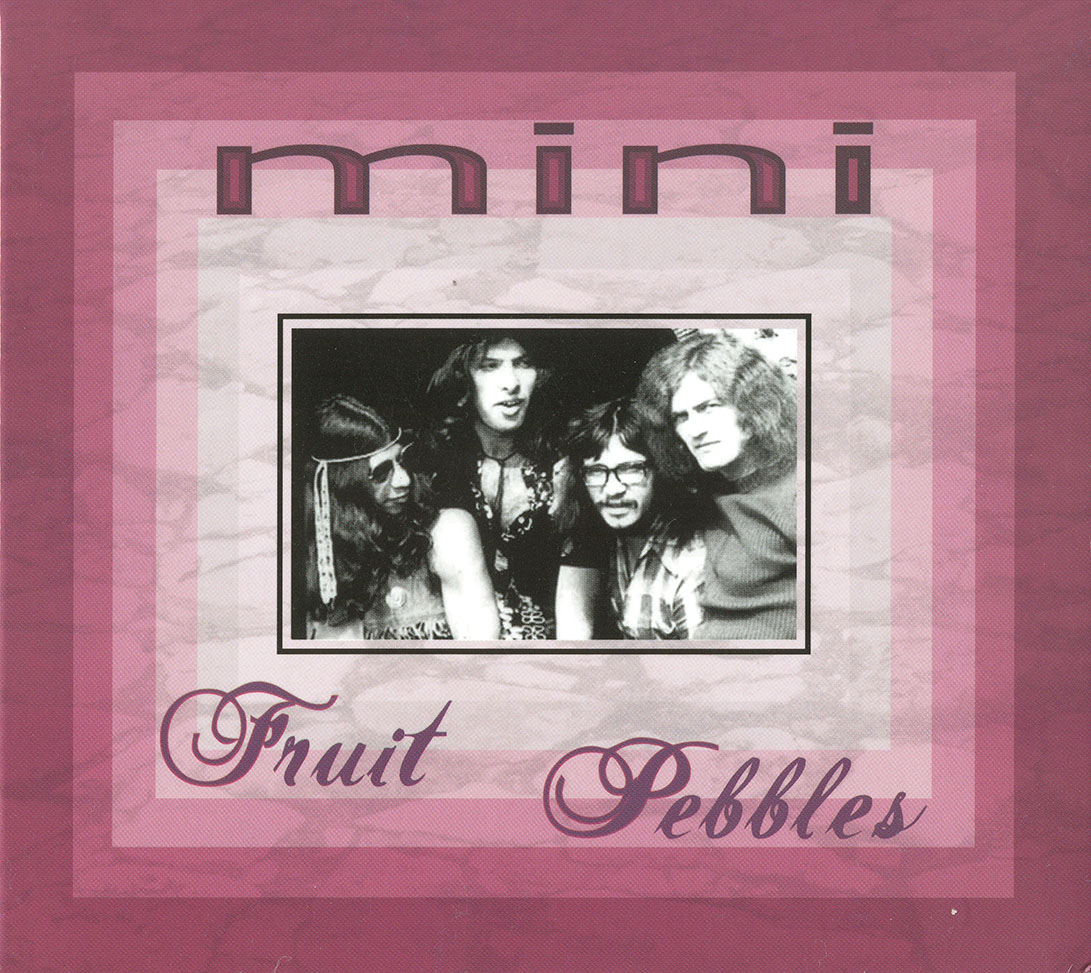 Fruit Pebbles
3BFPCD01
Mini
Progrock
Moiras Records
2011
CD
8