Box Set Universal Music Italia s.r.l. –  0602527319346  /2010/
Mauro Pelosi je italskej básník, skladatel a zpěvák a La stagione per morire jeho prvním ze čtyř – v sedmdesátých letech vydaných – alb. Veškerou hudbu a slova napsal Pelosi, celé to zastřešil nějakým konceptem a k nahrávání pozval celou řadu zajímavých hostů. Vyčnívají především Gianni Stinga a Gianni Leone z Il Balletto Di Bronzo, Mike Logan z The Motowns, Flavio Premoli z Premiata Forneria Marconi, nebo ex Le Orme bubeník Dave Baker. Některé písně mají slušivé symfonické aranžmá, které jim uštrikoval Detto Mariano.
Nejen na tomto albu, ale Pelosiho tvorba všeobecně se pohybuje od křehkého folku, přes šanson a pop, až po symfonický rock a je pro ni charakteristická tíživá atmosféra, umocněná melancholickými a depresivními texty. Je to samá nešťastná láska, zasebevražďování se a umírání. Takové ty smutky pana Smrtky. Italsky sice neumím ani zbla a texty luštím pomocí překladače, ale člověk nemusí umět hubou klápnout a přesto cítí to doslova hmatatelné zoufalství z jeho slov.
Co se přímo tohoto alba týká, tak zaplaťpánbu, ale vyloženě akustická skladba tu není. Všechny obsahují aspoň krátký vstup zemitejch bicích, což nahrávku posouvá rockovějším směrem. První housle hraje akustická kytara, semotamo připojí se piáno a varhany. No a když přidají se táhlé tóny mellotronu, špicuju uši a pomlaskávám spokojeností. Ono se to nedá pokaždé přesně určit, ale identifikuji ho v titulní La stagione per morire, hned následující E dire che a maggio, poněkud experimentální – závěrečné – Suicidio a v pořadí třetí Vent'anni di galera. Ta mi svou melodií opravdu sedí a je pro mě takovým malým vyvrcholením celého alba.
Pelosi je takovej prokletej básník a svéráz, jehož hudbu lze jen těžko někam vmáčknout a zaškatulkovat. Někteří badatelé ho řadí k italskému progresivnímu rocku, jiní zas ne, ale jeho první dvě alba k němu mají setsakramentsky blízko. Koneckonců, svůj profil má aj na progarchives… (s aktuální známkou 3,07)
Zásadní album to není – zvlášť pro našince, který umí italsky tak akorát civět. Navíc je to taková mrazivá depresárna, které je lepší se – pokud člověku není zrovna do skoku – vyhnout. Ale dobré je, to zase ano. Sám ho moc často neposlouchám, ovšem když už k tomu dojde, slupnu těch 34 minut jak malinu.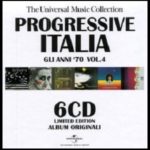 Původní album vyšlo u labelu Polydor a je vzácnou a docela draze vykoupenou raritou. S cédéčky to není o moc lepší, jediná reedice (podle discogs) vyšla u korejského labelu Si-Wan Rec. v roce 1994. Jednou z mála možností, jak se dostat k originálnímu nosiči tak zbývá nákup 6 CD box setu Progressive Italia gli anni '70 vol. 4 z roku 2010. Jednoduchej futrálek nenabídne víc, než reprodukci přední strany původního obalu, track list a sestavu, ale hraje velmi dobře.
SKLADBY:
1. Paura
2. Cosa aspetti ad andar via
3. Vent'anni di galera
4. Venderò
5. La stagione per morire
6. E dire che a maggio
7. Che poi non è vero
8. Caro amico
9. Suicidio
SESTAVA:
Mauro Pelosi – voce
+
Osvaldo Colombino – batteria, percussioni
Ronnie Jackson – chitarra acustica, chitarra 12 corde
Flavio Premoli – organo Hammond, pianoforte
Mike Logan – mellotron, sintetizzatore
Gianni Stinga – batteria, percussioni
Gianni Leone – sintetizzatore, mellotron
Danny Besquet – basso
Dave Baker – batteria, percussioni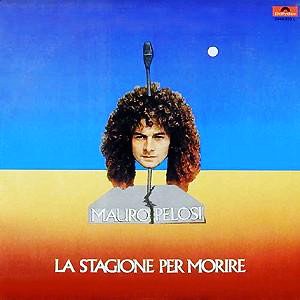 La Stagione Per Morire
Mauro Pelosi
folk/symphonic rock
Polydor
1972
LP
9
CD - Universal Music Italia, 2010