CD Bull's-Eye – 588  /2009/
Na italské skupině Moby Dick není italského, ani co by se za nehet vlezlo a při náhodném poslechu bych ji na partu z Apeninského poloostrova netipoval ani náhodou…
U jména Moby Dick mi jako první naskočí šlágr od Banco del Mutuo Soccorso a teprve potom slavný, dobrodružný román Hermanna Melvilla. Že se tak jmenuje i jedna ze skladeb Led Zeppelin jsem až donedávna nevěděl a o existenci stejnojmenné italské kapely neměl ani páru. A není se co divit, protože v tomhle případě jde o zapomenutost nejhrubšího zrna. Skupina sice působila relativně dlouhejch pět let, ale nezbylo po ní víc, než pár demáčů a jedno nevydané album z roku 1973. To se sice nahrávalo až v londýnských Olympic Studios, ale kapele se pro něj nepodařilo najít vydavatele a tak zůstalo ležet v šuplíku. Na světlo boží se dostalo teprve zásluhou labelu Akarma v roce 2001 a to na vinylu i CD.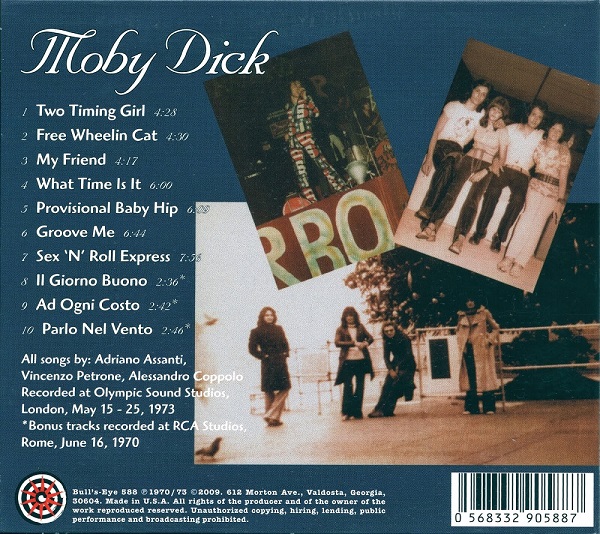 Historii skupiny podrobně zmapovali kolegové Hejkal a Borek, takže si můžu vyhrnout rukávy, plivnout do dlaní a pustit se rovnou do muziky. Úvodní Two Timing Girl přesně vystihuje citát, že "každý začátek je těžký", protože jde o můj suverénně nejneoblíbenější kousek celé kolekce. Tenhle nezáživnej, hardrockovej kolovrátek se zkresleným zvukem koušu opravdu těžko a být v tomhle stylu celé album, tak ho snad raději použiju jako tácek pod kafe. To by, aspoň v mém případě, udělalo lepší službu. S následující Free Wheelin Cat to není o moc lepší, ale obsahuje několik zajímavejch vsuvek a tak nějak podvědomě cítím, že se začíná blýskat na lepší časy. Splašená My Friend mi svým rock'n'rollovým fundamentem připomíná  skladbu Rock And Roll legendárních Led Zeppelin a to už jsem u prvního vrcholu alba, kterým je šest minut dlouhej a částečně akustickej slaďák What Time Is It. Se zajímavým kytarovým sólem navrch.
Uno momento, já vám ještě neřekl, jak moc se to podobá na Led Zeppelin? Nejenom hudbou, ale i vokály? Je to tak a potvrzením mých slov budiž pátá Provisional Baby Hip. Opět částečně akustická, ale s neobyčejně chytlavým a důrazně pumpujícím rockovým spodkem. Předposlední Groove Me překvapí několika rychlými, energickými laufy a na úplnej závěr je tu naprosto zničující hardrockovej očistec Sex'n'Roll Express. Osm minut dlouhá smršť v pekelném tempu a jak břitva ostrým zvukem…
Bonusem navíc jsou tři demáče z roku 1970 a jsem za ně tuze vděčnej, protože tohle je Itálie, jakou mám rád. Sestava skupiny byla značně proměnlivá a nevím přesně, v jakém obsazení ty tři písničky vznikly, ale hodně mi to připomíná debutové album Sirio 2222 (1970) souputníků Il Balletto di Bronzo. Zpěvák a kytarista Marco Cecioni v Moby Dick krátce působil a nedivil bych se tomu, kdyby ty skladby nazpíval právě on, ale ruku do ohně bych za to raději nedával. Nerad bych o ni přišel.
Po poněkud rozháraném, rozpačitém začátku mi ta deska připadá čím dál tím lepší a na jejím konci už ji vypínám docela spokojenej. Myslím, že je dobrá a tu slabší trojku si nakonec zaslouží. Do sbírky jsem zařadil asi jedinou dostupnou reedici od amerického labelu Bull's-Eye a je to jednoduchej digipak, kterej ctí původní obálku od Akarmy. Uvnitř futrálu je vytištěnej profil skupiny v angličtině (půlka textu je však pod transparentním držákem CD), na zadní straně tracklist a tři fotografie. Zvuk alba sice není nic extra, ale jsem rád, že ho mám.
SKLADBY:
01. Two Timing Girl 4.34
02. Free Wheelin Cat 4.32
03. My Friend 4.18
04. What Time Is It 6.02
05. Provisional Baby Hip 6.10
06. Groove Me 6.47
07. Sex'n'Roll Express 7.59
Bonus tracks:
08. Il giorno buono 2.37
09. Ad ogni costo 2.43
10. Parlo nel vento 2.46
All songs by Assanti/Petrone/Coppola
Originally released 2001 Akarma AK 1028
Recorded at Olympic Sound Studios, London, May 15 – 25, 1973
Bonus tracks recorded at RCA Studios, Rome, June 16, 1970 
SESTAVA:
Sandro Coppola – voce, chitarra
Toni Di Mauro – chitarra, voce
Enzo Petrone – basso
Adriano Assanti – batteria 
Moby Dick
Moby Dick
Hard Rock
Akarma
2001
CD, LP
7+3
CD Bull's-Eye – 588 /2009/