CD Sony Music ‎– 88843099982 /2014/
Album Mass-Media Stars (1974) je druhým vroubkem v diskografii Acqua Fragile a pokud bychom ho porovnali s o rok starším, eponymním debutem, našli bychom celou řadu společných prvků…
Obě desky nahrála nemlich ta stejná sestava a první, co člověka praští přes uši je frontman Bernardo Lanzetti a jeho specifickej sólo zpěv s texty v angličtině. Unikát každým coulem, rozpoznatelnej na první poslech. Nezměnila se ani hudební náplň, kterou bych popsal jako britskou školou ovlivněnej symphonic prog a rozdíl mezi oběma alby je tak vskutku mizivej. Vystopovat by se tu dalo ledacos, ale jako největší vzory a zdroje inspirace bych tipoval Genesis, Gentle Giant a Yes. Jedinou, ale o to zásadnější změnou se ukázal přechod od nezávislého labelu Numero Uno k novému vydavateli, kterým se stala společnost Ricordi. Díky jejich dceřiné značce Import Records album vyšlo nejenom v Itálii, ale i v USA a tím se na tehdejší italské hudební scéně nemohl pochlubit každej.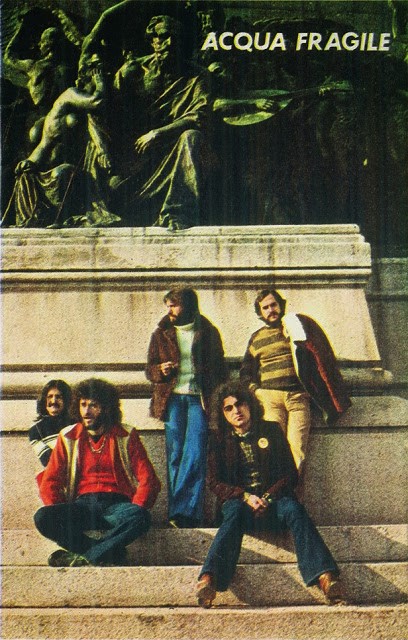 Dlouho jsem si vystačil s eponymním debutem. Připadá mi výraznější a lepší nejen po stránce kompoziční, ale i zvukové. Album Mass-Media Stars však schovává eso v rukávu v podobě závěrečné Coffee Song, jedné z mých nejoblíbenějších písniček Acqua Fragile vůbec a tak jsem nakonec povolil. Celkem snadno dostupné cedlo od Sony se stalo součástí mé italské sbírky a po krátkém oťukávání jsem mu přišel na chuť. 
První dvě skladby, Cosmic Mind Affair a Bar Gazing si berou z Genesis opravdu hodně. Připomínaj mi je hlavně instrumentální vsuvky s podobným zvukem klávesových nástrojů, ale co už. Ono je mi to nakonec docela šumák, protože především druhá jmenovaná je opravdu pěkná a tak není divu, že vyšla aj na samostatném singlu (jediném v dgf Acqua Fragile).
Od titulní Mass-Media Stars, po pátou Professor je to parádní artrocková jízda, protože všechny tři, do nejmenšího detailu vycizelované písničky odsejpaj v kvapíkovém tempu. Instrumentální kouzla, rytmické zvraty a vokální harmonie dávají vzpomenout na Gentle Giant a není divu. Acqua Fragile jim předskakovali na jejich italském turné a k jistému ovlivnění tak mohlo dojít velice snadno. Ta inspirace výše uvedenou, britskou legendou je navíc velmi volná a tehdy se podobným způsobem prezentoval kdekdo. Na úplnej závěr je tu krásná a uvolněná balada Coffee Song. Písnička, kterou jsem si zamiloval na první poslech a jediné, co bych jí vytknul, jsou nešťastně zvolené studiové efekty. Tady to pánové u mixážního pultu krapet přehnali…
Kromě Lanzettiho, který krátce po vydání alba odešel k PFM, se nikdo z kapely mediální hvězdou nestal. Uvolněnej flek po frontmanovi zalepil Roby Facini, klávesistu Maurizia Moriho vystřídal Joe Vescovi z The Trip, ale s Acqua Fragile to šlo od desíti k pěti a už o necelej rok později se rozpadli.
Původní album vyšlo ve velkém nákladu a tak je i dneska sehnatelné za rozumnou cenu. Reedic je taky dost a fungl nového nosiče chtivej sběratel by neměl odejít s prázdnou. Cédéčko od Sony (2014) je v klasickém jewel boxu, s transparentním držákem CD a čtyřstránkovým bookletem, obsahujícím dvě fotografie, sestavu, tracklist a texty. Jeho zvuk je detailní, čistej a třeba akustiky cinkají opravdu božsky, ale chybí mu výraznější basová složka. Na své domácí aparatuře jsem zvyklej muziku poslouchat většinou v "nulách", ovšem tady musím těm basům pořádně přidat.
Debut mám raději a na tom už se nic nezmění, ale aj album Mass-Media Stars je víc než dobré, poslouchám ho rád a tak těch 3,5 zaokrouhlím nahoru. 
SKLADBY:
Lato A
1. Cosmic Mind Affair – 7:19
2. Bar Gazing – 5:06
3. Mass-Media Stars – 6:53
Durata totale: 19:18
Lato B
4. Opening Act – 5:40
5. Professor – 6:49
6. Coffee Song – 5:56
Durata totale: 18:25
SESTAVA:
Bernardo Lanzetti – voce, chitarra elettrica, chitarra acustica a sei e otto corde
Gino Campanini – chitarra elettrica, chitarra acustica, mandolino, voce
Maurizio Mori – tastiere
Franz Dondi – basso
Piero Canavera – batteria , percussioni , chitarra acustica, voce
+
Claudio Fabi – pianoforte (Opening Act)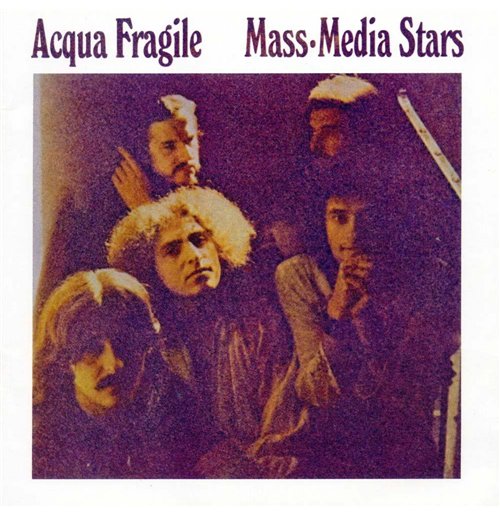 Mass-Media Stars
Acqua Fragile
Prog Rock
Ricordi
1974
LP
6
CD Sony Music ‎– 88843099982 /2014/