AMS Records – AMS 278 CD   /2017/
Skupina Maxophone vznikla na jaře roku 1973 a o dva roky později natočila stejnojmenné debutové album. Fanoušci ho však odzívali a prodejní čísla nebyla ani z daleka taková, jaká by si label i producent představovali. Prostředky do něj vložené tak přišly vniveč, ale dnes sklízí pochvaly na všech frontách a v každém RPI žebříku bychom ho našli na těch nejvyšších příčkách. Skupina to zkoušela dál, dokonce připravovala materiál na další velkou desku, ale po komerčněji orientovaném singlu Il fischio del vapore / Cono di gelato z roku 1977 se rozpadla…
Maxophone v kompletní sestavě se znovu sešli až v roce 2005 a bylo to při příležitosti vydání výpravného vzpomínkového boxu From Cocoon To Butterfly. Jen tak, pro radost si ve studiu střihli instrumentální verzi z debutového alba pocházející skladby  Mercanti di pazzie, ale nic dalšího nebylo v plánu a situace kolem kapely zas na pár let utichla. Asi jediným, kterej si přál skutečnej comeback byl hráč na klávesové nástroje Sergio Lattuada, ovšem došlo k němu teprve potom, co se mu podařilo přesvědčit i původního kytaristu a zpěváka Alberta Ravasiniho. Sestavu doplnili Marco Tomasini (kytara, zpěv), Marco Croci (basa, zpěv) a Carlo Monti (bicí, housle) a v roce 2008 bylo hotovo. Maxophone byli definitivně zpět.
Obnovená sestava začala obrážet koncertní štace a v roce 2013 si zahrála i v Japonsku, v legendárním klubu Città v Kawasaki. Záznam z vystoupení vydala japonská společnost Vivid Sound na CD s názvem Live Recorded at Club Città on April 26 2013, ovšem v roce 2014 vyšel i v Itálii na etiketě labelu Immaginifica a pod zjednodušeným (navíc chybným) titulem Live in Tokyo. Maxophone se však neomezovali jen na koncerty. V mezidobí komponovali, nahrávali ve svém domácím studiu a v roce 2017 jim u AMS vyšlo zbrusu nové eLPíčko La fabbrica delle nuvole.
Album vyšlo jak na vinylu, tak na CD a obě verze mají shodně po devíti skladbách. Nahrávalo se od podzimu 2015 do jara následujícího roku a produkci si obstarali oba původní členové kapely, tedy Lattuado s Ravasinim.
Obě studiové fošny Maxophone od sebe dělí 42 let a vzájemně je porovnávat postrádá smyslu, ale člověk je tvor zvídavej a nakonec se tomu stejně neubrání. Tou nejzásadnější změnou je fakt, že na "novince" už nehrají multiinstrumentalisté Leonardo Schiavone s Mauriziem Bianchinim, takže na lesní roh, klarinet, vibrafon, nebo ságo můžeme rovnou zapomenout. Kromě klasickejch instrumentů jsou tady navíc jen housle a to ještě jen tu a tam. Co však nechybí, je nakřáplej hlas Alberta Ravasiniho a právě díky jeho zpěvu jsou ty reminiscence na debut Maxophone až nečekaně silné.
Mě se album La fabbrica delle nuvole líbí. Chytlo mě v podstatě na první dobrou a myslím, že ostudu si s ním kapela rozhodně neudělala. Není to žádné usedlé písničkářství nevrlých a životem opotřebovaných staříků, ale pořád ještě dostatečně komplikovanej prog, pochopitelně s modernějším přístupem a zvukem. Výtečné jsou hned úvodní Un ciclone sul Pacifico s propracovanou, Gentle Giant připomínající instrumentální vsuvkou, nebo titulní instrumentálka La fabbrica delle nuvole. To jsou obříci jak vyšití a já jen žasnu, jak si tady Maxophone s těmi rytmy a vrstvením nástrojů pohráli.
Za další vrchol považuju hned následující La luna e la lepre, která se ostatním písním vymyká "dvorní" atmosférou, středověkým nápěvem a působivě sezpívanými vokály. Skutečně, ale tady zpívá celá kapela a v okamžiku, kdy ostatní nástroje utichnou se mávnutím kouzelného proutku převtělí v hlouček minnesängrů s loutnou, housličkami a všelijakými chřestidly. Je to také jediná nová skladba, která zazněla na již zmíněném vystoupení v Japonsku – ovšem v angličtině a pod titulem Guardian Angel.
Velice pěkná je i relativně krátká Nel fiume dei giorni i tuoi capelli, nadopovaná nekompromisní, rytmicky vycizelovanou vsuvkou, ale nechybí ani skladby z opačného spektra. Oblíbil jsem si jak "jednoduchou", podprahově chytlavou Estate '41, tak baladu Il passo delle ore a stylovým rozloučením s albem i kapelou je závěrečná Le parole che non vi ho detto. Tenkrát to samozřejmě nemohl nikdo tušit, ale v roce 2018 zemřel po dlouhé, vážné nemoci Sergio Lattuada a Maxophone se tak nadobro odmlčeli. Skupina svoji historii uzavřela, ale její hudba tady s námi bude dál…
S hudební náplní desky jsem spokojenej a líbí se mi aj obal, barevně navazujíci na debut z roku 1975. Horší už je to se zvukem, kterej odpovídá současným standardům a připadá mi zbytečně přeexponovanej. Basy sice duní, jak artilérie u Verdunu, ale neobešlo se to bez malého zkreslení. Nejde o žádnou katastrofu (nejsou to metály) a poslouchat se to dá, nicméně puristům bych asi doporučil raději vinyl.
Rozkládací mini vinyl replika od AMS je moc pěkná a kromě kotouče obsahuje ještě  dvanáctistránkovej booklet s texty. Nějaká fotografie by se sice šikla, ale – bohužel – chybí.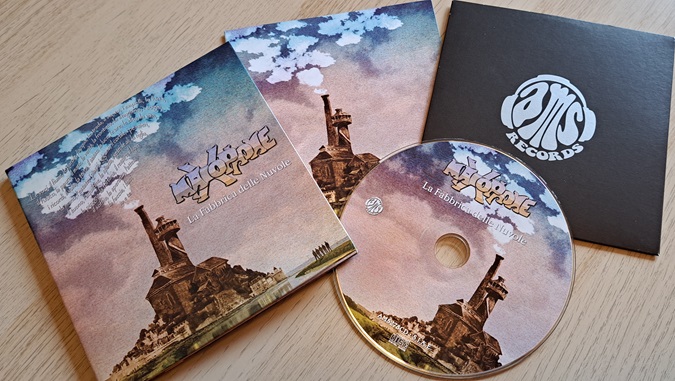 SKLADBY:
1. Un ciclone sul Pacifico
2. Perdo il colore blu
3. Il passo delle ore
4. La fabbrica delle nuvole
5. La luna e la lepre
6. Estate '41
7. Nel fiume dei giorni i tuoi capelli
8. Il matto e l'aquilone
9. Le parole che non vi ho detto

SESTAVA:
Sergio Lattuada – Pianoforte, tastiere e voce
Alberto Ravasini – Chitarre, tastiere e voce solista
Marco Croci – Basso e voce
Carlo Monti – Batteria, percussioni e violino
Marco Tomasini – Chitarra elettrica e voce
La fabbrica delle nuvole
Maxophone
Prog Rock
AMS Records
2017
CD, LP
9
AMS Records – AMS 278 CD /2017/