Je to už hodně dávno, kdy mi jedna dobrá duše v návalu opovržení a zhnusení nad tím, jakým směrem se rocková hudba vyvíjí, prozradila, že tím nejlepším albem je jednoznačně Beggars Banquet od Rolling Stones. Jistě, je to pouze názor jednotlivce, nad nímž by se dalo s úspěchem polemizovat, ale nesmíme zapomínat, že touto deskou skupina zahájila několikaletou sérii vysoce kvalitních dlouhohrajících počinů, na které může být v rámci své bohaté diskografie opravdu hrdá.
Jako by si pánové Jagger a Richards řekli dost, končíme s psychedelií a dalšími módními pokusy a vracíme se ke kořenům, k tomu, z čeho jsme vyrostli, co nás zformovalo a o čem značka Rolling Stones od začátku byla – totiž k pořádně ostrému rock and rollu vycházejícímu hodně z blues a špetky country, prostě z tradičních příměsí. Sama doba tomu nahrávala, hudba na britských ostrovech se neustále přitvrzovala a nové kapely vznikaly jako pověstné houby po dešti.
V roce 1968 byli početní příznivci valících se kamenů pozváni na hostinu žebráků, jež se však ukázala býti kulinářskou lahůdkou o deseti věru výživných chodech. I když ani předchozí desky nebyly špatné, jakoby až zde nastávaly ty pravé hudební hody, na nichž si ucho hudebního gurmána bude pochutnávat velmi dlouho. Škarohlíd namítne, že Stouni tady nic nového nevymysleli a pouze vykradli Ameriku. Jistě, to je pravda, ale udělali to s noblesou, grácií a drzostí jim vlastní, asi jako o necelých dvacet let později irští U2 na svém albu The Joshua Tree. Navíc se zde naplno projevila síla autorské dvojice Jagger – Richards, která na album dodala celkem devět kompozic. Tou desátou skladbou je povedená coververze písně Prodigal Son z pera Roberta Wilkinse.
Největším tahákem celé desky je samozřejmě neskutečná paráda schovaná pod názvem Sympathy for the Devil. Ten hypnotizující rytmus ve spojení s jedovatým Jaggerovým projevem a ostrými kytarovými výpady pana Richardse mi dlouho nedal spát. Kdyby z nich už nadosmrti žádná píseň nevypadla, tak tohle by jim určitě zajistilo nesmrtelnost a čestné místo v rockovém nebi, nebo pekle. To ať si každý přebere dle své libosti. Druhou ikonickou skladbou je ta s názvem Street Fighting Man. Ano, takhle si představuji Rolling Stones v plné síle, burcující ke změně, vždyť přece jen jsou pořád ještě šedesátá léta a Stones stále symbolizují revoltu, i když jejich přeměna ve zhýčkaná rocková božstva už silně klepe na dveře nahrávacího studia. Trochu ve stínu těchto dvou monolitů stojí parádně zařezávající Stray Cat Blues. Zapomenout nemůžu na mou velice oblíbenou píseň Jigsaw Puzzle, v níž jakoby se ta dravost patrná z jiných skladeb přeměnila v jistou naléhavost, skoro bych se nebál říct až popovou dotěrnost, což samozřejmě nemyslím nijak pejorativně.
K Jaggerovi a spol. patří blues, čehož se nám na albu Beggars Banquet dostává měrou vrchovatou. Za všechny bych jmenoval píseň Dear Doctor, která jakoby zabloudila na chladný Albion odněkud z delty řeky Mississippi. Z podobného základu vychází i přece jenom lehce ostřejší kousek s názvem Parachute Woman. Netřeba se zmiňovat, že obě tato dílka jsou ozdobena vynikající Jaggerovou harmoničkou. Dlouho jsem však nemohl přijít na chuť písni o dívce z továrny, tedy Factory Girl. Nějak mi tam neseděly ty housle a také zpěv mi přišel s prominutím trochu humpolácký. Naštěstí si vše vynahradím při závěrečné písni Salt of the Earth, jejíž až gospelové vyznění se stává důstojnou tečkou za touto vskutku povedenou hudební žranicí.
Co se dělo dál, všichni asi víme. Brian Jones, v té době prý už takřka nepoužitelný, dostává roku 1969 padáka a za pár týdnů je nalezen mrtev ve svém bazénu. Smutný, leč pochopitelný konec jedné padlé rockové hvězdy. Ostatní Stones přiberou vynikajícího kytaristu Micka Taylora a jejich spanilá jízda vesele pokračuje dál. A ač je to neskutečné, tak pokračuje i dnes, víc jak půlstoletí od vydání desky Beggars Banquet.
Skladby:
01. Sympathy for the Devil (6:27)
02. No Expectations (4:02)
03. Dear Doctor (3:26)
04. Parachute Woman (2:23)
05. Jigsaw Puzzle (6:17)
06. Street Fighting Man (3:18)
07. Prodigal Son (2:55)
08. Stray Cat Blues (4:40)
09. Factory Girl (2:12)
10. Salt of the Earth (4:51)
All songs by Mick Jagger and Keith Richards,
except "Prodigal Son" (Rev. Robert Wilkins)
Obsazení:
Mick Jagger – lead vocals, backing vocals and harmonica
Keith Richards – acoustic and electric guitar, bass guitar and vocals
Brian Jones – acoustic slide guitar, backing vocals, sitar, tamboura, Mellotron, harmonica
Bill Wyman – bass guitar, backing vocals, and percussion
Charlie Watts – drums and percussion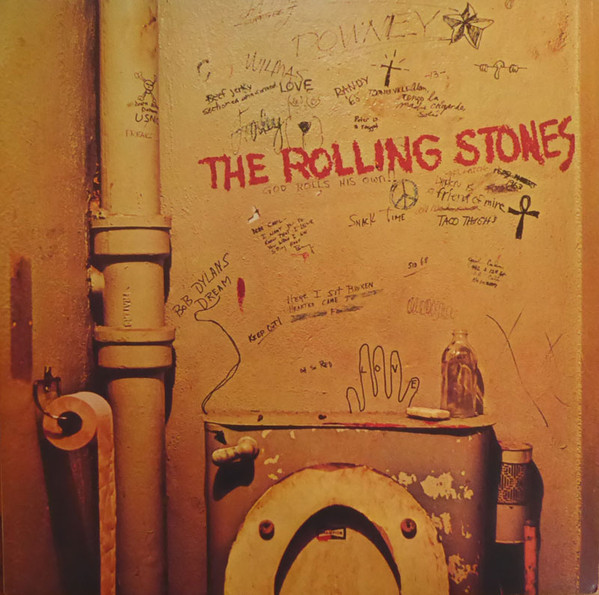 Beggars Banquet
The Rolling Stones
Blues Rock, Classic Rock
Decca
1968
LP
10