Proč začal Edward Ka-Spel tvořit hudbu až od roku 1980, když je ročník 1954, je jednou z mnoha otázek, které bych mu položil, kdybych se s ním setkal osobně. V sedmdesátých letech do sebe nasával hodně německý krautrock (Tangerine Dream, Faust, Ash Ra Tempel, Kraftwerk, Amon Düül II….) a také třeba český underground. Navštívil i tehdejší Československou socialistickou republiku. Díky své dokonalé fotografické paměti mu nedělá problém hovořit o obrovském množství kapel, které do sebe poslechově nasál, za Českou republiku zmiňoval např. Plastic People of the Universe a DG 307.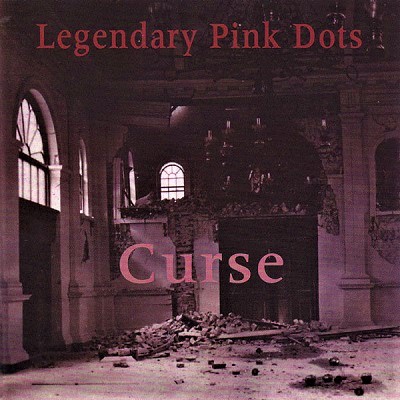 I když v roce 1983 vyšlo teprve druhé řadové album The Legendary Pink Dots, Edward Ka-Spel (v tom podobný Stevenovi Wilsonovi) měl už za sebou řadu ne moc kvalitně nahraných kazet, které se skupinou vydal. V této rané době byla v sestavě The Legendary Pink Dots, kromě Edwarda Ka-Spela, jen jedna osoba, která je s ním dodnes – jeho kamarád, klávesista Phil Knight.
Album je kolekcí poměrně melodického, byť svérázného, psychedelického, pro někoho syntetického (byť zejména baskytara Rolanda Callowaye tady dostává slušný prostor), temnějšího pop rocku. The Legendary Pink Dots jsou teprve na cestě projevit se v plné síle a ukázat svá bohatá aranžmá, která poprvé vybalili na albu Asylum z roku 1985.
Albu dominují klávesy s ještě poměrně nesmělými elektronickými efekty. Skladba Love Puppets (Láska loutek, s originálním, smutným, zametaforovaným textem) nezapře inspiraci v Kraftwerk. Edwardův zpěv je podaný se silným britským akcentem a je svérázně originální, byť občas připomíná Syda Barretta. Arzhklahh Olgevezh! je bizarní píseň zpívaná ve vlastním jazyce Ka-Spela. Je tak podivně sebevědomě odzpívaná, že člověk si klade otázku, co vše se muselo/musí Edwardovi honit hlavou. Waving At The Airplanes je jednou z psychedelických, příjemně melodických písní, trochu připomínající již zmíněného, klidnějšího Syda Barretta. Skvělá (nenapadá mě výstižnější, konkrétnější přídavné jméno) basa je zde hodně v popředí, text je opět originální a zvláštní. Zejména u této skladby si říkám, že takto by možná Barrett mohl znít, kdyby zůstal duševně v pořádku a pokračoval v komponování.
Jak se album pomalu chýlí ke konci, skladby gradují a jsou silnější. Jedním ze silných momentů alba přichází se skladbou Dolls' House. Ambiciózní kompozice, pod povrchem ale bublá tak trochu šílenství – rytmická skladba je plná hudby, vyjadřující pocity malých dětí: jako by ji složily malé děti, text je také záměrně dětský; jenže zpívaný dospělým člověkem působí naprosto bizarně a surrealisticky – protože je to opravdu příběh o domě plném panenek, které si kreslí, vyklánějí se z okna, koupají se… Texty Edwarda jsou, jako vždy, naprosto originální, svérázné, totálně mimo rock'n'rollová klišé.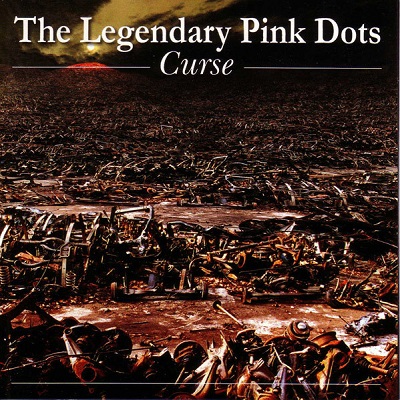 Dnes je toto, poměrně melodicky přístupné, album považované za klasickou studiovou nahrávku Pink Dots a já nemohu, nechci dát méně než čtyři body. Protože tenhle hudební výlet stojí za to. Nejrockovější podobu (a také nejpopulárnější) nabrali Pink Dots v devadesátých letech minulého století, tam je většina jejich alb na pět hvězdiček, ale to jsou už jiné kapitoly tohoto příběhu.

SKLADBY:
01. Love Puppets (6:56)
02. Wall Purges Night (4:16)
03. Lisa's Party (3:43)
04. Arzhklahh Olgevezh! (6:15)
05. Pruumptje Kurss (2:27)
06. Waving At The Aeroplanes (3:08)
07. Hiding (1:02)
08. Dolls' House (7:50)
09. The Palace Of Love (5:17)
10. Stoned Obituary (6:31)
SESTAVA:
Aradia (April Iliffe) – keyboards, occ. vocal, glox
Stret Majest (Barry Gray) – guitars, prazhada
D'Archangel (Edward Ka-Spel) – vocals, glox
Pruumptje Juste (Roland Calloway) – bass, suste glox
The Silver Man (Phil Knight) – synthesizers, malvezh, percussion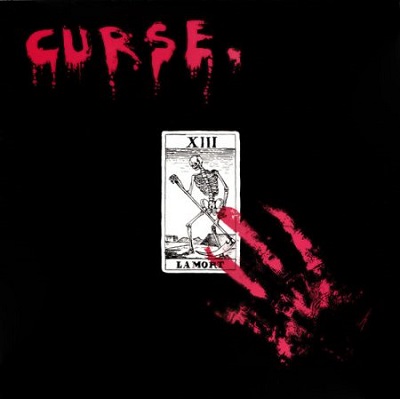 Curse
The Legendary Pink Dots
Electronic, Synth-pop, Experimental
In Phaze Records
1983
LP
10