CD Cinevox Record – CD MDF 350  /2002/
Soundtrack k úspěšnému duchařskému hororu z roku 1977. Film natočil italský režisér Mario Bava, hudbu složila a nahrála skupina Libra. Ta debutovala již v roce 1975 albem Musica & Parole, ale za ty dva roky od jeho vydání se toho dost změnilo…
Ještě v průběhu roku 1975, při zkouškách na americké turné nahradil původního bubeníka Davida Waltera o něco známější (a slavnější) Walter Martino. Ten si během své dosavadní kariéry zahrál s kdekým, ale k Libra si odskočil přímo od skupiny Goblin. V prosinci 1975 začala Libra připravovat svoje druhé velké album, ale v průběhu nahrávání se rozkmotřila s producentem a hned z kraje následujícího roku se rozpadla. Obnovená sestava z roku 1977 čítala dva původní členy skupiny (Sandro Centofanti a Dino Cappa), výše uvedeného bubeníka a dva nováčky, kterými byli Maurizio Guarini (ex Goblin) a Carlo Pennisi (ex Flea).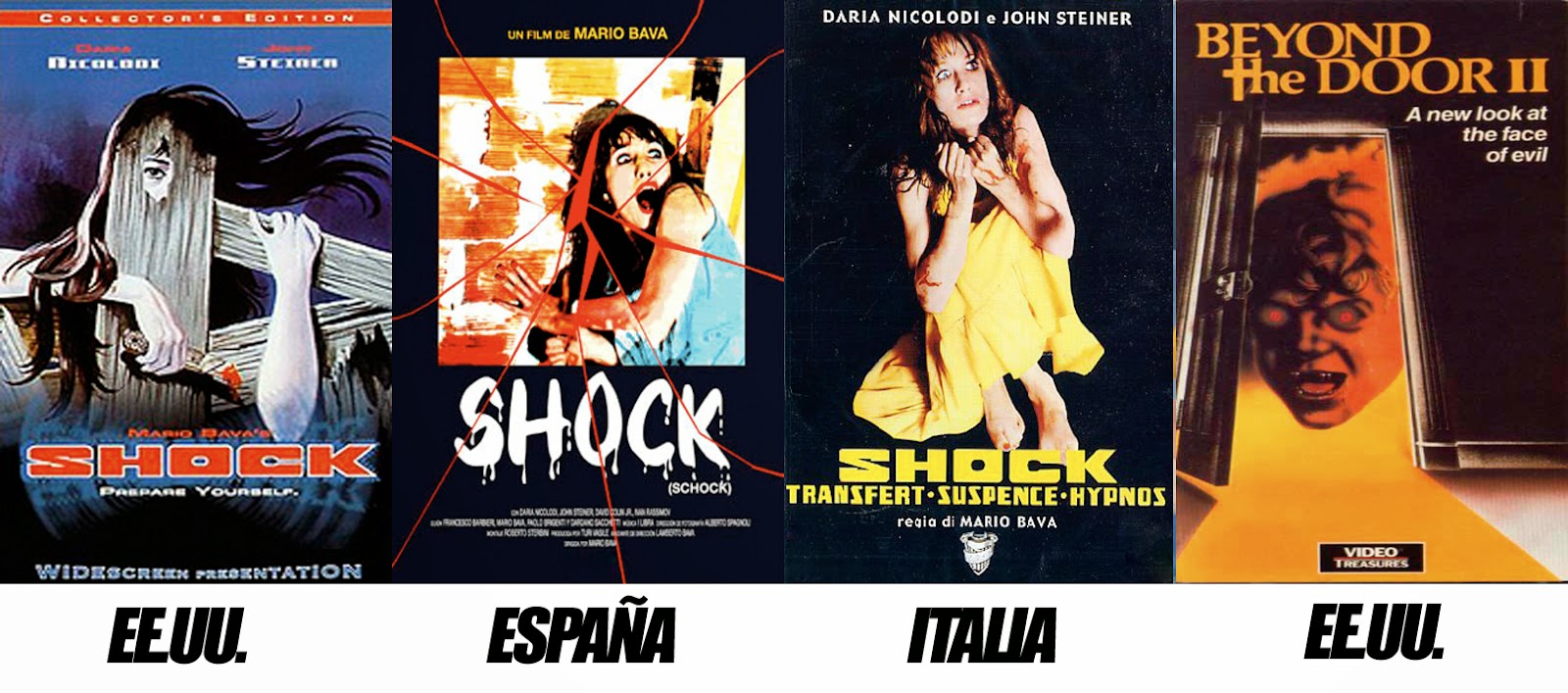 Jak se vůbec dali dohromady Mario Bava a Libra netuším, ale klaplo jim to spolu na výbornou. Bavova filmografie je poměrně obsáhlá a já se v ní absolutně neorientuju, ale podle dostupnejch zdrojů patří Schock k jednomu z jeho nejlepších filmů (uvádí se i varianta Shock, v zahraničí byl film distribuován jako Beyond the Door II). Řízením osudu byl však zároveň i jeho posledním, protože v roce 1980 zemřel na infarkt.
Biják je to sice komorní (jeden dům, tři dospělí a dítě), ale parádní a u několika šokujících scén se mi po těle zježila všechna srst. A to i tam, kde žádnou nemám. Napětí je dávkováno pěkně postupně a posledních 20 minut už je naprosto makabrozních, s rekvizitami v podobě krumpáče a řezáku na koberce. Z účinkujících bych zmínil především půvabnou Dariu Nicolodi, jinak dvorní herečku slavného Daria Argenta. Ta toho s ním natočila opravdu hodně a uvedl bych aspoň kultovky Profondo Rosso (1975), Suspiria (1977), Inferno  (1980), Tenebre (1982), nebo Phenomena (1985).
Hudba dohromady s filmem fungují skvěle a společně vytváří odpovídající kulisu, ale bez pohyblivejch obrázků už je to horší a nemlich stejnej pocit jsem měl i ze (jinak úspěšného) soundtracku Suspiria rarášků Goblin. Prakticky jedinými, byť výbornými položkami s parametry rockové skladby jsou úvodní The Shock, která se na albu objeví ještě v podobě Ripresa a Alternate Movie Version a pod předvolbou 6b zašitá Tema di Marco II. Potíž je v tom, že ve filmu samotném se moc nevyskytují…
Překrásně cinkající, akustická drobnůstka L'altalena rossa je slyšet především v romantických scénách (ano, jsou tam i takové) a z podobného soudku jsou tady ještě sóla na piano La baia a Il fantasma suona il piano. Zlověstné, syntezátorové repetice La cantina a Tema di Marco I připomínají Simonettiho kapelu Goblin a dál už jsou to víceméně jen samé nervydrásající, psychedelické koláže. Sólo bicích nástrojů v Transfert I ještě docela ujde, ovšem schizofrenní Hypnos už koušu opravdu s námahou a těžko. Nemluvě o hrůzostrašné L'incubo, nebo neuroticky těkajících hlukovkách Transfert II, III a IV. Ty se jako kulisa k běžným domácím činnostem opravdu nehoděj a při soustředěném poslechu to není o moc lepší. Tohle do sebe ládovat ve větším množství a intenzitě, tak skončím na prkně, nebo v odmašťovně…
Na DVD tenhle film vyšel i u nás v ČR (2009), jeho recenze v češtině si můžete přečíst na stránkách Česko – Slovenské filmové databáze (s aktuálním skóre 66%) a shlédnout se dá na YouTube, kde je dostupnej hned v několika verzích. Originální soundtrack vyšel v roce 1977 u Cinevox Record, první CD se objevilo v roce 1993 v Japonsku. Moje reedice z roku 2002 dostala proti původnímu vydání čtyři tracky navíc a obsahuje parádní, osmistránkovej booklet s několika barevnými fotografiemi a kredity.
Jako kulisa k hororovému filmu je to výborná muzika. Tady si Libra ostudu rozhodně neudělala a je škoda, že už nedostala další příležitost. Nicméně poslech desky samotné, bez obrázků je poněkud obtížnější a tomu odpovídá i moje hodnocení. Dvě a půl hvězdy za obsah a další půlku za stylovej futrál.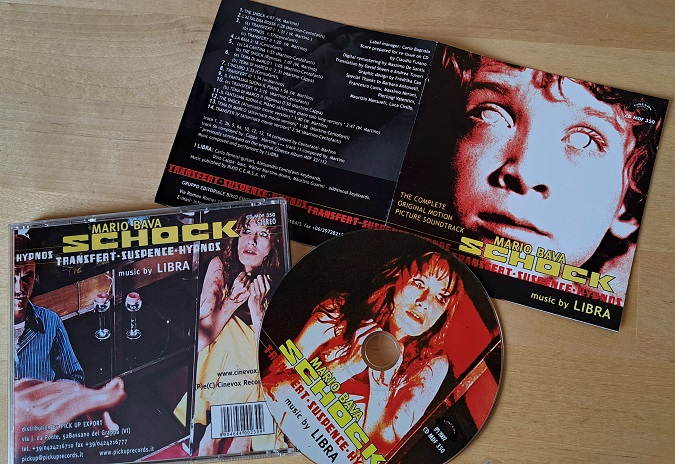 SKLADBY:
01. The Shock 4:07 (Composed By – W. Martino)
02. L'atalena rossa  1:28 (Composed By – Centofanti, Martino)
03.
(a) Transfert I  1:31 (Composed By – W. Martino)
(b) Hypnos  1:57 (Composed By – Centofanti)
(c) Transfert II  1:20 (Composed By – W. Martino)
04. La baia  2:18 (Composed By – Centofanti)
05.
(a) La cantina  1:55 (Composed By – Centofanti, Martino)
(b) The Shock (Ripresa)  1:07 (Composed By – W. Martino)
06.
(a) Tema di Marco I  1:05 (Composed By – Centofanti, Martino)
(b) Tema Di Marco II  2:31 (Composed By – Cappa, Martino)
07. L'incubo  3:33 (Composed By – Centofanti)
08. Transfert III  1:34 (Composed By – W. Martino)
09. Il fantasma suona il piano  1:56 (Composed By – W. Martino)
10.
(a) Transfert IV  3:10 (Composed By – Centofanti, Martino)
(b) Tema di Marco II (Ripresa)  0:50 (Composed By – Cappa, Martino)
11. Il fantasma suona il piano (Alternate Piano Solo Long Version)  2:47 (Composed By – W. Martino)
12. The Shock (Alternate Movie Version)  1:40 (Composed By – W. Martino)
13. Tema di Marco (Alternate Movie Version)  1:38 (Composed By – Centofanti, Martino)
14. Transfert IV (Alternate Movie Version)  2:54 (Composed By – Centofanti, Martino)
SESTAVA:
Carlo Pennisi – guitars
Alessandro Centofanti – keyboards
Dino Cappa – bass
Walter Martino – drums
Maurizio Guarini – additional keyboards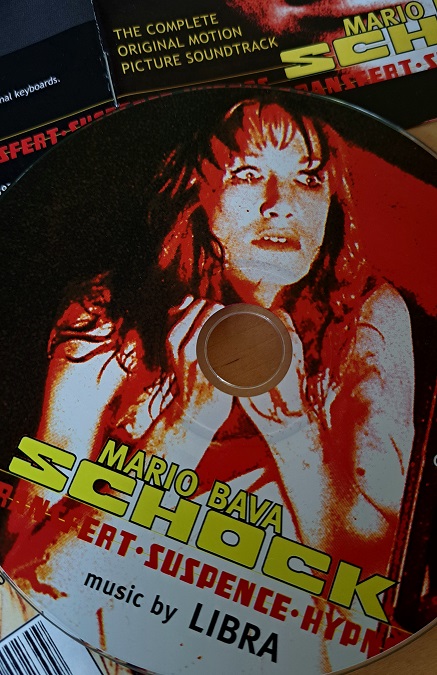 Schock
Libra
Soundtrack, Jazz Rock
Cinevox Record
1977
LP
14
CD Cinevox Record – CD MDF 350 /2002/