CD Bella Casa – CASA12BOX /2012/
Box Set, CD 3
"Mladá americká primabalerína přijíždí do Německa, aby se v prestižní baletní škole zdokonalila v tanečním umění. Ovšem brzy je konfrontována s všudypřítomným nadpozemským zlem a musí bojovat o holý život."
Suspiria je hudbou ke stejnojmennému hororu Daria Argenta a zároveň třetím zářezem v diskografii Goblin. Příběh je to poněkud kostrbatej, ale atmosféra, výtvarná stránka a hudba jsou fajn. Ta spolu s filmem funguje skvěle, ovšem bez pohyblivejch obrázků už je to kapánek horší. Ale pěkně popořádku:
Album otevírá titulní skladba – Suspiria – která je ústřední melodií filmu a zcela určitě patří k vrcholným okamžikům celého soundtracku. Claudio Simonetti využil netradičního sólového nástroje a právě zvonění čelesty se zvonkohrou (a drnkáním Bouzouki) si budu už navždy spojovat s tímto filmem. Ta melodie je přitom až dětinsky prostá a běží jako kolovrátek. Furt dokola. Do toho tlukot perkusí a strašidelné skuhrání nějaké čarodějnice. Celé mi to připomíná nějakej primitivní šamanskej obřad, nebo zvrácenou ukolébavku. Atmosférickej úvod postupně graduje a když se stává téměř nesnesitelným, vynoří se bicí, připojí baskytara a hlavní téma převezme syntezátor. Skladba se tak dostává do obrátek a vpřed ji popohání precizní rytmika Marangolo – Pignatelli. Po této svižné vsuvce se hudba vrátí k původnímu tématu a celá kompozice pomalu končí.
Následující kousek Witch se trochu zdráhám označit jako skladbu. Jeho cílem bylo vybudit divákovy emoce a tak je to spíš taková nervydrásající koláž složená z perkusí, lidských výkřiků a nějakých pazvuků, na kterou navazuje ještě sotva třicet vteřin dlouhá Opening To The Sighs. A velmi podobně je na tom i "hlukovka" Sighs. Dlouhá jízda kamery potemnělou, do červena nasvícenou chodbou provázená nervním drnkáním etnických strunných nástrojů a směsicí lidského šepotu, skřeků a zaříkávání nahání strach. Ale jen u sledování filmu. Samo o sobě mě to spíš přivádí k šílenství…
Markos je založena na jednom (furt pryč na jedno kopyto) dokolečka se opakujícím motivu kláves a art rockové parametry tak splňuje až teprve následující dvojice skladeb Black Forrest/Blind Concert. Volnější, lehce najazzlý úvod kolorovaný saxofonem postupně vyústí do výborné houpavé pasáže s chrochtající baskytarou a instrumentálními kouzly Simonettiho kláves.
Původní album končí valčíkem Death Valzer, ale nebyla by to Bella Casa, aby se nevytasila s nějakými těmi bonusy navíc. Je jich celkem pět, ale krom původních skladeb v různých úpravách nepřinášejí nic zásadního.
Deska vyšla v celé řadě zemí a téměř pokaždé s jinou obálkou. Jenom je všechny poshánět by vydalo na slušnou sbírku. Reedice od Bella Casa má obal podle původního vydání od Cinevox – siluetu tanečnice v typickém baletním postoji, s proříznutým hrdlem a zbrocenou krví spolu s obrovskými bílými nápisy Suspiria a Goblin – a je opravdu efektní.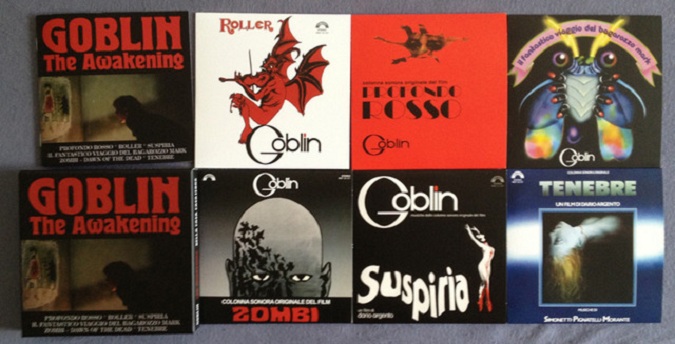 Řada fanoušků považuje Suspirii za masterpiece, ale já bych byl trochu zdrženlivější. Je tu pár skvělejch kousků, ale zbytek považuji za průměr, kterej bez filmu prostě nefunguje. Deska je to dobrá, však nikoliv zásadní a moc se k ní nevracím. Tedy za tři.
SKLADBY:
01. Suspiria  /6:01/
02. Witch  /3:12/
03. Opening To The Sighs  /0:32/
04. Sighs  /5:16/
05. Markos  /4:05/
06. Black Forrest/Blind Concert  /12:33/
07. Death Valzer  /1:51/
Bonus tracks:
08. Suspiria (Celesta and Bells)  /1:34/
09. Suspiria (Narration)  /1:48/
10. Suspiria (Intro)  /0:32/
11. Markos (Alternate Version)  /4:09/
12. Suspiria (Alternate Take)  /3:51/
SESTAVA:
Fabio Pignatelli – Bass, Tabla, Acoustic Guitar, Voice
Claudio Simonetti – Celesta, Mellotron, Organ, Violin, Electric Piano, Piano
Agostino Marangolo  – Drums, Percussion, Voice
Massimo Morante – Electric Guitar, Acoustic Guitar, Bouzouki, Voice
Suspiria
Goblin
Prog Rock, Soundtrack
Cinevox
1977
LP
8
CD: Bella Casa - CASA12BOX /2012/