CD Bella Casa – CASA12BOX   /2012/
Box Set, CD 6
Album Tenebre je hudbou ke stejnojmennému filmu a zároveň dalším produktem velmi plodné spolupráce režiséra Daria Argenta s Goblin. Tentokrát se nerodila lehce, protože pošramocené vztahy mezi členy skupiny byly na bodě mrazu a Argentovi dalo spoustu práce a přemlouvání, aby se dala aspoň ze tří čtvrtin dohromady. Bubeník Marangolo tvrdošíjně odmítal jakoukoliv spolupráci a protože zbytek kapely tak přišel o práva vydávat jako Goblin, je na plakátech k filmu i obalu alba uvedena namísto názvu skupiny jen trojice jmen Simonetti – Pignatelli – Morante.

Film je to relativně napínavej a drsnej. Sériovej vrah, celá řada brutálních mordů – napočítal jsem jich asi jedenáct – nechybí polonahá děvčata a kbelíky krve. Typické giallo. Milovníci tohoto filmového žánru budou spokojeni, ale těm ostatním bude spíš šoufl…
…a teď k hudbě samotné: art rocku odzvonilo, jsou tady syntetická osmdesátá léta. A v plné parádě. Při poslechu syntezátorů a dalších elektronických udělátek mě napadají jména jako J. M. Jarre, Manfred Mann's Earth Band, Harold Faltermeyer, nebo Jan Hammer. Je těžké rozeznat, co hrají klávesy a co basista Pignatelli. Kytara nemá téměř žádný prostor, ale je vždy ve správnej čas na správném místě a pěkně dobarvuje atmosféru.
Těžištěm alba je první skladba a ústřední melodie filmu, tedy Tenebre. Musím přiznat, že byť je to čistá syntetika v diskotékovém tanečním rytmu, nemohu jí upřít jistou chytlavost. Hlavní téma je opravdu silné a při každém poslechu mi zůstane trčet v hlavě jako dobře naostřené kopí. Následující a trochu nervní Gemini je spíš znepokojivou vsuvkou, zvedající adrenalin už tak vynervovaného diváka. "Uklidnění" nabízí trojka Slow Circus, která se ve filmu objeví hned v několika šokujících retrospektivách. Klapot kovově znějících kláves v melodii připomínající dětskou ukolébavku je už takovým Simonettiho trademarkem, protože něco podobného použil i na starších nahrávkách. První stranu původní LP uzavírá jediná v podstatě "normální" skladba, Lesbo. Je to prakticky jediná věc, kde dostal více prostoru i kytarista Morante a je to takovej ten typickej osmdesátkovej pop rock s trochu protivným zvukem naprogramovaných bicích.
Flashing je tvrdá elektronika ve stylu Kraftwerk a tedy nic, v čem bych si nějak zvlášť liboval. Být epileptik, tak se bojím záchvatu, ale dá se to – byť se zaťatými zuby – vydržet. Tenebre (Reprise) i následující Waiting Death jsou celkem zajímavými remixy úvodního tracku a celý soundrack končí sotva dvě minutky dlouhá Jane Mirror Theme.
Bonusů je celkem jedenáct, ale všechno jsou to úpravy výše uvedených skladeb, nenabízí nic podstatného a klidně bych se bez nich obešel.
S hodnocením je to těžké. Faktem je, že k filmu ta muzika pasuje jako nočník na prdel, ale samotná mě moc nebaví. Vlastně by mi stačil singl se skladbami Tenebre a Lesbo…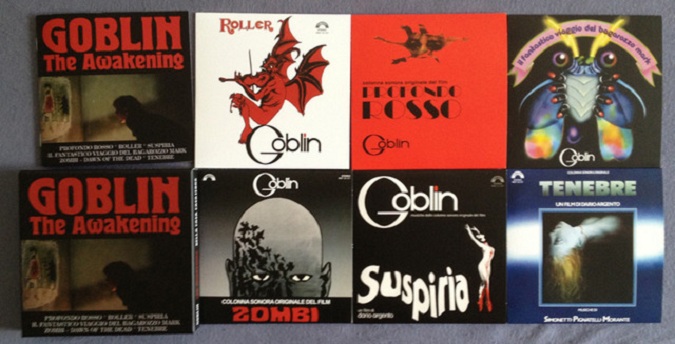 Cédéčko Tenebre je posledním z kolekce The Awakening a tak ještě pár slov k samotnému box setu. Je to pěkná krabka z tvrdého kartonu velikosti jen o málo větší, než klasická jewel case. Na čelní straně je fotografie z filmu Profondo rosso, na zadní krátké povídání k obsahu edice a seznam všech šesti disků. Každej kotouček je v papírové obálce, s replikou původního obalu vpředu a tracklistem vzadu. Dvanáctistránkovej booklet obsahuje sleeve note v angličtině, několik fotek a podrobnosti k jednotlivým albům. Vydání je to sice spotřební, ale dostatečně reprezentativní a šetří nejen peněženku, ale aj místo v regálu.
SKLADBY:
01. Tenebre – 4:34
02. Gemini – 3:11
03. Slow Circus – 2:30
04. Lesbo – 5:17
05. Flashing – 6:23
06. Tenebre (Reprise) – 4:13
07. Waiting Death – 4:19
08. Jane Mirror Theme – 1:59
Bonus tracks:
09. Flashing [film version] – 2:43
10. Gemini [film version suite] – 2:06
11. Flashing [intro film version] – 0:51
12. Gemini [alternate film version suite] – 2:57
13. Jane Mirror Theme [film version] – 0:39
14. Tenebre [alternate film version] – 0:57
15. Slow Circus [film version suite] – 4:55
16. Lesbo [film version] – 3:52
17. Tenebre Maniac [special effects bonus track] – 0:45
18. Tenebre [remix] – 5:08
19. Flashing [remix] – 5:32
SESTAVA:
Claudio Simonetti – Roland Jupiter-8, Roland Vocoder Plus, Minimoog, piano, electric piano, Oberheim DMX Digital Drum, Roland TR-808, Roland MC4 Computer
Fabio Pignatelli – Fender bass, normal and fretless
Massimo Morante – Electric and acoustic guitar
Tenebre
Simonetti - Pignatelli - Morante
Soundtrack
Cinevox
1982
LP
9
CD: Bella Casa - CASA12BOX  /2012/