Desáté studiové album Black Sabbath, jež podle gregoriánského kalendáře vyšlo třistaosmého dne roku 1981, je první deskou bez účasti Billa Warda, kterého zastoupil americký bubeník Vinny Appice. Je rovněž druhým albem bez Ozzyho, jehož nahradil Ronnie James Dio, a druhým titulem, který soubor natáčel v losangeleském studiu Record Plant. Podruhé také s kapelou spolupracovali "pátý" člen sestavy Geoff Nicholls a známý producent Martin Birch, kteří měli podíl jak na historicky devátém nejúspěšnějším výsledku skupiny v americkém albovém žebříčku Billboard 200 (#29), tak na 45. místě v anketě The Top 500 Heavy Metal Albums of All Time, sestavené na základě rozsáhlého celosvětového průzkumu. Jejího uspořádání se v roce 2004 chopil kanadský hudební publicista, plodný autor a spoluzakladatel magazínu Brave Words & Bloody Knuckles (BW&BK) Martin Popoff. Ten také v knize Black Sabbath: Doom Let Loose (česky pod názvem Black Sabbath: Biografie) dává mnohé odpovědi na otázky spojené s birminghamskou formací.
Ani přehršel číslovek v jednom odstavci ale nemůže zakrýt skutečnost, že čím snadněji se píše o málo známých albech, tím větší bývá potíž s notoricky známými tituly, mezi něž album Mob Rules bezesporu patří. V jeho případě tak zřejmě bude pověstným nošením dříví do lesa i zmínka o povedeném obalu, přesto se na začátku vydám právě touto cestou.
Jedná se o dílo Mob Dream amerického ilustrátora Grega Hildebrandta, který vešel v mezinárodní známost spolu se svým stejně starým bratrem Timem jako Brothers Hildebrandt.
Úspěšnou kariéru zahájili již v roce 1959 a na svém kontě mají tisíce ilustrací, převážně s tématikou fantasy a science fiction – komiksy, filmové plakáty (Hvězdné války), dětské knihy, romány, kalendáře (Pán prstenů), reklamy, sběratelské karty, ad.
"Byla to noční můra, která mě pronásledovala mnoho let a zbavil jsem se jí až potom, co jsem v roce 1971 namaloval obraz," svěřil se jeho autor o desetiletí později, když si ho Black Sabbath vybrali jako obal pro své album, aby vzápětí zavdal příčinu k mnohým dohadům. Tím nejrozšířenějším budiž názor, že ve spodní části obsahuje skryté poselství "Kill Ozzy".
"Od té doby se mě na to ptají při každém rozhovoru," říká Greg, který podobné myšlenky rázně odmítá. Podle zastánců konspiračních teorií se však dá celkem snadno rozpoznat zřetelný sled písmen, dávajících dohromady výraz "Kill" nalevo od autorova podpisu a slovo "Ozzy" pod ním. Náhoda? Úmysl? Nesmysl?
Popravdě mi ale šifra mistra Hildebrandta na přední straně obalu nikdy neležela v hlavě tolik, jako záhada jeho zadní části, kde z uvedeného seznamu skladeb odpovídalo jejich skutečnému řazení na desce pouze umístění dvou songů z devíti. (Voodoo a Over And Over).
Uvedené blamáži, neideálnímu rozpoložení v kapele i všem metalovým anketám navzdory však možno album Mob Rules považovat za mistrovské hardrockové dílo a důstojného pokračovatele majstrštyku Heaven And Hell, aniž by byl na místě pejorativní dodatek "Part II".
Faktor Dio dál blahodárně působil a ve spojení s kapelníkem Iommim, mistrem geniálních riffů a velmistrem v jejich plýtvání, se jeho vliv ještě násobil. Skladby Voodoo, The Sign of the Southern Cross a The Mob Rules zdomácněly v koncertním setlistu, instrumentální rébus E5150 se stal jeho působivým intrem a střednětempá Country Girl s baladickou Over And Over mými osobními favority. Snad jim to není málo.
Celé ohlédnutí možno symbolicky uzavřít rozluštěním zlověstného titulu E5150 (Evil). Anebo nastíněním mnohem obtížněji řešitelného problému – kde sehnat dostatek financí na oba Hildebrandtovy originály, které jsou k mání. Nákres na pergamenu za $10.000, samotný obraz za padesát…
SKLADBY:
A1. Turn Up The Night 3.40
A2. Voodoo 4.32
A3. The Sign of the Southern Cross 7.46
A4. E5150 2.54
A5. The Mob Rules 3.14
B1. Country Girl 4.02
B2. Slipping Away 3.45
B3. Falling Off The Edge Of The World 5.02
B4. Over And Over 5.28
Hudba a aranže: Geezer Butler, Ronnie James Dio a Tony Iommi
Texty: Ronnie James Dio
Nahráno: The Record Plant, Los Angeles
Produkce a zvuková režie: Martin Birch
Design přebalu: Paul Clark
Ilustrace na přebalu: Greg Hildebrandt
SESTAVA:
Ronnie James Dio – zpěv
Tony Iommi – sólová kytara
Geezer Butler – basová kytara
Vinny Appice – bicí
&
Geoff Nicholls – klávesy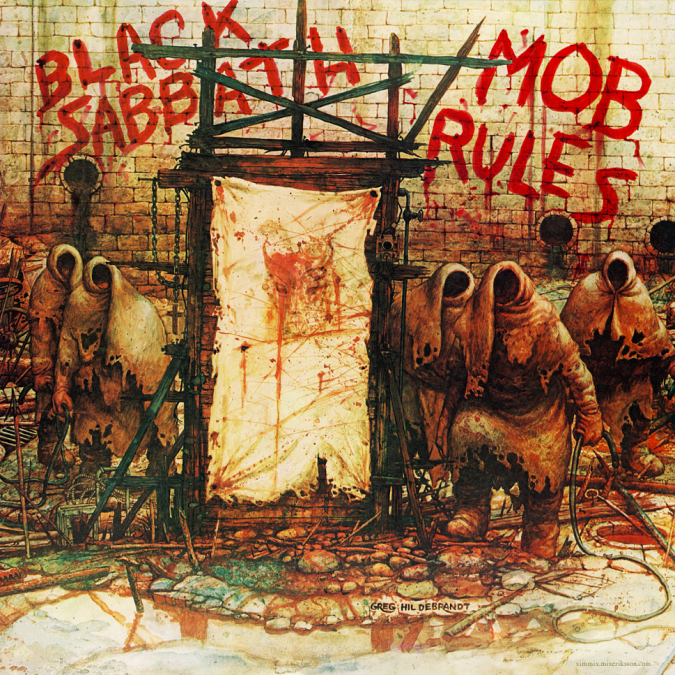 Mob Rules
Black Sabbath
Hard Rock
Vertigo Records
1981
LP
9