Neuplynul ani rok a parta kolem kytaristy Jimmyho Page vypustila do světa další album. Zatímco na jedničce Led Zeppelin ukázali, že mohou být životaschopnou kapelou s nemalými ambicemi, na dvojce dokazují, že jsou schopni tyto ambice dále rozvíjet a přiživovat. Jakoby si hudebníci řekli, že to, co zatím předvedli, není nic ve srovnání s tím, co se teprve chystají posluchačům předložit.
Jaká tedy je druhá deska hardrockových bohatýrů? Především neskutečně tvrdá s neuvěřitelným tahem na branku. Agresivní pasáže jsou však důmyslně prokládány jemnými, až lyrickými okamžiky, při kterých posluchači nezbývá nic jiného, než se tetelit blahem. Zvuk je ještě mohutnější, takže od prvního okamžiku máte pocit, že se na vás řítí stádo rozzuřených bizonů, kteří vše, co jim stojí v cestě, nemilosrdně zadupávají do země.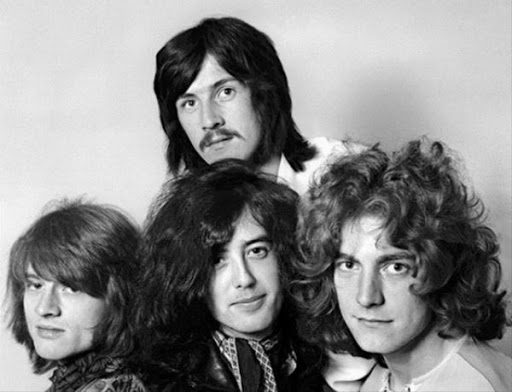 To platí hned pro úvodní Whole Lotta Love, skladbu, jež víceméně definovala pojem hard rock. Ta stojí na geniálním kytarovém riffu podporovaném valivou baskytarou, přesnými bicími a skvělým Plantovým zpěvem. Zhruba po půl druhé minutě nastane změna, úderný riff zmizí a oba zvukové kanály zahltí zvuky připomínající závodní automobily. Tato jízda je završena ostrým sólem, aby se pak píseň znovu vrátila k úvodnímu motivu. V tom dokola se opakujícím riffu je až něco hypnotického. Následující What Is and What Should Never Be je vystavěna na jednoduchém fíglu, na střídání jemných a velice ostrých poloh. Plantův hlas zde zní velice bluesově, ale to je pouhé zdání, neboť celá skladba opět není ničím jiným než prvotřídním hardrockovým nářezem.
Na blues se dostane ve skladbě The Lemon Song, i když to by nesměli být Led Zeppelin, aby ho nezahráli co nejvíc tvrdě. Page si zde své sólo vyloženě užívá. Velký prostor zde dostává i Jonesova baskytara. Někdy mám dojem, že celá píseň by klidně obstála jen s baskytarou, bicími a zpěvem. Po této zátěži je čas na tu nejčistší krásu, baladu Thank You. Celá skladba je vystavěna na Jonesových klávesách, nad kterými jako motýlek poletuje Plantův hlas. Bonhamovo důrazné bubnování zpočátku ani nevnímáme, tak je zde všechno propojeno včetně Pageových kytar.
Druhá strana desky opět začíná pěkně divoce písní Heartbreaker. Opět tu máme jeden z těch signifikantních riffů, který spoluvytvářel povědomí o tom, co je hard rock. Ano, tato skladba je především o Pageově kytaře a ostatní hudebníci jakoby celkové vyznění jen lehce doplňovali.
Pak přijde svižný kousek Living Loving Maid (She's Just A Woman), jakési odlehčení od těch předcházejících dunivých skladeb. Zde mám pocit naprosté lehkosti a domnívám se, že i pro kapelu se tato píseň stala vítaným zpestřením. Píseň Ramble On je vystavěna na akustické kytaře, ale nenechme se mýlit, jedná se o pěkně svižný kousek s vypjatým Plantovým vokálem. Poté si pánové Page a Jones zahrají pouhou minutu a přenechají prostor Johnu Bonhamovi, aby předvedl své bubenické mistrovství v instrumentálce Moby Dick. V závěru se motiv z úvodu na chvíli vrátí, aby hned přešel do závěrečné skladby Bring It On Home, která zpočátku vyvolává představu mississipské delty. Plantův hlas je velice zastřený, doprovázený foukací harmonikou. Tato poklidná bluesová atmosféra je ale najednou přervána mohutným riffem, Plantův hlas se projasní a vypne se do pro něj typických vysokých poloh, aby se v závěru vše vrátilo do původní nálady.
Po úspěšném startu vzducholoď nabrala směr a pokračovala ve své cestě. Zatím nikdo netušil, kam ji vítr zanese, ale už teď bylo jasné, že to opět bude posluchačský zážitek.
Skladby:
1. Whole Lotta Love (Page/Plant/Jones/Bonham) 5.34
2. What Is and What Should Never Be (Page/Plant) 4.44
3. The Lemon Song (Page/Plant/Jones/Bonham) 6.19
4. Thank You (Page/Plant) 4.47
5. Heartbreaker (Page/Plant/Jones/Bonham) 4.14
6. Living Loving Maid (She's Just A Woman) (Page/Plant) 2.39
7. Ramble On (Page/Plant) 4.23
8. Moby Dick (Page/Jones/Bonham) 4.21
9. Bring It On Home (Page/Plant) 4.20
Sestava:
Jimmy Page – acoustic guitar, electric guitar, pedal steel guitar, backing vocals
Robert Plant – vocals, harmonica
John Paul Jones – bass guitar, organ, backing vocals
John Bonham – drums, backing vocals
Led Zeppelin II
Led Zeppelin
Blues rock, hard rock
Atlantic
1969
CD
9