Americké veľkomesto Chicago je od začiatku 60-tych rokov jedným z najvýznamnejších centier hudobného diania v Spojených štátoch.
Všetko to začalo, keď počerný chlapci hrajúci tradicionálny blues po krčmách na predmestiach Chicaga zrazu odstavili španielky, lyžičky a bendžá do rohu, chytili sa elektrických gitár a s výraznou pomocou bielych rockerov naštartovali hudobný fenomén elektrického bluesu, ktorý sa na dnes rozkošatil do rozličných podôb, rozšíril sa do každého kúta zemegule a ďakuje pekne, cíti sa skvele i v XXI. storočí. Neskôr sa však poniektoré bledé tváre v druhej polovici šiestej dekády snažia nájsť spôsoby k rozšíreniu svojich hudobných horizontov, počali koketovať nápadom fúzie bluesrocku s jazzovým big bandom a dali podnet k vzniku ďalšieho významného Chicagského hudobného smeru, menovite Brass alebo aj Horn rocku na čele s kapelami ako Blood Sweat & Tears alebo Chicago.
Toto hudobne úrodné podhubie dalo svetu radu skvelých, významných i menej významných  kapiel. Jednou z tých menej známych a však pre mňa o nič horších je i skupina McLuhan pomenovaná po Kanadskom filozofovi, vedcovi Marshallovi McLuhanovi, významnému pre jeho prácu v oblasti mediálnej a komunikačnej teórie, mimo iného z tridsať ročným predstihom predpovedal vznik internetu. Mimochodom, celé roky som si myslel, že meno skupiny je McLuhan Anomaly s albumom bez názvu. Skupina bola založená v roku 1969 hudobným vizionárom, trumpetistom, študentom Chicagskej univerzity, Davidom Wrightom a jeho spolužiakom, Paulom Coenom, flautistom a saxofonistom. Wrightovým prvopočiatočným zámerom bolo okoreniť jazz rockový zvuk kapely nezvyčajnými hudobnými postupmi, ako estrádne či cirkusové hudobné vsuvky, rôzne zvuky i pazvuky a využívanie na tú dobu v rockovej hudbe ešte netradičných hudobných nástrojov ako xylofón, tympany či zvonkohra. Svojou jedinečnou zmesou jazzu, rocku a experimentu nakoniec skupina McLuhan predznamenala vznik Americkej Progresívnej hudby, i keď sa vlastnou hudbou v mnohom podobali viac k tomu Britskému progrocku raných sedemdesiatych rokov.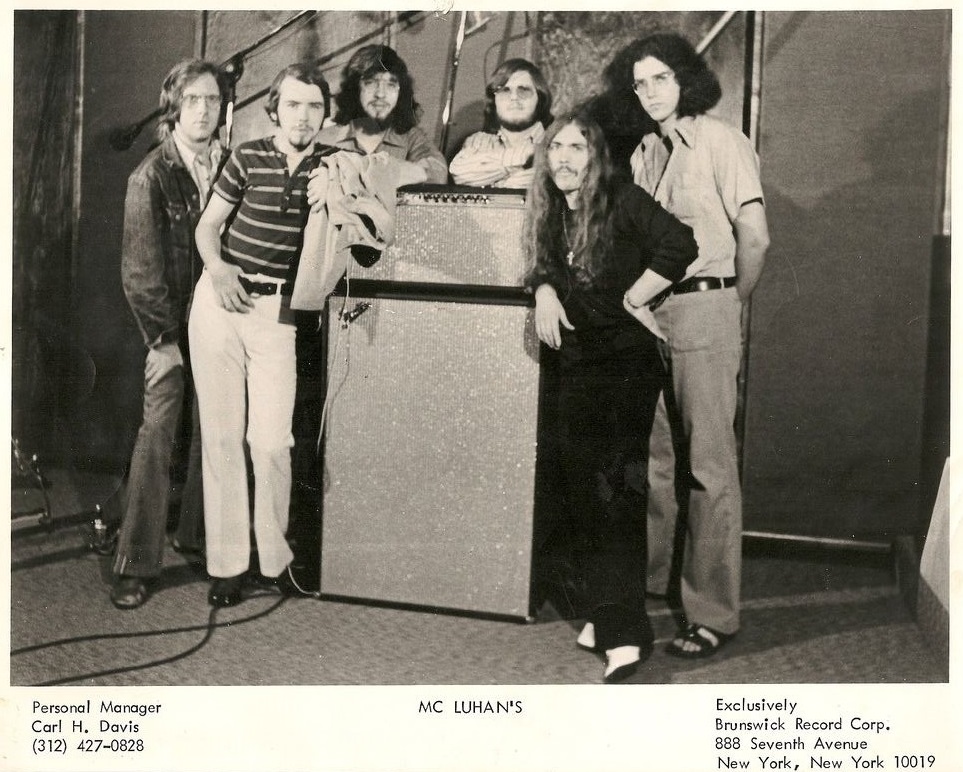 Po rôznych zmenách v zostave sa kapela ustálila ako sexteto, získala zmluvu na Pondelkové vystúpenia v krčme Wise-Fool Pub a onedlho prišla i ponuka na nahratie dlhohrajúcej platne u spoločnosti Brunswick Records. K nahrávkam bola k pôvodnej šestici pozvaná i dvojica perkusionistov. Album Anomaly bolo vydané v roku 1972, obsahovala štyri skladby. Dej textov sa viac-menej odohráva na industriálno-vedecko-fantastickej rovine, nie je to však koncepčný album. Až na druhú, šesť minútovú pieseň, majú všetky ostatné skladby dĺžku zhruba desať minút a dávajú dosť priestoru na to, aby muzikanti popri základnom jazz rockovom a rockovom burácaní blysli sóla i na jednotlivých nástrojoch. Spoľahlivo týkajúca rytmická zostava, neúnavné bublanie hammondov, malebné flautové i gitarové sóla a melodické vsuvky a la King Crimson spojené krásnym spevom v perfektne zrozumiteľnej angličtine chtiac-nechtiac prenesú hudby znalého poslucháča na Britské ostrovy. Naopak, tie vyššie spomínané zvukové experimenty, časté zmeny nálady (v pohode i päťkrát počas jednej skladby) mi pripomínajú majstra Zappu zo zhruba rovnakého obdobia The Grand Wazoo. Ani zďaleka nie som hudobný odborník, i tak mám však počas počúvania platne dojem, že išlo a perfektne zohratú partiu hudobníkov, ktorý presne vedeli čo a kedy majú zahrať a ako má vyznieť konečný výsledok, ktorý ani po x-tom vypočutí nenudí.
Album v čase vydania nevzbudil žiadne veľké emócie. Pri podobných neúspechoch dokola omieľaného laxného prístupu manažmentu a vydavateľstva je však pravdou i to, že sa ani samotná kapela nepričinila o predstavenie vlastnej hudby smerom k širšej verejnosti, nehrali hudobný materiál naživo a nezúčastňovali sa hudobných podujatí. Takto teda album pekne krásne upadol do zabudnutia a až súčasná vlna nového záujmu o progresívny rock priniesla album Anomaly znova do podvedomia. Roky som čakal na poriadne oficiálne znovu vydanie tejto platne na cd, lebo nerád kupujem pirátske vydania, bohužiaľ som sa nedočkal. Nakoniec som si predsa len musel kúpiť cd od vydavateľstva Picar, ktoré klasicky pre pirátske vydania nič extra neponúka, je to iba také sparťanské prevedenie, kópia originálneho LP.
SKLADBY:
1. The Monster Bride (10:36)
2. Spiders (In Neals Basement) (5:57)
3. Witches Theme And Dance (9:47)
4. A Brief Message From Your Local Media (9:59) :
— a)The Garden
— b) The Assembly Line
— c) Electric Man
— d) Question
ZOSTAVA:
Dennis Stoney Philips – gitara, spev
Tom Laney – organ, klavír
David Wright – trumpeta, spev
Paul Cohn – flauta, klarinet, tenor sax
Neal Rosner – basa, spev
John Mahoney – bicie, spev
hostia:
Bobby Christian – tympany (1), xylofón (1,3), zvonky (3)
Michael Linn – bicie (3)
Anomaly
McLuhan
Prog Rock, Jazz Rock
Brunswick
1972
LP
4
CD - Picar /2010/