Dlho, dlho, predlho. Posledný album Jethro Tull bol donedávna Christmas Album z roku 2003. Toť nedávno som ho recenzoval a nadchýňal sa Vianočnými pesničkami skupiny Jethro Tull. Ubehlo necelých 19 rokov a zrazu tu máme novučičký The Zealot Gene. Mám sa radovať, alebo smútiť?
Na prvom mieste bola radosť a údiv z uverejnenej správy o pripravovanom novom albume Jethro Tull. Podľa vyjadrenia Iana Andersona si muzikanti, ktorí tvoria koncertnú skupinu Jethro Tull, po všetkých tých rokoch zaslúžia vydať platňu pod značkou Jethro Tull. O.K. Beriem to a súhlasím. Videl som Jethro Tull viackrát s rôznymi hráčmi a terajšia kapela ide ako hodinky a koncerty sú výborné. Je to zrejme aj poďakovanie a úcta Iana Andersona voči nim a nemám s tým žiaden problém. Pôvodné piesne a texty vždy skladal iba Anderson, nikto iný sa nepodieľal na tvorbe skupiny. Za celú dobu existencie sa skupina vyvíjala a môžeme určité obdobia charakterizovať rôznym spôsobom podľa kritérií, ktoré si zvolíme. Čo sa dá očakávať od vedúcej osobnosti celej siahodlhej existencie Jethro Tull, keď k tomu prirátame aj množstvo sólových projektov? Bude to iné, bude to novátorské, alebo len ďalšie pokračovanie sólo kariéry hoc pod názvom skupiny? Hneď po týchto položených otázkach dám aj odpoveď, nebudem chodiť okolo horúcej kaše.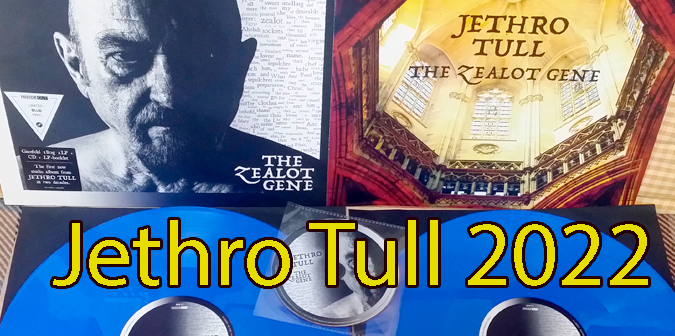 The Zealot Gene je celkom dobrý album. Až príliš uhladený a jemný v pravom slova zmysle. Netreba čakať žiadne agresívne tóny, tobôž riffy gitary, či sólujúcej flauty. Nové piesne žijú a majú sa k svetu. Ale sú už dávno preč časy Aqualungu, o prvých platniach ani nehovoriac. Náznaky vidieckej folklórno-rockovej extázy z obdobia Songs From The Wood odvial už tiež dávno čas. Napriek tomu je to album pekný, počúvateľný, ale má veľa ale. Anderson je už starý muž, vážim si jeho snahu a umenie stále tvoriť a písať piesne. Mám neskutočne rád Jethro Tull a aj jeho samotného. Mám ale aj otvorené oči a reálny pohľad na veci, ktoré počujem. Skupina tváriaca sa ako Jethro Tull je iba na papieri a celkový dojem z počutých piesní to iba utvrdzuje. Akoby sa všetci báli ukázať v čom sú dobrí a zobrať do svojich rúk žezlo a meno kapely, za ktorú bojujú. Myslím si v tomto momente jedno: Ian Anderson nemal mixovať nový album Jethro Tull a vôbec nemal byť pri finálnych prácach. Vtedy by to bolo iné, zaujímavejšie, dravejšie, s väčšou iskrou a lepším výsledkom. Niečo ako slogan: "Keď kocúr nie je doma, myši majú fraj." Z tohto vyplýva jedno moje poznanie, príliš veľa rešpektu spoluhráčov pred maestrom, flautou, orchestrálnymi aranžmánmi a zvukom celej nahrávky. Jednoducho asi nebolo človeka, ktorý by povedal, "stačí, poďme skúsiť úderku". Napriek týmto výhradám sa mi nový album Jethro Tull páči.
Jethro Tull – The Zealot Gene (2022)
Album je koncepčným dielom vychádzajúci z historických biblických textov. Prelínajú sa v ňom emócie, súdržnosť, tolerancia a láska s opakmi týchto slov. Každá pieseň má pod názvom piesne spomenutú knihu (Genesis, Exodus a iné s číslom žalmu). Je to ako rýchle čítanie z histórie inšpirované bibliou. V booklete je aj fotografia ukrižovaného Ježiša Krista.
1. Mrs. Tibbets (5:54)
Veľmi pekná úvodná pieseň. po prvých taktoch som bol nadšený a mal som pocit, že budem počúvať výnimočný album. Nahrávka žije pestrosťou, optimizmom a krásnym inštrumentálnym prevedením V texte sa objavuje slovo "Christmas", možno odkaz na posledný tullovský album spred skoro štvrťstoročia. Skladba je položená hlbšie kvôli Andersonovmu spevu, ktorý už nie je v plnej sile (nečudujem sa). Jeho hlas je dobrácky a dobrosrdečná poloha ponúka konečne po rokoch novú peknú skladbu. Vadí mi malé rozloženie nástrojov v stereobáze, neviem prečo gitara hrá skoro v strede a všetky nástroje sú v malej šírke uskupené dovnútra. Tento zvuk je na celom albume, nevadí, ale mohlo to byť omnoho jasnejšie, zreteľnejšie a krajšie. Ako je u Andersona zvykom má na nových veciach aj surroundový 5.1 zvuk, vždy veľmi dobrý. Vtedy ste naozaj v centre diania a stávate sa členom kapely. Kto ešte nikdy nepočul, vrele odporúčam. Malá ukážka toho, ako je hudba Jethro Tull vyšperkovaná:
0:00 úvod intro.
0:05 odpočítavanie paličkami.
0:07 nástup flauty, melódia v 4 násobnej opakovačke a doprovodnej akustickej gitary (drive sa gitarou výrazne zlepší) (až do 0:22).
0:14 pridáva sa bubeník hajtka a kopák.
0:17 nastupuje basová gitara.
0:22 flauta záverečným tónom posunie skladbu vpred, zmena melódie, totálna zmena zvuku, nástup kláves s malebným diaľavým obrazom, basová gitara naberá rytmus, bicie sa prejavia dvakrát splash činelou, ktorá pridá dravosť rytmiky.
0:36 Anderson nastupuje s prvým textom, hlas je nahraný detailne, málo echa a pri speve sa nemusí veľmi namáhať. Je to skôr tlmená hudodná recitácia textu (prepáč, Ian). Mám však rád túto spevákovu polohu, nevadí mi. Bicie si teraz hudú rytmicky bum-čvach (lopatistický výraz-sorry).
0:44 prvýkrát pridá elektrická gitara dvojnásobný rytmický akcent;
1:02 znovu elektrická dravá gitara jednoduchý akcent, kapela to už v tejto dobe roztočila do kompletky. Všetko hrá pekne, ladne a vkusne. Zameraním sa na konkrétne nástroje získavam veľmi dobrú predstavu o inteligencii, zručnosti a celkovej výbornej chémii kapely. Pekná priam krásna skladba. Do spevu sa pridáva echo v akcentovaných textových rýmoch. Celá skladba sa v prvej minúte rynie nezastaviteľne dopredu a poslucháč nie je schopný detailne vnímať každú kudrlinku hudobných nástrojov.
1:12 ozýva sa Ianova flauta. Krásny zvuk, priam sa mi chce výskať od radosti. Táto flautová vsuvka by napadla asi každému poslucháčovi. V tom je tá genialita. Jednoduchosť.
1:27 znovu perfektný vstup flauty. Presne to isté ako pred štvťminútou. Medzitým kapela iba zahrá a zaspieva ďalšiu slohu piesne v tej istej podobe.
1:37 skladba sa gitarovým a klávesovým akcentom dostáva k refrénu Mrs.Tibbets. Bubeník urobí zopár výrazných úderov na bicie, použije brejk na prechodoch, Ian vystrúha svoje charakteristické spevové vylomeniny. Klávesy dominantne úradujú, pridáva sa silnejúca gitara a basa dodáva hutnosť.
1:51 kapela pomaly ustáva a nastupuje krátke minimalistické zvoľnenie.
1:55 nastáva prvý nástup sólujúcej flauty…….
Ako vidíte, za pár sekúnd sa dá zahrať množstvo a množstvo tónov, zvukov a rôznych malých maličkostí, ktoré hudbu Jethro Tull robia zaujímavou, počúvateľnou a veľmi živou. Je tam taktiež veľa zvukových efektov, ktoré sú mnohokrát iba cítiť a nie počuť pri slabej hlasitosti. Dovolím si tvrdiť, že nahrávať túto skladbu v dobe Aqualungu, bola by to totálna rocková pecka.
2. Jacob's Tales (2:13)
Jakobovka začína vzdušnou harmonikou a akustickou gitarou. Speváčik začína znovu nenápadne skoro z nuly a začína rozprávať príbeh. Po akustickej gitarovej prvej slohe znovu nastupuje harmonika. Mám rád tieto polohy Jethro Tull a keď sa pridá Ianova maličká gitara (mandolína), som vo vytržení. Slasť to počúvať, jemne mi to vyhládza všetky bolesti srdca a duše. Opojenie trvá iba krátko, lebo skladba sa znovu vnorí do rozprávačského výrazu a strháva moju šťastnú dušu do rozpačitého pohľadu. V tomto momente musím rozložiť pieseň do dvoch úrovní: rozprávačská/refrénová. Jedna časť – tá prvá je slabá, tá druhá – refrénová skvelá a okamžite som si ju zamiloval. Záverečný akordeón iba naznačuje, že to určite nebudú noví Jethro Tull v rockovej podobe.
3. Mine Is The Mountain (5:40)
Táto pieseň je druhá najdlhšia z "horlivca". Spadáme do klavírnych hlbín a moje čakania na pôvodný zvuk Jethro Tull sa stráca v nedohľadne. Krátky úvod flauty a pomalá skladba sa nakoniec máličko prejavuje rockovou polohou kapely. Dominantu vytvára klavír a málokedy počutý vokál oponuje Andersonovmu spevu. pomalá pomaličká skladba sa určite ešte vyvinie do pestrejšej polohy. Flautu naznačuje, že tomu tak bude. Mal som pravdu a zrazu kapela ožíva a zvuk ako z albumu "Rock Island" sa ukazuje v plnej kráse. Zvraty v rytme, perlivá flauta, rezký doprovod bubeníka sa však znova utopí v temnom zvuku klavíra a speve. Zámerne si v tejto recenzii nevšímam texty, venujem sa iba hudbe. Na prvé počutie je to asi lepšie. Netrápim sa otázkami a posolstvami Iana Andersona sťa by básnika. Klavírny motív piesne je dobrý, síce len krátka a malá melodická linka, ale veľakrát zdynamizovaná akčnou kapelou v pozadí. Pekne vystavané, premúdrelo a rytmicky dokonale produkované všetkými muzikantmi..
4. The Zealot Gene (3:54)
Samozrejme najlepšou skladbou na génovom albume nestarnúceho starečka bude The Zealot Gene. Niet divu, že tu mám v očiach Andersonove dlhé vlasy, dlhý kabát, zverský neústupčivý pohľad a skryté chuligánstvo z dôb Aqualungu. Ale iba zjav, hudbu už nie. Samotné sláčiky na dokreslenie peknej údernej skladby zabíjajú odkaz dávnych dôb. Už je preč, preč, dávno preč. Ale ten "dych lokomotívy" (odkaz na skladbu Locomotive Breathe) ostal našťastie v plnej sile. Jethro Tull to v tejto skladbe dokazujú bez výhrad, hoci zvuk posunuli do čudných sláčikovsko/klasicko/melodických vôd. Som rád, že si môžem vychutnať dominantu albumu. Určite jedna s tých najlepších piesní, ktoré v poslednej dobe zložil.
5. Shoshana Sleeping (3:41)
Konečne bicmen sa mohol ukázať v plnej sile a nakopol kopákom kapelu do rytmu. Nie šialene rýchleho, skôr znovu uspávačkového. Znovu dramatická chyba albumu ako pred tým mnou recenzovaný metalový Sermons of the Sinner od KK's Priest. Teraz to malo začať šlapať naplno a namiesto toho máme pomalú vec. Flauta naberá na sile v medzihrách medzi textom podporovaná bicími a basovou gitarou. Pieseň trpí spomaľovaním rytmu a hoci sa chce tváriť ako rocková úderka, nemám ten dojem. Asi slabšia časť albumu.
6. Sad City Sisters (3:40)
Poloha vidieckeho folklóru Jethro Tull. Akordeón je skvelou voľbou peknej skladby. Určite moja budúca obľúbenkyňa. Nemám pochybnosti a vnímam rytmické trilkovanie naťahovacej harmoniky. Rád by som prilepil 10e na čelo akordeonistu keby som bol pri ňom a povedal : "Hraj, hraj, neprestávaj." Je to perfektná vec, krásne frázovaná, krásne ozvláštnená pridanými akustickými nástrojmi. Chlapci sa vyhrali a dokázali, že sú svetoví. Krása. V popise albumu sa píše, že Ian Anderson hrá na akordeón. Naučil sa, je to borec. Ja ho neviem ani otvoriť, nie to ešte naťahovať a o klávesách na dvoch stranách ani nemusím hovoriť. Bueonos nočas mučačos – Španielska dedina! To mi ide.
7. Barren Beth, Wild Desert John (3:37)
Úvod piesne ako z modernej klasickej hudby preruší nástup elektrických nástrojov a bicích. Snáď prvýkrát postavený riff gitary do popredia. Anderson sa znovu opiera o vokálnu podporu s opakovaným textom. Refrén je jemný, muzikálny, znovu však rozbíja rytmus kapely. nevadí, je to súčasť hudby Jethro Tull a práve tým je skladba zaujímavejšia. Rôzne polohy, rôzne nástroje, rôzne vyhrávky sú nakoniec živou vodou peknej skladby. Nie je znovu rýchla, skôr rozjímavá a dá sa vychutnať až do posledného tónu.
8. The Betrayal Of Joshua Kynde (4:06)
Rytmické bicie znovu nastolia rockový pochodový rytmus. Už počutý výrazový spev Andersona v hovorenom význame sa stratí v sólujúcej flaute. Bicie sú neagresívne a idú stále ten istý nemenný rytmus s občasným prechodom. Chcel by som tentokrát počuť kapelu, ktorá to zahrá ako o dušu. Tu sa mi zdá, že sú všetci muzikálne utlmení, nikto nechce vyniknúť. Skladba ani v tejto verzii neponúka drastické sólovanie a ten drive spred rokov mi chýba, škoda. Počúvateľné, hravé a rozumné. Je to ale málo na to, čo to mohlo byť.
9. Where Did Saturday Go? (3:53)
Od tejto skladby mi už album Jethro Tull pripomína sólo projekty Iana Andersona. Kapela sa stráca v umelcovej dominancii. Náladová skladbička v melancholickom rozjímavom tóne je pekná, ale … Páči sa mi tak napoly, nie je dokonale dynamizovaná, ani refrén nie je perfektný. (Používam silné slová, ale je to len preto, aby som ukázal, že mi na tvorbe Jethro Tull záleží.) Poslucháč, ktorý nerozumie textu má smolu, lebo skladbu viacmenej pretrpí.
10. Three Loves, Three (3:30)
Flauta, akustická gitara, basa. Potom príde molodická linka flauty a všetko je jasné. Krátky spev a potom ústredná melódia. Známe a stokrát vyskúšane v podaní Jethro Tull. Vždy to funguje a je to pekné. Páči sa mi to. Nečakám ani nič iné, som páčivcom tejto šablóny a vždy budem. Akustický akcent, ľúbivý a hlasnejší, vyšší spev dodajú zrazu skladbe iný rozmer. Brilantnejší, jasnejší, šťastnejší. Chceme ešte čosi viac? Ja už nie, stačí mi aj málo tejto radosti. Každým hudobným akcentom mám lepší pocit, hreje ma na duši každý tón, každý záblesk citlivej flauty a struny gitary mi povzbudzujú chuť do života. Už len ten krásny rytmický zvuk cimbrlátok je nádhera sama o sebe. Ako keby mi hrali všetky žilky v tele.
11. In Brief Visitation (3:00)
Album pokračuje v svetle predošlej skladby. Táto sa zdá byť omnoho zložitejšia a náročnejšia s viac nástrojmi, prepracovanejšia. Rytmus je možno pomalší a melodicky je výrazne posunutá do rozjímavej polohy. Autorstvo je jasné, takto skladá iba Anderson z Jethro Tull. Až sa čudujem, že stále hovorí, že nechcel nikdy spievať. Bez jeho hlasu by neboli Jethro Tull a nebolo by ani tejto peknej romantickej pesničky. Ožijem vždy pri nástupe kapely v piesni, mám to rád, tento krásne vyladený zvuk. Vďaka za pekný pocit.
12. The Fisherman Of Ephesus (3:41)
Znovu rockovejší nástup kapely, hovorený-spevavý textový úvod. Dominantný spev potláča zvuk kapely do pozadia v rockovejšej podobe. Refrén znovu ako už častokrát porazí rytmiku na nulovú úroveň a rapídne spomalí skladbu. Nakoniec sa muzikanti prejavia v medzihre s ústrednou flautou a po vyhrávke uvoľnia priestor Andersonovi. Prvýkrát počúvam vyššie snaženie sa za bicími. Ako keby sa Scott Hammond konečne odvážil bubnovať po svojom a s mladíckou vervou. Pieseň je znovu skôr zádumčivá a poskytuje množstvo otázok. Oplatilo sa mrhať časom a počúvať "starých" borcov z Jethro Tull?
Moje dvojalbumové modré vydanie dohralo a je čas na celkové zhodnotenie. Je skvelé. že Jethro Tull vydali nový album po tak dlhom čase. Nás starších vrátili o mnoho rokov dozadu a môžeme mať znovu pocit, že sme tam kde to žije a aktuálna novinku chytíme do ruky. Starých milovníkov Jethro Tull platňa určite neodradí a neznechutí. Anderson si zachováva stále svoju kvalitu, muzikálnu a skladateľskú zručnosť. Je to album piesní čerpajúcich námety z rôznych období skupiny a je zároveň moderné, slušné a rozumne vyšperkované. Niektoré melódie sú znovu drahokamami v Ianovej tvorbe a ostanú nimi navždy. Kapela nových džetrotalských tvárí hrá precízne, dokonale a s vervou podať najlepší výkon. Skupina už ale nikdy neprekoná svoje najväčšie albumové perly, to je jasné.
V booklete sú popisy piesní a texty. Nebudem sa tomu venovať, lebo poslucháč si určite rád sám prečíta a preloží ak ho to bude zaujímať.  Moje hodnotenie je vzhľadom na celú tvorbu Jethro Tull a mám na mysli naozaj všetky albumy: ak by som mohol, priložil by som ešte 1/2 bodu za snahu a neúnavnú koncertnú činnosť Andersona.
3 hviezdičky z 5.
Jethro Tull:
Ian Anderson – spev, flauta, akustická gitara, mandolína, harmonika, perkusie
Florian Opahle – gitara
Joe Parish-James – gitara v skladbe č. 11
David Goodier : basová gitara
John O'Hara – klávesy, Hammond organ, klavír, akordeón
Scott Hammond – bicie
Nahrané v Recordet Sound Studios
Zvuk. inžinier: Michael Nyandoro
Mix a produkcia: Ian Anderson
Mastered: Nick Watson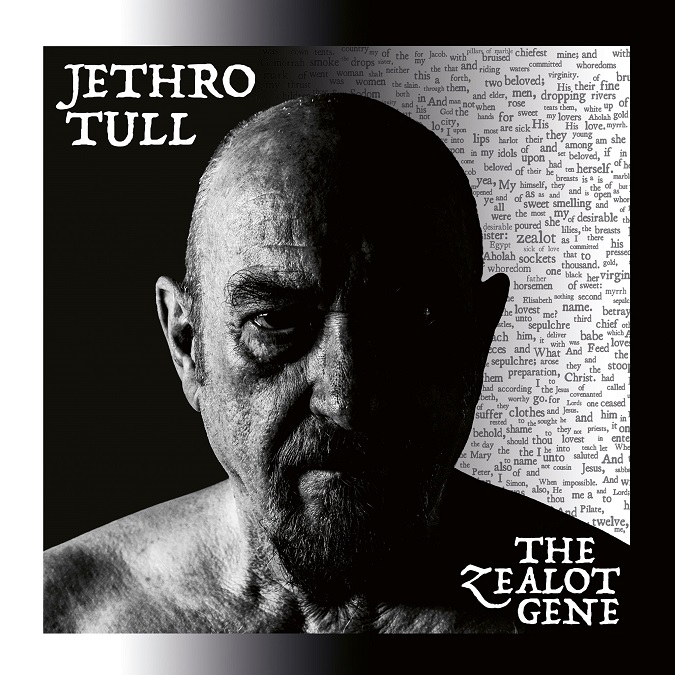 The Zealot Gene
Jethro Tull
Rock, Folk Rock, Prog Rock
Inside Out Music
2022
2LP, CD
12
2LP, Inside Out Music, blue limited edition IOMLP 609 /2022/