Zajímavé album. Pojmu recenzi trochu jinak (na mě) a pokusím se album rozebrat skladbu po skladbě. Chybí mi na něm mohutný zvuk Bantonových varhan (třeba na desce Still Life znějí skoro jako celý orchestr), místo toho tady Hugh Banton hraje hodně na baskytaru(!), což je osvěžující změna, někdy je ta Hughova baskytara nástrojem, který je ve skladbách slyšet dokonce skoro nejvíc.
Aloft – úvodní skladba, rozjezd ve stylu vyklidněně zasněných Pink Floyd. Poté se to rozjede víc, ale Hammill se hlasově krotí, člověk si říká, že by se do toho mohl více opřít. Možná že až naživo, také (nebo hlavně) už ale prostě není nejmladší. Skladba spíš připomíná věci objevující se na Hammillových sólo výletech. Mimochodem novinářské úvahy a otázky, jestli je tohle poslední album, se mi vůbec nelíbí. Jako by se Hammilla ptali a říkali mu: Seš starej, nechceš už umřít?
Alfa Berlina – skladba je nostalgickou vzpomínkou na divoké koncertování VdGG v Itálii v roce 1972. Tato skladba má tu povědomou, emociální, posmutnělou náladu, která k VdGG a Hammillovi prostě tak nějak patří… but when I think about the way it was / we were recklessly alive – ale když tak přemýšlím o tom, jaké to bylo / byli jsme tak lehkomyslně živí…
Room 1210 – skladba o často smutných pobytech v hotelových pokojích během koncertování, kterého si teda Hammill a kolegové užili až až. Z této skladby je také text: Do not disturb. Nápis objevující se na cedulkách, které se dávají na dveře hotelových pokojů. Hammill za klavírem i kytarou, Hugh zde hraje na basu i zajímavým nevandergraafovským způsobem na klávesy, které v melancholických posledních dvou minutách spíš připomínají harmoniku (možná to i je tahací harmonika) v nějaké šansonové písni.
Forever Falling – docela tvrdá skladba, na mě ale až moc přímočarý rock (přímočarost je naštěstí vykompenzovaná zajímavým instrumentálními pasážemi). Přece jen člověk očekává od VdGG trochu něco jiného: snad to nebude znít blbě, ale něco komplikovanějšího.
Shikata Ga Nai – výborná a jediná instrumentálka. Klidně bych si ji dokázal představit na Pawn Hearts. Je znát a je potěšující, že na skládání skladeb se asi nejvíc v celé historii VdGG podílel i Hugh Banton. Dokonce ho i v rozhovorech o albu Peter Hammill pustil ke slovu. 🙂
(Oh No, I Must Have Said) Yes – Hammill se do skladby opřel s elektrickou kytarou způsobem, že by i hodně tvrdí rockeři uznale a souhlasně přikyvovali vlasatými hlavami. Ovšem v necelé třetí minutě přichází jedno z největších překvapení na albu – skladba se na tři minuty změní v totální, nedivoký jazz(!). Hugh jazzuje na basu a Hammill klidně jazzově zpívá – v životě jsem nic takového od Hammilla neslyšel! Paráda a inovace v jeho tvorbě (nebo tvorbě VdGG)!
Brought To Book – překrásná kompozice. Melancholie si podává ruce s dojímavými emocemi tak, jak to umí jen Peter Hammill. Ve skladbě ale také nechybí typické hudební nekonvenční přechody, které připomínají vášnivé VdGG v sedmdesátých letech. Opět ale, trochu mi chybí to, že se Hammill víc hlasově neodvázal.
Almost The Words – jak album finišuje, skladby jsou jakoby lepší a lepší. Tohle je možná nejlepší kompozice alba. Silný hudební nápad, hodně posmutnělá nálada opět skladbu kropí jak voda z fontány. V páté minutě zase přijde hudební přechod, ve kterém překvapí Hughovy klávesy – vůbec nezní tak, jak jsme zvyklí. Zvuk je moderní, spíš připomíná legendu německé progresivní elektroniky Klause Schulzeho. Palec jednoznačně nahoru! No a v posledních dvou minutách se do toho konečně všichni pořádně opřou jak za mladých let, Banton si zařádí na varhanách jako by byl konec šedesátých let.
Go – jak jinak než citlivý, nádherný závěr alba. Hudebně to nepřipomíná ani Hammilla, ani VdGG, spíš nějakou klasickou varhanní hudbu, obohacenou Hammillovým zpěvem.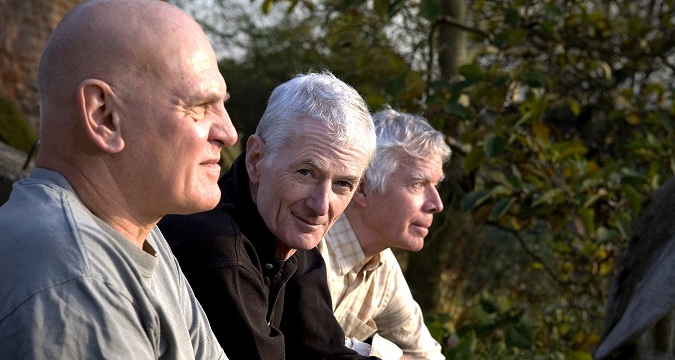 Díky Hammille, díky Bantone, díky Evansi. Já jsem sečteno podtrženo spokojen a udělali jste mi radost. A to jsem album nehodnotil po prvním, ale po několika posleších – 4 hvězdy z 5 jsou podle mě objektivně zasloužené.
SKLADBY:
1. Aloft (6:55)
2. Alfa Berlina (6:39)
3. Room 1210 (6:47)
4. Forever Falling (5:37) *
5. Shikata Ga Nai (2:21) *
6. (Oh No, I Must Have Said) Yes (7:45)
7. Brought To Book (7:53)
8. Almost The Words (7:53)
9. Go (4:29)
*Skladby nejsou na LP.
SESTAVA:
Peter Hammill – lead vocals, guitars, pianos
Hugh Banton – organ, keyboards, bass, accordion, glockenspiel
Guy Evans – drums, percussion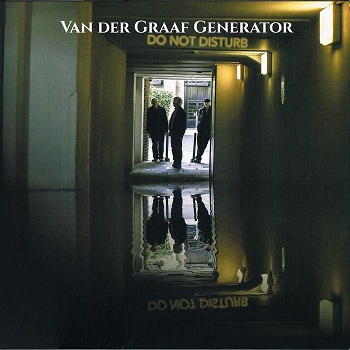 Do Not Disturb
Van Der Graaf Generator
Prog Rock
Esoteric Antenna
2016
CD, LP
CD: 9; LP: 7