Stejnojmenné album Traffic z osma šedesátého, je už dlouhodobě mým nejoblíbenějším kouskem pocházejícím  od této svérázné britské party. A to i přesto, že třetí deska John Barleycorn Must Die je též výborná a většina obdivovatelů Traffic ji často uvádí jako svoji signifikantní. Jenže….v té době už v kapele nepůsobil Dave Mason, jehož nezaměnitelný rukopis na dalších nahrávkách zkrátka postrádám. Jeho pestrá škála nápadů, přinášela Traffic nekonečné možnosti co se týče hledání nových cestiček napříč různými styly. Tyto výzvy a vize dokázala kapela vždy zužitkovat ve svůj prospěch, čímž činila připravovaný repertoár maximálně přitažlivým.
Masonův vliv na toto album (ten v mezičase po první desce odešel, aby se před nahráváním dvojky zase vrátil) je silný, přičemž napsal nejméně 5 z 10 skladeb. Jeho písně jsou měkčí, přístupnější a melodičtější, oproti materiálu Winwood/Capaldi.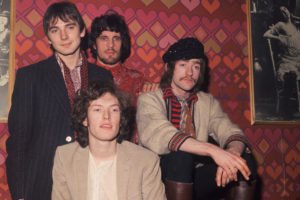 Desku vnímám jako jeden ze ztracených klenotů v historii psychedelického prog folk rocku. Stejně jako na debutu se i tady střetáváme s obrovskými výbuchy energie a hromadou neotřelých nápadů. Pokroková hudba je svou povahou rozporuplná, dobrodružná a inovativní ve své formě, která je ze své podstaty silně nekonvenční. Traffic využívali značné množství různorodých nástrojů a jejich zvukové bohatství dokázali proměnit ve zlato. Saxofon, flétnu, harmoniku, klavír, bicí, basu, varhany, klávesy, akustickou a elektrickou kytarou, používali tak specificky, že vždy vytvořil progresivně náročné obrazce,  jež oslovily celou generaci přelomu 60. a 70. let.
Byla by chyba zmiňovat ve jménem výčtu nejsilnějších položek jenom ty z pera Davea Masona. Album je jako deseti skladbový blok vyvážené a vitální na celé ploše. Z položek které mi uvízly v paměti, bych rád upozornil na naléhavou Pearly Queen, Mansonem jedinečně zazpívanou krasavici Don't Be Sad, opěvovaný zvukový konglomerát Who Knows What Tomorrow May Bring,  s brilantním Winwoodem za mikrofonem a hlavně nadstandardní finiš desky. Ten zahajuje skvělá Forty Thousand Headmen. Pokračuje  nadpozemský opus magnum Cryin' To Be Heard, kde nemá Masonův hlas konkurenci (tolik něhy se v jedné skladbě vždy nesejde), tesknivým soprano saxofonem diktovaná No Time To Live a vzpurný rock Means To An End, který desku uzavírá.
V případě alba Traffic se pravděpodobně jedná o nejvíce působivou nahrávku, kterou kapela vydala během své bouřlivé kariéry. V té době s ní dokázala zastínit i většinu materiálu svých současníků. Jednotliví hráči byli všichni špičkoví hudebníci, což je fakt, který nutí člověka přemýšlet, co by se dělo, kdyby byli schopni potlačit jak své osobností konflikty, tak konkurenční umělecké zájmy.
Albu dávám pět hvězd a je to hodnocení, za kterým si pevně stojím. Nejtradičněji znějící album Traffic, kdy si při jeho poslechu vždy říkám, škoda, že Dave Mason nezůstal u souboru i v dalších letech. Ano, následující nahrávky jsou jistě pozoruhodné a skvělé, ale…. být u nich Dave, byl by další materiál nejspíš ještě nápaditější.
1. You Can All Join In (3:40)
2. Pearly Queen (4:21)
3. Don't Be Sad (3:25)
4. Who Knows What Tomorrow May Bring (3:15)
5. Feelin' Alright (4:20)
6. Vagabond Virgin (5:22)
7. Forty Thousand Headmen (3:14)
8. Cryin' To Be Heard (5:12)
9. No Time To Live (5:20)
10. Means To An End (2:35)
Total Time: 40:24
– Steve Winwood / vocals (2,4,7,9,10), organ (2,3,7,8), piano (5,6,9), harpsichord (8), guitar (1-4,7), bass (1,2,5,6,9)
– Dave Mason / lead (3) & acoustic (1,5,6) guitars, harmonica (2,3), bass (8), organ (9), vocals (1,3,5,6,8)
– Chris Wood / flute (2,6,7), tenor (1,5) & soprano (3,8,9) saxes, bells (7), drums & percussion (10)
– Jim Capaldi / drums, percussion (4), keyboards, vocals & alto clarinet (6)
Traffic
Traffic
Psychedelic Hard Rock
Island Records
1968
LP
10