Na titulke nového čísla hudobného časopisu Populár nám v ústrety prichádza Marián Varga, aby sme sa v článku Petra Uličného dočítali o motivujúcej sile tejto osobnosti slovenskej kultúry a o vzniku opulentného boxu plného hudby a spomienok na Vargovho nesmrteľného ducha. 
Rok dvadsať dvadsať,
ako vravíme my Slováci,
nech je veselší než devätnásty
a denne s nami po práci
nechutne nasáva a chutné sľuby papá.
Ako všetky pred ním,
tiež to tu má za pár,
ale radšej ako preplaziť sa
nech sa k smrti pretančí,
veď je to kus poriadneho chlapa.
Tak znie posledná sloha novoročného vinšu Benjamína Škreka, ktorý v editoriáli z rôznych uhlov pohľadu nazerá na cifru 2020, ktorá sa medzičasom stala realitou. 
V pravidelnej Americkej sonde Milana Poláčka sa okrem iného dozvieme, že v USA prvýkrát v angličtine vyšla kolekcia piesní Karla Kryla a Jaromíra Nohavicu. Vladimír Merta o tomto albume napísal: "V časoch, kedy sme všetci hľadali inšpiráciu v anglo-americkej tradícii, boli to práve Karel Kryl a Jaromír Nohavica, ktorých tvorba priznávala melodiku a temperament slovanských koreňov, rómskych piesní z Odesy, či poľskú muzikalitu z okolia Tešína. Spracovanie ich piesní dokazuje, že môžeme čerpať z tradície vlastného prostredia tak, aby naša tvorba mala potenciál osloviť publikum po celom svete."
Druhé pokračovania slávnych diel sú vždy najťažšie, pretože sú často porovnávané s premiérovou časťou. Inak to nebolo ani počas Synthfestu 2019, ktorý sa konal 19. októbra 2019 v bratislavskom Hopkirku. Píše o ňom hardvérový entuziasta Marek Osrman.
Peter "Petiar" Lachký je pesničkár, IT-čkár a najnovšie aj stand-up komik. V textoch rád opisuje všedné situácie nevšedným spôsobom, často sú o rôznych podobách lásky. Jeho piesne sú hravé, odľahčené humorom v textoch i vtipkovaním pomedzi ne. Možno práve preto ho ako hudobného hosťa na svoje vystúpenie pozvala známa divadelno-improvizačná skupina 3T (Tri tvorivé tvory). Petiara v profilovom článku predstavuje jeho kolegyňa – textárka, Izabela Bérešová.
Ak by sme hľadali hudobný žáner, ktorého máme najviac žeravých želiezok v medzinárodnej hudobnej pahrebe, bola by to pravdepodobne world music. V tomto vydaní si môžete viac prečítať o nových albumoch interpretov, ktorí pochádzajú z rómskeho prostredia, ale spoločné korene rozvetvili každý po svojom. Kým ľudová hudba Pokošovci reprezentuje naturálnu podobu horehronského rómskeho muzicírovania, Barbora Botošová s priateľmi nás zavedie do sofistikovanejších vôd. V rámci upútavky už len dodávame, že tak, ako je typické pre rómsku (či židovskú) hudbu, obaja vniesli do tej svojej aj iné, než rómske vplyvy, no zachovali jej charakteristickú šťavnatosť.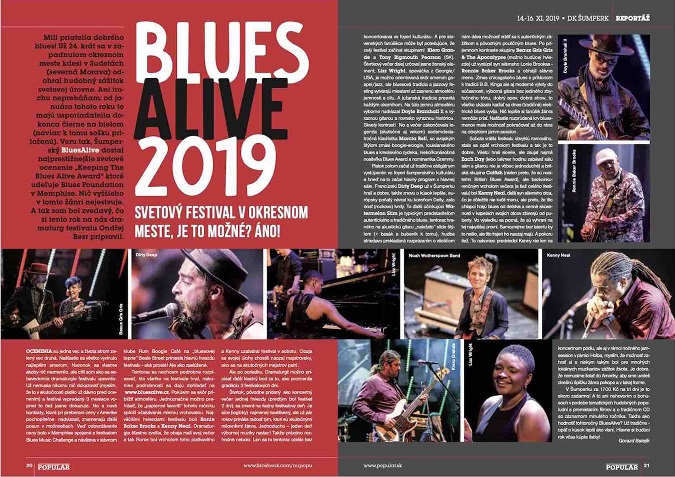 Už 24. krát sa v zapadnutom okresnom meste kdesi na severnej Morave odohral hudobný zážitok svetovej úrovne. Ani trochu nepreháňam: od januára tohoto roku to majú usporiadatelia dokonca čierne na bielom – Šumperský BluesAlive dostal najprestížnejšie svetové ocenenie "Keeping The Blues Alive Award" ktoré udeľuje Blues Foundation v Memphise. Nič vyššieho v tomto žánri nejestvuje. Ako to koncom minulého roku celé prebehlo a ktoré svetové hviezdy blues to v Šumperku rozbalili zreferoval pravidelný návštevník Blues Alive, architekt Gorazd Balejík.
Čo sa v najbližších mesiacoch chystá v podunajskobiskupickom Múzeu obchodu si fanúšikovia blues a klasického rocku môžu v predstihu prečítať na nasledujúcich troch stranách venovaných jedinečnému koncertnému projektu Rock v múzeu.
V seriáli Čo počúva… svoje poslucháčske tipy predstavuje majster stredovekého temna, spisovateľ Juraj Červenák. A nebude to iba ovocie z metalovej záhradky, ako by sa dalo predpokladať.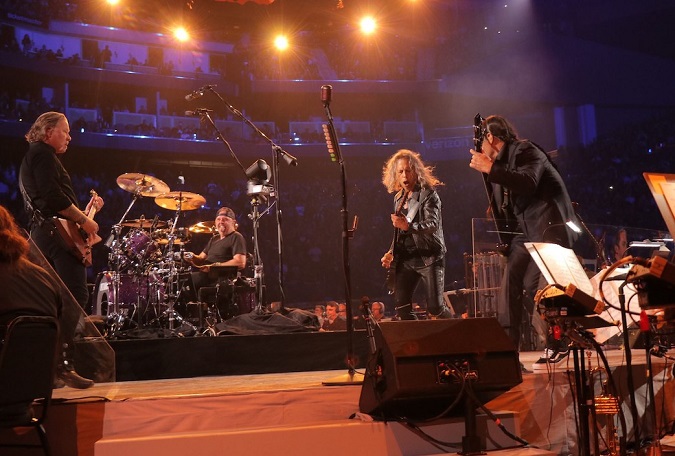 Heavy metalové monštrum Metallica spolu s orchestrom San Francisco Symphony po 20. rokoch spoločne prichádzajú s prerobeným symfonickým formátom "Symphony and Metallica" prinášajúc kvalitný hudobný zážitok aj do kinosál po celom svete. Pozrieme sa teda aj na to, ako to James Hetfield, Lars Ulrich, Kirk Hammett, Roberto Trujillo a dirigent Edwin Outwater zvládli.
Dve nasledujúce pozvánky by mohli zaujímať najmä gitaristov, ale nielen ich. Prvá je na koncert kanadského majstra akustickej gitary v updatovanom štýle flamenco a world music, Jesseho Cooka, ktorý prvý krát vystúpi v Bratislave 22. februára. Druhá pozvánka je zároveň výzvou pre gitaristov a basgitaristov, ktorí by sa chceli zúčastniť súťažnej prehliadky Gitariáda 2020, tentoraz v žilinskom klube Smer 77.
"Aj keď moja aktívna hexácka "spoluúčasť" trvala len asi päť rokov, dodnes z nich čerpám – nezabudnuteľné spomienky, pozitívnu energiu a pocit (jemne márnomyseľnej) spokojnosti, že som mohol byť nápomocný niečomu, čo sa už stalo trvalou súčasťou slovenskej hudobnej scény a jej histórie", píše Juraj Čurný v svojom spomienkovom článku na počesť Petra "Ďuďa" Dudáka. 
Ako ste si už asi všimli v úvodnom videu, Nový Populár 1/2020 tentoraz uvádza Štefan Chrappa alias Pišta Vandal. Hoci je Štefan ako muzikant známy hlavne zo svojho pôsobenia v kapelách ČAD a Vandali, v rozhovore pre Nový Populár odpovedá Danovi Hevierovi mladšiemu hlavne na otázky ohľadom svojich textárskych skúseností. Článok vznikol v spolupráci s agentúrou MusicPress.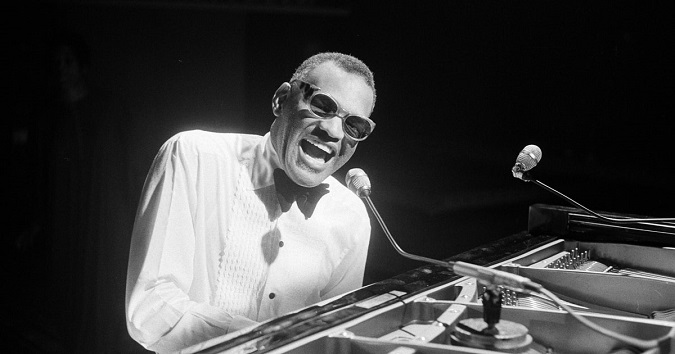 V poslednom čísle Nového Populáru sme sa, pri príležitosti pätnásteho výročia úmrtia svetoznámeho amerického speváka a klaviristu Raya Charlesa v životopisnom príbehu zamerali na jeho ťažko skúšané detstvo a prvý kontakt s hudbou. V druhej časti si dorozprávajme story tejto nevidomej legendy hudobnej histórie. Obdobím jeho najväčšej slávy, ale aj balansovania a boja s osobnými démonmi nás prevedie Charlesov veľký obdivovateľ a rokenrolový klavirista Andi Ray Haverda.
Téme rozchodov sa v svojej tvorbe spontánne venujú umelci, ktorých senzibilita je zvýšená práve vďaka týmto autentickým zážitkom. Niekedy sa z toho zrodia iba ďalšie "silly love songs", inokedy sú to najsilnejšie albumy interpretov a skupín akými boli Fleetwood Mac, Peter Hammill, John Martyn, či Phil Collins. Píše o nich Vladimír Leksa.
Nechýba ani obvyklá porcia recenzií domácich albumov (Martin Burlas, Branislav Dugovič, Juraj Griglák, Karpatskí pastieri, Marián Čekovský, Katarína Koščová a Vladimír Mišík), testy a novinky zo sveta hudobných nástrojov a množstvo pekných, koncertných a portrétnych fotografií od autorov ako Ľuboš Houška (Scorpions), Anna Raitl (BJD), Daša Šimeková (Ďuďo), či Ľuba Lauffová (Marián Varga). 
Predplatitelia Nového Populáru spolu s prvým tohtoročným vydaním dostali aj CD prílohy od Barbory Botošovej, Blanch, Živých kvetov, Longital, autorského tria Nikitin/Pospiš/Sillay a od Andreja Šebana. Tieto a mnohé ďalšie albumy si môžete spolu s časopisom objednať online na našej stránke www.popular.sk/cd-shop. Čerešničkou na torte pre každého majiteľa časopisu je CD na stiahnutie, ktorým je tentoraz oceňovaný album Sabur skupiny Korjen. Vydavateľ Indies Scope o nich na svojich stránkach píše: "Korjen vznikl díky lásce a přitažlivosti k živému odkazu tradiční hudby. V roce 2010 se v Praze potkala trojice zpěvaček z Bosny, Polska a Slovenska (šmrncnutého Arménií) s hudebníky z různých koutů Čech. Vznikla kapela, která v kulisách své originální estetiky nechává zaznívat písně kořenů svých zpěvaček." 
Prvé tohtoročné číslo je už v novinových stánkoch po celom Slovensku. Ak by ho nemali v tom Vašom, objednať si ho môžete cez formulár na webe časopisu, mailom, alebo správou na Facebooku. V mene celého tímu autorov a tvorcov Nového Populáru Vám želáme príjemné čítanie a všetko dobré v novom roku 2020!

Web: www.popular.sk
Facebook: fb.com/nupopu
Youtube: www.youtube.com/novypopular