Začaly se povinně registrovat časopisy, jinými slovy: byl učiněn první krok k cenzuře. V tomto případě ale naštěstí zapracovaly československé dlouhé lokty, a tak si mohl Kája Saudek ve svém komiksu o Pepíkovi Hipíkovi dál střílet z nevzdělanosti a pokřivenosti rudých hlídacích psů a Mladý svět zaříznout sovětskou Bílou knihu. Na titulce Melodie THE MARADORS, u rozhlasu nelhostejní zasadili deset stromů republiky, líp. Líp ale už nadlouho nebude, i když voskový Dubček mezitím doputoval do Londýna.
TEMNÉ "NORMALIZAČNÍ" PŘÍZRAKY
ČTK kolaborantsky vydala ruský překlad elaborátu "K událostem v Československu" z dílny KGB, oficiálně sepsaného sovětskými novináři.
Trio Dubček, Černík, Husák přijelo z jednání v Moskvě s vyprášenými kožichy.
Fond republiky dosáhl výše 228 763 693,- Kčs a ve zlatém pokladu republiky je uloženo 73 kilo zlata. Kampak asi obé zmizelo?
V Moskvě byl zahájen soudní proces s pěti účastníky demonstrace z 25. srpna 1968 na Rudém náměstí proti okupaci Československa. Odsouzeni byli: jazykovědec Konstantin Babickij (1929 – 1993) – tři roky vyhnanství, po nichž se již nesměl vrátit ke své práci v Akademii věd a živil se restaurováním nábytku a řezbářstvím, překládal básně východoevropských autorů do ruštiny; filoložka Larisa Bogorazová (1929 – 2004) – čtyři roky vyhnanství, kde se seznámila s Anatolijem Marčenkem (1938 – 1986), rovněž odsouzeným disidentem, za něhož se později provdala; básník Vadim Delon (1947 – 1983) – dva roky a 10 měsíců v pracovním táboře, po propuštění s manželkou Irenou, jež byla rovněž několik let vězněna, emigrovali do Francie; elektrikář Vladimír Dremljuga (1940) – tři roky vězení, poté znovu odsouzen, v pracovních táborech strávil celkem 454 dnů na izolaci, od roku 1975 žije v emigraci v USA; fyzik Pavel Litvinov (1940) – pět let vyhnanství, po nichž se společně s manželkou rozhodl pro emigraci do USA, kde se vrátil ke své akademické profesi. Všichni jmenovaní hrdinové si zaslouží naši nejvyšší možnou úctu!
Z našeho území začaly odjíždět maďarské, polské a bulharské okupační jednotky. Sovětské jen částečně.
28. října v Praze, v Brně, v Bratislavě a v dalších městech vysokoškoláci demonstrovali proti likvidaci svobod, proti postupující normalizaci. Její účastníci se dostali do střetu s policejními jednotkami, které zadržely 77 osob.
30. října na Bratislavském hradě podepsali nejvyšší českoslovenští představitelé zákon o federativním uspořádání ČSSR. Zde se také konalo slavnostní zasedání, své projevy pronesli Alexander Dubček, Gustáv Husák a Oldřich Černík.
31. října na Pražském hradě prezident republiky Ludvík Svoboda udělil Věře Čáslavské Řád republiky, když přijal úspěšnou čs. olympijskou výpravu po návratu z Mexika. Byli přítomni také Alexander Dubček, Josef Smrkovský, Oldřich Černík a Evžen Erban.
Toliko mnohé signalizující říjnový zpravodajský pelmel.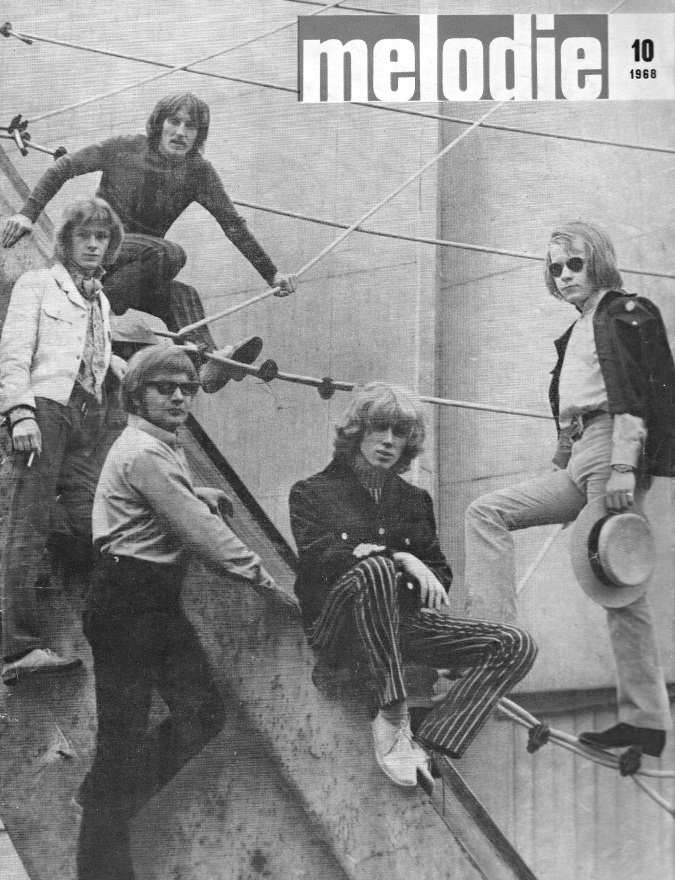 ČECHOS, ČECHOS, ČECHOS! VERA, VERA, VERA!
Říjnové letní olympijské hry v Mexiku byly posledním celonárodním vzepjetím hrdosti a sounáležitosti. Když při nástupu našich sportovců vyprodaný Aztécký stadión povstal a hřměl skandováním Čechos, Čechos, šel mráz po zádech!
Při vší úctě k Beamonovým bezmála devíti metrům ve skoku do dálky, Fosburyho flopu a zaťatým pěstím Smitha a Carlose, symbolem her i vzdoru se stala Věra Čáslavská, držitelka čtyř zlatých medailí. Po Japonsku si po čtyřech letech podmanila svou krásou, elegancí, úsměvem a umem i Mexiko. A její tichý manifest, kdy na protest proti okupaci při sovětské hymně sklonila hlavu a odklonila zrak, se stal pro celý svět symbolem vzdoru Čechoslováků a nesmíření se s osudem zotročeného národa.
Svatba Věry Čáslávské a Josefa Odložila v metropolitní katedrále v Mexico City zaplnila 26. října nejen svatostánek ale i náměstí Zócalo před ním. Přímý televizní přenos sledovaly miliony Mexičanů, pro něž byla Věra bezmála bohyní. Pro celý svět pak nejlepší sportovkyní a nejslavnější ženou planety!
Až později vyšlo najevo, že se Čáslavská v poslední fázi připravovala na olympiádu v utajení v odlehlých lesích Jeseníků, kdy se jejím nářadím staly větve, kmeny a louky. Je jasné, kde se Stallone inspiroval.
Dalšími našimi zlatými medailisty byli střelec Jan Kůrka a skokanky Miloslava Rezková (do výšky) plus Milena Duchková (do vody).
Po zdánlivě vřelém přijetí úspěšných olympioniků na Hradě, viz výše, nastaly problémy, například prezident Svoboda záhy začal slavnou gymnastku tlačit do odvolání podpisu manifestu 2000 slov. "Chybovat je lidské, ale setrvávat ve lži ďábelské," do ní podle vzpomínek Věry "otcovsky" hustil. Neuspěl. Tak jako o několik let později Husák. Věra Čáslavská si zachovala rovnou páteř i čisté svědomí a včlenila se svými skutky mezi statečnou menšinu Čechů a Slováků.
JIMIHO ELEKTRIZUJÍCÍ ŽENY
Ale i jiné ženy na sebe v oněch týdnech poutaly pozornost. V říjnu 1968 vychází vrcholné Hendrixovo dílo, "nahaté" dvojalbum Electric Ladyland. Osmašedesátý přitom pro Jimiho nezačal zrovna šťastně. Po demoličním amoku ve švédském hotelu skončil na pár dní v arestu. Událost symbolicky zapadala do překotného dění plného násilí: válka ve Vietnamu, studentské bouře ve Francii, černošské v USA, vraždy Martina Luthera Kinga a Roberta Kennedyho, to vše se promítalo do fenomenálního díla, kde jeho kytara křičí, šeptá, střílí, hladí, vazbí, hoří, bublá…
Jimi Hendrix měl poprvé ke své spokojenosti vše pod kontrolou, byť se jeho perfekcionismus nelíbil kvůli výdajům na nahrávání vydavatelské firmě ani dosavadnímu producentovi Chasi Chandlerovi, jemuž vadila i spousta kamarádíčků a kolegů, motajících se jen tak ve studiu i kolem nástrojů. Na druhou stranu však Brian Jones, Al Kooper, Dave Mason, Chris Wood, Steve Winwood, Buddy Miles a další dodali albu pestrost a hvězdný pel. Žádný z příspěvků desítky hostů nelze označit za samoúčelný, nadbytečný. Čtvrthodinová Voodoo Chile díky tomu zněla jako záznam živého vystoupení. Steve Winwood vzpomínal, že se nahrávala natřikrát, poprvé se kapela seznamovala s Jimiho představou, podruhé stop, když Mistr přetrhnul strunu, a na potřetí hotovo. Zkrácená verze celé monumentální dílo uzavírala.
Nedílnou součástí Electric Ladyland byly i texty reflektující současné dění a přinášející i literární a filozofické odkazy, viz Orwelovův román 1984 a polemika Normana O. Browna s dílem Sigmunda Freuda coby inspirace pro 1983… (A Mermam I Should Turn To Be).
Nebudeme si nalhávat, že na "první rockerskou signální" fungoval i přebal s dvacítkou nahatých dvacítek. Jimimu se údajně nelíbil, ani ne tak pro obsah, ale pro zkreslení proporcí širokoúhlým objektivem. Já tedy nevím, moje rybí oko žádné vady na kráse nenašlo, a to jsem pečlivě zkoumal lupou tělíčko po tělíčku.
V Americe 2 LP vystoupalo na samý vrchol žebříčku. Dnes je součástí dějin a současně stále svým způsobem moderním rockovým dílem.
BEJVÁVALO JETHRO BLUESOVÉ
Debutové LP JETHRO TULL This Was se v jejich diskografii vymyká svým výrazným bluesovým akcentem, postaveným na kytaře Micka Abrahamse a zvuku živých vystoupení kapely. Na rozdíl od tehdejších stěžejních zástupců britského modrookého blues, jakými byli John Mayall a FLEETWOOD MAC, vnáší JETHRO TULL do svého blues nejenom silnější rockový akcent, ale díky flétně Iana Andersona i původní jinozvuk, plus špetku jazzu a ostrovního folku. Album má zvláštní náboj, na jedné straně odkaz blues, na druhé progrese a hledačská hravost. Soundem již prostupuje originalita, díky níž si nikdo nemůže splést JETHRO TULL s žádnou jinou skupinou.
Souboj Abrahams/Anderson vyhrál, jak známo, Ian. Mick z kapely odešel a založil BLODWYN PIG, kde mohl naplno realizovat své pojetí bluesrocku. JETHRO TULL pod vedením Iana Andersona pokračovali směrem k objevování nových krajin.
HURDY GURDY ZEPP MAN DONOVAN
Šestá studiovka skotského písničkáře Hurdy Gurdy Nab je dodnes známa především díky titulní skladbě, na níž podle legendy hrají tři čtvrtiny LED ZEPPELIN: Jimmy Page, John Bonham a John Paul Jones. Na téma se vedou debaty bezmála vášnivé jak samotná skladba. Donovan rád dává k dobru tezi, že vlastně stál za založením LED ZEPPELIN, protože se de facto poprvé potkali na Hurdy Gurdy Man. Jones pro změnu tvrdí, že na kytaru hrál Alan Parker a bubnoval Clem Cattini. Jimmy Page pak jednou tak, jindy jinak.
V roce 1969: "Pracoval jsem pro Donovanova na ,Hurdy Gurdy Man'. John Paul Jones se staral o aranže a tak. Během přestávky se mě zeptal, jestli by mohl hrát na basu v nové skupině, kterou jsem zrovna dával dohromady."
Léta páně 2000 ten samý Jimmy Page: "Vím, že se říká, že jsem v té skladbě hrál, ale nehrál." Vyberte si. A to není vše, podle některých zainteresovaných hrál v první verzi Jeff Beck, ve výběru kandidátů byl původně prý i Jimi Hendrix, občas padne v diskusích jméno Allan Holdsworth. Tomu říkám skladba s bájeslovným rodokmenem!
V každém případě zní Hurdy Gurdy Man hardrockově a zcela se vymyká z Donovanova trubadúrského formátu.
Vedle tří v krátkosti představených novinek najdeme v dobových zahraničních hitparádách mimo jiné: Mary Hopkins s častuškou Those Were The Days, Malé šípy v originále (Leapy Lee), poslední úspěšný výkop DAVE CLARK FIVE (The Red Ballon), halekačku TREMELOES (My Little Lady) vedle božské Arethy Franklin (I Say A Little Prayer), k tomu DOORS (Hello, I Love You) a samozřejmě i stále kralující Hey Jude…
Doma vládli: Marta s Modlitbou, Eva a Rekviem a Kája s Časem růží. Helenka s Waldou bezelstně pěli To se nikdo nedoví, Karel Černoch burcoval s Docela obyčejnou písní i si chlapsky posteskl v Ona se brání. První gramodesítkou prolétlo také bigbítově REBELSkých Pět havranů.
Zahraniční Houpačce vévodila po letní Legendě Xanadu juchajda Baby Come Back EQUALS. Domácí dobyla Lady Carneval, novinka Karla Gotta.