Pri pátraní po zabudnutých nahrávkach sa človek dostane k takým pokladom, že chtiac-nechtiac sa musí aspoň na chvíľku zamyslieť a zauvažovať; prečo sa americká skupina Fraction, pochádzajúca z mesta anjelov, ktorá splodila takú nádheru, akou je album Moon Blood, nedostala k väčšiemu kontraktu?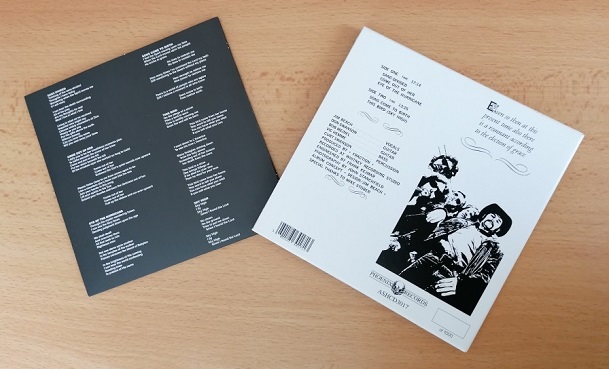 LP Moon Blood, vydarená zmes psychedelie, acid a hard rocku, vyšla v limitovanom počte 200 ks a dnes sú za ňu zberatelia ochotní zaplatiť aj vyše 3000€. Prečo? Pretože je výborná! Pamätám si na prvý kontakt.
Pri nástupe Sanc-Divided som ostal zarazený a myslel si, že omylom počúvam nejaké zabudnuté dielo The Doors. Áno, hudba i samotný vynikajúci spevácky prejav Jima Beacha, evokujú odkaz na túto legendu. Jim, inak autor celého textového konceptu, však v rozhovoroch prízvukoval, že chalani z Fraction mali oveľa radšej inú losangeleskú kapelu – Love. Tak sa v tom vyznajte! Naviac, je na neuverenie, že táto nálož má vlastne akýsi kvázi kresťanský nádych. 
V pomalej Come Out Of Her Jim mení polohy častejšie ako naši politici volebné sľuby, ale to platí pre celú LP. Za vrcholný kus kolekcie považujem takmer 9 minút trvajúci epos Eye Of The Hurricane. Je obdivuhodné, čo títo chalani dokázali zaznamenať do drážkok – necelé 3 hodiny nahrávania, žiadne štúdiové efekty, dokrútky, zvukové efekty, žiadne opravy – NIČ. Pamätám si ešte na slová frontmana, keď som hľadal informácie o skupine: "Možno mi neuveríte, ale gitarista Don Swanson hral na starom poškodenom Fenderi Esquire. On bol našou hnacou silou, bez neho by sme to neboli dokázali." Klobúk dole!
Pri zvukoch krásnej balady Son Come To Birth si vravím – je toto vôbec možné? Tí veľkí na to mali kopu peňazí, more času a stále s konečným výsledkom nie sú spokojní. I dnes, prakticky po polstoročí, im to opravuje akýsi Wilson a ja si pritom kladiem otázku – má to ešte vôbec niečo spoločné s originálom? Záver obstará ďalšia epická záležitosť This Bird (Sky High). Ako celá LP, aj ona sa "ženie" dopredu v strednom tempe – psychedelia ako vyšitá. Skvelý spev, fantastická gitara…
Kvalitu Moon Blood si v tom čase všimol aj známy a veľmi populárny magazín Rolling Stone. Žiaľ, ani to nepomohlo skupine zviditeľniť sa. Napriek tomu, skúste! Verím, že milovníci vykopávok určite nebudú ľutovať čas, ktorí mu venujú.
P. S.: Vlastním CD od piráta Phoenix Records, ktorého obal je urobený podľa pôvodnej LP. Predná časť, tvrdý biely papier, je vystrihnutá do podoby rámu a miesto skla je osadená červená fólia, ktorá vytvára z vnútorného čierneho obalu krvavý mesiac – veľmi pekné! A ten mesiac vlastne môžete osadiť do ľubovoľného rohu.

SKLADBY:
1. Sanc-Divided /Meinel, Beach/ 3:51
2. Come Out Of Her /Beach/ 4:57
3. Eye Of The Hurricane /Fraction, Beach/ 8:56
4. Sons Come To Birth /Don Swanson, Beach/ 5:26
5. This Bird (Sky High) /Meinel, Beach/ 8:05
NOTES:
Produced by – Fraction.
Recorded at Whitney Recording Studio.
Engineered by Frank Kejmar.
Photography by John Stanchfield.
Album concept, desing – Jim Beach.
Special thanks to Mike Stober.
200 copies pressed.
Moon is part of inner sleeve which is noted in the photographs. Position of moon on front cover wholly depends on how the inner sleeve is turned inside jacket.
ZOSTAVA:
Jim Beach – vocals
Don Swanson – lead guitar
Curt Swanson – percussion
Victor Hemme – bass guitar
Robert Meinel – rhythm guitar 
Moon Blood
Fraction
Psychedelic Rock, Hard Rock
Angelus Records
1971
LP
5
CD - Phoenix Records ‎– ASHLP3017 /2008/