Mezi deset nejvýznamnějších alb československého rocku lze bezesporu zařadit i Barnodaj, první album brněnské skupiny Progress Organization, které bylo natočeno roku 1971. V době, kdy skupina už nějaký čas neexistovala. Stalo se tak zásluhou producenta Hynka Žalčíka, jenž album prosadil do edičního plánu Supraphonu. 
Kapela vznikla na podzim r. 1968 a rozešla se přibližně někdy koncem r. 1970. Absolvovala všehovšudy asi pětapadesát koncertů, přesto se na ni usmálo štěstí a v pražském Radiopaláci si jí povšiml zmiňovaný Žalčík, což otevřelo skupině cestu do nahrávacích studií. Na jaře 1971 (kdy členové kapely působili v jiných službách) se dal kvartet dohromady pro účast na III. Mezinárodním big-beatovém festivalu, který se konal v pražské Lucerně.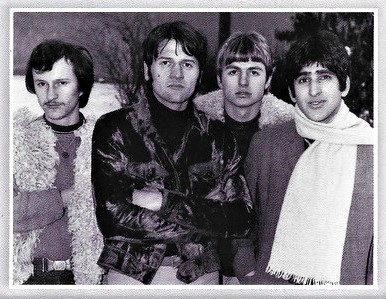 První polovina alba je nazpívána česky a druhá anglicky. S ohledem na normalizační poměry počátku sedmdesátých let skupina považovala za zázrak, že se ji podařilo natočit samostatné album. Podobně jako v jiných případech, hudební režii měl na starost Jan Spálený a zvukovou Petr Kocfelda, což se projevilo velmi citlivě pořízeným záznamem.
Úvodní entrée obstarává dynamická instrumentální skladba INTRODUCTION, v níž se rozjíždějí varhany, poté se přidává dynamická rytmika a nakonec melodické kytarové sólo, končící varhanním motivem.
Nato se ozvou úderné klavírní akordy a zvolna se rozbíhá rocková balada ve středním tempu, které vévodí přesně sezpívané sbory a podmanivý hlas Jana Sochora. Má název JAKO HELIOS a text k ní napsal Petr Ulrych, stejně jako k následující písni IKAROS. Motivem jsou staré řecké báje a pověsti ve svébytné poetice. Posluchače zaujme nosná melodická linka a čistý přednes. Kytarový motiv Pavla Váněho nám svým pojetím mírně připomene vzdálený zdroj inspirace – George Harrisona (Beatles), který dotáhne do detailu další kvalitní baladický příspěvek.
Následující skladba STROM má náročnější stavbu a zaujme kvalitním a citlivým proaranžováním jednotlivými nástroji. Vedle cembala, mírně zastřeného hlasu Zdeňka Kluky, připojených smyčců a dechové sekce, dříme uprostřed rockový motiv, který se probudí jako živel v drásavém interpretačním pojetí. Varhanní motiv se zborcenou harmonií a ženským vokálem pak napodobují pád stromu společně se smyčci a agresivním úderem do klavírních kláves, který se s děsivou ozvěnou ztrácí v nekonečnu. Velmi sugestivní počin, který překročil běžné hranice rockové produkce a potvrdil, že uvnitř skupiny existují zajímavé talenty širokého uměleckého záběru.
ARGONAUT naproti tomu patří opět do říše balad. Její přímočarost a konejšivý sound posluchače zase odvádí do řecké mytologie. Uprostřed vystavěné sólo na akustickou kytaru přiblíží variace na adagio slavné skladby Concierto de Aranjuez španělského skladatele Joaquína Rodriga, se snivým vokálem, připojeným klavírem a varhanami, doprovázenými dechovou sekcí.
PTÁČNÍK opět vychází z řeckých pověstí, ale na rozdíl od předešlé, zde skupina věnovala zesílenou péči jednotlivým aranžím a tak dochází k živelnému propojení rockové skupiny, zastoupené kvílivým kytarovým sólem a dunící rytmikou, s jazzovým doprovodem přiostřených žesťů ve stylu Chicaga a Blood Sweat And Tears. Pěveckou úlohu na sebe tentokrát bere Emanuel Sideridis, který syrovým a řeřavým hlasem interpretuje obsah písně a posouvá svůj projev do oblasti soulu, ve své době u nás měřeným pouze Michalem Prokopem nebo Peterem Lipou. Dívčí sbory proti Sideridisovu projevu stojí, abstraktně řečeno, jako skála proti mořskému příboji. Zásadní skladba na albu velmi niterného sdělení, na kterou se neprávem zapomnělo.
Beatles se stali inspirací natolik, že skladba WE CAN WORK IT OUT byla přearanžovaná tak, že se její originál dá vypozorovat jen v kratičké střední části. Celá je totiž ryze rockovým nástupem podle všech rozmáchlých pravidel daného žánru. Sbory Váněho, Sochora a Kluky jsou protipólem Sideridisovi, který se ujal hlavního hlasu. Váně pojal kytarové sólo nekompromisním rockovým pojetím, aniž by potlačil svůj vytříbený smysl pro melodiku. Skladba je právem označena jako jedna z nejzdařilejších coververzí, kdy Beatles nejsou vzorem, ale inspirací a ostatní už je v režii Progress Organization.
Píseň TIME je postavená na výměně několika akordů, ale účinný rytmus ji posouvá do oblasti nespecifikované exotiky. Váně dal průchod své osobité moravské melodičnosti v hlasu a doprovázen sbory a spojovacími kytarovými party se dopracoval k sofistikovanému hudebnímu útvaru, který se téměř nečekaně propojil s jazzem, ovšem následná unisona kytar, baskytary a bicích nástrojů s klávesami, vracejí skladbu na rockovou platformu se závěrečným sugestivním sborovým zpěvem.
I FEEL FREE je slavná skladba skupiny Cream. Progress Organization se této předlohy zmocnili s respektem, ale zároveň se snahou vytvořit osobitý hudební útvar. Lze potvrdit, že se jim to po všech stránkách podařilo na výbornou. Sbory zastupují Váně, Sochor a Kluka. Zvláště sugestivně působí Klukův hlas – ve vyšší poloze prosvětlený a jasně znějící, v nižší poloze dutý a chraplavý, v recitaci odpovídá jako ozvěna. Rytmické postupy mají přesnost a patřičnou účinnost. Jedním slovem – excelentní!
A LOVELY DAY lze po formální stránce označit za nejsložitější kompoziční přínos na albu. Rockový náboj uvnitř skladby je spíš tušený než hmatatelný, ale proaranžování dechovými nástroji a smyčci je na vysoké úrovni. Nijak nepřebíjí původní záměr, naopak podmiňuje atmosféru a rozpoutává vnitřní napětí. Klukův pěvecký projev je bezchybný. Zajímavou úlohu zde hraje Sochorův úderný klavír a varhany, které se propojují s dechovou sekcí. Mají stejnou účinnost jako aranžované smyčce. Bicí nástroje a baskytara hrají stejně přesně, jak dobře namazaný stroj.
O epilog se postará odlehčená kolovrátková melodie, jako ze starého filmu, pod názvem GOOD BYE, která nás odvádí do světa zašlé cirkusové slávy a zvolna se opakující motiv se ztrácí v nekonečnu.
Ve své době se jednalo o mimořádný umělecký počin, pochválený hudební kritikou. Album bylo vyhodnoceno jako "Deska roku 1972". Ani tato jednoznačně pozitivní okolnost nebyla pro Supraphon dostatečným impulsem k provedení dolisování titulu. V inzertních rubrikách časopisu Melodie se pravidelně vobjevovala žádost o koupi tohoto alba. Na černých burzách s vinylovými nosiči měla její kvalitní technická podoba stejnou cenu jako u zahraničních titulů. Tímto se mohlo pochlubit jen pár dalších desek – Kuře v hodinkách (Flamengo), Songy a balady (Marta Kubišová) a The Matadors (The Matadors).
Pro všechny skeptiky – myslíte, že tato okolnost byla nějaká náhoda? Uznávaní hudební kritikové a publicisté Černý, Dorůžka, Rejžek, Tůma a Horáček byli stejného názoru. Album Barnodaj od Progress Organization nepotřebuje moji obhajobu, obhájí se jednoduše samo (musí k tomu být ovšem nezbytná vůle) That is all. Dávám pět hvězdiček!
SKLADBY:
01. Introdukce /Jan Sochor/ 1:25
02. Jako Hélios /Jan Sochor, Petr Ulrych/ 3:50
03. Ikaros /Jan Sochor, Petr Ulrych/ 2:25
04. Strom /Zdeněk Kluka, Petr Ulrych/ 3:45
05. Argonaut /Pavel Váně, Petr Ulrych/ 3:55
06. Ptáčník /Zdeněk Kluka, Hynek Žalčík/ 4:15
07. We Can Work It Out /John Lennon, Paul McCartney/ 4:35
08. Time /Zdeněk Kluka, René Trejtnar/ 4:05
09. I Feel Free /Jack Bruce, Peter Brown/ 3:55
10. A Lovely Day /Zdeněk Kluka, René Trejtnar/ 6:30
11. Good Bye /Zdeněk Kluka/ 1:25
NOTES:
Nahráno 3.-9. ledna 1971 v pražském studiu Supraphon v Dejvicích.
Během nahrávání začala skupina používat český název Barnodaj.
Vydáno ve spolupráci s Čs. hifi-klubem.
SESTAVA:
Pavel Váně – electric & Spanish guitars, piano, organ, harpsichord, tambourine, vocals
Jan Sochor – organ, piano, vocals
Emanuel Sideridis – bass, vocals
Zdeněk Kluka – drums, claves, bonos, shaker, vocals, strings & chorus conductor
+
Jana Paulová – vocals (4), chorus vocals (6)
Jana Válková – chorus vocals (6)
René Nachtigalová – chorus vocals (6)
Zuzana Boříková – chorus vocals (6)
Jan Čapoun – trumpet (4-6,10)
Václav Týfa – trumpet (4-6,10)
Zdeněk Šedivý – trumpet (4-6,10)
Ladislav Odcházel – trombone (4-6,10)
Oldřich Koudela – trombone (4-6,10)
Oldřich Průša – trombone (4-6,10)
Jaroslav Morkuš – flute (6,11)
Vladislav Marek – flute (6,11)
Ales Čízek – oboe (6,11)
Otto Trnka – oboe (6,11)
Zdeněk Jareš – baritone sax (8)
Smyčcový Orchestr Frantiska Javůrka – strings
Frantisek Javůrek – strings leader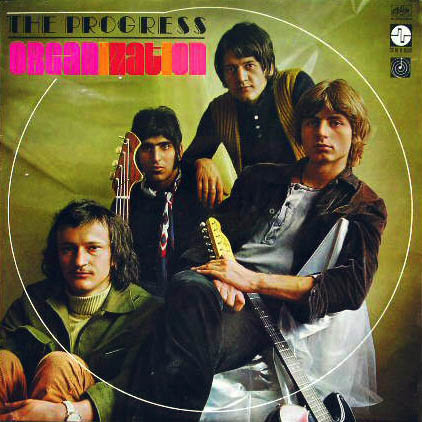 Barnodaj
The Progress Organization
Prog Rock
Supraphon
1971
LP
11