CD AMS – AMS153CD   /2009/
Čidlo venkovního teploměru ukazuje dva nad nulou a při pohledu z okna vidím šeď, kalnou oblohu a sem tam poletující sníh. Na začátek dubna docela bída a jaro nevidět, tož se ho pokusím trochu popostrčit prostřednictvím projektu Höstsonaten a desky Springsong…
Höstsonaten jsou vedle Finisterre, La Maschera di Cera, Rohmer, nebo La Curva di Lesmo jednou z mnoha aktivit italského skladatele, spisovatele a hudebníka Fabia Zuffantiho. Skupina debutovala (ještě jako Finisterre Project) v roce 1997 a o další rok později přispěchala s albem Mirrorgames, ovšem pak už přišly na řadu jednotlivé díly postupně vycházející série "SeasonCycle Suite". Ta je věnovaná neměnnému koloběhu čtyř ročních období a jarem inspirovaná první část – Springsong – se objevila v roce 2002 prostřednictvím firmičky Sublime (Sublime Label – I-122001).
Tohle vydání je však už dávno vyprodané a k mání je pouze novější, vymazlená verze od AMS z roku 2009. Ta se od té původní liší nejenom obalem a názvem pozměněným na Springsong (Part IV Of SeasonCycle Suite), podstatnou proměnou prošel i její, kompletně remasterovanej obsah. Mellotron na původním vydání byl samplovanej, tady už je slyšet skutečný nástroj. Baskytaru nahrál Zuffanti celou znova a rovněž přibylo trochu moogu, basového pedálu a perkusí. Skutečným bonbónkem je pak bonusová, čtrnáct minut dlouhá a do tří partů rozdělená Suite Bretonne.
Až na krátký recitativ ve skladbě She sat writing letters on the riverbank kompletně instrumentální, symphonic rockové album okouzlí vřelou atmosférou a půvabnými melodiemi, které jsou plné hřejivých a sluncem prozářených barev. Jarní náladu vytvářejí krásně cinkající dvanáctistrunky a flétna s housličkami, tu a tam se přidají ještě irské píšťaly, nebo teskně vyhrávající saxofon. Až do výše uvedené She sat writing letters on the riverbank je to taková selanka, vybízející k odpočinku na lůžku ze stébel první, světlounce zelené trávy, ovšem následující The underwater and 2nd reprise přinese i trochu toho neklidu a jazzové disharmonie. Nicméně, je to jen taková přeháňka. Ochladí se, zafouká, spadne pár kapek a je pryč. Příroda jarní vláhu potřebuje a deštěm zkrápěná The wood is alive with the smell of the rain je provoněná probouzejícím se životem a svěžestí.
Semiakustickej materiál oživují prvky symfonického rocku (moog, varhany, mellotron), které vnímám především ve skladbách  Kemper/springtheme a The wood is alive with the smell of the rain, ovšem vrcholem v tomhle směru je epická, do čtyř kapitol rozepsaná suita Toward the sea. Její energickej, jazzem šmrncnutej úvod je sice krapet rozháranej, ale ono se to postupně usazuje, roste a končí mohutnou katarzí.
Jistou zvláštností jsou po albu zhusta rozházené motivy a stopy keltské hudby. Slyšet jsou tu irské píšťaly (Low Whistle, Tin Whistle) a v závěrečné Toward the sea dokonce i dudy. Jedna z jejích kapitol má název ve fránině (La route pour Finistère) a bonusová, čtrnáct minut dlouhá skladba Suite Bretonne je inspirovaná divokou přírodou starobylé Bretaně. Je to třídílnej kus rozepsanej pro klasickou, akustickou a dvanáctistrunnou kytaru a Zuffanti ho složil a nahrál už koncem roku 1998. Právě on se stal základem a inspirací pro album Springsong a postupně i celé "SeasonCycle Suite"…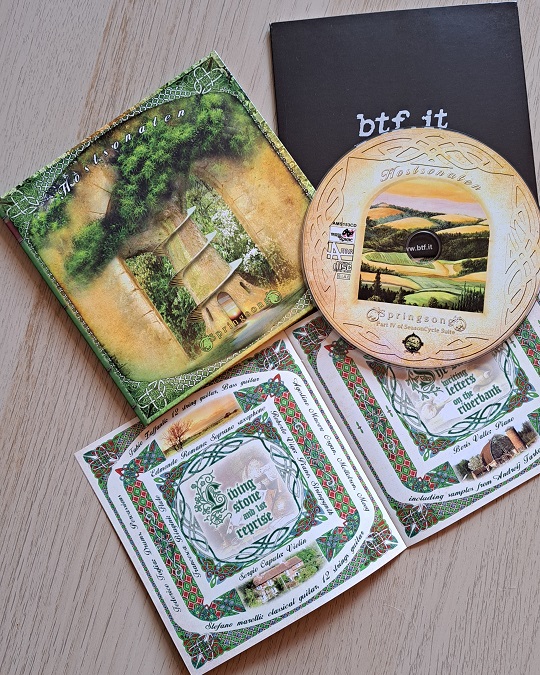 Rozkládací vinyl replika je opravdu krásná a byla by pěkným doplňkem každé rockové sbírky. Její obal zdobí nádherné ilustrace a zmínit musím i dvanáctistránkový booklet s tracklistem a kredity. Každá ze skladeb tady má vlastní originální list a celé to vypadá jako nějaká prastará, bohatě ilustrovaná kronika. O prvotřídně padnoucím zvukovém kabátu se nemusím vůbec zmiňovat, protože Zuffanti by do světa žádnej zmetek nikdy neposlal.
Co dodat? Je to výtečné album, ale musím přiznat, že zimě věnované Winterthroug se mi líbí ještě o chloupek víc. Tomu jsem napálil plnej počet, takže tady to bude silná čtyřka…
SKLADBY:
01. In the open fields (4:55)
02. Kemper/springtheme (5:31)
03. Living stone and 1st reprise (3:27)
04. She sat writing letters on the riverbank (3:47)
05. The underwater and 2nd reprise (3:18)
06. Lowtide (3:19)
07. The wood is alive with the smell of the rain (4:20)
08. Evocation of spring in a fastdance (2:40)
09. Toward the sea (13:27)
I. blackmountain (including "La route pour Finistère")
II. 3rd reprise
III. seasoncycle's end
IV. grand finale/springland
Bonus Track:
10. Suite Bretonne (13:54)
SESTAVA:
Stefano Marelli – electric, 12-string (1-3,7,9) & Classical (2,3,8,9) guitars, e-bow (9)
Agostino Macor – piano (1,5,9), organ, Mellotron, Moog
Boris Valle – piano (4,6,8)
Roberto Vigo – piano (3,5,7,9), String synth (3)
Edmondo Romano – whistles (2,6,9), recorder (7), French bagpipes (9), soprano sax (3,5,8,9)
Francesca Biagini – flute (1-3,7,9)
Sergio Caputo – violin (1-4,6,8,9), derbouka & ziff (8)
Fabio Zuffanti – bass, 12-string (1-3,5,7-9) & acoustic (6) guitars, composer & producer
Federico Foglia – drums, percussions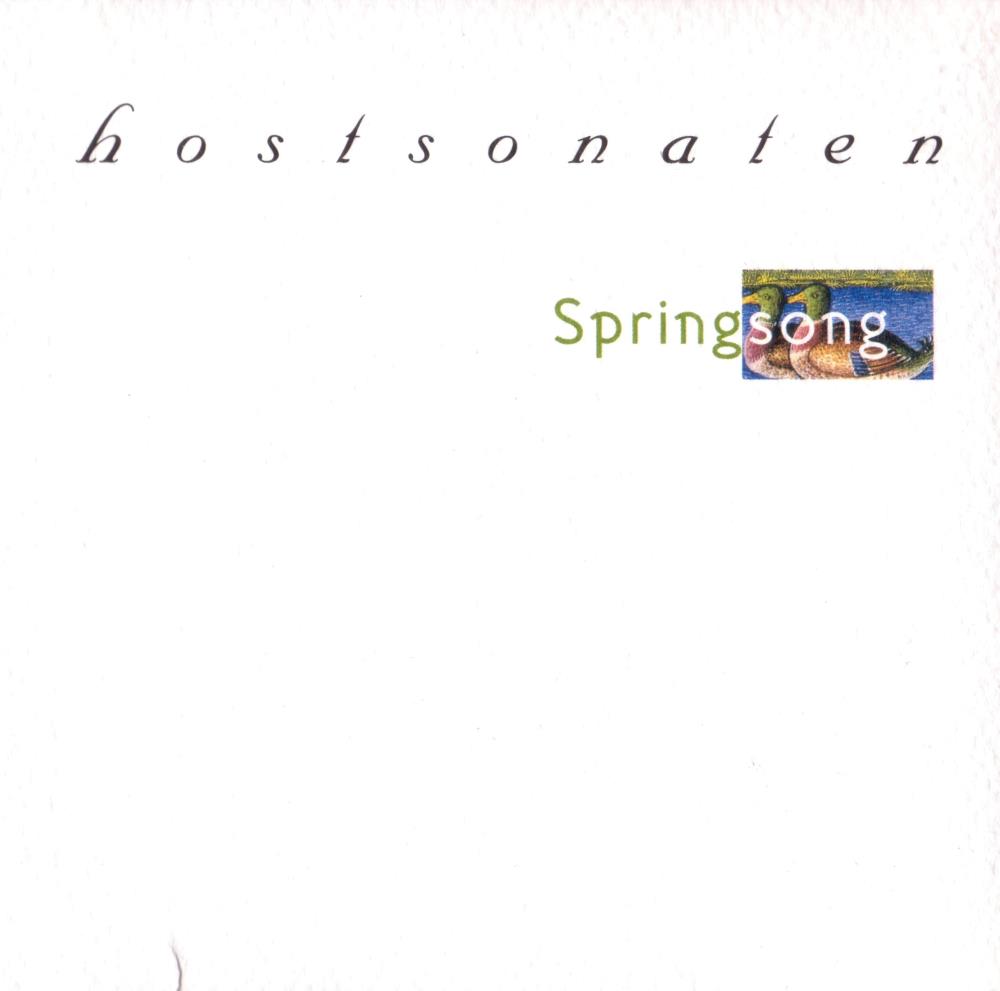 Springsong
Höstsonaten
Prog Rock
Sublime Label
2002
CD
9
CD AMS – AMS153CD /2009/