Vesmír je nedozierny a niekedy sa mi zdá tvorba kozmickej anglickej skupiny podobne nekonečná. Ak si pustím doma niektorú z ich LP, často nájdem skladbu s dlhou minutážou a taktiež jednotlivá skladba sa akoby nikam od začiatku nepohla, nepohne a neskutočne zdĺhavo končí.Prečo ich počúvam z času na čas, neviem. Pátram všade naokolo, hľadám odpoveď, ale tá neprichádza. Ako je možné, že Hawkwind dlhé roky pre málo pozorného poslucháča hrajú stále tú istú pieseň, vydávajú albumy a sú stálicou britského rocku. Len jedna skupina, ktorú poznám, hrá stále to isté dokola. Sú to Status Quo, ale to je úplne iný súdok a s Hawkwind sa nedajú porovnávať. Skúste nájsť so mnou rozuzlenie tohto "geniálneho" kumštu Davea Brocka, hlavnej tváre "geniálneho" Hawkwindu.
Dave Brock

David Anthony Brock sa narodil 20.augusta 1941 v Isleworthe, Middlesex a prvú gitaru mu kúpil brat, keď mal 12 rokov. Bolo to banjo (bolo lacnejšie ako gitara). David mal rád Fatsa Domina (jeden zo zakladateľov rock&rollu) a jazzových hudobníkov. V 1959 skončil školu, zamestnal sa ako robotník, ale popritom hrával s rôznymi hudobníkmi. Často to bolo na ulici, do klobúka pre okoloidúcich. Chodil do hudobného klubu na ostrove Eel Pie Island (spomínal som ho nedávno s recenziou albumu Bursting at the Seams / Strawbs). V tomto období je členom skupiny Dharma Blues Band, spoznáva Erica Claptona, Dicka Taylora (Pretty Things), Keitha Relfa (Yardbirds).
Dave Brock pritom nikdy nechcel byť profesionálnym hudobníkom. Bavilo ho kreslenie a chcel sa stať maliarom, mal na to talent. Po skončení školy vystriedal niekoľko manuálnych zamestnaní a nakoniec pracoval v kresliacom štúdiu 4 roky. Práca kresliča ho prestala baviť a vyhrala hudba. Jeho naozajstné začiatky môžeme datovať rokom 1967, kedy zakladá skupinu The Famous Cure s hráčom na ústnu harmoniku Petem Juddom, pridáva sa gitarista John Illingworth. O pár mesiacov Judda nahrádza Mick Slattery a vydávajú celkom úspešný singel Sweet Mary, 5. miesto v holandskej hitparáde. Trojica pôsobila v Holandsku, preto ten holandský záber.

Kvôli zárobku odchádza so Slatterym hrať do Francúzska. Spoznávajú basgitaristu Johna A. Harrisona, ktorý sa tiež zaujíma o experimentálnu hudbu. Na inzerát prichádza bubeník Terry Ollis. Brockovi kamaráti Nik Turner (saxofón) a Dik Mik (elektronické efekty) sa pripoja na základe pozvania. Skupina, ktorá ešte ani nemala meno, hrala v v All Saints Church Hall ( tam začínali aj Pink Floyd) a hudobníci veľa piesní hrať veľmi nevedeli. V podstate improvizovali a skladby umelo naťahovali. Svojou energiou však zaujali Johna Peela (moderátor BBC Radio One) a dali si meno Group X. Netrvalo dlho a zmenili sa na Hawkwind Zoo. Nakoniec sa ustálili na Hawkwind. Zanedlho podpísali zmluvu s vydavateľstvom a začali nahrávať prvý album. Produkciu mal na starosti gitarista Dick Taylor, vedúca osobnosť úspešnej skupiny Pretty Things. Prvý eponymný album nezaznamenal žiadny veľký úspech a kapela viacmenej potom jamovala na rôznych bezplatných koncertoch v opojení drog, ktoré spôsobovali nemalé problémy. Skupina pôsobila ako "rodinná spoločnosť", ale časté zmeny v zostave boli sprievodným faktorom počas celej doby existencie.

In Search of Space, druhý album, ktorý skupina nahrala, zabodoval v anglickom rebríčku LP a dosiahol 18. miesto. Hawkwind sa dostali do povedomia poslucháčov ako space rocková skupina, ktorá si veľmi nezakladá na textoch piesní, ale vytvára jednoduchú rytmickú hudbu s vesmírnymi efektami, ktoré sú dotvárané pódiovým zobrazením, kde kapela je skôr v úzadí. Hawkwind je úzko spätý s írskou tanečníčkou Staciou Brady, ktorá na koncertoch tancovala a svojím úsporným odevom vzbudzovala obdiv a pozornosť.
Druhý album bol predzvesťou ich veľkého singlového hitu Silver Machine ( 3. miesto v UK Charts). Zaujímavosťou je, že Bob Calvert, hlavný spevák a textár piesne, nespieva v Silver Machine. V čase nahrávania skladby bol v nemocnici kvôli maniodepresii. Pôvodná nahrávka bola urobená naživo, v štúdiu sa prehrával vokál Calverta. Ponuku na spev dostal Lemmy Kilmister, lebo mal pevnejší a vyšší hlas ako Bob. Po návrate z nemocnice bol Robert Calvert nahnevaný a následne vyšla v Melody Maker sólo fotografia Lemmyho. Bol potom mnohými považovaný za frontmana Hawkwind, hoci spieval iba sporadicky a hlavne vokály. Text je o striebornom bicykli Davea Brocka.
Keď vyšla tretia LP Doremi fasol latido, už im nič nebránilo a otvorili si cestu do ich hudobného vesmíru, ktorý my poznáme.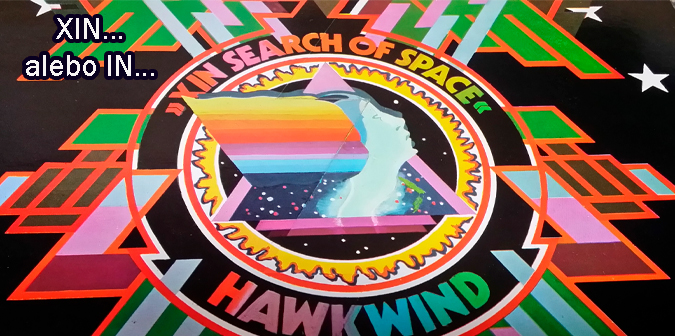 In Search of Space
 O názve albumu sa často polemizuje a uvádza sa písmeno X pred samotným názvom LP. Dvojitý názov je odvodený z obalu platne, kde sa časti obalu otvárali postupne a výrez jednej časti bol ako X. Aj na samotnom prednom obale je písmeno X prekryté z časti dúhovými ušami ženy v kruhu. Skupina sa predtým menovala krátku dobu X, takže názov je nejasný s X In Search of Space, alebo bez X, tak ako nazývam LP. Čiernobiely booklet na novinovom papieri, ktorý za tú dobu zožltol, obsahuje dlhý text s dátumami a popisom situácií dnes už aj aktuálnych dátumov (rok 1991 a pod) ma nezaujal. Priznám sa, že okrem obrázkov a titulkov som mu nikdy zvláštnu pozornosť nevenoval. Na etikete je napísaný názov bez X. Takže sa dá predpokladať, že X na obale vzniklo iba na kresličov nápad a s menom albumu nekorešponduje.
1. You Shouldn't Do That (15:43)
Postaviť celú dlhoročnú hudobnú kariéru na audio efektoch vytváraných frekvenčným generátorom je vskutku enormná odvaha. Dave Brock to tak cítil a bavilo ho vytváranie efektov Dik Mikom, ktorý to všetko spôsobil. V sedemdesiatych rokoch bola technika efektov na úrovni embrya a všetko sa vyrábalo prácne, zdĺhavo a metódou pokus/omyl. Neexistovali žiadne pamäte nastavení (dnes si setting uložíte a vyvoláte jediným tlačítkom v programoch Pro Tools, Cubase a mnohých iných). Verím, že audio technici, ktorí mali na starosti vesmírne efekty, sa každú noc pred koncertom modlili, aby všetko fungovalo a nič sa nepokazilo. Hudba Hawkwind bola jednoduchá, dvoj-trojakordová, takže sa dalo vždy niečo nové vymyslieť a improvizovať, ale predsa len sa patrilo hrať známe skladby v známom prevedení a efektoch.
Prvá skladba na recenzovanom LP je dlhočizná dvojakordovka, ktorá sa stále a stále opakuje. Čo je dnes na tomto čude zaujímavé a čo nám môže ponúknuť okrem straty času a nálady? Progresívny audiomág Dik Mik a Nik Turner robia vesmírne čachre-machre a všetko ešte dotvára na syntetizátore zvukový technik Del Dettmar. Na basgitaru na dvojke hrá bývalý člen Amon Düll Dave Anderson. Úvodná skladba začína skoro dvojminútovou predohrou dvoch borcov na audiogenarátoroch, ktorí vytvárajú kozmický sound. Pomaly sa pridáva elektrická gitara úsečným rytmom a otvára priestor pre tepajúcu basovú gitaru s bicími, ktoré udávajú rytmus nemenný po celej dĺžke skladby. Dnes by podobná skladba bola prílišnou odvahou a stretla by sa s nezáujmom, ale vtedy to bolo dovolené a priekopnícke. Rôzne zvukové hrátky, pridávanie rôznych zvukomalebných a nástrojových výrazových prostriedkov (dychová sekcia/saxofón) sa v častiach skladby objavujú a zdarne strácajú, saxofón si hrá svoju melódiu, v rytme bicích a basovej gitary vytvára svojráznu kakofóniu. Tá je ešte zhustená rôznymi sprievodnými atmosférami audio generátorov. Presne ako slová piesne: "nemal by si to robiť/mal by si to robiť." Motív piesne sa zmieta v dvoch protikladných náladách. Vždy žasnem nad tým, že to nevypnem po troch minútach počúvania, ale nechám celú pieseň bežať do konca. Neviem, v čom je rýchly rytmus magický a doslova očarujúci, text piesne je stále v ústraní a vlastne nepodstatný, aj keď v múdrych textových pasážach hovorí známe životné pravdy o tom, že iba chcenie nestačí, lebo iní nechcú a kladú polená pod nohy. Mám skladbu celkom rád, hoci som nikdy nevenoval zvláštnu pozornosť audioefektom, skôr ma vždy zaujímali hudobné nástroje.
2. You Know You're Only Dreaming (6:33)
Na prvej strane LP sa ocitla ešte jedna skladba kvôli hracej dobe dlhohrajúcich platní. Pomalejší a rozjímavejší You Should't Do That /Viem, že len snívaš/ je melodickejší a psychedelickejší song s množstvom audio generátorových efektov. Taktiež tepajúci rytmus sa vznáša nad ústrednými pridanými sólami gitary, basgitary, saxofónu. Text piesne je vlastne imaginárny a odpovedá melódii. Do sveta predstáv sa dostávame v prvých slovách piesne a stačí nám podľa textu iba jeden dotyk, aby sme pochopili, že "predstavy/vízie" o nás vedia, že iba snívame. Imaginárna vec sa dostáva do reálneho sveta a pôsobí temne a spýtavo. Hudba Hawkwind je postavená na mnohých hudobných sekvenciách a krátkych efektných obrazoch, ktoré spája jeden ústredný rytmický motív. Určite by bolo zaujímavé vyspovedať audio generátorových hráčov Hawkwindu, ako a prečo používali konkrétne zvukové efekty v jednotlivých skladbách. Skladba dnes pôsobí čudne a hoci má svoj náboj je to zmes stále sa opakujúcej hudobnej fráze.
3. Master Of The Universe (6:15)
Veľmi známa skladba Hawkwind pochádza z tohto albumu "Hľadanie vesmíru" a právom sa radí k najlepším, ktoré kapela vyprodukovala. Text je samozrejme vesmírny a hovorí: "Som stredom vesmíru a všetko som vybudoval, som nabitý vesmírnou energiou a chcem, aby ste videli hlúposť, ktorá je vo Vás. Ak to nevidíte a myslíte si, že to je dobrý život, ste slepí."

Pieseň začína vesmírnym introm. Dunivý rytmický nástup gitary a bicích udá od prvej noty energický dôraz. Spev melancholický a fádny v úzkom kontraste s rytmikou pôsobí ležérne a nepodstatne, Skladba sa zastaví a znovu rozhýbe ústredným riffom piesne, aby kapela bez spevu dokázala stokrát opakovať to isté s rôznymi obmenami, ktoré len navodzujú vesmírny objekt, ktorý pláva v nekonečných temnotách. Rytmus je skvelý, skladba veľmi dobrá, hľavne tretia časť, kde ostali v zabudnutí vesmírne efekty, zvuk je čistejší a spev výborne dopĺňa úderný rytmus. Možno toto je poloha Hawkwindu, ktorá sa mi páči najviac. Skladba končí rázne a necitlivo.
4. We Took The Wrong Step Years Ago (4:48)
Štvrtá pieseň je úplne iná ako predošlé tri. Akustická gitara navodzuje pokojnú atmosféru, ktorá je vzápäti narušená kvilivým generátorom, rytmus sa zrýchli a zvuk sa zhutní. Gitara hrá doprovod a po chvíľkovej hre basovej gitary nastáva vybrnkávanie a znovu pokojnejšia pasáž. Text skladby sa končí konštatovaním: "myslíme si, že sme urobili nesprávny krok pred mnohými rokmi." Je to pieseň o prírode, ktorú ničíme. Aj po pol storočí aktuálna téma, viac ako kedykoľvek predtým.
5. Adjust Me (5:45)
Technická zmodulovaná pieseň začína vokalizovaným spevom v počítačovom móde. Počítačový hlas odrieka text piesne, kde čierne mesto plné mužov, ktorí sú ako jeden, chcú aby boli "nastavení" ako jeden Android, ktorý pochádza z dedičstva syna, ktorý neexistoval. Krkolomná fantasmagorická vízia nás uvedie do technicky dobre zvládnutej skladby s dominujúcim basovým rytmom, v ktorom sa skĺbili zvukové efekty dvoch audiomachrov. Je to ukážka technickej zručnosti a umelej prácnej vynaliezavosti 70-tych rokov, kde takáto technika bola v plienkach.
6. Children Of The Sun (3:13)
Deti slnka sú svetlou skladbou albumu. Dobrá akustická časť. Po nej prichádza atmosférická pieseň, ktorá stále naberá na dramatickosti. V piesni sa objavuje aj flauta, známy a obľúbený nástroj rockovej skupiny Jethro Tull. Na môj vkus je veľmi krátka a nestačil som si ju vychutnať. Text je absolútne pohodový a optimistický. Mohol by svietiť nad hocijakými dverami a prinášal by dobrú náladu. V skratke asi toto: "Prichádza zlatý vek budúcnosti, to o čom sme iba snívali a sloboda vládne v mieri, kde rozum je bohatý na múdrosť. Sme deti slnka a toto je naše posolstvo. Už nie je chaos a a smútok, ale láska a smiech, tanec a spev!" Naozaj pekná záverečná pieseň, ktorá dá bodku za dobrým albumom.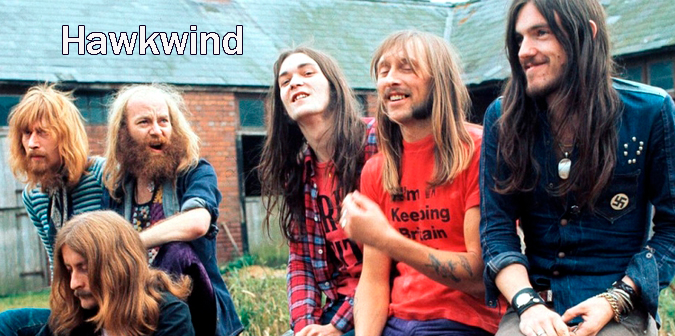 V znalosti textov tejto LP platni s príznačným názvom, ktorý je o hľadaní vesmíru, je posun v chápaní a pochopení progresívnej hudby jednoznačný a veľký. Veľakrát sa Dave Brock a Hawkwind v rámci vesmírneho zvuku vracia na zem a všíma si prírodu, ľudské vzťahy v reálnej podobe. Samozrejme, vnáša do všetkého nedozierny priestor vesmíru okolo nás a postaví reálnu vec do protikladu s nadpozemskou, mimozemskou vesmírnou fantáziou. Na textoch neskoršie spolupracovali aj prizvaní hostia.
Hudba skupiny Hawkwind sa hneď na začiatku odklonila od niektorých progresívnych anglických skupín a nepoužívala vtedy obľúbené nástroje ako moog, mellotron alebo hammond organ. Bolo to preto, že chlapci tieto nástroje neovládali, neboli hudobne veľmi zdatní. Hoci občas zabruslili aj do "jazzových polôh" typu Blood, Sweat and Tears. Ich pár akordové piesne boli postavené z veľkej miery na improvizácii a rytme, ktorý bol dlhú dobu rovnaký a nemenný. Dokázali však upútať pozornosť a rozvíjali prvé nápady s experimentálnou space rockovou hudbou (napr. ktorú robili Pink Floyd). Žiadna iná skupina nedokázala to čo Hawkwind v tejto oblasti. Určite ich v tomto smere podporil aj významný zvukový inžinier George Chkiantz, ktorý stál pri zrode In Search of Space. Bola to známa technická zvukárska postava (prvýkrát použil flange efekt pri nahrávke Small Faces piesne Green Circles, zdokonalený pri ich hite Itchycoo park (1967). Nahral významné albumy Jimiho Hendrixa, Led Zeppelin, King Crimson, Family, Slade, Small Faces a iné.
V skupine sa vystriedalo množstvo slávnych hudobníkov. Stačí spomenúť Lemmyho Kilmistera (Motörhead), v Hawkwind hral na basovú gitaru a je spevákom na ich najväčšom hite Silver Machine (1972), bubeníka Gingera Bakera, huslistu Simona Housa. Predtým som spomínal, že kapela sa vyhýbala klávesovým nástrojom. Príchodom Simona Housa (predtým v skvelej skupine High Tide) sa objavuje syntetizárový moog. Skupina hudobníkov okolo Davea Brocka sa na začiatku ich obdobia pohybovala veľmi blízko drogových závislostí a ich hudba je toho dôkazom. Pôsobili v rodinnom formáte a skladby často vznikali pričinením celej kapely, aj keď pod skladbou je podpísaný ako autor iba niektorý z nich (Dave Brock). Časté zmeny v zostave boli spôsobené aj rôznymi životnými komplikáciami. Napríklad gitarista Huw Lloyd Lawton zmizol v roku 1970 na 11 rokov, bubeník Terry Ollis sa polial kyselinou, Lemmyho vyhodili v roku 1975 kvôli drogám, policajti ho chytili na kanadsko-amerických hraniciach počas turné. V kapele sa objavil na tomto albume aj basgitarista Dave Anderson z Amon Düül II, neskoršie Tim Blake (klávesy v kapele Gong).

Ako vlastne vznikal vesmírny zvuk Hawkwind za pomoci audio generátora? Princíp je jednoduchý a laicky ho zvládne hocikto. Dik Mik používal audio generátor a echo Watkins Copycat. Watkins Copycat bolo páskové echo, malo stálu bežiacu magnetofónovú páskovú slučku, mazaciu hlavu, nahrávaciu hlavu a 3-4 zhrávacie hlavy, ktoré sa zapájali tlačítkami. Zvuk sa mohol upravovať otočnými potenciometrami. Pustením určitej frekvencie na audio generátore v počuteľnom pásme ľudského ucha 20 Hz-20 kHz na vstup echovej jednotky začne celý proces. Nahrávaním nahrávacej hlavy na echovej páskovej jednotke Watkins Copycat na magnetofónový pás vzniká signál, ktorý je prehrávaný s oneskorením zhrávacích hláv. Oneskorenie je každou hlavou väčšie (rýchlosť pásky a vzdialenosť od nahrávacej hlavy). Pôvodná audio frekvencia sa pritom môže meniť alebo nemusí. Zoslabením alebo zosilnením echo efektu potenciometrom z každej zhrávacej hlavy a intenzitou vstupného signálu môžeme vytvárať rôzne varianty výsledného zvuku. Vytvorený zvuk môžeme vyrobiť ako kozmický efekt pri správnom použití frekvencie a zosilnenia zhrávacích hláv. Na vstup sa môže, samozrejme, pripojiť aj hudobný nástroj alebo mikrofón. Vtedy môžeme vytvárať rôzne efekty napríklad na gitare (zvuk Davida Gilmoura). Problém nastáva, ak chceme vytvoriť vesmírne zvuky a efekty v rôznych podobách. Vtedy už treba zapojiť fantáziu, zručnosť a invenciu, aby efekty neboli stále rovnaké. V prípade Hawkwindu to bola priam nadľudská práca. Prácu s generátorom a páskovým echom Watkins Copycat začal, ako som predtým napísal, prvý v kapele Dik Mik. Na výrobu a pódiové vystúpenia však nestačil a preto mu pomáhal Nik Turner, občas aj Dave Brock. Echovú jednotku používal už Hank Marvin zo skupiny Shadows (samozrejme, v inej podobe, to je krásne echo v jeho gitarovom zvuku), Američania Chet Atkins, Scooty Moore. Prvýkrát ju použil  Johnny Kidd & the Pirates, v roku 1960 v hitovej skladbe Shakin' All Over. Použitie a výroba rôznych efektov si zaslúži zvláštnu kapitolu. Páskové echo Watkins Copycat vyrobil a vymyslel akordeonista Charlie Watkins, mal obchod s hudobnými nástrojmi v Balhame a neskôr začal so svojím bratom vyrábať elektrónkové zosilňovače a echá. Páskový echo/efekt bol veľmi obľúbený a ani ho nestačili v tej dobe vyrábať. Vyrobili rôzne verzie páskového echa. Samozrejme, neboli jediní výrobcovia, ale Hawkwind používali efektovú jednotku od firmy WEM Watkins. Potom prišla éra syntetizátorov, ktoré vyrábali komfortnejšie efekty a jednoduchším spôsobom.
Na záver už iba stručné konštatovanie. Po druhom albume In Search of Space prichádza ich najpredávanejší a najúspešnejší album Doremi Fasol Latido. Tretia LP priniesla obrovský úspech a z kapely, ktorá často hrala na bočných pódiách alebo pred bránami, sa stali uznávaní priekopníci space rocku. Právom. Ich nekonečný albumový zoznam svedčí o neutíchajúcom zanietení a tvorivosti celej siahodlhej hudobnej zostavy Hawkwind s osemdesiatnikom Brockom na čele. Ešte pred nedávnom vydali nový album Somnia (2021). Zo starej zostavy je tam iba Dave Brock. Album prekvapí svojou melodičnosťou, výborným zvukom. Odkaz alebo pozostatok starých Hawkwind na poslednom LP/CD je v sfére rytmov, vesmírnych efektov, ale je to viac menej rockový album starého pána Brocka v modernej a múdrej spontánnej muzikálnosti. Vrele odporúčam na vypočutie, myslím si, že to nebude strata času. Vinyl sa líši od verzie CD. Cedečko má o tri skladby navyše. Moje hodnotenie In Search of Space je 4 hviezdičky z 5.
Hawkwind:
Dave Brock – Vocals, Electric Guitar, Acoustic Guitar [6string, 12string], Audio Generator
Nik Turner – Alto Saxophone, Flute, Vocals, Audio Generator
Dik Mik – audio generator
Dave Anderson – Bass, Electric Guitar, Acoustic Guitar [6string]
Terry Ollis – drums, percussion
Del Dettmar – synthetisers
Nahrávané: Air Studios (skladba Master of Universe prvá nahrávka, potom dokončené v Olympic Studios), Olympic Studios
Produkcia: George Chkiantz, Hawkwind
Zvukár: George Chkiantz
Asistenti: Phil Chapman, Rod Thear, Rufus Cartwright
Dizajn obalu a booklet: Barney Bubbles
Tanečníčka: Stacia
Všetky aranžmány Hawkwind
Sú spomenutí ešte ľudia, ktorí sa podieľali na nahrávke v rámci techniky, príjemných "vibrácií" a "dobroty".
In Search of Space
Hawkwind
Space Rock
Liberty Records
1971
LP
6
LP Liberty Records LBG 29 902 1.st. pressing