Skupina Nektar, ktorej základy boli položené anglickými hudobníkmi v Nemecku, má v súčasnosti svoj hlavný stan rozložený v USA a oslavuje jubileum – 50 rokov. Pri tejto príležitosti je ohlásený nový štúdiový album The Other Side, ktorý má byť k dispozícii v januári 2020… 

K produkcii Nektar som sa dostal iba pred niekoľkými rokmi a musím povedať, že mi sadla. Odborníci ju zaraďujú do všelijakých priečinkov – space, psychedelic, progressive, kraut, hard a neviem ešte aký rock. Samozrejme, každý má na to svoj pohľad. Niektorí tvrdia, že na ich albumoch je len veľmi málo progresu, hudba je vlastne obyčajná, tuctová. Naozaj? No, nech už je pravda kdekoľvek, tieto zasvätené poučky ponechám na "expertoch" a budem sa venovať …Sound Like This, tretej štúdiovke v poradí, ktorá vyšla v roku 1973.
Prečo práve toto dielo? Pretože ho radím k mojej najobľúbenejšej nahrávke kapely. Jednak je tu hneď v úvode baladická pecka Good Day, ktorú mám veľmi rád a často s ňou začínam svoje posluchové dni počas pracovného voľna. Skrátka, je to pieseň, keď si poviem – je to tam – a nič iné nepotrebujem riešiť!!! Niečo podobné Nektar servíruje aj v New Day Dawning, len je o niečo kratšia a povedal by som – razantnejšia. Približne v polovici je zakomponovaný úsek, ktorý pripomenie chrobákov a ich Norwegian Wood z albumu Rubber Soul (1965). Ľahko sa to číta, ale – ako tvrdí jeden tunajší kolega – "Gúgl je tvoj priateľ." Ak by ho nebolo, tak… Na svoju obhajobu však musím povedať, že nie som znalý diskografie The Beatles, ale tá melódia mi bola veľmi povedomá. Nebyť zhodného textu, zrejme by som na skladbu neprišiel. Možno časom alebo z nejakého článku na internete… What Ya Gonna Do? je rezká rockovica a prináša príjemné oživenie. Počas štvorky nám skupina pripraví takmer 13-minútovú výučbu matematiky. Nebojte, lekcia rozhodne nie je nudná, ako tá ozajstná, v škole.
Do You Believe In Magic sa vracia k úvodnej rýchlosti LP a veľmi jej to pristane. Aj s tou progresivitou a zhutnením v závere, hoci je to ošemetný výraz, pretože každý si pod tým predstavuje niečo iné. A to isté sa dá povedať o šiestom kúsku Cast Your Fate, i keď v druhej časti kapela pridá na obrátkach. Na záver tu máme dve čísla, v ktorých sa hudobníci odviažu a je z toho vyše 27 minút štúdiového jamu, kedy popustia uzdu fantázii. Samozrejme, dôjde aj na všelijaké kudrlinky a sólo jednotlivých nástrojov, takže sa pripravte na riadne žmýkanie gitary, škrtenie klávesov, dunenie basy i mučenie bicích. Som veľmi rád za tú štúdiovú človečinu – toto mi v dnešných časoch neskutočne chýba. A aby toho "džemu" nebolo naraz príliš veľa, sú A Day In The Life Of A Preacher a Odyssee predelené peknou baladou Wings, pri ktorej mám pocit, že mi narástli krídla a nepotrebujem k tomu oblbovák s názvom Red Bull. Sme na konci – 9 skladieb a vyše 70 minút výživného nektáru…
Rockoví fanúšikovia k dielu zaujímajú vari najrozporuplnejší postoj z celej diskografie kapely. Materiál totiž vznikol už v samotných začiatkoch Nektar. Skupina ho hrala aj na koncertoch, ale piesne sa nedostali na predošlé dva albumy – Journey To The Centre Of The Eye a A Tab In The Ocean. Tu je kameň úrazu – vraj ide o odpad. Pre mňa trošku silná káva, ale som presvedčený, že mnohí muzikanti by za také "smeti" upísali dušu diablovi.

Netuším, aký nektár popíjali bohovia na Olympe, ale Nektar z Hamburgu mi sakramentsky chutí. Prajem Vám pekný deň! Trebárs pri …Sound Like This.
SKLADBY:
1. Good Day (6:43)
2. New Day Dawning (5:01)
3. What Ya Gonna Do? (5:24)
4. 1-2-3-4 (12:43)
5. Do You Believe In Magic (7:15)
6. Cast Your Fate (5:44)
7. A Day In The Life Of A Preacher (12:55)
— a) Preacher
— b) Squeeze
— c) Mr. H
8. Wings (3:45)
9. Odyssee (14:26):
— a) Ron's On
— b) Never Never Never
— c) Da-Da-Dum
ZOSTAVA:
Roye Albrighton – lead vocals, guitars
Allan "Taff" Freeman – keyboards, vocals
Derek "Mo" Moore – bass, vocals
Ron Howden – drums, percussion, vocals
Mick Brockett – lighting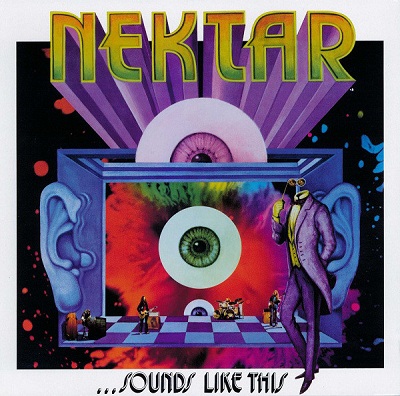 ...Sounds Like This
Nektar
Prog Rock, Hard Rock
Bellaphon / Bacillus Records
1973
LP
9