Zpráva z tisku: "Nejtragičtější bilanci měl útok teroristů v koncertním sále Bataclan, kde se konalo vystoupení americké skupiny Eagles of Death Metal. Tři teroristé tam zabili 90 lidí. Celkem si útoky v Paříži ze 13. listopadu 2015 vyžádaly 130 obětí, 350 lidí utrpělo zranění."
Neznal jsem žádnou z obětí šílené střelby v pařížském hudebním klubu, přesto mě právě tenhle zločin zasáhl víc než jiné teroristické útoky. Krvavá jatka rozpoutaná na hudebním koncertě?
Jen těžko si lze představit, s jakými pocity a problémy se i rok po hrůzné události potýkají přeživší účastníci masakru a pozůstalí po jeho obětech. Tuším jim útěchou nebyla ani slova francouzského premiéra Manuela Vallse: "Na útoky islamistů si budete muset zvykat."
Brusel, Istanbul, Nice. Jen ty nejhrůznější zločiny si letos vyžádaly dalších 162 obětí a 782 zraněných. Evropa je zmítána islámským terorismem a zaplavena muslimskými imigranty, dva z nich se podíleli na pařížských útocích. Nepřízni osudu navzdory však koncertní sál Bataclan znovu ožívá muzikou. Dobře, že tak.
O samotný restart se měl původně postarat britský rock'n'rollový antihrdina Pete Doherty, jelikož zpěvák Jesse Hughes se o možnost dokončit střelbou přerušený koncert Eagles of Death Metal připravil svými "neuváženými" výroky v mediálním prostoru. Jako přímý účastník běsnění teroristů, jehož obětmi se stali i čtyři členové doprovodného týmu kapely, si dovolil zpochybnit práci ochranky klubu. Přestože se za svůj snadno pochopitelný výrok následně omluvil, vysloužil si tím i vyškrtnutí ze seznamu účinkujících na francouzských hudebních festivalech Rock en Seine a Cabaret Vert.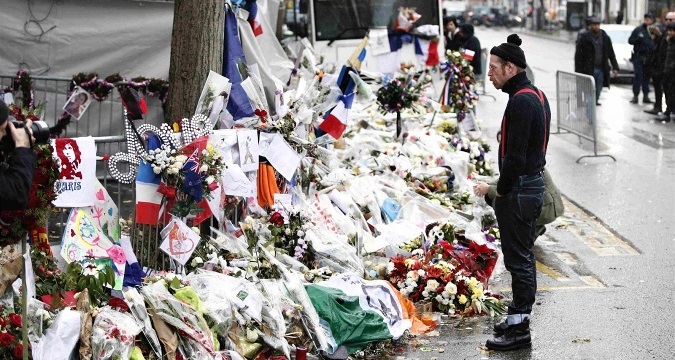 Volba režisérů večera ale nakonec padla na Stinga, muzikanta s lepší pověstí, který chrání deštné pralesy a angažuje se v projektech Amnesty International. A co víc, pro své aktuální album 57th & 9th napsal skladbu Inshallah.
Svatá pravda, na desku ať si autor zařadí, co hrdlo ráčí, žaludek snese a vydavatel vydá, ale aby to zaznělo i v Bataclanu? Nevěřil bych, že se to může stát. A jak zřejmo z pokoncertních komentářů, nebyl jsem sám, kdo takový krok bral především jako vyjádření neúcty k obětem.
Většina mainstreamových médií, jindy spolehlivě předkládajících návody "co, kdy a proč si myslet" kontroverzní okamžik nezaznamenala, resp. nekomentovala. Že by agitace ve prospěch muslimských uprchlíků na místě zmasakrování 90 fanoušků rockové hudby byla i pro ně přes čáru?
Zanícením pro správnou věc tak zaujal jen report na serveru Hospodářských novin, v němž byly vyjmenovány i pohnutky, které Stinga vedly k napsání a uvedení skladby. Pěkně polopaticky, angažovaně, jak za starých časů: "Proč Sting v klubu Bataclan zpíval Inšalláh?," ptá se již v titulku Daniel Konrád, vedoucí kulturní rubriky iHNed, a ihned si odpoví: "Chtěl podpořit uprchlíky, nikoliv teroristy." A v podobném duchu se nese celý článek: "Ano, během sobotního koncertu v pařížském klubu Bataclan skutečně zazpíval píseň zvanou Inšalláh, arabsky Přeje-li si to bůh. Ani omylem však nenaznačoval, že vražda devadesáti lidí v Bataclanu byla vůlí boží."
Aha, tak to jo, to se mi ulevilo. To je potom všechno v nejlepším pořádku…