Aj veľmi nároční milovníci subžánru RIO/Avant-Prog si vďaka nekonvenčnej aktivite vydavateľstva AltrOck Records, sídliaceho v talianskom Miláne, v hľadaní skutočne originálnych a neštandardných skupín a hudobných telies, hrajúcich progresívne formy hudby, bez akýchkoľvek obmedzení, mantinelov a šablón, mimoriadne obľúbili bieloruskú skupinu Rational Diet. Tá v rokoch 2007 až 2010 vydala tri nepochybne kvalitné a invenčné albumy, prakticky rovnocenné s produkciou "hviezd" tohto subžánru, ako sú Univers Zero, Henry Cow, Art Zoyd či Present. Niet divu, akademické hudobné vzdelanie všetkých členov Rational Diet, odvaha a schopnosť prirodzene spájať vplyvy klasickej hudby a náročných, avantgardných žánrov, rocku, jazzu a etnických vplyvov, z nich veľmi rýchlo urobili medzi znalcami doslova kultovú záležitosť.

Ako to však často býva, po istej miere úspechu a dopytu zo strany fajnšmektov došlo vnútri Rational Diet k názorovým rozkolom v otázke, kde a ako ďalej a ambiciózna kapela sa rozštiepila na dve frakcie. Tá prvá, kde ostala väčšina mužských členov Rational Diet a v podstate pokračuje v línii pôvodnej kapely, prijala názov The Archestra a vydala album Arches (2013), ktorého  produkciu a mastering zabezpečil už vysoko rešpektovaný Udi Koorman, známy aj z izraelských AHVAK. Druhá časť pôvodných Rational Diet, pianistka, klávesistka a speváčka Olga Podgaiskaja, spolu s hráčom na saxofóny a fagot, Vitaly Appowom, založili niečo, ako komorný, ale aj istým spôsobom avantgardný súbor s názvom Five-Storey Ensemble. Hudobný materiál tohto telesa bol v priebehu roku 2012 predstavený na viacerých multikultúrnych akciách vo svete a preto vôbec niet divu, že agilný AltrOck Records im veľmi ochotne vydal debutový album Not That City.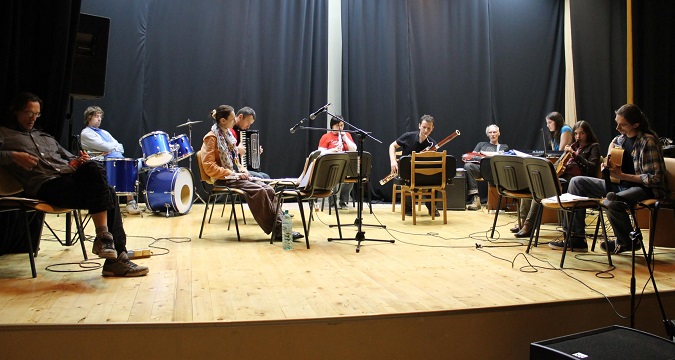 Five-Storey Ensemble sa v porovnaní s "materskými" Rational Diet posunuli muzikantsky iným smerom. Definovať hudbu, ktorú produkujú pod skladateľským a koncepčným vedením Olgy Podgaiskej a čiastočne aj Vitalyho Appowa, nie je celkom jednoduché, ale to podstatné je, že nemá takmer nič spoločné z aspektu nástrojového obsadenia a hudobného výrazu s termínmi rock (ani ten progresívny), ba ani jazz.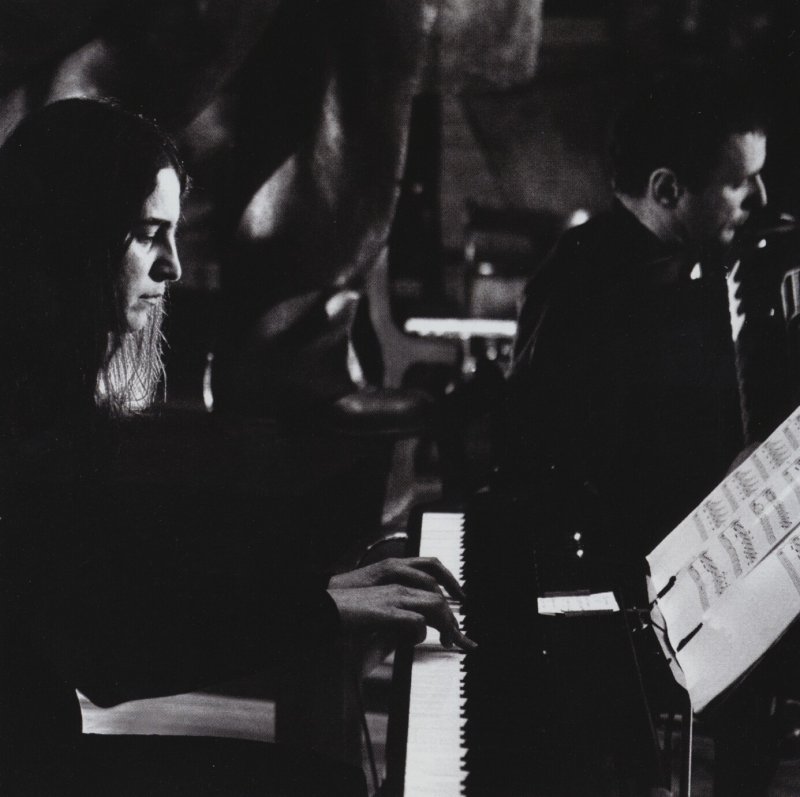 Základom kompozícií je veľmi špecifický mix prvkov klasickej hudby, východoslovanského folku a istým spôsobom aj hudby, aká sa komponuje viac–menej ku náročnejšej filmovej produkcii. Globálne balenie a aranžmá jednotlivých songov pritom obsahuje nemálo prvkov avantgardy a hlavne dramatičnosť, aká býva častá pri kvalitných artrockových schémach hudobných skladieb a opusov. Samotný album Not That City postupne vlastne vznikal čiastočne ako soundtrack zo živých vystúpení pre experimentálne divadelné spoločnosti v Bielorusku a čiastočne, ako hudba v pozadí, počas čítania diel poľského básnika Czeslawa Milosza pri prezentáciách jeho tvorby. Finálna verzia, pripravená pre AltrOck Records, má názvy jednotlivých trackov a dokumentáciu spracovanú v anglickej terminológii, ale spievané pasáže a skladby, v podaní sopránu Olgy Podgaiskej a tenoru Sergeya Dolgusheva, sú v pravej spisovnej bieloruštine a osobne to cítim, ako pozitívum.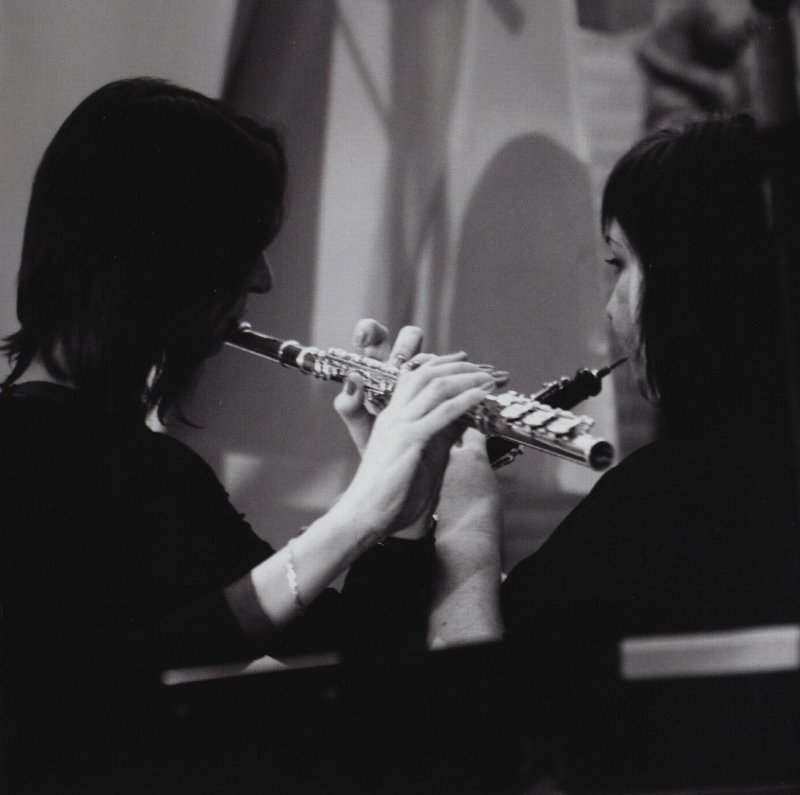 Majoritná časť kompozícií a skladbičiek má inštrumentálny charakter, vždy v inej atmosfére, náladotvorných detailoch, vytvárajúcich rôznorodé pocity, emócie, či imaginárne predstavy. Veľmi pestrá paleta sláčikových, dychových a klávesových nástrojov vytvára obrovskú variabilitu možností vyjadrovať fragmenty klasickej, komornej, folkovej, ale podľa mňa najmä avantgardne ladenej nie bežnej a nie vždy porovnateľnej hudobnej produkcie.
Napriek predošlému sú pre mňa istými vrcholmi albumu kompozície The Incommunication a Yesterday Dormant, ktoré sú nezvyčajným dialógom, priam operného charakteru sopránu Olgy Podgaiskej a tenoru Sergeya Dolgusheva, potom The Unpainted, ťažký a dramatický opus, ktorý ako keby vypadol z albumu Heresie legendy UNIVERS ZERO, ale obohatený o ženský vokál Olgy, ďalej Amid The Smoke And Different Questions, kde Sergey spieva melancholický, melodický part a bohatá inštrumentálna sekcia v celkom inej tónine, v takmer disharmonickom ladení a v kaskádach protirytmov hrá niečo diametrálne odlišné, ale celok má úžasné finálne vyznenie, a nakoniec titulná a zároveň epilógová Not That City, ktorej o minútu dlhšiu živú verziu (pod pôvodným názvom Post Tyrannica part III) si je najlepšie vypočuť na vlastné uši:
Five-Storey Ensemble je pre nekonvenčných a hľadajúcich fanúšikov muziky všeobecne, celkom nepochybne prínosom, obohacujúcim ich obzor a markantnou ukážkou toho, že výrazové prostriedky hudby nie sú ešte zďaleka vyčerpané a akákoľvek glorifikácia niečoho, čo tu už bolo v ľubovoľnom hudobnom subžánri vyprodukované, obzvlášť pri dnešných tendenciách ich neohraničene premiešavať, môže byť ešte celkom pokojne, ak už nie úplne prekonané, tak aspoň istým spôsobom stále kvalitatívne porovnateľné.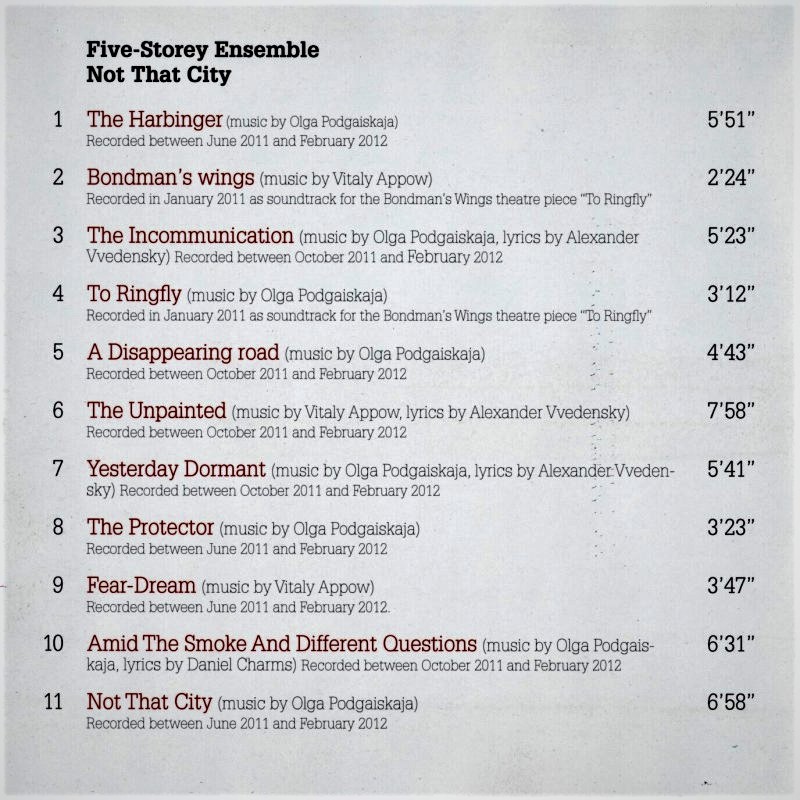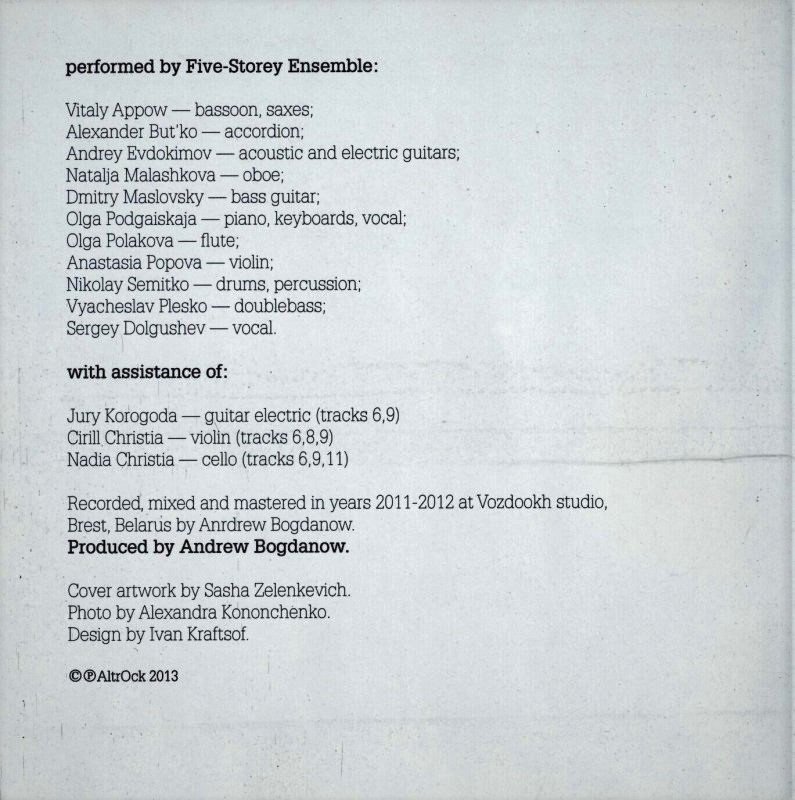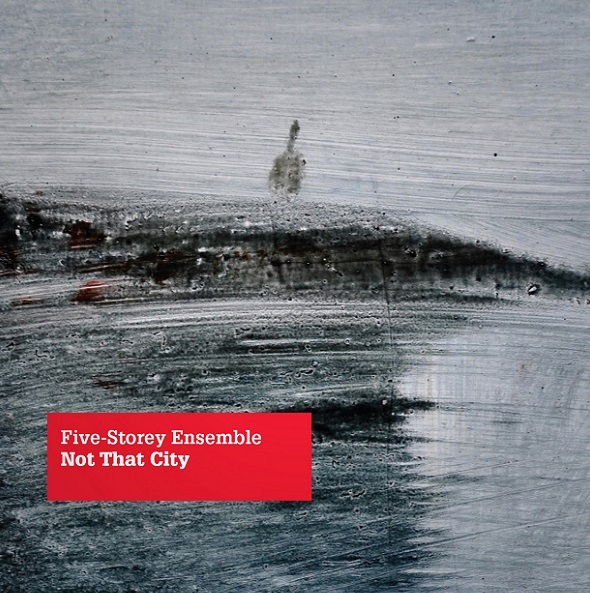 Not That City
Five-Storey Ensemble
Prog Rock, Contemporary
AltrOck
2013
CD
11