S určitosťou možno napísať, že vydaním tohto dvojcédéčka Franka Zappu s názvom Wazoo vydavateľstvo nepotešilo iba kmeňových zappológov, ale aj všetkých nás, hudobných nadšencov, ktorí si radi vypočujú kvalitnú rockovú hudbu.
Táto koncertná nahrávka zachytáva obdobie, ktoré bolo na začiatku poznačené sériou nešťastných udalostí. Všetko to začalo 4. decembra 1971, kedy na pódiu v Casino Barrière de Montreux na džezovom festivale v Švajčiarskom Montreux vznikol požiar počas vystúpenia Mother Of Invention a koncert bol predčasne ukončený. To najhoršie však prišlo až o týždeň, 10. decembra roku 1971, Mothers of Invention hrali v londýnskom divadle Rainbow Theatre kedy sa jeden žiarlivý kretén nečakane zjavil na pódiu, sotil do Zappu ktorý následne spadol na betónové dno orchestrálnej jamy pod javiskom spôsobiac mu vážne zranenia.
Tento katastrofálny reťazec udalostí viedol k rozpusteniu skupiny Mother Of Inventions a pozornosť Franka Zappu sa po úspešnom období korunovanom albumom Hot Rats z roku 1969 znovu upriamila smerom k džezrocku. Počas niekoľko mesiacov trvajúceho sa zotavovania, umelec dočasne pripútaný k invalidnému vozíku strávil nútený odpočinok komponovaním nových skladieb a nacvičovaním nového koncertného materiálu, výsledkom čoho boli štúdiové albumy Waka / Jawaka a Grand Wazoo vydané v júli a v decembri roku 1972. Podstatným pre tento článok je však vznik projektu s veľavravným názvom "Frank Zappa's Big Band Project", zoskupenia, ktoré zahŕňalo dvadsaťčlenný džezrockový orchester so zameraním sa na bohatú dychovú sekciu. Tento krátku dobu existujúci projekt odohral v septembri roku 1972 iba dvojtýždňovú šnúru neuveriteľných ôsmich vystúpení, vrátane troch, ktoré boli usporiadané na európskych javiskách. Rád by som podotkol, že majster ešte stále sedel v invalidnom vozíku a tieto okolnosti len potvrdzujú fakt o Frankovom workoholizme. Neskôr Zappa znížil počet členov big bandu zhruba na polovicu a pokračoval v turné po Spojených štátoch so zmeneným menom na "Petit Wazoo", ale to je už iný príbeh.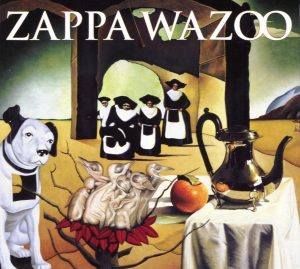 Koncertné dvojcédlo Wazoo bolo vydané v roku 2006 a je súčasťou série existujúcej vďaka vydavateľstvám Zappa Records a Vaulter Native Records, domácich značiek nadácie Zappa Family Trust riadenej rodinou umelca, ktoré zverejňujú hudobný materiál čerpajúc zo zdroja rozsiahleho hudobného archívu majstra. Vydaním tohto dvojcédéčka sa vydavateľstvu podarilo zalátať snáď jedinú čiernu dieru v inak hudobne úplne zdokumentovanej kariére Franka Zappu, nakoľko tento krátko žijúci orchester v čase svojej činnosti nenahral žiadny štúdiový materiál a okrem návštevníkov hore uvedených ôsmich vystúpení pre nasledujúcich 33 rokov nikto iný hudbu tohto projektu nemal možnosť počuť. Záznam koncertu, ktorý sa konal v Boston Music Hall, Massachusetts, dňa 24. septembra 1972, znie naozaj veľmi dobre, mám taký dojem, že táto nahrávka bola už aj pôvodne v dobe vzniku určená na vydanie.
Prvá časť 96-minútovej nahrávky je skutočnou džezrockovou lahôdkou.  Po úvodnom, zhruba trojminútovom predstavení členov orchestra nasleduje viac ako 17 minútová verzia známej skladby The Grand Wazoo tentokrát s podnázvom Think It Over.
Brassrocková smršť v prvej polovici zdobená hrou jednotlivých členov dychovej sekcie v druhej polovici skladby odovzdáva štafetu pre nádherné gitarové sólo majstra potvrdzujúc úvahu o tom, že bol podstatne lepší gitarista, ako bol vo všeobecnosti ponímaný. Skladbu uzatvára syntetizátorové sólo Ian Underwooda. Nasleduje nahrávka Approximate, ktorá je pozoruhodná hneď z dvoch faktov.  Jednak sa nikdy neobjavila na štúdiovom albume a naživo ju nikdy nezahrali rovnako. Aktuálna verzia obsahuje dychové sólo, pri ktorom si jednoducho neviem predstaviť, do čoho to inštrumentalista vlastne fúka. Znie to tak hlboko, že mám pocit, ak by si moje staré dobré sluchátka Sennheiser neporadili s rozsahom zvuku pod úrovňou 30 hz, nebolo by možné si vychutnať pôvodný zvuk nástroja. Pravdepodobne ide o tzv. Bassoon, po našom Fagot, na ktorom hrala Joann McNab. Prepychové. Nastupuje ďalšie syntetizátorové sólo Iana Underwooda a vyvrcholením skladby je sólo na bicie a perkusie v podaní Jima Gordona a Ruth Underwood. Prvý album uzatvára takmer 12-minútová rezká verzia dobre známej džezrockovej lahôdky, Big Swifty pokrývajúca celú A stranu platne Waka / Jawaka. Na druhom albume Zappa predstavil svoje nové, ambiciózne hudobné dielo rozdelené do štyroch častí, takmer 35-minútovú inštrumentálnu verziu diela The Adventures of Greggery Peccary, ktorá v čase konania tohto koncertu ešte nebola zverejnená. Štúdiová verzia kompozície sa objavila až na nahrávke Studio Tan z roku 1978. Tu už ale majster poriadne zakormidloval do vôd súčasnej vážnej hudby a iba sporadicky sa vracia späť k džezrocku. Na konci albumu si po potlesku obecenstva vypočujeme dve krátke úryvky, najprv zo skladby Penis Dimension známej z diela 200 Motels, táto voľne prekĺzne do skladby Variant I. Processional March, ide tu vlastne o skorú verziu skladby Regyptian Strut známej z platne Sleep Dirt (1979).
Cédečka sú umiestnené vo vkusne navrhnutom kartónovom obale. Brožúra obsahuje niekoľko dobových fotografií, ponúka cenné hudobné a technické informácie týkajúce sa dotyčných koncertných vystúpení a môžeme sa tiež zoznámiť so spomienkami trumpetistu Malcolm McNaba.
CD 1:
1. Intro Intros (3:19)
2. The Grand Wazoo (Think It Over) (17:21)
3. Approximate (13:35)
4. Big Swifty (11:49)
CD 2:
1. Ulterior Motive (3:19)
2 – 5. The Adventures of Greggery Peccary – Movement I. – IV. (32:37)
6. Penis Dimension (3:35)
7. Variant I Processional March (3:28)
– Frank Zappa / guitar and white stick with cork handle
– Tony Duran / slide guitar
– Ian Underwood / piano and synthesizer
– Dave Parlato / bass
– Jerry Kessler / electric cello
– Jim Gordon / drums
– Mike Altshul / piccolo, bass clarinet, and other winds
– Jay Migliori / ute, tenor sax, and other winds
– Earl Dulmer / oboe, contrabass, sarrusophone and other winds
– Ray Reed / clarinet, tenor sax and other winds
– Charles Owens / soprano sax, alto sax and other winds
– Joann McNab / bassoon
– Malcolm McNab / trumpet in D
– Sal Marquez / trumpet in Bb
– Tom Malone / trumpet in Bb, also tuba
– Glen Ferris / trombone and euphonium
– Kenny Shroyer / trombone and baritone horn
– Bruce Fowler / trombone of the upper atmosphere
– Tom Raney / vibes and electric percussion
– Ruth Underwood / marimba and electric percussion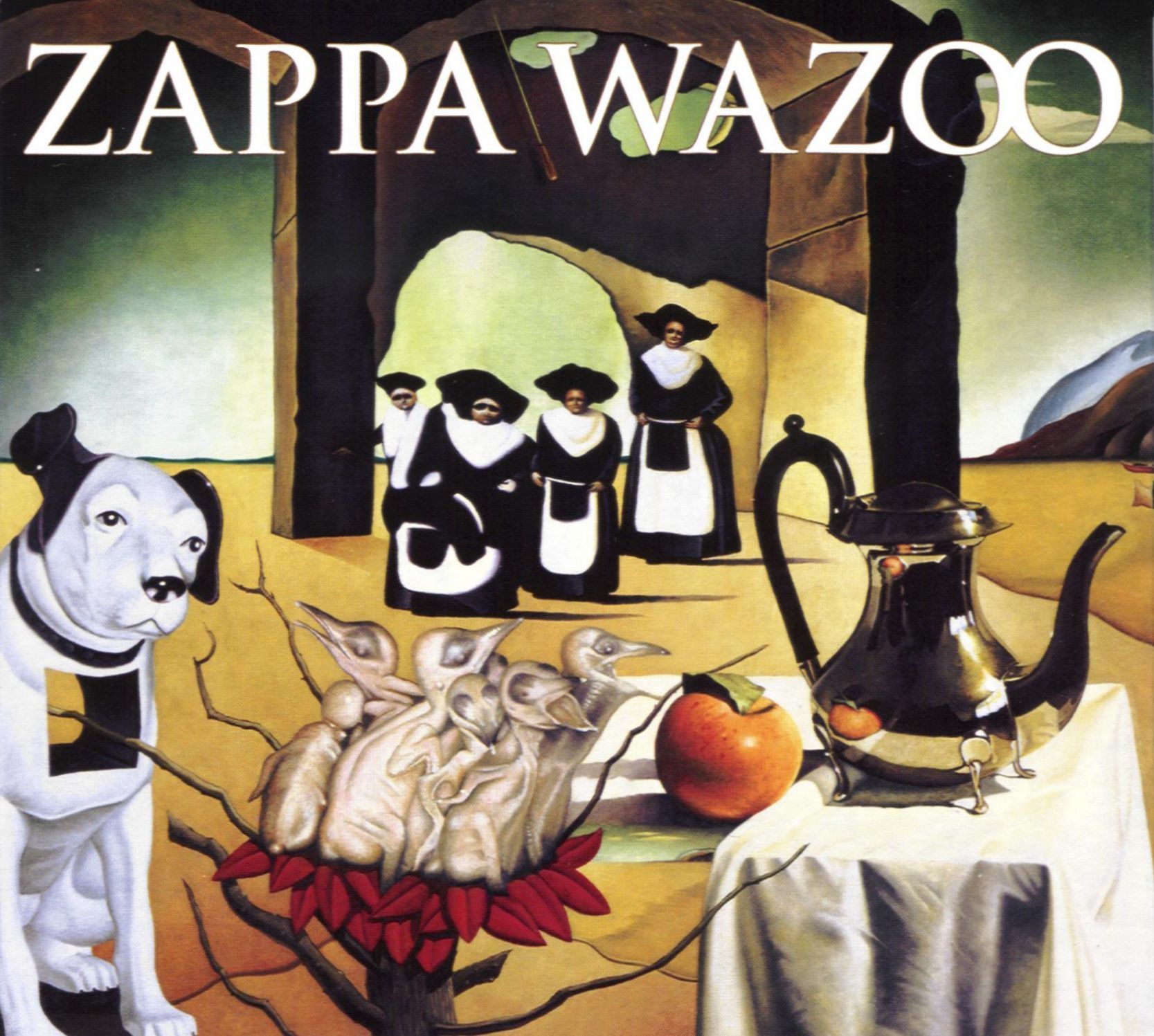 Wazoo
Frank Zappa
Jazzrock
Vaulter Native Records
2007
2CD
11