Monsters of Rock, festivalový pojem medzi fanúšikmi hard rocku a heavy metalu, ktorého brány sa prvýkrát otvorili 16. augusta 1980. Roky bol miestom konania anglický Castle Donington, grófstvo Leicestershire, aby sa neskôr myšlienka jeho zakladateľa, Paula Loasbyho, rozšírila aj do iných európskych štátov i na americký kontinent. Zaujímavosťou je, že prvým headlinerom bola skupina Rainbow. Ako inak, keď Loasby mal v tom čase pod palcom jej koncertnú šnúru. Avšak, už bez Dia, ktorý bol pri jej zrode. Ten si musel trošku počkať.
Dvojalbum Dio at Donington UK: Live 1983 & 1987 nám dáva príležitosť zaspomínať. Ronnie James Dio a jeho družina. Heavy rock, ktorý milujem. Čo dodať a pritom sa neopakovať? Dve vystúpenia na známom festivale, možnosť porovnať situáciu v skupine z čias gitaristov Viviana Campbella a Craiga Goldyho. Ktorý je lepší? Neviem, nie som kompetentný na to odpovedať. Môžem vyjadriť iba svoje pocity, radosť a nadšenie. Hoci si užívam hru oboch strunobijcov, poslucháčsky príťažlivejší sa mi javí druhý nosič. Musím však dodať – Vivian i Craig sa so cťou popasovali s ťažkou úlohou a bravúrne zvládli party Ritchieho a Tonyho, nakoľko obidve vystúpenia ponúkajú skvelé zárezy z čias Ronnieho éry v Rainbow i Black Sabbath.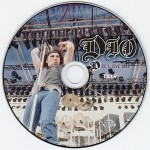 CD 1 – 20. august 1983
Prvý kotúč je akýmsi odrazovým mostíkom k úspechu. Donington tlieska skupine tesne po vydaní famózneho debutu, ktorý tu zastupujú 4 kúsky, zvyšok je spomínaním na dúhovú i sabbathovskú slávu. Teším sa z Campbellovho sólovania i ukážok Vinnyho umenia, pretože o tom sú živé dosky. Chcem niečo naviac, nie bezduché kopírovanie štúdiových nahrávok. Pre tieto momenty obľubujem live CD, preto ich kupujem. Frontman je v pohode, jeho práca s diváckym kotlom v Heaven and Hell nemá chybu.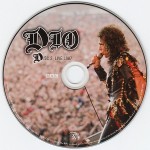 CD 2 – 22. august 1987
Druhý koncert sa koná mesiac po vydaní štvrtej štúdiovky Dream Evil, ktorú reprezentujú tri ukážky. Skupina k tomu naservíruje zostrih z predošlých albumov a ako inak, nezabudne sa ani na Dúhu a Čierny Sabat. Goldy je skvelý, koncert má napätie, razanciu, spád i švih. A Ronnie? Ten si to užíva a s ním aj početné publikum.
V dobe, z ktorej pochádza prvý záznam, už bol legendou. Aj keby to bol v osemdesiatom druhom zabalil, práca, ktorú odviedol v dresoch Rainbow a Black Sabbath, ho navždy zaradila do Rockovej siene slávy. Hoci sa sám podieľal na výrobe tohto albumu, krutý osud mu nedovolil dočkať sa jeho vydania. Pri tejto príležitosti mi nedá nespomenúť aj basgitaristu Jimmyho Baina, ktorý s ním bol, dá sa povedať, pri všetkom podstatnom a teraz sú spolu v rockovom nebíčku.
CD 1 – 20. august 1983
01. Stand Up And Shout (Dio, Bain) 3:49
02. Straight Through The Heart (Dio, Bain) 4:49
03. Children Of The Sea (Dio, Butler, Iommi, Ward) 6:15
04. Rainbow In The Dark (Dio, Appice, Bain, Campbell) 4:38
05. Holy Diver (Dio) 5:08
06. Drum Solo  0:41
07. Stargazer (Dio, Blackmore) 1:42
08. Guitar Solo  1:38
09. Heaven And Hell "Long Live Version" (Dio, Butler, Iommi,              Ward) 11:05
10. Man On The Silver Mountain (Dio, Blackmore) 3:32
11. Starstruck (Dio, Blackmore) 0:47
12. Man On The Silver Mountain (Reprise) (Dio, Blackmore)                2:29
Ronnie James Dio – vocals
Vivian Campbell – guitars
Jimmy Bain – bass
Vinny Appice – drums
Claude Schnell – keyboards
CD 2 – 22. august 1987
01. Dream Evil (Dio, Goldy) 4:56
02. Neon Knights (Dio, Butler, Iommi, Ward) 4:43
03. Naked In The Rain (Dio) 7:28
04. Rock And Roll Children (Dio) 2:46
05. Long Live Rock And Roll (Dio, Blackmore) 4:39
06. The Last In Line (Dio, Bain, Campbell) 4:12
07. Children Of The Sea (Dio, Butler, Iommi, Ward) 1:22
08. Holy Diver (Dio) 1:27
09. Heaven And Hell (Dio, Butler, Iommi, Ward) 3:18
10. Man On The Silver Mountain (Dio, Blackmore) 4:28
11. All The Fools Sailed Away (Dio, Goldy) 4:23
12. The Last In Line (Reprise) (Dio, Bain, Campbell) 1:11
13. Rainbow In The Dark (Dio, Appice, Bain, Campbell) 5:11
Ronnie James Dio – vocals
Craig Goldy – guitars
Jimmy Bain – bass
Vinny Appice – drums
Claude Schnell – keyboards
Dio at Donington UK: Live 1983 & 1987
Dio
hard & heavy
Niji Entertainment Group
2010
2 x CD
12 a 13