Dnes má Mike Tramp narodeniny, narodil sa 14. januára 1961. Chcem sa s vami podeliť o moju dlhodobú hudobnú známosť, ktorá sa vždy nenápadne, ale príjemne zahryzne do môjho života.

Českému čitateľovi slovo tramp privodí krásny trampský večer v nedotknutej prírode pri táboráku s mastným špekáčkom na palici a gitarou, na ktorej znejú evergreeny. Ja to mám inak, slovo tramp mi prinesie meno Michael Trampenau, ktorý žije v dánskom Copenhagene (po našom Kodaň). Jeho cesty prebrázdili aj americký kontinent, tam som ho spoznal ako frontmana úspešnej rockovej skupiny White Lion. Jeho umelecké meno znie Mike Tramp, jeho spev mám veľmi rád a nikdy som neprestal počúvať jeho nahrávky. Prajem mu všetko najlepšie.
Samozrejme, už dávno sú preč doby hlučného rocku a dlhých blonďatých vlasov. Dnes má Mike 61 rokov a píše rozumnú, dobrú hudbu, ktorú by som nerád škatuľkoval, lebo by som možno skončil pri novodobej americkej country. Nehodí sa prejť Mikeov život bez krátkeho prehľadu jeho hudobnej dráhy. Michael sa narodil v Kodani, v štvrti Vesterbro, 14. januára 1961. Už v mladom veku spieval v mládežníckom zoskupení pod Vesterbro Ungdomsgård (inštutúcia pre voľný čas), ako 13-ročný už spieval na platni, ktorý VU pravidelne vydáva.
V 1976 spieval v dánskej skupine Mabel (mal 15 rokov). Skupina vydala 5 štúdiových albumov a bola populárna v Dánsku a Španielsku. Mike bol tínedžerským idolom. Dáni Mabel sa s pesničkou Boom Boom v roku 1978 zúčastnili Eurovision Song Contest (17-te miesto z 20). Účesy mali a la Brian Connoly (Sweet), Mike skladbu doteraz hráva na svojich koncertoch, je to taká dánsko-holandsko-tirolská odrhovačka (niečo ako naše staré šlágre z Repete). Mabel sa kvôli úspechu v Španielsku presťahovali v roku 1981 do tejto krajiny a zmenili si meno na Studs. Vydali aj jeden album.
O rok neskoršie sa už sťahovali do USA. Vzniká Danish Lions, skupina na vytvorenie demo nahrávok. Nahrali tam pár ukážok a vrátili sa domov. Dlho čakali na odozvu z Ameriky. Ich americký manažér si stále mýlil zem, z ktorej pochádzajú a splietal krížom-krážom Germany, Finland, Italy, Denmark. Mike bol v tej dobe v Nemecku a vraví, že mal iba jednu kazetu Ozzyho Osbourna a tri mesiace ju počúval.
Rozhodol sa však, že naozaj skúsi šťastie v Amerike. Spolu s americkým gitaristom Vitom Brattom (tiež ročník 1961) založil v roku 1983 White Lion. Vito Bratta s Trampom boli hlavnými skladateľmi skupiny. Vito obdivoval Jimmiho Pagea, Eddie Van Halena. Jeho hra na gitaru bola melodická a mal veľmi dobrú techniku hrania. Neskôr, keď sa Tramp snažil skupinu znovu dať dohromady, úsilie skončilo na Brattovej technickej gitare, nikto nedokázal zahrať jeho party. Vito Bratta si spôsobil vážne zranenie zápästia ľavej ruky, a už nemôže hrať na gitaru tak dobre ako kedysi. Vito bol vždy veľmi tichý a stránil sa rušného života. White Lion mali hity, napríklad Wait, When The Children Cry, Farewell To You a iné. Ich štyri štúdiové albumy sú melodickou zmesou metalových a rockových piesní s výraznou melódiou, výbornou sólovou gitarou, dobre šliapajúcou rytmikou a dravým spevom Mikea Trampa.

Po rozpade White Lion už o pár týždňov, v septembri 1991, sa Mike Tramp stretáva s dlhoročným priateľom Olivierom Steffensenom z predošlého zoskupenia Danish Lions. V Santa Monice skladajú piesne, ktoré neskôr vychádzajú na albume Mike and Oliver – Brothers for Life (2004). K dvojici sa pridávajú noví členovia, Jerry Best (hral na koncertnom turné skupiny Dio v roku 1995) a Kenny Korade. Nemajú bubeníka, používajú kúzelnú programovaciu vecičku. Mike Tramp a Steffensen sa po pol roku pohádajú a Olivier sa vracia do Dánska. Na jeho miesto nastupuje gitarista Dennis Chick, príde bubeník Johny Haro a skupina Freak of Nature je na svete. Niektoré skladby z Brothers of Life boli znovu nahrané na debutovom albume Mikeovej skupiny; Freak of Nature (1993). Hard rocková skupina vydáva tri albumy, nakoniec sa rozpadne a Mike Tramp nastupuje na sólovú kariéru prerušenou iba občasným spojením s inými hudobníkmi.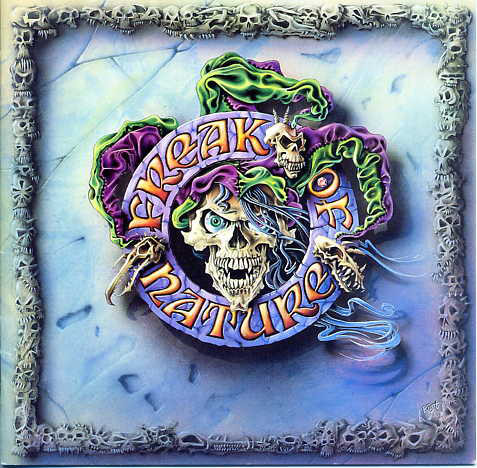 Jeho kariéra obsahuje tieto albumy:
5 albumov s Mabel;
1 album Studs;
4 oficiálne albumy s White Lion;
3 albumy Freak of Nature;
2 albumy s Mike Tramp and Rock 'N' Roll Circuz;
14 albumov sólo.
Nie sú tu zahrnuté žiadne kompilačné vydania a vydania typu best of…
Skladby, ktoré som vybral, slúžia na zoznámenie sa s Mikeom Trampom a sú rýchlym prierezom jeho hudobnej kariéry.

1. White Lion – Little Fighter
Pieseň pochádza z albumu Big Game (1989),  autori Mike Tramp a Vito Bratta. Vito začína song jemnou vybrnkávanou gitarou. Zaujíma Pole Position. Už gitarovú pozíciu v tejto vanhalenovskej smršti neopustí. Gitara bude dominovať v celej skladbe. Nie Mike, dnes nebudem plakať, spievaj si čo chceš. Vito majstrovsky žmýka gitaru. Skladba by mohla znieť z albumu Van Halen. Mike Tramp skvele spieva a kapele to šliape na jednotku.
2. White Lion – Radar Love
Všetkým známa pieseň holandských Golden Earring (1973). Skladatelia George Kooymans a Barry Hay. Na cover verzii White Lion si môžeme ukázať, v čom bola táto skupina veľmi dobrá. Vito dokázal na malom priestore, kde sa musel držať známej melódie, svoje majstrovstvo a Mike pridáva svojím dravým spevom piesni razanciu. Výborné sú aj bicie. Kapela na koncertoch hrávala pieseň s dlhým sólom na bicie. Čo ten gitarista stvára v tejto piesni je neskutočná velezrada na Golden Earring, lebo ich s prehľadom pošle do základnej hudobnej školy. Nič v zlom, aj Goldeni sa mi páčia.
3. White Loin – Lights And Thunder
Úvodná skladba albumu Mane Attraction (1991). Osem minút, bubeník uvádza pieseň a Vito Bratta kúzli prvé tóny na gitare. Skladba nastupuje do plného zvuku a po inštrumentálnej predohre začína Mike spievať. Je to mierne rýchle tempo a znovu výrazná melódia s dokresľujúcou gitarou. Zvuk je dravý a intenzívne dominuje bubeník s výrazným rytmom na bicích. Nebráni sa ani brejkom a po nich nastupuje Vito do sóla, ktoré je opäť bravúrne.
4. White Lion – Till Death Do Us Part
White Lion boli veľmi silnou skupinou aj v pomalých skladbách (slaďákoch). Divoko a drsne sa tváriaca "americká" kapela. Práve pomalé skladby so zamilovaným textom boli lákadlom aj pre jemnejšiu časť publika. Aj táto skladba s jednoznačným názvom lámala srdcia a White Lion s ňou dobýjali svet.
/V rockovej podobe White Lion a hlavne Mika Trampa by som mohol ďalej pokračovať. Najlepšie je ak si vypočujete celý album naraz, iba tak sa dá spoznať White Lion, ak má niekto záujem…
Skupina Freak of Nature je hardrockovejšia, s tvrdším zvukom a údernou rytmikou. Zámerne som vynechal ukážku z ich vydaných albumov. Skúste niektorý z nich…/
5. Mike Tramp – Take Me Away
Sólová karierá Mika Trampa začala vydaním dosky Capricorn (február 1998). Samozrejme, zvuk je iný a sú to viacmenej gitarové skladby, kde je cítiť, že je to tvorba iba jedného muža. Iskrivý náboj Vita Bratta je dávno preč a všetko je jednoduchšie zahrané. Piesne sú jemnejšie a v inej polohe, rockový základ ostal. Mike spieva tak ako predtým, celkový dojem z Take Me Away je priamočiary. Hudba, ktorá nemá veľké ambície, ale dobre sa počúva. Skladba je z výberového albumu Trampthology (2020).
6. Mike Tramp – High Like A Mountain
Pieseň postavená na zbustrovanej gitare. Rocková skladba v miernom tempe z albumu Nomad (2015). Viac rockovejší zvuk doprovodnej skupiny sa trošku líši od smeru, ktorým sa Mike vydal vo svojej sólovej kariére.
7. Mike Tramp – Coming Home
Skladba z albumu Maybe Tommorow (2017) ponúka melodickú a rezkú pieseň. Kapela má dobrý drive, Mike spieva výborne, sprievodné vokály pekne dokresľujú spev. A gitara, ktorá sóluje, je veľmi dobrá. Myslím si, že táto skladba je jednou z najlepších, ktoré Tramp v posledných rokoch nahral.
8. Mike Tramp – Dead End Ride
Pieseň z rockového albumu Stray from the Flock (2019) ponúka znovu melodický rock. Kapele to skvele šliape a Mikeov zachrípnutý hlas výborne dotvára celkový dojem zo skladby. Text sa zaoberá situáciou, ktorá sa musí vyriešiť, ak sa dostanete cestou do slepej uličky.
9. Mike Tramp – Give It All You Got
Pieseň z posledného albumu Everything is Alright, vydaného minulý rok (2021). Mike Tramp sa v závere svojej kariéry stále viac a viac blíži k jednoduchému gitarovému zvuku svojich piesní. Táto je podobná soundu Toma Pettyho. Na albume sú piesne, ktoré si zachovávajú typickú formu Trampových pesničiek. Stále je dominantná melodická linka s gitarami v popredí a minimálnymi zvukovými efektami.
10. Mike Tramp – Mr. Death
Táto pieseň pochádza z jeho albumu Recovering the Wasted Years, vydaného v roku 2002. Bola to prvá sólová platňa, ktorú som od neho počul a veľmi sa mi páčila. Veľa pesničiek je veľmi pekných, dobre zahratých a jeho hlas sa mi vždy páčil. Po dvadsiatich rokoch od vydania považujem práve Mr. Death za najlepšiu. Text je veľmi dobrý a pramení z duše každého človeka, ktorý chce žiť: "Hej, Mr. Smrť, vráť sa zajtra. Viem, že tu nebudem. Nechcem ísť, aj keď sa blíži koniec. Nechcem poznať tvoju tvár ani vysloviť tvoje meno a keď prídeš zajtra, chcem ostať taký ako doteraz. Chod preč, choď preč!"
Mike Tramp je príkladom európskeho hudobníka, gitaristu, speváka a skladateľa, ktorý od svojich mladých rokov išiel cielene za svojím hudobným poslaním. Zložil veľmi veľa pekných a príjemných melódií, zažil s európsko-americkou glam metalovou skupinou White Lion celosvetový úspech. Zároveň je aj ukážkou toho, ako je dôležité nájsť výborného hráča do tandemu/skupiny (Vito Bratta). Spoločne dosiahli kvalitu, ktorú možno ani nečakali. V piesni Mr. Death, ktorú som uviedol, je veľavravný text a rád sa s ním už dlhé roky stotožňujem. Vraví mi z duše a nepochybujem, že sa týka hocikoho z nás. A to je bodka môjho narodeninového príhovoru.