Adaptácia, termín latinského pôvodu si našiel uplatnenie v slovníku rockovej hudby a jazzu v druhej polovici šesťdesiatych rokov, kedy ním hudobný publicisti vyjadrili tendenciu progrockových muzikantov integrovať prvky klasickej, tzv. vážnej hudby do vlastnej tvorby. 
Prístup tohto nového hudobného trendu do našich končín nedokázala zamedziť ani železná opona. Nedá mi tu nespomenúť našu srdcovku, Mariána Vargu a jeho Collegium Musicum. Dnes by som však rád predstavil album východonemeckej skupiny Electra, vydaný v roku 1976 a pomenovaný Adaptionen. Rocková hudba sa ako všade inde, aj vo východnom Nemecku tešila obrovskej popularite, možno aj preto Erich Honecker v roku 1971, po nástupe na čelo vedenia NDR, v duchu pravidla novej metly zliberalizoval mimo iných aj stav kultúrnej politiky v krajine. Vďaka týmto zmenám sa rockový hudobníci ocitli na výplatnej listine štátom riadeného hudobného priemyslu, náhle si mohli užívať aký-taký komfort tvorčej voľnosti, avšak ich tvorba stále podliehala bedlivému dozoru cenzurantov.
Zoskupenie, pôvodne pomenované Electra Combo, bolo založené v roku 1969 v Drážďanoch piatimi študentmi miestnej hudobnej školy v podobe: umelecký vedúci skupiny Bernd Aust – flauta, saxofon, Wolfgang Riedel – basgitara, Ekkehard Berger – gitara, Peter Ludewig – bicie a Karl-Heinz Ringel – klávesy. Skupina počas aktívnej kariéry prechádzala častými zmenami v zostave, stále hľadala nové spôsoby vyjadrenia sa so zreteľom na vysokú hudobnú kvalitu tvorby. Po klasických bigbítových začiatkoch, kedy naživo hrali prevzaté skladby svetoznámych skupín, už v ranom období svojej existencie Electra Combo začala skladať vlastné kompozície trvaním čoraz viac presahujúce kapacitu singlov. (Das Lächeln (Úsmev) z roku 1972). Narastajúca popularita skupiny vyvrcholila v roku 1974 vydaním ich, z dnešného uhla pohľadu dosť rozporuplného a kompromismi zaváňajúceho dlhohrajúceho debutu, Electra Combo u štátom riadeného monopolného vydavateľstva Amiga. V tomto období sa skupina ocitla v pozícii jedného z najpopulárnejších predstaviteľov rockovej hudby v krajine a tento status skupina v plnej miere využila na nahratie výnimočného druhého albumu, dnes už patriaceho do klenotnice progresívneho rocku bývalých socialistických krajín. Nahrávaniu však predchádzali výrazné zmeny v zostave, po tom čo skupinu opustili spevák, gitarista a klávesák, z pôvodných členov v skupine zostala iba trojica Aust, Riedel a Ludewig, ktorých doplnili gitarista Gisbert Koreng a klávesák Rainer Uebel. Skupina si následne skracuje meno na Electra.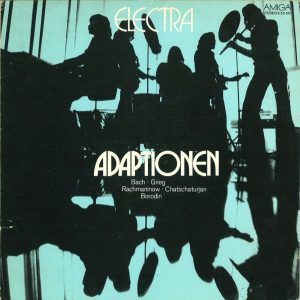 Nahrávanie sa uskutočnilo v hudobnom štúdiu východonemeckého rádiového vysielača Rundfunk Der DDR a album nazvaný Adaptionen obsahuje šesticu upravených skladieb klasickej vážnej hudby. Skupina nič nestavila na náhodu, do parády si vzala diela v progresívnom rocku hádam najčastejšie prepracovaných skladateľov, rad za radom odznejú Borodinov Tanec Polovtsianských diev, téma z Bachovho Brandenburského koncertu č.2, Šabľový tanec Arménčana Arama Chačaturjana, jedna z častí päťdielneho klavírneho súboru Morceaux de fantaisie Sergeja Rachmaninoffa, Prelude cis-moll op.3 nr.2, piatou skladbou sa prenesieme do siení Horského kráľa Nórskeho skladateľa Edvarda Griega a nakoniec nám zaznie rázny Turecký pochod Wolfganga Amadea Mozarta, skladba ktorá sa stala neodmysliteľnou súčasťou každého živého vystúpenia skupiny, kedy Aust v nej zakaždým vzdá hold svojmu obľúbenému Ianovi Andersonovi tým, že skladbu Türkischer Marsch predstaví spolu so skladbou Locomotive Breath. O úpravy kompozícií sa postarala trojica Uebel, Ludewig a Aust a z albumu tentokrát zmizli všetky popové ambície, hudba sa prezentuje dôsledne vypracovanými, komplexnými inštrumentálnymi postupmi. Prirodzene, už samotným žánrom je dané, že hlavný prím ponesú Uebelove hammondy a tiež sa automaticky do mysle natíska prirovnanie ku skupine ELP. Po klávesoch však ďalšiu významnú úlohu dostala flauta Bernda Austa, čo nám razom rozširuje rozsah možných vplyvov na hudbu skupiny o zvuk z Apeninského polostrova. Našťastie, to čo nám Electra ponúka na svojom albume, nepáchne plagiátorstvom ich slávnych kolegov spoza berlínskeho múra, skupina nám ponúka značnú dávku vlastnej originality spočívajúcej v umne vypracovaných, vlastným nápadom prispôsobených originálnych kompozícií. Netrúfam si odborne rozoberať jednotlivé skladby, to by som sekeru zaťal do príliš tvrdého dreva, miesto toho sa radšej zdôverím vlastnými pocitmi, ktoré tento album vo mne vzbudzuje počas počúvania. Uebelove klávesy a Austova flauta často a radi odovzdávajú dostatočný priestor tvrdo až hardrockovo znejúcej rytmickej zostave a gitarovým sólam a tu ma napadá myšlienka, že John Lord by sa svojou víziou adaptácie vážnej hudby do hard rocku cítil v skupine Electra ako prasa v žite. Na začiatku druhej skladby sa mi v predstavách objavuje usmiata tvár Fedora Freša, Wolfgang Riedel bol skvelý basgitarista a v šablovom tanci nám predvedie pekné sólo na basu, jeden z vrcholov albumu. V tretej skladbe Uebel zapojí syntetizátor do siete a do konca platne ho už neodpojí, kombinuje ho s hrou na hammondy, neletíme s ním však do vesmíru, pôsobí stále v pôvodnom zámere prepisov klasických skladieb. Hudobne sa im podarilo osloviť nadšencov classical rocku, ale na svoje si prídu aj fanúšikovia art rocku a hard rocku. Na záver by som ešte dodal, že sa tu nejedná o žiadny svetoborný hudobný počin a nevznikol míľnik v histórii progresívnej hudby, album Adaptionen sa tak ani netvári. Ide tu o hudbu zahratú talentovanými muzikantmi, ktorý by sa pre výsledok svojho úsilia určite nemuseli hanbiť pred žiadnym z velikánov hudobnej histórie, ktorým pomocou albumu vzdali hold. A to sa tiež ráta, nie?
Pôvodné LP vydala východonemecká spoločnosť Amiga v roku 1976, nemecké vydavateľstvo DSB sa v roku 1993 postaralo o CD reedíciu albumu. V roku 2000 sa objavuje ďalšia CD reedícia, tentokrát ju spoločne zo štvrtým albumom skupiny vydala spoločnosť Unioton.
01. Borodin-Suite
02. Bach '75
03. Säbeltanz
04. Prelude cis-moll op3. Nr.2
05. In der Halle des Bergkönigs
06. Türkischer Marsch
Bernd Aust – flauta a saxofon
Gisbert Koreng – gitara
Rainer Uebel – klávesi
Wolfgang Riedel – basgitara
Peter Ludewig – bicie
Adaptionen
8 55 501
Electra
Progresívny rock
Amiga
1976
LP
6 + 1
CD DSB 3198-2 1993