Druhé řadové album The Jimi Hendrix Experience bylo pro mě jen logickým vyústěním mimořádně silného zájmu o tohohle kytarového génia, protože první album nakreslilo velmi odvážnou koncepci do té doby neslýchané hudby. Zvědavost, kam se vize magického exponenta elektrického blues, rock and rollu, psychedelie i soulu budou posunovat, byla takříkajíc neohraničená.
Na přelomu šedesátých a sedmdesátých let jsem měl kamaráda, kterému Hendrixova alba přivezl otec ze zahraničí. Častokrát mě k sobě pozval a dlouhé hodiny jsme nad jeho hudbou meditovali. Prostor k poslechu jsem měl otevřen a tak bylo jenom otázkou času, kdy se mi podaří album sehnat. To ovšem trvalo řadu let, a tak když ke mně doputovalo, už jsem jeho obsah znal poměrně dobře. Pustím se do podrobnějšího rozboru skladeb, tak se mnou ten víceméně "zdlouhavý" výlet vydržte. Jimi a jeho kumpáni si to určitě zaslouží.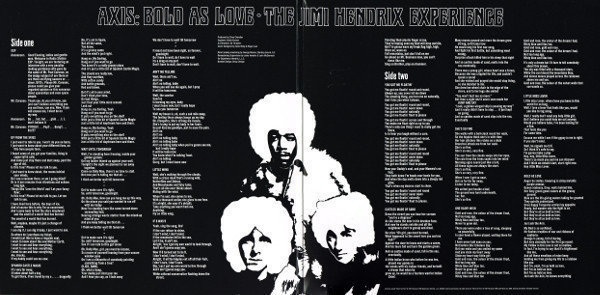 EXP – Tajemné flažolety, hlas operního giganta Paula Carusa a další hlas, evidentně Jimiho, je elektronicky deformován. Vzápětí jsme konfrontování s elektrickými nájezdy kytarové vazby, která ve stereofonním efektu do vašeho pokoje přivolá málem nukleární bouři. Myslím, že málokdo mohl očekávat takové entrée, ale fantazii se meze nekladou.
UP FROM THE SKIES – Odlehčený začátek s bicími a máme tady píseň, která se hodně blíží swingu, ovšem v experimentálním pojetí. Vstup jazzu na tuhle půdu je odvážný a tak můžeme slyšet Jimiho výtečně frázující zpěv, který se stěhuje zprava doleva a kytarové deformace pomocí wah wah pedálu jsou jímavé. Hendrix si velmi citlivě pohrává s pedálem a moduluje jednotlivé tóny do zaoblených. Pohybujeme se v mezzoforte, v závěru wah wah pedál mírně zesílí a skladba odeznívá.
SPANISH CASTLE MAGIC – Mocný nástup dravého typu. Akcentované akordy a důrazné bicí nástupy nabídnou pořadně dravý model hendrixovského rocku. Skladba není formálně kompozičně komplikovaná, ale jemná práce s motivy a dynamické odstíny jsou zde ve famózním poměru. Uprostřed skladby máme kvílivé kytarové sólo a v jednotlivých dalších fázích přichází řada změn v rytmu i harmonii, které se prolínají do zvláštních obrazců. Znovu si připomenu obal alba, kde má Jimi vícero rukou jako Višvarúpa, asi tak nějak na mě působí ta mnohoznačnost kytarových proměn. Fantazie!
WAIT UNTIL TOMORROW – Melodická linka je dost čitelná a odvíjí se od základního modelu akordických proměn, ve kterých se v playbacích prolínají několikeré nepostižitelné a "nenaučitelné" kytarové obraty i hmaty. Mitch Mitchell se k Jimiho kytaře velmi dobře hodí. Přesně citlivě reaguje na jeho kytarová znamení a myslím, že zde došlo k velmi šťastnému spojení. Noel Redding hraje na svou dobu poměrně vynalézavé basy, ale místy mu chybí větší dravost (takový Jack Bruce nebo John Entwistle by v mnohých skladbách byli možná šťastnější volbou). Je to ale jen čirá spekulace a skladba je i tak sama o sobě hodně jímavá.
AIN'T NO TELLING – Dravý rock; na rok 1967 hodně odvážné postupy. Zírám, kolik rytmických změn a proměn zde na necelých dvou minutách stačí proběhnout! Velmi dobře vypilovaná skladba. Redding vypomáhá se zpěvem a my máme možnost vnímat Jimiho kytarové pasáže ve spojení se zpívaným hlasem. Všechno je rytmicky velmi dobře svázáno a hnáno vpřed s velkým energetickým nápřahem. Myslím, že tohle je v mnoha ohledech hodně nezvyklá skladba s psychedelickým dozvukem v závěru.
LITTLE WING – Nádherný příklad Jimiho kytarové vynalézavosti. S jedinečným citlivým přistupem pracuje s křehkým motivem – opravdu jako na "malém křídle" – zranitelný a ohrožený. Zajímavé kytarové harmonie a v mezihře téměř majestátní nástup "mnohakytarového soundu", kde se prolínají různé akordické zvraty. Vůbec se nedivím, že tahle skladba kytaristy odjakživa přitahovala a nadále bude přitahovat. Je důkazem, že Mistr dokázal postavit skladbu téměř subtilního charakteru s velkým vnitřním nábojem. Nádhera!
IF 6 WAS 9 – Důrazný rockový nástup. Známý obrat, velký tlak a důraznost sdělení. Opět je na první pohled všechno čitelné a přehledné, ale v mezihře se věci dostanou do úplně jiného světla. Basové party se rozběhnout nebývalým způsobem (asi si je Jimi zahrál sám) a Mitch Mitchell se pustí místy na jazzovou půdu. Celek zní jako odeznívající vichřice a jeho bubenické eskapády s kytarovými kouzly mají onu magickou psychedelickou atmosféru, doplněnou tajemným nahallovaným šepotem a natočenými kroky. Místy mám pocit, jako bych poslouchal odvážný free jazz, slyším dokonce i flétnu (experimentuje na ní Jimi) a řadu nečekaných zvratů zavánějících stavem mysli po aplikaci LSD(?!).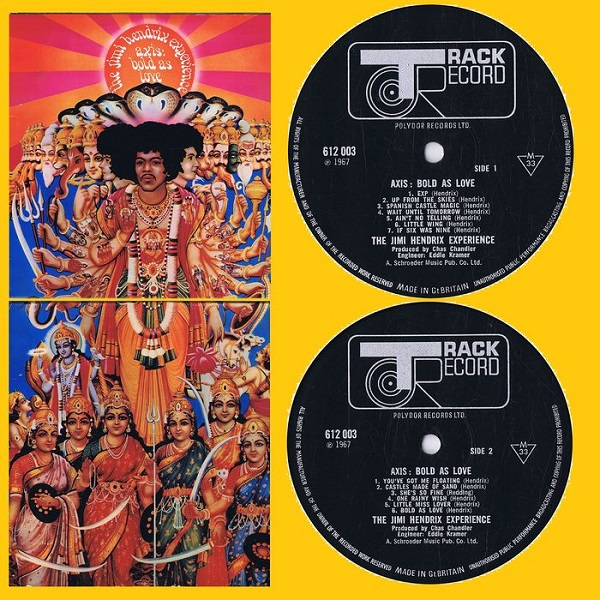 YOU GOT ME FLOATIN' – Psychedelické opary přivanou na chvíli další iluzi, ale potom se začne odehrávat dravý rockový model hudby s opakujícím se schématem vypilovávaným do detailu. Jedním ze sboristů je i Roy Wood z Move (později Wizzards). Tak tohle je přesně ten model chaotické hudby bez koncepce, která mi zní jako lehce organizovaný šamanský obřad voodoo.
CASTLES MADE OF SAND – V téhle skladbě jakoby Jimi používal ve zpěvu dylanovský model interpretace a pak se s řadou sekaných breaků odvíjí další hudební téma. Rytmus se propojuje s hůře čitelnou melodií a kytarové experimenty s klouzavým dozvukem mají ten tajemný opar slýchaný v názvucích na experimentálnějších skladbách Beatles. Je tu hodně zvratů a tak mluvit o klasické písničce není příliš namístě.
SHE'S SO FINE je další model psychedelického rocku poloviny šedesátých let na britských ostrovech. Za mikrofonem stojí baskytarista Noel Redding a my můžeme mít iluzi, kterou zhruba ve stejně době používali raní Pink Floyd, doboví Rolling Stones a Beatles v té vokální stavbě. Hudba je však mnohem energičtější a dravější s řadou nekompromisních bubenických breaků a kytarových eskapád se zkresleným soundem. Zajímavá proměna na albu!
ONE RAINY WISH – Procítěná skladba s krásně ohýbanými tóny kytary a laskavě znějící vokální příspěvek Jimiho. V další fázi hudba získá na intenzitě. Experimentujíci Jimi s mňoukavými tóny kytary a mocný nástup vícehlasu sem přivolá prvky soulu. Poté se vracíme do sdělné polohy, kterou ovšem koloruje předivo neuchopitelných tónových kreací, které se rozpojují a vzápětí spojují. Velmi imaginativní a přitahující. Myslím, že ve své době dostat do hudby takovéto prvky bylo hodně revoluční, přinejmenším velmi nezvyklé.
LITTLE MISS LOVER – Důrazný bubenický nástup a kytarový riff podpíraný wah wah pedálem přitáhne do popředí i výrazné basové tóny. Skladba se v lecčems přibližuje k funku. Nezůstáváme ale na nějakém jednom motivu a vzápětí zde přichází nová sprcha v podobě kytarového sóla a dalších proměnlivých minitémat, která do sebe zapadají jako ozubená kolečka nějakého monstrózního soustrojí. Milovník jasné a čisté melodie asi ustrne, ale kdo má rád experimenty a hledá neprozkoumaná místa je tady rychle doma.
BOLD AS LOVE – Závěrečná píseň, která dala albu i název. Trochu jsem čekal, že se dočkám elektrického blues, ale tady mu Jimi nepopřál prostor, jaký byl v té době v kursu. Myslím, že experimentující model hudby zde nachází hodně prostoru. Zpomalované a vzápětí zrychlované kytarové sólo s přídavnými playbacky zní majestátně, ale zase nikoliv agresivně. Místy mám pocit, jakoby Jimi byl malíř, který drží paletu s barvami a stojí před plátnem, na který nanáší jednotlivé barvy (tóny) v těch správných proporcích s rytmy. Leslie efekt obejme i zvuk bicích, basů, kytary, zvonků a v závěrečné vichřičné fázi je dílo dokonáno.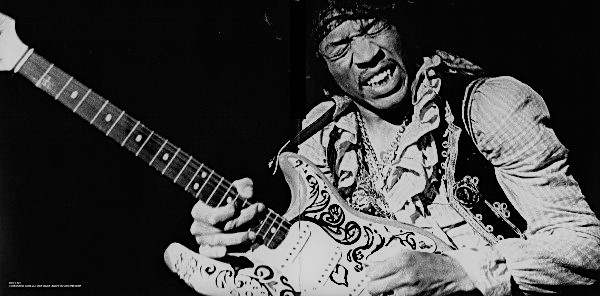 Album Axis: Bold As Love je dalším mistrovským dílem z Hendrixovy dílny. Menší prostor zde dostal Noel Redding. Potvrdilo, že Jimiho invence má hodně hluboké kořeny a že bude odvážně posunovat hranice dál bez omezení. Kus práce na něm odvedl manažer Chas Chandler a myslím, že i koncepce skladeb víceméně kratšího formátu zde zabrala. Posluchač není utápěn v bezbřehých improvizacích nebo experimentálních studiových překvapeních, ale má možnost kolekci rychle strávit. Umění zkratky zde slaví velký úspěch.
Rovněž design obalu vyjadřuje psychedelické vize metafyzického rozpínání mysli, typického pro dobu, kdy tahle hudba vznikla. Výtvarný koncept orientálního modelu indického duchovního pojetí a je magicky přitažlivý. Výtečně koresponduje s hudbou na albu v nezbytné barevné jásavosti a kaleidoskopické barevnosti. Domnívám se, že opravdový milovník rockové historie nemůže nemít tohle album doma.
Pět hvězdiček bez diskusí!!!!!
SKLADBY:
01. EXP /Hendrix/ 1:55
02. Up From The Skies /Hendrix/ 2:55
03. Spanish Castle Magic /Hendrix/ 3:00
04. Wait Until Tomorrow /Hendrix/ 3:00
05. Ain't No Telling /Hendrix/ 1:46
06. Little Wing /Hendrix/ 2:24
07. If Six Was Nine /Hendrix/ 5:32
08. You've Got Me Floating /Hendrix/ 2:45
09. Castles Made Of Sand /Hendrix/ 2:46
10. She's So Fine /Redding/ 2:37
11. One Rainy Wish /Hendrix/ 3:40
12. Little Miss Lover /Hendrix/ 2:20
13. Bold As Love /Hendrix/ 4:09
SESTAVA:
Jimi Hendrix – guitar, piano, recorder, glockenspiel (6), lead vocals, voice (1)
Noel Redding – bass, backing vocals, foot stamping (7), lead vocals (10)
Mitch Mitchell – drums, backing vocals, voice (1)
+
Trevor Burton, Roy Wood – backing vocals (8)
Gary Leeds, Graham Nash, Michael Jeffery, Chas Chandler – foot stamping (7)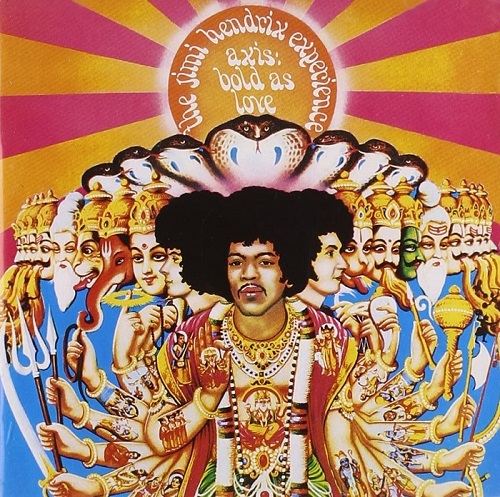 Axis: Bold As Love
The Jimi Hendrix Experience
Psychedelic Rock, Blues Rock
Track Record
1967
LP
13